Broadband News
Wednesday 18 January 2017 12:20:56 by Andrew Ferguson
Virgin Media is running another range of offers on its broadband only cable products, i.e. no telephone line involved. The offer runs until 30th January 2017 and for those with Virgin Media cables already in their home activation is just £14.99, or if an engineer visit is needed this is £49.99.
The entry level up to 50 Mbps service is priced at £22/m for 12 months, then the normal £32.25, the faster up to 100 Mbps service is reduced to £27/m for 12 months (usual price £37.25 and the up to 200 Mbps service is £35/m rather than the standard £45.25. 12 month contracts apply on three services.
Tuesday 17 January 2017 10:02:14 by Andrew Ferguson
From 1st March 2017, new customers to Sky will be paying more per month for the voice line rental, while no figure has officially being announced we'd expect a rise of 70p to £1 per month based on past history. Our broadband listings and offers reflect this increase, and while at the time of writing this item the Sky website has not updated we expect it to update shortly.
Sky line rental is still likely to be cheaper than BT, but this does follow on from other price rises such as the entry level Sky Satellite TV Original bundle which rose from £20 per month to £22 per month.
The rise is not due to changes in the wholesale pricing which Ofcom regulates but we presume may be down to other rising costs such as support staff wages.
Saturday 14 January 2017 12:32:14 by Andrew Ferguson
The Connecting Devon and Somerset BDUK project (CDS) has seen a fair bit of arguing and complaints about the project not delivering and now that 2016 has ended and we have had a week or two to look at services delivered in December 2016 and are now able to share our analysis of what has happened in the two counties.
The Phase I project had a core contract goal of 277,000 premises benefiting from superfast broadband at speeds over 24 Mbps, and our analysis indicates that BT are 20,000 premises short of this target. Though as we are still seeing cabinets going live this may reduce some more over the next few weeks, and there are FTTP areas in our data which appear to be under active build and others waiting for the first work to start. A Council meeting on 10th January had BT predicting it would fall short of the 277,000 target by 1,700 premises. This report highlights that there is FTTP left to build and that issues such as wayleaves and highway notifications are one of the reasons for the delay, some of the missing premises may also be accounted for by Exchange Only (EO) conversions and we have yet to see evidence of this happening.
One feature of the last couple of months has been infill cabinets appearing along with more FTTP, so its a case of wait and see how much more of this is to be delivered. We believe that some tactical deployment of vectoring and changes to the Openreach DLM (namely allowing a lower target noise margin of 3dB) may be deployed in parts of Devon and Somerset to improve the reach and speed of VDSL2. We will be analysing this and if this makes a significant change to the speeds achieved will endeavour to create additional nuances in the model we utilise, we could model the effect based on the theoretical effects but we prefer to use massed observation to inform decisions used in the model.
thinkbroadband analysis of Superfast Broadband Coverage for Connecting Devon and Somerset as of 13th January 2017
Area
% fibre based
% superfast
Over 24 Mbps
(change since August 2013)
% superfast
30 Mbps or faster
% Ultrafast
% Openreach FTTP
% Under 2 Mbps
USC
% Under 10 Mbps
USO
Combined Area
93.3%
86.9% (+33.5)
85.8%
27.6%
0.67%
1.7%
6.7%
CDS Delivery (*)
99.6%
86.6%
84.3%
4.4%
2%
6.1%
10.1%
Devon
91.6%
82.1% (+44.6)
80.8%
19.4%
1.26%
3%
10.3%
Torbay
95.9%
94.9% (+17.2)
94.3%
46.5%
0%
0%
0.5%
Plymouth
98.5%
98.3% (+1.4)
98.1%
90.8%
0.22%
0
0.5%
Somerset
92.7%
84.3% (+43.7)
82.9%
4.9%
0.39%
1.9%
8.7%
North Somerset
93.4%
89.5% (+30.3)
88.1%
21.4%
0.34%
0.3%
2.7%
Bath and North East Somerset
93%
89.5% (+16.3)
88.7%
31.9%
0.57%
0.5%
3.8%
(*) The change figure since August 2013 is not shown as we don't track that data set with the same historical access as we do with the local authorities, though as we believe the first cabinet went live under the project in the summer of 2013 the figure could be shown as 0%.
The combined area is the six local authority areas combined into a single figure and thus represents the coverage both commercial and gap funded. The CDS Delivery figure represents those cabinets and FTTP areas that we believe have been delivered via the CDS Phase I project, there is likely to be more FTTP in build and there may be additional cabinets we have not become aware of that are to be delivered yet.
thinkbroadband analysis of Superfast Broadband Coverage in Devon and Somerset Constituencies as of 13th January 2017
In ascending order of superfast coverage
Area
% fibre based
% superfast
Over 24 Mbps
(change since August 2013)
% superfast
30 Mbps or faster
% Ultrafast
% Openreach FTTP
% Under 2 Mbps
USC
% Under 10 Mbps
USO
Central Devon
89.7%
72.3% (+67.2)
70.7%
1.4%
1.44%
5.7%
18.7%
Torridge & West Devon
86.5%
72.5% (+44.9)
70.9%
0.5%
0.48%
5.7%
18.8%
Tiverton and Honiton
88.2%
74.8% (+60)
72.7%
0.3%
0.27%
4.2
13.9%
Somerton and Frome
91.1%
78.3% (+44)
76.7%
23.3%
0.15%
3.6%
14.4%
North East Somerset
89.7%
83.1% (+22.2)
81.8%
26.3%
0.15%
1.1%
7.3%
Totnes
92.2%
83.6% (+37.1)
82.1%
7.9%
0%
2%
7.3%
North Devon
92.5%
83.7% (+48.9)
82%
0%
0%
3.5%
10.1%
Wells
92.7%
84% (+34.7)
82.9%
0%
0.02%
1.2%
7.6%
Bridgwater and West Somerset
92.5%
84.2% (+42.3)
83.1%
0.8%
0.74%
2.3%
8.8%
Taunton Deane
90.9%
84.9% (+23.8)
83.1%
0.8%
0.73%
1.5%
7.6%
East Devon
92.8%
86.8% (+34.8)
85.3%
7.8%
0.47%
1.3%
5.2%
Newton Abbot
94%
88.5% (+21.4)
87.8%
41.9%
0.13%
1.3%
3.5%
Weston-Super-Mare
92.2%
88.7% (+30)
87.2%
1.3%
0.49%
0.2%
1.9%
Yeovil
96.2%
89.8% (+50.9)
87.9%
0.2%
0.2%
0.9%
4.5%
North Somerset
94.7%
90.3% (+24.9)
89.1%
43.5%
0.06%
0.4%
3.6%
South West Devon
95.3%
91.2% (+15.8)
90.3%
58.3%
0.57%
0.5%
5.2%
Bath
95.7%
95.2% (+7.3)
94.7%
36.8%
0.58%
0%
0.5%
Torbay
96.3%
95.7% (+11.4)
95.4%
55.9%
0%
0%
0.3
Exeter
97.8%
97.6% (+1.6)
97.6%
93%
6.4%
0%
0.7%
Plymouth Sutton and Devonport
98.2%
98% (+0.6)
98%
93.2%
0%
0%
0.6%
Plymouth Moor View
99.1%
98.9% (+0.6)
98.9%
89.4%
0.08%
0.1%
0.4%
August 2013 was chosen as the comparison date for the constituencies as this was the date we believe the project started to deliver improvements and while no specific constituency level targets are set in any BDUK projects, they are a nice sub-division or roughly equal premise numbers to make for comparison across areas, and for those not benefiting yet how much pestering they need to do for their MP.
The Phase II contracts awarded to Gigaclear should add around 3.8% to the superfast and ultrafast totals, and if delivered to the right areas have the ability to eliminate all the sub 2 Mbps areas. The AirBand contract covering Exmoor and Dartmoor which is meant to bring superfast broadband to 5,800 premises and with delivery still underway and take-up sitting at around 4.4% it will take sometime for us to understand what AirBand is delivering and exactly which areas are benefiting or not (NOTE: This is not an indication of a bias against fixed wireless, but is identical to how we are approaching vectoring and a 3dB margin from Openreah, i.e. gather evidence to see if the product label is correct).
Update Sunday 15th January To highlight that Keri Dunton while presenting at the council meeting on 10th January, indicated that the figure of 1,700 that BT were reporting as the likely shortfall had grown to 11,000. Keri Dunton does go on to say that since Christmas another 1,000 have been knocked of the total and as she talked on 10th the shortfall was 10,000, hence why we believe that it is likely the 1,700 shortfall refers to a March 2017 estimate and the 11,000 (or 10,000) short is the current state of play. With we believe around 30 cabinets still in the process of going live from the project and the FTTP that is in build we are expecting the shortfall to drop even more, hence why the original item used the 1,700 shortfall and still does, rather than muddle things with ever changing figures.
Friday 13 January 2017 13:16:10 by Andrew Ferguson
Gamers are seen as being the most demanding broadband users, as they want low reliable latency with no packet loss and minimal jitter, plus also a rather large download habit as they now buy a lot of their content as digital downloads. IDNet has stepped into this market with unlimited ADSL2+ and VDSL2 (FTTC) services on a gamer specific portal at gaming.idnet.uk which in addition to the usual IDNet products include elevated traffic priority.
One very interesting aspect is that the FTTC service is provisioned over the up to 76 Mbps service (with up to 19 Mbps uploads), and there are two good reasons, firstly it will ensure you get the best possible speeds from the line and the up to 76 Mbps service carries a higher priority for traffic if congestion occurs in the Openreach part of the network. We asked which Openreach DLM profile is used and lines start with the speed setting, which should mean no interleaving and lowest latency, but only after time once a line has been running will people know if the DLM system will happily not add interleaving. With respect to the up to 76 Mbps service, if you are on VDSL2 now and getting a connection speed under 38 Mbps switching to the up to 76 Mbps will not boost speed, some people do see improvements when switching but this is usually down to a change in the Dynamic Line Management (DLM) profile or a modem that handles a line, G.INP and/or vectoring better.
In terms of pricing the VDSL2 service is £61.80 per month (including line rental) and also includes a single static IPv4 address and a /48 block of IPv6 addresses. Transfers from a full LLU service cost £75, but if on SMPF migrations are free (new lines cost £125).
Broadband hardware options are available, you opt to supply your own modem and router, or several options are available, starting at £75 for a BillionNLv2, or a TP-Link VR-900 for £135 or a Comtrend VDSL2 modem with a choice of a Netduma router (£210) or Asus RT-AC3200 router (£270). The Comtrend VR 3030 modem does use a Broadcom chipset with G.INP and Vectoring support, as does the TP-Link VR-900, the Billion does not support G.INP and Vectoring so if chasing the ultimate speeds may be best avoided. We would add that while Asus does have some VDSL2 modem/router products experiences from users on our forums suggest the VDSL2 side is far from being great, i.e. they make nice routers but not so good on the modem side. IDNet let you opt for a 24 month contract which reduces the price of the hardware, to either free or half price. The hardware pricing may look high, but the costs are not far off what you can get from places like Amazon.
If you only have ADSL2+ available to you, then you can still sign-up but will obviously only get ADSL2+ type speeds, the unlimited service costing £47.40 per month, and the lower upload speeds of ADSL2+ will seriously hamper your ability to stream via twitch while gaming, but a good line with a good provider should still allow for a decent latency performance when gaming.
The more expensive wireless routers may seem a waste when all good gamers know that you need an Ethernet cable connecting your PC or console to your broadband, but many of the better wireless routers include QoS, meaning you can be cruel and limit the activities of the rest of your home so your latency does not rocket because someone else is downloading something over the connection.
Friday 13 January 2017 10:00:10 by Andrew Ferguson
There was a period of hope for residents and businesses in the West Oxfordshire District Council (WODC) area that many of those missed out from the commercial and existing BDUK roll-outs would benefit from universal coverage delivered by a mixture of Fibre to the Premises and fixed wireless broadband via Cotswold Broadband, alas it seems after a couple of false starts the project has closed down and the council is back to finding another solution.
Cotswold Broadband has updated their website to add a simple note about 'withdrawing from the project' and the local press has some comments from councillors indicating that while this project has failed, procurement will be run again to see if another option exists.
"It is very disappointing that Cotswolds Broadband's project failed after so much hard work. The delay for residents is really frustrating.

Taking on the procurement process ourselves demonstrates that we are absolutely committed to securing superfast broadband access for everyone in the district as soon as possible."

Councillor Colin Dingwall, cabinet member for broadband at WODC talking to

Oxford Mail
Gigaclear last week issued a comment featured on ISPReview that their involvement in the project was on hold, and as Gigaclear had lined up £3.2m of funding matching the £1.6m loan from WODC and a £1.6m government grant this was not small amounts of money. The aim had been to ensure superfast broadband for some 6,000 premises and pictures of the bases for the first fibre cabinets had been posted back in 2016 by Cotswold Broadband.
Monday 09 January 2017 17:29:41 by Andrew Ferguson
If you visit the square mile as it is sometimes known you should be able to find free Wi-Fi coverage from The Cloud, but in the next few weeks we should find out who has been awarded a contract to supply Gigabit Wi-Fi utilising the numerous bits of street furniture.
"Fast and reliable digital connectivity is crucial for businesses and I'm really pleased the City of London Corporation is taking this significant step in improving speed and coverage in the Square Mile. The Mayor is committed to improving London's connectivity, including tackling the capital's 'notspots' and ensuring providers have better access to public-sector property for digital infrastructure."

Deputy Mayor for Business, Rajesh Agrawal
The advantage of squeezing Wi-Fi kit into street furniture such as sign-posts is the majority already have a power feed for illumination of the sign, and while fibre to each bit of furniture is the ideal this can be avoided by using point to point wireless outside the normal Wi-Fi spectrum. Pushing towards Gigabit speeds means using the 5GHz Wi-Fi band which also means a greater density of access points is needed compared to older slower 2.4GHz standards.
The roll-out is due to start in late spring 2017 and we look forward to having a wander around the area once it is live to map out the speeds achieved and look at how well the new network handles things like peak time loads, which is likely to be different to the usual 4pm to midnight peak most consumer broadband experiences due to the massively different ratio of daytime workers to residents compared to most of the UK. The City Of London which is the financial heart of London, may have 10 million visitors per year and some 400,000 city workers but with a population around the 8,500 mark it has very few residents.
Saturday 07 January 2017 12:08:17 by Andrew Ferguson
All the broadband providers have an ebb and flow for their offers, and while the monthly prices over at BT Consumer may not be at their lowest point, the BT Reward Cards with values of £100 and £150 are at the highest point of their cycle and this ends on 12th January 2017.
While ADSL2+ may seem slow to those who have embraced the superfast revolution, there are those who do not have that option yet or just need a basic broadband connection and as BT Consumer charges the same price for broadband no matter where your exchange is in the UK the £24.99/m for ADSL2+ with a £100 BT Reward Card it will be especially attractive to those with no LLU options and a 12 month contract.
The Infinity FTTC/FTTP range gains a £150 BT Reward Card, so the entry level up to 52 Mbps Infinity 1 service is £29.99/m (including line rental) with a £59.99 one-off setup cost. After the 12 month minimum term the monthly price is £44.99.
As usual the BT Reward Card needs to be claimed once your service has gone live and will arrive in the form a prepaid MasterCard.
Saturday 07 January 2017 11:20:35 by Andrew Ferguson
All the various actors involved in superfast and ultrafast broadband roll-outs have just 51 weeks now to hit the magic 95% superfast broadband coverage target that the Government is aiming and this means for the 12 months of 2017 we need to see on average a rise in superfast coverage of 0.226% which when expressed as premises means 65,540 premises each month gaining the ability to order a service faster than 24 Mbps. Is that possible?
The 0.2% increase over the Christmas period was a little slower than some months, but there are peaks and troughs in what is being rolled out, and for example in Wales the 1.53% of premises passed by native GEA-FTTP should rise to around 3.5% to 4% during 2017 if Openreach can progress all the FTTP that is publically acknowledged as in build.
Wales was targeting a 96% fibre based coverage target by the end of 2016, but it seems to have missed by 2% with the 94%, which once you include the distance performance of VDSL2 gives a 88.7% superfast figure (Wales with the mixture of UK/EU money should be looked at using the 30 Mbps and faster EU definition of superfast). The gap is neatly filled by the amount of FTTP that is in the process of being built and may be an indicator of the future, i.e. we know roughly where it is going but as it takes longer to build targets may be missed.
thinkbroadband calculation of Superfast, USC, USO and Fibre Broadband Coverage across the UK, its nations and regions for premises
In descending order of superfast coverage - figures 6th January 2017
(change since 7th December 2016)
Area
% fibre based
% superfast
24 Mbps or faster
% superfast
30 Mbps or faster
% Ultrafast
100 Mbps or faster
% Openreach FTTP
% Under 2 Mbps USC
% Under proposed 10 Mbps USO
London
96.5%
95.4% (=)
95.2%
69.1% (=)
1.82%
0.1%
1%
North East
96.5%
95.2% (+0.1)
94.8%
51.7% (=)
0.05%
0.2%
1.7%
South East
97.6%
95.2% (+0.1)
94.6%
50.9% (+0.1)
1.15%
0.4%
1.9%
East Midlands
97.5%
95.1% (=)
94.7%
57.6% (=)
0.09%
0.5%
2.1%
West Midlands
96.8%
94.5% (+0.1)
94.1%
62.9% (=)
0.22%
0.4%
2.2%
North West
96.9%
94.1% (+0.1)
93.6%
47% (=)
0.87%
0.8%
3%
England
95.7%
93.1% (+0.1)
92.6%
54.2% (+0.1)
1.56%
0.6%
3%
United Kingdom
95.4%
92.3% (+0.2)
91.7%
51.4% (+0.1)
1.40%
0.8%
3.6%
East of England
94.4%
91% (+0.2)
90.4%
50.6% (+0.1)
0.50%
0.7%
4.1%
Rest Of Scotland
93.2%
90.2% (+0.4)
89.6%
44.6% (=)
0.08%
1.4%
4.9%
South West
94.7%
89.8% (+0.1)
88.9%
43.9% (+0.1)
3.11%
1.1%
4.8%
Wales
94%
89.8% (+0.1)
88.7%
30.5% (+0.1)
1.53%
0.9%
5.9%
Yorkshire and Humber
91.7%
89.1% (+0.2)
88.7%
50.5% (=)
4.1% (includes KCom Lightstream)
0.7%
5.1%
Scotland
92.2%
88.3% (+0.4)
87.6%
40.6% (=)
0.07%
1.3%
6.2%
Northern Ireland
97.5%
81.1% (+0.1)
79.4%
28.1% (=)
0.28%
6.5%
12.3%
Highlands and Islands (HIE)
82.2%
69.1% (+1.3)
66.9%
0.06% (=)
0.06%
6.3%
23.9%
Scotland and the Highland and Islands are the big movers in the last month, the question will be how long can changes of +1.3% be sustained before the easier cabinets to enabled run out.
2017 should be interesting as we should see the start of the Openreach G.fast roll-outs, and an acceleration of the FTTP roll-out, and we will be watching the G.fast roll-out in particular to try and see how popular the ultrafast G.fast option is and also how the technology stands compared to its main competitor which is DOCSIS from Virgin Media.
Friday 06 January 2017 10:47:48 by Andrew Ferguson
The latest offers from Hyperoptic are now live and rather than a reduced price for 6 or 9 months, the reduced price deals are running for the full twelve months of the minimum term.
20 Mbps download, 1 Mbps upload broadband and phone service is £18/m for 12 months, then £25/m
Symmetric 100 Mbps broadband and phone is £28/m for 12 months, then £38/m
Symmetric Gigabit broadband and phone is £48/m for 12 months, then £63/m
Broadband only options, i.e. no phone line are available, but these carry a £40 set-up fee, though when you work out the cost of the basic entry level service without a phone line costs £496 over two years and the broadband + phone options is £516.
The dynamic IP address is CGNAT based, so people with multiple games consoles and other applications beyond the usual web based activities may need to add the £5/m static IP address option to the pricing.
The £18/m for 12 months entry level fibre offer matches a recent Virgin Media offer and is cheaper than Sky with the VDSL2 25GB allowance service offer at £20/m which is heavily promoted as the 'The UK's lowest priced fibre including line rental'. The Virgin Media offer did not include line rental as it was a broadband-only service, but it will be interesting to see if Sky now tweaks its Lego Batman promotional material, perhaps adding 'widely available' to the copy.
Thursday 05 January 2017 11:10:55 by Andrew Ferguson
The SME (Small Medium sized Enterprise) sector is sometimes overlooked as part of its remit to ensure it is regulating the communications market appropriately Ofcom has published a new set of research looking at how SMEs utilise broadband and communication services. This latest survey was conducted over the phone with some a sample of 1,501 SMEs in May to July 2016 and then weighted to allow for modelling to represent the full UK SME market.
Beyond the use the research data will be in understanding how use modern communication services, for the many providers selling services to the SME sector the data laden report is a gold mine that may help to drive sales.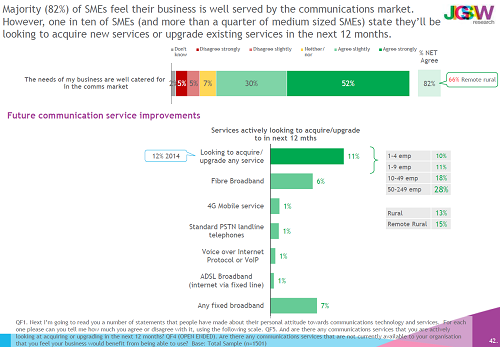 Click image for larger version
The initial summery of the report indicates that while 82% of SMEs are well catered for by the comms market the Internet is still a problem for some and those that do have Internet connections are very reliant on them, and ADSL is bottom of the pile in term of speed and reliability in the fixed broadband area. That ADSL is at the bottom should be no surprise to anyone who follows the market and our monthly round-ups of speed tests and the occasional summary on the quality metrics we track, worryingly while superfast (cable, VDSL2 or FTTP) is now available to some 92% of premises in the UK ADSL is still the preferred connection type. We did read the research and while we can find segments where those surveyed seem to know better is available, no precise reasoning is given for why they've not upgraded or is there any verification of what was or was not available broadband wise to those surveyed (i.e. was the sample while representative of UK SME scene, also representative of the availability of good broadband).
The research indicates that only a small number of SME (6%) are looking at upgrading to a fibre broadband (VDSL/FTTP/cable) service, we say small as with some 67% using ADSL or SDSL there is clear scope for a big change. What was a surprise was that while the fibre/superfast take-up at 23% is only lagging a little behind overall take-up, only 5% of SME are using cable broadband which given its ultrafast capabilities suggests maybe that it is less about headline speed and more about provider choice and connection stability.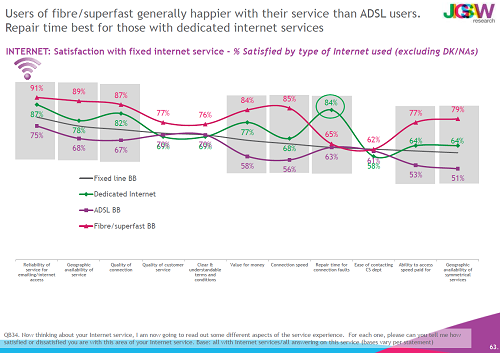 Click image for larger version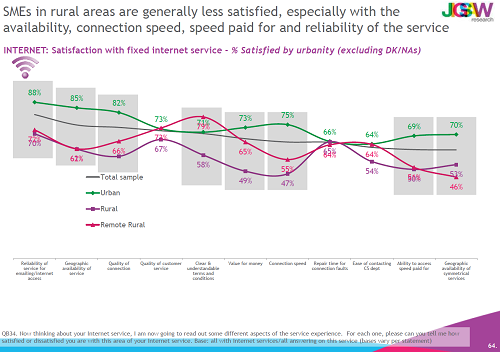 Click image for larger version
The story varies a lot depending on where a SME is located and those businesses operating in rural and remote rural areas are only 62% satisfied with the availability of fixed internet service compared to 85% of their urban counterparts. This increases a little to 70% in rural, 72% remote rural and 88% when asked about reliability for emailing/internet service. Since the research uses the classical rural/urban definitions which means we can align the report with our own coverage data, where GB Deep Rural aligns with the Ofcom remote rural definition.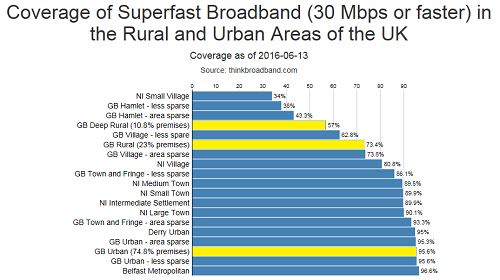 Click image for larger version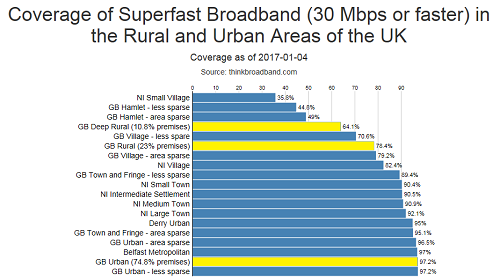 Click image for larger version
In the months since the survey was conducted you can see that deep rural availability of a superfast service has increased from 57% to 64.1%, in rural areas as a whole its gone from 73.4% to 78.4% and in the much better served urban parts of the UK from 95.6% to 97.2%.
If there is a key lesson we believe from this research it is that the SME sector may need much more pro-active help to make them aware that a better service is available, and more of the providers serving the SME sector need to be encouraged to offer a wider variety of products.
We would all love for every address in the UK to have access to full Gigabit symmetric broadband in the next year, but what is very revealing in pages 99 onwards in the report where businesses detail what they use their Internet connection for and email is top of the pile at 95%, ordering goods/services 84% and online banking just 71%. HMRC features pretty high at 65%. Cloud and back up services which will often benefit from faster upload speeds are just 29% and 33% respectively and video conferencing is propping up the stack at 9%.
What is needed now is a study with the same rigour to look at what changes in Internet use similar businesses make when much faster connectivity is available and is being used. If this new study shows lots of potential for business growth and success then the tightly controlled value for money criteria of existing BDUK projects may need to be re-evaluated when dealing with business areas.
---