Broadband News
Friday 26 August 2016 15:10:01 by Andrew Ferguson
For those close enough to the cabinet get benefit from the faster up to 76 Mbps VDSL2 (FTTC) services there used to be little price competition, but the revamp and launch of Sky Fibre Max over at BSkyB has produced a 12 month price offer already. The up to 76 Mbps download and up to 19 Mbps upload service is available for £15/m for 12 months plus the usual voice line rental at £17.40/m on a 12 month contract (there is the £9.95 router delivery charge to pay too).
If you stay with Sky after the 12 months on the same product the broadband price rises to £25/m. Ordering is done over the phone, we presume so that Sky can ensure that no false speed expectations are set, as in people ordering the service when the estimates for the line suggest that the up to 38 Mbps product would be the better option.
Sky currently only has around 7% of its FTTC customers on an up to 76 Mbps service according to our data compared to around 25% of BT Consumer FTTC users, so there is plenty of scope for growth in this customer base.
Thursday 25 August 2016 12:25:28 by Andrew Ferguson
The BDUK team over at DCMS has issued its latest quarterly update on the number of premises where superfast broadband is now available as part of the BDUK scheme, and also the amount of grant funding from Westminster to the councils and devolved administrations. IMPORTANT The BDUK team does take into account available speeds, i.e. line length so premises connected to a VDSL2 cabinet but on a long line will not appear in the figures.
There has been a noticeable slow down since March 2016, which is we believe largely down to a concerted effort by BT in the roll-outs to hit the 90% target at the end of the 2016 financial year. Also as projects switch between phase I and phase II roll-outs there may be a slight gap, both from planning and a shift in focus from almost exclusively VDSL2 based to a higher mixture of FTTP and the extra work involved with infill cabinets and exchange only lines.
| Cumulative to end of: | Premises with superfast broadband service made available | BDUK funding (£) | Number of premises covered per £million of broadband delivery programme expenditure |
| --- | --- | --- | --- |
| December 2012 | 254 | £434,735 | 584 |
| March 2013 | 16,638 | £6,767,185 | 2,459 |
| June 2013 | 38,343 | £6,767,185 | 5,666 |
| September 2013 | 111,968 | £10,347,568 | 10,821 |
| December 2013 | 273,731 | £14,182,547 | 19,301 |
| March 2014 | 508,801 | £58,586,408 | 8,685 |
| June 2014 | 888,113 | £72,437,233 | 12,260 |
| September 2014 | 1,383,777 | £99,766,011 | 13,870 |
| December 2014 | 1,908,725 | £252,084,918 | 7,572 |
| March 2015 | 2,411,395 | 301,444,870 | 7,999 |
| June 2015 | 2,905,764 | £331,828,330 | 8,757 |
| September 2015 | 3,311,843 | £372,153,178 | 8,899 |
| December 2015 | 3,625,369 | £406,918,848 | 8,909 |
| March 2016 | 3,840,643 | £476,742,422 | 8,056 |
| June 2016 | 4,021,047 | £492,573,929 | 8,163 |
IMPORTANT The figures do NOT include premises that may now be on a VDSL2 cabinet but data shows speeds of under 24 Mbps are all that is achievable, also if a cabinet overlaps with commercial coverage (e.g. Virgin Media) then those premises are not included either.
A common complaint when using the internationally recognised concept of premises passed is that not everyone can order as soon as VDSL2 cabinets are since they are not built with their full compliment of line cards, we suspect this was an option for Westminster and the various projects but would have come with a higher cost. As the contracts stand if a BDUK gap funded cabinet needs new line cards, or in some cases a second VDSL2 cabinet this is solely funded by Openreach.
Tracking what BT and all the other providers deliver and whether the positive PR spin has any basis in reality is why we run our own coverage model.
Thursday 25 August 2016 11:46:48 by Andrew Ferguson
Plusnet has launched a new offer on its unlimited fibre based broadband service with those in the low cost parts of the UK paying just £22.99/m (£5/m broadband + £17.99/m line rental) for 18 months on an 18 month contract, after the 18 months the standard pricing of £14.99/m for the broadband would apply if you remain. Outside low cost areas the broadband offer price is £12.50/m plus the £17.99/m line rental (after 18 months the broadband rises to £22.49/m). The monthly cost can be reduced a little more if you option for the line rental saver option and when doing full cost comparisons remember to factor in the £6.99 router delivery charge.
The offer undercuts the recent Vodafone offer of £25/m for non-mobile customers, though once the 18 month contract is over, in theory Vodafone is cheaper, we say in theory as in 18 months a lot can happen to prices and products. Another difference is that the Plusnet service while offering the same download speeds is speed limited on the upload side to 1.9 Mbps compared to the up to 9.5 Mbps of the Vodafone service. For Vodafone mobile customers the Vodafone service is still cheaper by 99p a month.
NOTE: The Plusnet website is still listing voice line rental at £16.99/m with a warning about the impending price rise, but as the price rise is on 1st September and migration has a minimum time frame of ten days we have integrated the price rise into our offer and listings already.
Wednesday 24 August 2016 16:51:19 by Andrew Ferguson
The number of privately gap funded VDSL2 cabinets appearing across the UK is increasing as communities make increased use of the BT Community Fibre Partnership Scheme and today a first of its kind scenario has arisen.
Ditcham in Hampshire is the first area to benefit from extra funding of £17,500 from a maximum available of £20,000 towards the cost of bring superfast broadband to an area. This extra funding on top of any gap funding raised by the community itself is only possible by BT subsidising the costs when there is a school in the cabinet area.
"The outstanding contributions from BT and Openreach to get this fibre optic network both designed and installed, whilst offering a very generous grant towards this community project, has ensured that our teachers and pupils can enjoy faster internet access. This will improve the opportunities we are able to offer to our pupils for the commencement of our new academic year."

Chris Pickett, Chair of Governors, at Ditcham Park School
There are of course other ways of bringing superfast broadband to a rural area such as the full DIY approach as showcased by B4RN, or operators such as Gigaclear but with varying conditions across the UK no single plan will work everywhere and thus while it is easy to criticise the BT fibre scheme it does offer another avenue to avoid having to wait however many years before an inevitable upgrade does happen.
There is some £2 million of funding from BT for areas which qualify for the school funding, so its a case of acting now rather than waiting a couple of years to see what may or may not happen. While we expect the majority of areas to see VDSL2 from the partnerships if the maths stack up then we believe native FTTP is also available as an option.
Friday 19 August 2016 10:08:33 by Andrew Ferguson
For those who cannot get a fibre based service or don't need the extra speed it usually brings and are thus sticking to an ADSL2+ based service, the LLU ADSL2+ service from Sky for those new customers who join the provider without taking Sky TV just got a lot cheaper.
Sky Broadband Unlimited is available for free for 12 months, by paying the £9.95 Sky Hub delivery fee and then voice line rental at £17.40/month for the 12 month contract term. The bonus is that if you sign-up online you will also qualify for a £75 Prepaid MasterCard, which gives an effective first year cost of £143.75 or the equivalent of £11.98 per month.
The ADSL2+ service if you remain after the 12 month minimum term will cost £10/month plus the £17.40/month line rental. The line rental package does not include any inclusive calls.
Friday 19 August 2016 09:55:35 by Andrew Ferguson
The letters informing individual customers of the latest price rises at Virgin Media which at 50% UK coverage is the largest ultrafast broadband provider in the UK should be start arriving in the post in the next few days. The price rises are expected to take effect in November 2016 and a rough of what we know is below.
Product
Existing Price
Includes line rental where applicable
New Price
Broadband Solus
£30.25
£33.24
Super 50 Fibre and Calls
£36.99
£40.48
Big Easy Bundle with Super 50 Fibre and Calls
£41.99
£45.48
Big Bang Bundle with VIVID 100 and Calls
£51.99
£55.98
Big Kahuna Bundle with VIVID 200 and Calls
£72.99
£76.48
The Broadband Solus pricing as published by The Guardian does not match any of the broadband-only options currently for sale (i.e. Super 50 Fibre at £32.25/month) but suspect the price may relate to existing customers. The Big Kahuna bundle is a bit more confusing as there are multiple versions since you can mix and match the 100 Mbps or 200 Mbps broadband service and Sky Movies or Sky Cinema.
The increases include a £1.01 increase in voice line rental from £17.99 to £19 per month, which is unusual as Virgin Media has for over a decade kept its voice line rental at the same or just below BT Consumer, it may be only 1p more but it looks a lot when people are browsing costs. It is possible that once November arrives and new advertising rules about inclusive pricing are in place that this will be less of an issue - and may be an indicator that with all the changes set to take place providers may use the confusion as a good time to mask price rises.
In a broadband market where services based on the Openreach network are receiving constant negative press one would have expected Virgin Media to have attempted to make a big land grab by highlighting its total independence from the Openreach local loop. The reality may be that the pace of upgrades needed in an attempt to avoid congestion at the local cable cabinet level becoming a nightmare and the Project Lightning roll-out to new areas means prices are under pressure to rise even in the highly competitive retail market. Additionally with the continuing shift away from chargeable voice calls Virgin Media will be seeing that revenue stream decreasing.
Thursday 18 August 2016 12:47:51 by Andrew Ferguson
Long Reach VDSL has been in the background for almost a year now, and longer than that in the laboratory, and Isfield in Sussex has been taking part in a trial and Openreach is now expanding this trial to more locations. With the expansion of the trial and the progress in superfast roll-outs and improvements in our ability to model potential future changes we have revisited the estimates we made in September 2015.
We have run through six scenarios, which all start from the base line of the coverage levels that we were aware of at the time of doing the projects, and the scenarios vary from a very limited deployment of LR-VDSL to exchange areas where IPStream is the only exchange based service available, through to magical scenarios where every existing Openreach cabinet was enabled for LR-VDSL (even if not in any plans for VDSL2). This range of scenarios also give some insight as to where the UK is heading and while we have not made any changes to the levels of FTTP coverage in each one, the scenarios do show that as we head towards the 95% superfast target, and the ambition of going beyond, that infill cabinets and more native FTTP will be the order of the day.
For the performance of LR-VDSL we have worked on the basis of the speed achievable at various distances being the mid-point between the lab work speeds for LR-VDSL1 and LR-VDSL2.
Current UK broadband coverage and various models showing the effect LR-VDSL might have on UK broadband coverage levels. Figures 10th August 2016

% superfast
24 Mbps or faster
% superfast
30 Mbps or faster
% Under 2 Mbps USC
% Under proposed 10 Mbps USO
Current UK Coverage Levels - VDSL2/FTTP/Cable
91.3%
90.7%
0.8%
4.1%
Scenario 1
LR-VDSL deployed on existing live cabinets on exchanges where IPStream ADSL service available but no ADSL2+ at all.
91.6%
91%
0.7%
3.9%
Scenario 2
LR-VDSL deployed on existing live and where we believe cabinet is planned and IPStream ADSL service available but no ADSL2+ at all.
93.1%
92.4%
0.7%
3.5%
Scenario 3
LR-VDSL deployed on existing live and where we believe cabinet is planned and IPStream ADSL and WBC ADSL2+ service available but no LLU.
93.3%
92.6%
0.7%
3.4%
Scenario 4
LR-VDSL deployed on all existing live cabinets and no ADSL or ADSL2+ at all from these cabinets.
94.7%
94.1%
0.45%
2.8%
Scenario 5
NO LR-VDSL deployed but those VDSL2 cabinets we believe are in existing plans are considered to be live.
92.7%
92%
0.8%
3.7%
Scenario 6
LR-VDSL deployed on cabinets irrespective whether live or in a plan or not. No changes assumed for Exchange only lines (i.e. still using ADSL or ADSL2+).
96.3%
96%
0.5%
2.2%
Scenario 5 may have some shouting that it shows that 95% superfast by the end of 2017 is impossible, but as we don't have magic visibility of all the plans there is going to be more cabinets enabled than our scenario used, plus we are seeing areas like Wales rolling out FTTP at a decent rate, such that Wales may surpass England for availability of GEA-FTTP very soon. Add to this the expansion of other operators such as Virgin Media, Hyperoptic, Gigaclear to name just three and it will all add up - hopefully.
The simplistic lesson from the scenarios seems to be that ADSL and ADSL2+ services are holding back the UK now, i.e. the LLU decision of 2005 by Ofcom which lead to historically low prices may now be holding back technology that could improve things. The reason that the presence of ADSL2+ makes is a difference is that to avoid existing VDSL2 and future LR-VDSL services causing problems the full capabilities are limited to avoid slowing down ADSL/ADSL2+ users. This explains the staggered removal of ADSL/ADSL2+ services in the scenarios, and while no-one will shed a tear if IPStream is removed and users moved wholesale to GEA-FTTC once LR-VDSL can offer the long reach things are more problematic once you reach exchanges with LLU based operators who have a financial interest in providing very low priced services with hardware they've installed in the last decade.
For those looking to see where the UK might head scenario 6 is crucial as it shows what is possible even if you stick to a VDSL2/LR-VDSL roll-out, though admittedly we expect some of the cabinets to be so small in footprint that FTTP might be more cost effective or a simple network rearrangement to place the dozen properties on an existing cabinet. Modelling the network rearrangement scenario, and what might also happen to the 2% of exchange only lines currently left in the UK is possible, but manually evaluating around 13 to 15,000 cabinets would take some months or a large team of people to do it in a short period.
The scenarios were recorded for UK, England, Scotland, Wales and the English regions, but we have skipped reproducing 14 areas with multiple figures for now, but one side effect of the work was information on the spread of exchange only lines across the UK.
Area
Areas ordered by descending size for overall number of premises
Percentage of premises thought to be using Exchange Only lines as of 10th August 2016
UK
2%
England
1.7%
London
1.4%
North West
0.9%
South West
2%
West Midlands
1%
East of England
0.9%
Scotland
5.5%
Yorkshire and Humberside
5.6%
South East
0.6%
Wales
1.3%
East Midlands
0.7%
North East
0.7%
Northern Ireland
1.7%
So the lesson to take away is that LR-VDSL can have a major impact in terms of meeting a Universal Service Obligation of 10 Mbps, but to push the number of non-USO lines down to under 1% we will need to be relying on a variety of options, including more FTTP, infill cabinets and maybe even fixed wireless (e.g. 4G LTE or WiMax). In a years time we will be in a much better position to evaluate things both because the roll-outs will be further down the road, but Ofcom and the Government may be a bit more firm in how a USO will be delivered and most importantly who will pay for it.
The recent Ofcom publication of responses to its USO consultation highlighted the range of views but whether its the public paying via a levy on broadband customers or centrally funded by general taxation we will end up paying one way or another. For the policy makers the big quandary is reaping the socio-economic impacts as fast as possible and for minimum outlay of public money, while also surviving any backlash against decisions made both from the public about roll-outs being slow and broadband firms looking after their own bottom line financially. One danger is that with the high profile FixBritainsInternet campaign is that both policy and implementation of any USO may get tied down by the decisions Ofcom is under pressure to make on the future of Openreach and delays for USO implementation will mean that satellite broadband providers can cash in as that is the fastest to deploy solution but probably the one least favoured by the public.
Thursday 18 August 2016 10:31:17 by Andrew Ferguson
The superfast broadband roll-outs are very often maligned for not having delivered anything, hence why our own tracking and audits like the one by Audit Scotland is very important. As the Audit Scotland highlights challenges very much do remain and we would add that these are not just technology based, but also in getting people and businesses to upgrade to the new faster services sooner rather than later.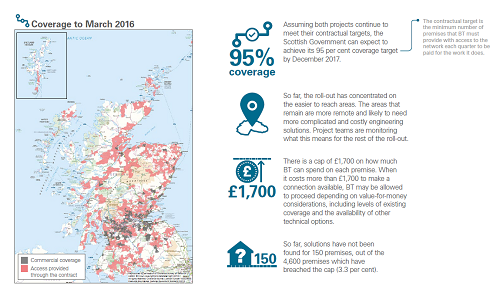 Click image for larger version
thinkbroadband has a
map with postcode level detail
rather than area shading.
The full report highlights the various targets and importantly highlights the contractual targets BT was working to for superfast coverage (which is lower than the 'fibre' headline figures i.e. takes into account VDSL2 distance issues), and for all the council areas in Scotland this was 75% apart from Eilean Siar (Western Isles) where the contract target was 70%. The report as of March 2016 reported six councils still below the target, and 25 exceeding, of course coverage has moved on since March and these changes should be reflected in our latest coverage summaries for Scotland and its council areas.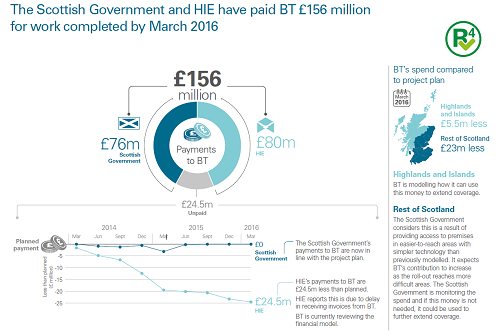 Click image for larger version
thinkbroadband has a
map with postcode level detail
rather than area shading.
Scotland may have a target of universal superfast broadband coverage by 2021 (we guess this means by the end of 2021 which is how these targets usually work) but how this will be achieved is not clearly defined as Audit Scotland notes. Part of the problem is not knowing precisely where BT/Openreach will deliver (which is also impacting on a number of the community solutions the Scottish Government is supporting). One reason its not known exactly where Openreach will go is because of cost caps, i.e. a maximum of £1,700 is allowed to be spent on a premise to get it superfast broadband, but this can be exceeded after value-for-money checks, and this means to date 150 premises were in the plan but have missed out and a further 4,450 premises that breached the spend cap have been found alternate solutions.
thinkbroadband calculation of Superfast, USC, USO and Fibre Broadband Coverage across Scotland as percentage of premises covered
Council areas in alphabetical order - figures 15th August 2016

Area
% fibre based
% superfast
24 Mbps or faster
% superfast
30 Mbps or faster
% Ultrafast
100 Mbps or faster
% Openreach FTTP
% Under 2 Mbps USC
% Under proposed 10 Mbps USO
Scotland
90.4%
86.4%
85.6%
39.8%
0.01%
1.3%
7.5%
Highlands and Islands Project Area
77.6%
65.4%
63.3%
0.02%
0.02%
5.8%
27.7%
Rest of Scotland Project Area
91.6%
88.5%
87.8%
43.8%
0.01%
1.4%
6.1%
Aberdeenshire
84.7%
73.5%
72.3%
0%
0%
5.1%
19.1%
Angus
83.5%
76.6%
75.8%
14.6
0%
2.6%
12.6%
Argyll and Bute
65.7%
57.3%
56.2%
0%
0%
3.6%
29.5%
City of Edinburgh
95.6%
95.3%
95.3%
84.8%
0%
0%
1.1%
Clackmannanshire
92.1%
90.4%
89.9%
0.2%
0%
0.4%
2.1%
Dumfries and Galloway
85.1%
72.2%
70.1%
0.01%
0.01%
4.5%
20.5%
Dundee City
98.7%
98.3%
98.3%
89.2%
0%
0%
0.3%
East Ayrshire
91.1%
84.8%
82.9%
0.9%
0%
1.5%
7.1%
East Dunbartonshire
93.7%
91.7%
90.9%
77%
0%
0.2%
1.5%
East Lothian
82.6%
77.9%
77.1%
0%
0%
1.4%
7.9%
East Renfrewshire
94.4%
93.2%
92.8%
71.3%
0%
0.1%
1.5%
Falkirk
93%
91.8%
91.7%
82.5%
0%
0.3%
5.2%
Fife
93.9%
91.3%
90.5%
31.2%
0%
0.7%
4.2%
Glasgow City
95.3%
94.7%
94.3%
54.5%
0.01%
0.1%
0.8%
Highland
80.1%
67.2%
65.2%
0.02%
0.02%
4.5%
25.2%
Inverclyde
92.4%
90.9%
90.6%
70%
0%
0.1%
1.9%
Midlothian
86%
81.4%
80.7%
0.7%
0.01%
1.2%
7.7%
Moray
89.1%
79.3%
76.7%
0.03%
0.03%
3.6%
12.8%
Na h-Eileanan an Iar
47.6%
34.5%
33%
0%
0%
3.3%
52.3%
North Ayrshire
87.1%
83.5%
82.7%
7.7%
0%
0.8%
4.8%
North Lanarkshire
95.7%
94.4%
94.1%
69%
0%
0.2%
2.5%
Orkney Islands
65.4%
50.6%
47.4%
0%
0%
5.7%
42.5%
Perth and Kinross
78.1%
69.2%
68.1%
32.7%
0%
2.8%
19.7%
Renfrewshire
94.6%
93.4%
93.1%
72.2%
0%
0.1%
1.2%
Scottish Borders
81.7%
70.5%
68.7%
0.1%
0.09
4.3%
20.3%
Shetland Islands
68.7%
54.1%
51.7%
0%
0%
5.3
39.1%
South Ayrshire
88.3%
84.7%
83.7%
6.6%
0%
1.1%
10.4%
South Lanarkshire
94.3%
91%
90.3%
58.4%
0%
1.1%
5.3%
Stirling
85.5%
80.6%
79.2%
0%
0%
2%
10.9%
West Dunbartonshire
97.2%
96.5%
96.4%
87.9%
0%
0.2%
1%
West Lothian
87.9%
86.5%
86%
41.3%
0.05%
0.3%
4.4%
This is a lot of data and Audit Scotland report has its own breakdown, and we would encourage people in Scotland to look up their area and pay particular attention to the timeline of the roll-outs available via the history button option on the coverage pie chart, which gives some idea of the pace the roll-out is happening in a particular area - or not.
Scotland is starting to see Openreach FTTP appear in small numbers, some of this is actually native FTTP for new build premises, and there are some areas where we were expecting FTTP but VDSL2 was delivered instead and this may be some of those 4,450 where alternative options were found.
Moving forward the key figures are the USO coverage levels, especially as these seem more directly linked to the level of anger expressed on social media. Scotland is leading the race in eradicating exchange only lines, but still plenty to do in that area, for Scotland overall we believe around 5.5% of lines are EO based at this time, and that rises to 22.4% in the Highlands and Islands.
The prevalence of devices which connect to the Internet in a connected home is increasing with intelligent thermostats, smoke alarms and lighting systems. This has resulted in a more complex series of security incidents with vulnerable thermostats recently being in the news. Responsible vendors engage with the community in identifying security vulnerabilities with their products, encouraging security researchers to work with them.
Recently, security researchers found security flaws in Nuuo Network Video Recording code which is also used in NETGEAR ReadyNAS storage systems:
"The web interface contains a number of critical vulnerabilities that can be abused by unauthenticated attackers. These consist of monitoring backdoors left in the PHP files that are supposed to be used by NUUO's engineers, hardcoded credentials, poorly sanitised input and a buffer overflow which can be abused to achieve code execution on NUUO's devices as root, and on NETGEAR as the admin user.

Announcement on full-disclosure mailing list
Given many embedded systems run a cut down version of some flavour of Linux, security vulnerabilities are not unusual and you would expect to see these from time to time. What is more concerning is the fact the vendors appear uninterested or unduly slow in addressing the vulnerabilities.
CERT/CC is a group within the U.S. that takes on the role of co-ordinating vulnerability announcements, giving vendors an opportunity to fix issues before vulnerabilities are publicly disclosed. They help to ensure security patches are readily available, minimising the number of 'zero day' vulnerabilities (i.e. vulnerabilities for which no fix/workaround is available).
Worryingly, for months both vendors failed to respond to the researchers or CERT/CC in a meaningful way, resulting in customers having completely vulnerable unpatched systems which can be accessed by third parties.
28/02/2016: Disclosure to CERT/CC.

27/04/2016: Requested status update from CERT - they did not receive any response from vendors.

06/06/2016: Requested status update from CERT - still no response from vendors. Contacted Nuuo and NETGEAR directly. NETGEAR responded with their "Responsible Disclosure Guidelines", to which I did not agree and requested them to contact CERT if they want to know the details about the vulnerabilities found. No response from Nuuo.

13/06/2016: CERT sent an update saying that NETGEAR has received the details of the vulnerabilities, and they are attempting to contact Nuuo via alternative channels.

07/07/2016: CERT sent an update saying that they have not received any follow up from both Nuuo and NETGEAR, and that they are getting ready for disclosure.

17/07/2016: Sent an email to NETGEAR and Nuuo warning them that disclosure is imminent if CERT doesn't receive a response or status update. No response received.

01/08/2016: Sent an email to NETGEAR and Nuuo warning them that disclosure is imminent if CERT doesn't receive a response or status update. No response received.

04/08/2016: Coordinated disclosure with CERT.

Timeline in full-disclosure post
NETGEAR responded to our tweet about this issue..
The full response was:
@thinkbroadband Thank you for your concern. NETGEAR values your input and takes the security of our customers and their data very seriously. We regularly monitor our products for security issues and we provide detailed information at www.netgear.com/about/security . In addition, if you have any security concerns, you can reach us at security@netgear.com
NETGEAR in particular are a major vendor who build many of the routers we use today (either branded NETGEAR or rebadged by others such as Virgin Media), causing particular concern with the apparent lack of engagement with security researchers/coordinators (despite their security policy) who identify flaws with their product. As the gatekeeper of your Wi-Fi and broadband connection, we would have expected NETGEAR to adopt a far more positive approach to security, even if it's within another product line.
NETGEAR have since addressed the specific issue raised here in a knowledge base article which includes a link to fix the issue.
Tuesday 16 August 2016 11:23:59 by Andrew Ferguson
Sky Fibre Pro was never a big seller, but for those who wanted a static IP address it used to provide an option in the pro-sumer arena, the price drop today of £5/m and a renaming to Sky Fibre Max means that anyone now joining the up to 76 Mbps service will not have the static IP option. Existing Sky Fibre Pro customers are unaffected.
The service is still only available for ordering over the telephone and when you combine the £25/m with the voice line rental it is £42.40 per month on a 12 month contract, which is going to keep the sales volumes low and also means visibility will probably be near zero on many comparison sites but we suspect Sky is keeping this policy so it can handle speed expectations, i.e.. if you are an existing Sky Fibre customer getting lower than 38 Mbps from the existing service there is no point in upgrading, since the up to 38 Mbps and up to 76 Mbps are based on the same identical technology.
With the £0 line rental offers from Vodafone its up to 76 Mbps service is just £28/month on an 18 month contract. We have scoured the Vodafone website and 130 pricing document and cannot find any indications that line rental or broadband price will increase after the minimum contract period, and given the relative size in terms of fixed line customers a low price land grab is to be expected if they are to rise to compete with providers such as EE and Plusnet.
---