Broadband News
Friday 09 December 2016 15:57:57 by Andrew Ferguson
It looks as if some Friday finger trouble may have struck Openreach, as following on from people mentioning odd messages some further checking of the Openreach Where and When site reveals it appears that many (and maybe all) cabinets that are not live with VDSL2 broadband are showing a message saying the cabinet is live but demand is high.
Click image to zoom in
So the message might cause some people to get excited, so if you were waiting for your cabinet to go live shortly it is probably safer to assume that your cabinet is not live, but carry on with your regular checking. An indicator that the message for a particular lookup is broken is indicated by the '-' in the technology section, this status usually only occurs for premises that are on an enabled cabinet but too far away for VDSL2 to work. For cabinets and FTTP areas that are live and taking orders the checker appears to be working fine.
Update 6:30pm We received the following statement on the issue at 5:30pm
"We're keen to give people more information when our engineers are carrying out maintenance on our fibre cabinets, so we've been making some tweaks to our fibre checker.

One of our updates yesterday didn't quite go according to plan, so we've rolled it back and the checker should be working smoothly again now

Openreach spokesperson
Friday 09 December 2016 11:52:13 by Andrew Ferguson
Virgin Media has slashed £9/m off the usual £27/m offer price for its entry level 50 Mbps cable broadband service, making it just £18/m for 12 months (after the minimum term price rises to £32.25/month and there is the £14.99 activation fee). This latest offer which seems to undercut all the other providers for now runs until the end of 29th December 2016.
For those who want a bit more speed the 100 Mbps download service is available for £23/m and 200 Mbps weighs in at £31/m (price after 12 months is £37.25/m and £45.25 respectively.
Thursday 08 December 2016 00:15:19 by Andrew Ferguson
Which? has been lobbying over a number of broadband issues for sometime and as part of this it commissioned a survey of 2,000 people around broadband, and while we don't know the location of the people the sample is described as nationally representative.
The headline from the survey is that 90% described broadband as essential, and this was higher than running a car (68%) or even a TV (73%). Interestingly running water scored 97%, food 97%, energy supply 95% and adequate housing 95% are the only items to score higher than broadband, takeaway food was at the bottom with 13% saying it was an essential
"This research underlines again just how important broadband is to our everyday lives. Yet many of us are still experiencing persistent service interruptions and a large proportion of the population can't access usable speeds to carry out the most basic tasks.

The government must urgently press ahead with its reforms to give us the faster and more reliable broadband connections we all need.

Alex Neill, Which? Director of Home and Legal
What is likely to get a great deal of coverage is the poll also found that 3 in 10 were getting speeds below 10 Mbps (Mega bits per second), and actually that is no surprise since our monthly speed test results show that if we eliminate obviously Wi-Fi devices such as tablets and mobiles, 39% have a speed of 10 Mbps or slower. Including mobiles and tablets only adds an extra 1%, but drops the mean speed from 26.7 Mbps to 24.3 Mbps.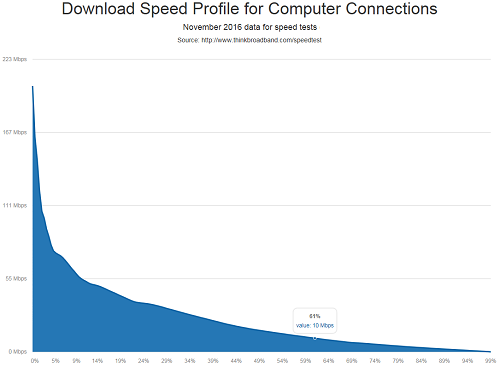 Click image to zoom in
Profile of upload speeds in November 2016
It is pretty simple as to why so many people are reporting speeds under 10 Mbps and it is not because of a massive failure in the coverage statistics, but simply that millions are yet to upgrade to the faster services, the reasons for this slow upgrade rate will be varied, but the extra cost of the faster services has to be a significant one. Also it is possible that for people where broadband is just another monthly bill rather than an obsession they may not even know that a faster product is available, and the constant drip feed of bad broadband stories may convince some that the new faster services are just a waste of money.
The survey also looked at other issues and with 68% reporting a problem with their broadband in the last 12 months the knee jerk reaction is to say UK broadband is incredibly broken, but think about it for a moment, we know that many people equate problems with their Wi-Fi to also be a broadband problem and identifying whether a video is buffering due to a problem with your broadband or provider rather than the service itself is much harder.
Automatic compensation for broadband faults is something that is overdue, but this is as much a retail problem as it is a wholesale one, though for people with vertically integrated providers this might be simpler. Where compensation will become much more complex is compensating for slow speeds that dip below sales estimates, the danger being that providers will simply spread the cost of compensation across the customer base and providers may simply switch to giving lower speed estimates to ensure minimal compensation is needed, or refusing to take on customers which may mean some people are stuck on years old services.
Of course it could be said that a pure fibre future would solve all this, but speed slow downs are possible with FTTH/FTTP since it is still a contended service and not immune to fibre breakages. The challenge is getting everyone to upgrade to the new services, if something like 80-90% take-up was a foregone conclusion then there would be no need for the BDUK roll-outs as commercial operators would be chasing the revenue. B4RN with its high levels of community engagement and rolling out in areas where people may be using dial-up or satellite connections is reported to have a 60% take-up, thus highlighting the scale of the task faced even when pure fibre is deployed.
"It's no surprise that broadband is viewed as essential: the UK has a strong and leading digital economy and our members are continually innovating and investing in their networks. The UK broadband market is very competitive and Ofcom statistics show speeds and quality are improving year-on-year. However, we recognise that more can always be done to improve services, which is why billions are being invested in our broadband infrastructure from a wide and growing range of providers across the UK."

James Blessing, Chair of the Internet Services Providers' Association
Wednesday 07 December 2016 16:29:16 by Andrew Ferguson
The recent attacks on TalkTalk customers using the DSL-3780 router and some Zyxel devices has highlighted some of the vulnerabilities as millions of us make our homes more and more complex and increasingly have little understanding about how devices will interact.
The Mirai worm was initially thought to be relatively benign i.e. reset router and off you go again, but in the process of investigating the Mirai attack it was found that someone was using the same vulnerability to harvest some 57,000 combinations of SSID (wireless network identifier) and MAC (unique hex string identifying WAN interface of a router) and passwords allowing access to the Wi-Fi network. Whether this harvesting was done to see what was possible via the vulnerability and no-one was planning to use the data for nefarious purposes or with clear criminal intent is a big unknown.
So why are we writing about it now, i.e. relatively late to the party, mainly because the original numbers involved were fairly small, but there is now a war of words about whether advice from TalkTalk is sufficient i.e. no need to change router passwords and wireless access keys.
The reality is that while its easy to say the risk is low, the impact for someone who may see their network compromised could be high. Of course in reality the risk from sharing a wireless access key with a 'friend' or the latest bit of malware attached to yet another phishing email is probably a lot higher.
To exploit the SSID and Wi-Fi network you of course need to be fairly close to a property, but if someone joins your Wi-Fi network and they know your router admin password all manner of things are possible, or alternatively they may do nothing more than surf a few websites and if someone has tracked you down by linking together all the data out there they might decide to play a blackmail game, or worse carry out activities that are what the security and police forces are watching for.
So should you change your router passwords? Better to be safe at the end of the day, and TalkTalk does have guides on how to do this. You should also double check that your various devices have their own security and anti-virus and malwave detection software up to date and working.
A final note of caution, the various help-desk scammers are likely to cotton onto this new issue and start their 'random' phoning of people, so be wary of any calls about installing software to fix issues. In short treat any random call as a scam even if they claim to be your ISP and actually have some of your personal details, hang-up, dial a friend to double check the line is clear, then find the actual phone number of your providers support and call them or make use of their online web chat.
Update 6pm A re-wording to emphasis that the Wi-Fi and router password scrape was not carried out using the Mirai worm, but some other software that made use of the same vulnerability. This multiple exploits scenario for a vulnerability should be no real surprise as once multiple people learn about a vulnerability there will be people racing to make use of the hole before it is shut down, or put another way there is money to be made trading this sort of information on the dark web.
Wednesday 07 December 2016 15:55:47 by Andrew Ferguson
We recently when talking about the USC Broadband Voucher scheme suggested that people double check for 4G coverage locally, but a founder of Europasat (Satellite Solutions Worldwide Group PLC) has been in touch to highlight a few issues with this.
"You are probably aware, 4G enabled cell sites currently tend to proliferate where there's an abundance of fibre backhaul. Areas where there is no 3G or 4G cellular are often that way because there is no fast backhaul (that can be connected viably). So, in essence, 4G proliferates where there is already pretty good ADSL and FTTC services. Our experience is based on connecting 60,000+ customers to satellite is that if there's no reliable ADSL, there will be poor or no 4G. Many rural areas of the UK don't even support 2G cellular.

Europasat on 4G availability
Now while without a doubt areas with poor ADSL are less likely to have 4G coverage, we do see people surprised that 4G has come to their area, and one presumes EE is not wasting its time with its marketing of the 4G EE Home router product so they see a market that does exist.
What was more interesting about the contact was less the debate of who can get what or not, but that Avanti has a contract with EE to supply 72 cell sites with backhaul and there is a wider plan to use satellite backhaul at some other 1,000 sites across the UK. We suspect this is very likely to be part of the 4G 'emergency services plan', as consumers getting 4G with satellite backhaul are going to be less than pleased given 1GB of data will cost the same in these locations as a low latency mast with fibre or microwave backhaul (capacity is apparently usually 100 Mbps over the satellite link in these cases).
With 80,000 customers across 32 countries clearly satellite broadband has a place, but based on conversations with people trying to live and work with sub 1 Mbps type connections in the UK, the access to video streaming and the much faster downloads for software updates etc are welcome but usage allowances and peak time performance can be frustrating at times.
Wednesday 07 December 2016 10:22:32 by Andrew Ferguson
As usual a week after our speed test roundup we cover the change in broadband availability for the United Kingdom and while its popular to say that nothing has changed and UK broadband is a disaster the evidence shows the roll-outs are continuing, but for those where nothing has changed since the original ADSL roll-outs one can understand the growing levels of anger expressed.
While its not a column in our data our availability site that is postcode searchable includes the overall FTTH/FTTP figure which includes all the pure fibre providers we know about and it has broke through the 2% barrier this month to 2.05%, which while still very low is hopefully the start of someone thing much bigger.
What is very telling is that when you look at where this 2.05% is located, the more rural 10.8% of UK premises have a 1 in 22 chance (4.5%) of a pure fibre option, but the urban 74.8% only has a 1 in 52 chance (1.9%). This is a reflection of the BDUK roll-outs and operators like Gigaclear whose focus is on rural areas.
thinkbroadband calculation of Superfast, USC, USO and Fibre Broadband Coverage across the UK, its nations and regions for premises
In descending order of superfast coverage - figures 6th December 2016
(change since 7th November 2016)
Area
% fibre based
% superfast
24 Mbps or faster
% superfast
30 Mbps or faster
% Ultrafast
100 Mbps or faster
% Openreach FTTP
% Under 2 Mbps USC
% Under proposed 10 Mbps USO
London
96.5%
95.4% (+0.2)
95.1%
69.1% (+0.2)
1.66%
0.1%
1%
North East
96.5%
95.1% (+0.1)
94.8%
51.7% (+0.1)
0.05%
0.2%
1.7%
East Midlands
97.4%
95.1% (+0.1)
94.6%
57.6% (+0.1)
0.06%
0.5%
2.1%
South East
97.5%
95.1% (+0.2)
94.5%
50.8% (+0.2)
1.11%
0.4%
2%
West Midlands
96.6%
94.4% (+0.1)
93.9%
62.9% (+0.1)
0.2%
0.4%
2.3%
North West
96.9%
94% (+0.7)
93.5%
47% (+0.2)
0.8%
0.8%
3.1%
England
95.5%
93% (+0.2)
92.4%
54.1% (+0.1)
1.48%
0.6%
3.1%
United Kingdom
95.2%
92.1% (+0.2)
91.5%
51.3% (+0.1)
1.33%
0.8%
3.7%
East of England
94.2%
90.8% (+0.1)
90.2%
50.5% (=)
0.49%
0.7%
4.3%
Rest Of Scotland
92.8%
89.8% (+0.3)
89.2%
44.6% (+0.1)
0.07%
1.4%
5.3%
South West
94.6%
89.7% (+0.2)
88.8%
43.8% (+0.1)
3%
1.1%
5.1%
Wales
93.9%
89.7% (+0.2)
88.5%
30.4% (+0.2)
1.4%
0.9%
6.2%
Yorkshire and Humber
91.4%
88.9% (+0.5)
88.4%
50.5% (+0.3)
4.1% (includes KCom Lightstream)
0.7%
5.2%
Scotland
91.7%
87.9% (+0.3)
87.1%
40.6% (+0.1)
0.07%
1.3%
6.7%
Northern Ireland
97.4%
81% (+0.1)
79.3%
28.1% (+0.1)
0.26%
6.6%
12.7%
Highlands and Islands
80.6%
67.8% (+0.4)
65.7%
0.06% (+0.04)
0.06%
5.9%
25.6%
Of course for many people the percentages mean nothing, so saying that the data shows for the UK some 226,000 premises are seen as only having a fixed line service under 2 Mbps and a larger 1.1 million premises are under 10 Mbps. Express those figures in the number of people involved and you can talk about a few million people not being able to get reasonable broadband and it is much headline grabbing than the cold statistic of 3.7% of the UK.
Wales is not going to hit the 96% fibre availability target by the end of 2016, but while that fact will launch a 1,000 or more complaints, there is a lot of fibre to the premises work underway, and this might push pure fibre coverage to 3-4% the problem being when will it all go live. Though if one believes the UK telecoms regulator Ofcom the Connected Nations 2015 data had Wales with 4% coverage of services at 300 Mbps and faster - which given that Virgin Media does not meet that criteria means pure fibre.
Tuesday 06 December 2016 09:56:10 by Andrew Ferguson
Ofcom has a two pronged approach to dealing with BT Openreach at present, there is the on-going battle of how far to split Openreach away from BT Group with everyone trying to avoid an expensive protracted legal battle and the second is the Physical Infrastructure Access (PIA) product, or more correctly version 2 of the PIA product as several smaller operators are already using the first version.
Ofcom has announced another consultation on its plans for PIA 2 where the eventual hope is that by making duct and pole access attractive to BT competitors they will make use of it to deploy millions of ultrafast pure fibre connections.
"In July, Ofcom detailed a new strategy to promote large-scale roll-out of ultrafast broadband, based on cable and fibre lines that go all the way to people's doorsteps. This would provide an alternative to the mostly copper-based technologies currently being planned by BT, and deliver benefits to people and businesses in terms of choice, innovation and affordable prices.

Ofcom believes network competition is the most effective spur for continued investment in high quality, fibre networks. This will also reduce the country's reliance on Openreach, the network division of BT.

The proposals include changes that mean BT would recover the costs of providing third-party access, such as repairing ducts, in the same way it recovers these costs for its own deployments – for example, by spreading them across all services that make use of the duct.

So Ofcom is consulting on whether to require Openreach to upgrade its drop wires with fibre at the request of any telecoms provider who is offering full-fibre broadband to a customer. Openreach could then charge the provider for using the drop wire.

Ofcom on new proposals
It could be said that after a decade of Ofcom sanctioned copper based local loop unbundling the regulator is now trying to get up to speed on getting pure fibre access out to more premises. One interesting snippet is that they seem happy with both coax (called cabled in Ofcom docs) or pure fibre.
One important consideration that Ofcom is seeking input on, is that competitors are asking for a relaxation on the usage rules so that more expensive leased line products can utilise PIA, current rules mean only consumer or SME grade services are allowed. Relaxing this rule would allow the deployment of higher profit margin leased lines which either form the cherry on top of the cake for deploying millions of FTTH lines or form the underlying core revenue with FTTH as the marginal revenue increase on top.
It is going to be interesting to see what happens in the next decade, if PIA 2 works then an independent Openreach might morph into a duct and pole maintenance operation with a gracefully degrading copper network and invest very little in its own pure fibre services. In other words the days of active hardware like VDSL2 and G.fast and their own pure fibre products might only be needed in the less commercially attractive areas, so we might see 80% of the UK served by others, and Openreach picking up the USO type business elsewhere.
If time travel existed we'd request that Ofcom borrowed the machine and re-started its current pure fibre focus around 2007, i.e. just after demand for broadband started to rocket due to the low price bundles from TalkTalk.
Monday 05 December 2016 13:48:42 by Andrew Ferguson
One of the problems for cable broadband users in the UK is that you are usually tied to using the broadband hardware they supply and there has been a steady stream of people upgrading and getting new hardware and finding things are not as good as their old Virgin Media product. Well The Register has some information on what might be the cause, and it may not be a case of blaming neighbours from using the Internet too much but some Intel Atom x86 processors which sit at the heart of the Virgin Media Superhub 3.
There has been some evidence of a software related issue with Virgin Media CPE as a number of users have found that restarting their hub improves the state of the Broadband Quality Monitor graph, and the new research suggests that firmware and how the Intel CPU manages what its doing is one of the reasons for poor gaming and a general slug like performance at times.
We have no idea if this is linked to the general single download performance issues our speed test results are showing, which appear to be getting worse, but it is conceivable that a single download is not taxing the CPU enough so it continues its housekeeping that is generating lag and packet loss, but multiple threads override the behaviour.
So what happens now? It seems that a firmware update from Intel may be a core part of the solution, but that upgrade would need to be integrated into the different CPE affected, so its not likely to be something fixed before Christmas.
For now though it looks like we will still see people downgrading from 200 Mbps cable products to much slower VDSL2 services and praising the stability for gaming, streaming and snappier web browsing.
Friday 02 December 2016 09:43:09 by Andrew Ferguson
The Fastershire project which covers the roughly 350,000 premises of Herefordshire and Gloucestershire is likely to award a £4.54m contract to Gigaclear to deliver pure fibre to some 2,600 of the hardest to reach premises across the counties.
The contribution level from Gigaclear is unknown, but this may become clearer when an actual contract is signed rather than a recommendation, but the contract value of £4.54m represents £1,730 per premise which is believed to be close to the cap that value for money rules allow under the BDUK contracts.
"Access to a fast and reliable digital connection is becoming more and more important for families and businesses here in Gloucestershire and right across the UK.

We're making a real difference to peoples' lives, enabling the fibre network to reach some of the most rural areas where larger suppliers were not prepared to go. Faster broadband connection remain a priority to our economy, education and supporting our communities. The Fastershire project is pushing the boundaries of the technologies available with this next stage a key step in meeting the ambitions of the two counties.

That's why phase two of our Fastershire project focuses on using new and emerging technology to deliver full fibre solutions to some of the hardest to reach premises across the county.

Cllr Mark Hawthorne
The two counties are not too backward with pure fibre coverage Herefordshire has 8.19% availability of FTTP, and Gloucestershire is running at 4.77% (1.64% via Openreach). The footprints this represents are shown below and at first glance you would expect the coverage to be much higher based on the number of postcodes served, but many of the postcodes only comprise a handful of premises.
Gigaclear Footprint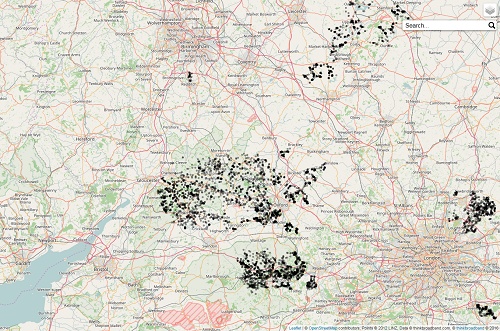 Click image to zoom in
Openreach GEA-FTTP Footprint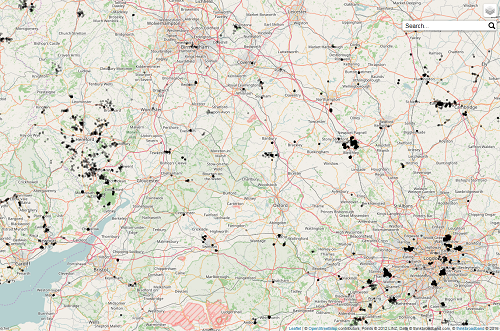 Click image to zoom in
Browse map of these and other FTTH operators
2,600 premises represents around 0.7% of the two counties, so while for individuals this will be a massive change in broadband abilities in the bigger picture it is just one small part of the puzzle.
Interestingly the Councillor David Harlow in the press release talks about Herefordshire having 15% coverage of FTTP, which is at odds with our own figure of 8.19%. If one uses the Ofcom 2015 data (coverage as of summer 2015) they claim a coverage figure of 13.6% of premises for faster than 300 Mbps, so we presume this is the data used. The difference with our own figure is some 5,600 premises and based on our analysis of the area we believe that the Ofcom data and the councillor may be including a good chunk of Openreach FTTP that is still in the build stages or just planned, we endeavour to only include premises where GEA-FTTP is available to order (some random checking does support this hypothesis too and an example is HR9 7RT which shows our data for the postcode, along with the Ofcom 2015 data, i.e. we tag premise as connected to a live cabinet but a long distance away and no FTTP and we suggest VDSL2 will be slow or non-existent, but Ofcom claim 92% of postcode can get 300 Mbps or faster and checking the sales checkers reveals no VDSL2 option and no FTTP.
Update 3pm We pushed Herefordshire to the top of the review stack and after a sweep of the county have revised our coverage figure for Openreach native FTTP to 9.13% (our coverage site has updated with the new figures and postcode information). There are a fair number of places where Ofcom claimed ultrafast availability but the build process is still ongoing, and in a good number it seems a VDSL2 cabinet has been put in place, and in others no sign of any work at all.
Thursday 01 December 2016 12:14:18 by Andrew Ferguson
Okay so its officially time when radio stations start playing the Christmas songs and that means it is time to publish our speed test results for November 2016. We have the dropped two tables that split our the major providers based on the technology used in each connection and have expanded the technology splitting to all the broadband providers. The result is interesting to say the least.
The 25 Fastest UK Broadband Providers in November 2016
(ordered by median speed)
Smaller providers without enough geographic data samples are not included
Provider
Download Speed of bottom 10%
Mbps
Median Download
Mbps
Mean Download
Mbps
Median Upload
Mbps
Mean Upload
Mbps
Download Speed of top 10%
Mbps
KCom Lightstream
19.2
50.7
63.4
9.5
17.7
118.9
BT Infinity (FTTH)
19.7
46.3
59
10.7
14.1
109.2
Hyperoptic
16.3
45.5
78.9
36.2
66.4
171
Gigaclear
16.2
44.4
64.4
40.7
62.5
104.8
Virgin Media
8.1
42.1
50.9
5.1
6.3
103.5
AAISP (FTTC)
15.9
38.4
44.1
10.3
11.5
73.4
IDNet (FTTC)
12
37.8
40.3
9.2
11.1
70.2
Zen Internet (FTTC)
16.6
37.4
40.4
9.4
11
70
Daisy Wholesale (FTTC)
14.1
36.4
38.2
9.4
11.4
67.1
BT Infinity (FTTC)
14.6
34.9
35.9
8.6
8.9
56.4
Eclipse (FTTC)
12.7
34.6
37.3
8.2
10.7
69.3
Vodafone Broadband (FTTC)
15.3
32.9
35.2
8.8
10.2
58.8
PlusNet (FTTC)
15
32.7
34
4
6.7
56.1
Entanet (FTTC)
6
29.1
34.7
10.1
11.3
73.1
IFNL (FTTH)
10.7
28.2
32.7
11.4
12.3
58.8
EE (FTTC)
11.6
28
27.6
8.4
7.8
37.7
TalkTalk (FTTC)
14.1
27.1
28.4
1.8
4.3
39.2
Sky (FTTC)
11.3
26.1
26.2
7.3
7.1
37.5
Ask4 (FTTB/FTTH)
2.9
24.2
29
4.6
6.1
55.9
EE Mobile
2.8
18.8
27.3
2.8
5.3
55.1
Vodafone Mobile
2.4
12.4
16.3
1.9
3.5
35.6
O2 WiFi
2.1
10.4
15.3
1.9
3.1
32.7
O2 Mobile
2
10
14.4
1.5
3.1
32.8
Three Mobile
1.8
9
14.4
1.6
3.7
34.3
Relish
1
7.5
15
1.1
1.8
38.3
The top of the table is dominated by the fibre to the home providers and unlikely to see any major changes in that. Seeing Virgin Media in fifth place is no great surprise as the operator itself already makes sure to say something along the lines of fastest widely available provider in advertising, the question is at what percentage of coverage of FTTH/FTTP services will that caveat cease to be valid?
There are a number of providers who also have median speeds above 50 Mbps, but due to their small size getting a decent sample size is difficult, but there was B4RN (95 Mbps), Venus (82.8 Mbps) Zen Internet (FTTH - 73.5 Mbps) and WarwickNet (54.5 Mbps). For those wondering how BT Infinity (FTTH) beats Gigaclear and Hyperoptic, a lot is down to the product choice people make and how the router provided behaves with regards to wireless performance.
The new table format has meant that no ADSL results feature in the main table, and what we plan to do is cover ADSL speeds in their own table once a quarter, for now KCom tops that table at 6.1 Mbps with speeds dropping all the way down to 3.8 Mbps for the Post Office service.
While not part of the UK, Jersey and Guernsey do make a appearance but with too small a sample to include in the main table, but JT on what looks likely to be their FTTH service records a median download of 45.7 Mbps, Sure had no obvious FTTH tests so reports very ADSL2+ type speed with a median download of 10.5 Mbps.
The peak versus off-peak table makes its regular appearance and is important since broadband testing is not just about the top speed, and comparing time of day speeds helps to give an idea of the overall performance, for example if a provider has a melt-down month in terms of performance it should reveal itself in this data.
Peak and Off-Peak Download Speed Tests Results November 2016
Provider
tbbx1 Test
(1 download)
httpx6 Test
(6 downloads)
7am-3pm
6pm-midnight
% difference
7am-3pm
6pm-midnight
% difference
BT
21.5 Mbps
22.4 Mbps
+4%
24.5 Mbps
24 Mbps
-2%
EE
10.1 Mbps
8.9 Mbps
-13.5%
11.4 Mbps
10.4 Mbps
-9.6%
Plusnet
16.7 Mbps
14.9 Mbps
-12%
18.3 Mbps
18.3 Mbps
0%
Sky
11.6 Mbps
10.1 Mbps
-14.8%
14 Mbps
13.2 Mbps
-6%
TalkTalk
10 Mbps
9.4 Mbps
-6.4%
11.2 Mbps
12.1 Mbps
+7.5%
Virgin Media
40.9 Mbps
28 Mbps
-46%
55.1 Mbps
44.7 Mbps
-23%
The peak versus off-peak table always causes some angst, and illustrates very nicely why providers are so keen to recommend testers that don't do any quality comparisons at all, and throw increasing numbers of threads at issues to try and ensure the connection speed is reported rather than the actual user experience. Of course with any median or mean speed reporting for a provider, an individuals experience is likely to vary but the table does give a quick comparator among the larger providers. We also track a stability metric which is based on an analysis of every speed test and interestingly Virgin Media is down towards the mobile and Wi-Fi based operators, hopefully in coming months we will share this comparison too.
---