Broadband News
Friday 17 February 2017 09:11:05 by Andrew Ferguson
Live in a building that can get Hyperoptic broadband and don't have it yet, then today makes it a little easier, as in an apparent act of kindness Hyperoptic is giving away the first month of service free on its broadband and phone packages.
This offer is only on 17th February 2017, and the pricing across the three speeds is:
Symmetric Gigabit Broadband and Phone, 1st month free then £48/m for 11 months, thereafter £63/m. 12 month contract.
Symmetric 100 Mbps Broadband and Phone, 1st month free then £28/m for 11 months, thereafter £38/m. 12 month contract.
20 Mbps download, 1 Mbps upload Broadband and Phone service, 1st month free then £18/m for 11 months, thereafter £25/m. 12 month contract.
Tuesday 14 February 2017 10:30:36 by Andrew Ferguson
Update 15th February 2017 PlusNet has released its next set of prices with a £10 activation fee on ADSL2+ and £25 on the fibre based services. Contract lengths have reduced to 12 months. ADSL2+ from £20/m, VDSL2 up to 38 Mbps down (up to 1.9 Mbps up) from £25/m and VDSL2 up to 76 Mbps down (up to 19 Mbps up) from £30/m. This round of pricing is set to end on 28th February 2017.
Thinking of ordering Plusnet ADSL2+ or fibre, then today may be the day to order, as current offers end today and £10 and £25 activation fees (including router delivery) are coming on the ADSL2+ and fibre based services respectively on 15th February.
The Unlimited Fibre and Phone package is currently from £27.50 per month for the 18 month contract term and there is £50 cashback to be claimed if you order today (14th February 2017) and no set-up fee. Price is higher outside the low cost areas, Plusnet checker will confirm pricing. Fibre service is up to 38 Mbps download and up 1.9 Mbps upload speeds, with actual speeds dependant on distance to fibre cabinet, remember to make note of the estimated service speeds given during sign-up.
For those only able to get ADSL/ADSL2+ or are simply happy with that service, it is available from £20/m for 18 months and no activation fee.
Friday 10 February 2017 10:47:40 by Andrew Ferguson
The connection voucher schemes may not have connected millions, but as a way of helping those most in need in as quick as possible fashion they are proving vital and Exmoor Technology has announced that it has now connected over 200 properties using 4G tech in Devon and Somerset.
The voucher scheme in Devon and Somerset has driven a lot of the demand, but there are no new applications until coverage plans via the phase 2 superfast contracts in the area have been finalised (likely to re-open April 2017). Importantly, those who have used a voucher are not excluded from any subsequent roll-outs.
"The success of the scheme highlights developments within the industry that present innovative and exciting opportunities in the delivery of broadband services. The success of the scheme was recognised in September by the Prime Minister and I'm happy Exmoor Technology are able to share in this success. The delivery of 200 4G connections makes up a high proportion of the 700 total connections made to date, and I am extremely pleased that a local business is making such a significant contribution, ensuring residents and businesses have access to best possible broadband speeds."

Councillor David Hall from Connecting Devon & Somerset
While many people complain about 4G coverage, it looks as if Devon and Somerset are doing well and Exmoor Technology say that so far only 4 locations have failed to obtain a 4G signal giving speeds in excess of 10 Mbps (one of the criteria for voucher use is the connection should be faster than 10 Mbps). EE whose network is used claim 94% geographic coverage of Devon and Somerset is only slightly behind.
One reason why Exmoor Technology can get good 4G coverage is the use of external antenna mounted on the outside of the property, this generally means you can gain some elevation and better signal strength - the vouchers where are worth up to £500 neatly cover the costs of this work and hardware. One problem of 4G so far in terms of adoption for massed Internet access is usage allowances, but Exmoor Technology does have some better plans than your usual high street fayre with 64GB of data for £30 per month, and can go all the way to 200GB. As with most 4G services the service is CGNAT based, but business has the option of a a public IP but the business product is more expensive at a cost of £2 per GB.
Thursday 09 February 2017 10:33:17 by Andrew Ferguson
It seems a long time since Virgin Media did a massive round of speed upgrades, but some customers may have noticed a subtle change in the speeds recorded by speed tests. Virgin Media customers on the 200 Mbps tier which normally connects at 220 Mbps may have seen the DOCSIS modem configuration update to a 230 Mbps connection and 300 Mbps customers go from 330 Mbps to 345 Mbps.
We asked Virgin Media what the reason for this was and got the following response:
"We often tweak our network profiles to ensure that we continue to deliver the speeds we sell as the volume of customers on our higher tiers increases.

A Virgin Media spokesperson
A little extra speed is always welcome, but there is we believe a more subtle reason for the change and that is with the existing advertising rules providers are supposed to be able to show 10% of customers can reach the speeds in the advert and by tweaking the connection speed up you hopefully achieve that a bit easier, or put in a more cynical fashion those cable customers in slow areas are going to be balanced out by those in the good areas going faster now. Virgin Media is not the only one reacting to pressures on how speed advertising is heading, the switch from an up to 38 Mbps product to an up to 52 Mbps on at BT Infinity gives them an edge now and another if an average speed rules is enforced. The biggest worry is that with average speeds is that providers will become careful about who they allow to sign up to their services, i.e. as well as credit checks you may be filtered based on your prospective connection speed and be offered different products or simply told the service is not available.
Wednesday 08 February 2017 11:41:52 by Andrew Ferguson
Apartments that are part of the 895 units being built as part of the Circus West Village look set to enjoy symmetric Gigabit broadband from Hyperoptic and it will be available from the day they move in. Circus West Village is the first phase of the Battersea Power Station development that anyone who has endured the commute into London Victoria cannot fail to have noticed.
"World-class infrastructure is at the heart of our award-winning project. All of our suppliers have been strategically selected to support this vision and give our vibrant new BPS community the best services in the market. Broadband infrastructure may be invisible, but its impact on our resident's quality of life is significant. Hyperoptic is renowned in the industry for its phenomenal speeds, product range and service delivery. On behalf of our Malaysian shareholders, we are thrilled to have Hyperoptic on board as a supplier."

Mike Varney, Building Services Technical Manager, Battersea Power Station Development Company
This is just the start, as the development should eventually comprise some 4,364 new homes, people should start moving into the Circus West Village in early 2017 and commercial tenants from Spring 2017 onwards.
Tuesday 07 February 2017 11:53:26 by Andrew Ferguson
Governments saying they are on track and announcing project milestones is easy and some degree of scepticism is healthy and we fully understand the anger felt by those in any of the UK project areas who still don't know if and when they will be seeing any broadband improvements and those who are earmarked for an improvement but nothing seems to be happening.
The Scottish Government held a cabinet meeting and public Q&A session with 250 members of the public on Monday 6th February at Pitlochry and one of the statements made was that the combined might of the (Highlands and Islands) HIE and Rest of Scotland BDUK projects had made fibre based broadband (VDSL2) to some 700,000 premises.
By combining the two projects using our data and excluding premises where Virgin Media is available we arrive at a lower figure of 630,000, if you include the cable figures the footprint is 818,000 premises passed by VDSL2/FTTP or cable broadband, which once range limitations of VDSL2 are applied gives you premises passed as 698,000 to 712,000. NOTE: With the on-going Virgin Media expansion there are areas where cabinets will have being delivered in the early stages of the project but may now also have a new cable broadband option (e.g cabinet 13 on the Irvine exchange which went live in 2015) which explains some of the gap between our 630,000 figure and the official 700,000.
Scotland has the target of making fibre based broadband available to 95% of the country by the end of 2017, and this of course will also depend on the commercial roll-outs and thus encompass numerous operators such as Virgin Media and Hyperoptic and not just Openreach, hence our inclusion in the metrics we track. The 95% target looks like it will be easily met in the next 12 months, but this will include people who cannot get superfast speeds and thus is not identical to the Westminster goal of 95% superfast coverage for the UK as a whole.
thinkbroadband calculation of Superfast, USC, USO and Fibre Broadband Coverage across Scottish Premises
figures 6th February 2017
(change since 31st January 2016)
Area
% fibre based
% superfast
24 Mbps or faster
% superfast
30 Mbps or faster
% Ultrafast
100 Mbps or faster
% Openreach FTTP
% Under 2 Mbps USC
% Under proposed 10 Mbps USO
Scotland
92.6% (+5.7)
88.7% (+5.8)
88% (+5.8)
40.6% (+1.4)
0.08% (+0.08)
1.3%
6.1%
Rest Of Scotland
Commercial + BDUK
93.6% (+3.4)
90.6% (+3.9)
90% (+3.9)
44.6% (+1.2)
0.09% (+0.9)
1.5%
4.8%
Rest Of Scotland
Superfast Scotland / BDUK Only
97%
89.2%
87.9%
27.8%
0%
3.9%
6.7%
Highlands and Islands (HIE)
Commercial + BDUK
82.9% (+10.7)
69.5% (+10.3)
67.3% (+10.3)
0.07% (+0.07)
0.07% (+0.07)
6.4%
23.5%
Highlands and Islands (HIE)
Superfast Scotland / BDUK only
97.8%
77.9%
75%
0%
0%
9.3%
15.3%
Change for the Superfast Scotland / BDUK areas is only available back to June 2016 when we started tracking individual projects in addition to administrative areas.
The table above shows Scotland, the two main sub divisions and then what we believe has been delivered by the two projects covering Scotland. One observation we can make is that there is signs of more being on the way to parts of Scotland from Openreach and while many rural exchanges with all exchange only lines are getting one or more new VDSL2 cabinet there as yet has not been the same scale of cabinet infill work as seen in other parts of the UK.
When you do the maths and see that with some 2.7 million premises covering homes and business are in Scotland there are currently still some 320,000 premises without a superfast option of 30 Mbps or faster, you can see why it is so easy to find people with bad broadband stories.
IMPORTANT If you are in Scotland and don't have a VDSL2 option yet and are stuck on ADSL, the good news is that BT Wholesale has said it will be upgrading all the remaining ADSL exchanges to WBC ADSL2+. This means better backhaul capacity so will behave better at peak times, a less onerous IP Profile system (i.e. its fully dynamic rather than IPStream drop quick rise slowly pattern) and upload speeds for many will double, plus the small matter of increased download speeds, which might only make a 0.1 Mbps difference for a 6km line but for those at the 4km and better cable distance it will give a decent speed boost. Not all providers are pro-active at migrating people across, so it is always worth checking if ADSL2+ is now available yourself.
CORRECTION 08/03/2017 16:35—We updated the article at following the Scottish Government advising us that the 700,000 figure was a fibre-based figure (i.e. technology), rather than 700,000 superfast premises (i.e. 24/30Mbps or faster).
We have also changed the text to highlight that the original article suggested it looked like 700,000 premises were superfast via the project appears to be due to us having included Virgin Media cable premises. In some parts of Scotland some cabinets have been delivered that do overlap with Virgin Media, but the invoicing systems mean BT should not be claiming for those premises, and thus official reports of premises passed should exclude these and thus only fair that we do too.
The 95% target has also been corrected as we mistakenly read it to mean 95% superfast coverage when it is actually 95% fibre based coverage (i.e. first column in our tables).
Tuesday 07 February 2017 11:02:53 by Andrew Ferguson
It seems a combination of the impact of the Christmas holidays and our annual updates to ensure that we are update to date on the number of premises due to things like new build premises has meant that some people may be confused as to how coverage appears to have gone down in some regions of the UK. So while new FTTP, VDSL2 and cable has appeared in the last month in some cases it has been overtaken by us adding thousands of new build premises. This dip is one reason why you see the various BDUK projects reporting the number of premises they believe are covered by the projects.
thinkbroadband calculation of Superfast, USC, USO and Fibre Broadband Coverage across the UK, its nations and regions for premises
In descending order of superfast coverage - figures 6th February 2017
(change since 7th December 2016)
Area
% fibre based
% superfast
24 Mbps or faster
% superfast
30 Mbps or faster
% Ultrafast
100 Mbps or faster
% Openreach FTTP
% Under 2 Mbps USC
% Under proposed 10 Mbps USO
London
96.6%
95.4% (=)
95.2%
69.1% (=)
1.84%
0.1%
1%
North East
96.6%
95.3% (+0.1)
94.9%
51.6% (-0.1)
0.06%
0.2%
1.7%
South East
97.6%
95.1% (-0.1)
94.6%
50.8% (-0.1)
1.17%
0.4%
1.9%
East Midlands
97.5%
95.2% (+0.1)
94.7%
57.5% (-0.1)
0.1%
0.5%
2.1%
West Midlands
96.9%
94.7% (+0.2)
94.2%
62.8% (-0.1)
0.25%
0.4%
2.2%
North West
97%
94.2% (+0.1)
93.7%
47% (=)
0.89%
0.8%
2.9%
England
95.8%
93.1% (=)
92.6%
54.1% (-0.1)
1.59%
0.6%
2.9%
United Kingdom
95.5%
92.4% (+0.1)
91.8%
51.3% (-0.1)
1.43%
0.8%
3.5%
East of England
94.5%
91.1% (+0.1)
90.5%
50.5% (-0.1)
0.51%
0.7%
4%
Rest Of Scotland
93.6%
90.6% (+0.4)
90%
44.6% (=)
0.09%
1.5%
4.8%
Wales
94.2%
90.2% (+0.4)
89.1%
30.6% (+0.1)
1.64%
0.9%
5.7%
South West
94.6%
89.5% (-0.3)
88.6%
43.4% (-0.5)
3.11%
1.1%
5%
Yorkshire and Humber
92%
89.4% (+0.3)
89%
50.6% (+0.1)
4.27% (includes KCom Lightstream)
0.7%
4.9%
Scotland
92.6%
88.7% (+0.4)
88%
40.6% (=)
0.08%
1.3%
6.1%
Northern Ireland
97.5%
81.4% (+0.3)
79.7%
28.3% (+0.2)
0.28%
6.4%
12.2%
Highlands and Islands (HIE)
82.9%
69.5% (+0.4)
67.3%
0.07% (+0.01)
0.07%
6.4%
23.5%
Areas such as Devon and Somerset and Wales have been focussed on closely due to the publicity around project targets and new contracts and it appears in the South West new build was more likely to not have access to a superfast service hence the drop, while in Wales the continuing roll-out outpaced any impact from new build premises and better accounting of business premises.
We reported on the shortfall for the CDS contract standing at 12,500 premises on 23rd January 2017, and subsequent roll-out of FTTP and more VDSL2 cabinets has now brought this down into the 4000 to 5000 premises region.
Tuesday 07 February 2017 10:28:13 by Andrew Ferguson
Keeping package listings up to date is a constant game and we spotted a change on the BT broadband package pages on Monday 6th February, namely that they were making the out of contract cost visible. Usually if you dig enough through the footnote expanders you can work it out, but the new call-out makes it very obvious what the cost is if you remember after the 12 month minimum term.
Hardly a news story one could say but with the changes to the rules around broadband advertising in Autumn 2016 some had hoped that this and other things like making providers be clear and upfront about upload speeds would become more common. The reason we have headlined with the word 'tests' is that different browsers on the same PC and connection give different results, indicating that BT Consumer is A/B testing the effect of the change.
A/B testing on providers product pages is not new, but it does risk confusion as people may browse a deal on their phone/tablet as the result of a search triggered by a TV advert, but complete the purchase on a different device.
I think most people agree it would be a good move for all providers to make it clear what the out of contract price is before they embark down the path of sharing any personal information. The advertising landscape has changed so 3 or 6 month discounts on a 12, 18 or 24 month contract are now rare. Other changes in the last year or so has been less 'vouchers', more expensive migrations and call bundles shrinking, as providers attempt to keep headline pricing as low as possible - this does not always work hence the various price rises at the retail level.
Tuesday 07 February 2017 09:59:53 by Andrew Ferguson
A big change from the Ofcom once a decade review of BT and Openreach was a push to improve Physical Infrastructure Access (PIA), essentially to create a version 2 that was simpler and cheaper to make use of. Those who have been in the broadband game for over a decade will recall similar with LLU, which worked on a small scale but took several attempts until the right formula was arrived at over a couple of years, and this led to the explosion that was TalkTalk who started the UK down the phone and broadband bundle route. For those not aware of PIA, it is about giving third parties access to the existing duct and pole network that Openreach has and at a set of regulated prices.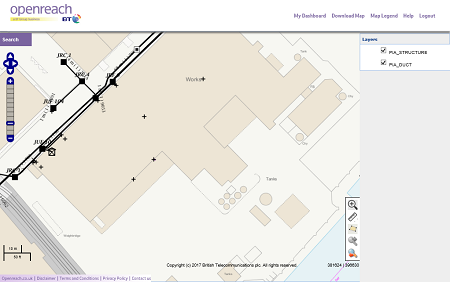 Click image for larger version
Openreach is promoting its latest enhancement to the PIA process which is that verified communication providers will have access to online maps of infrastructure in areas and while the new system is not exactly a click and order portal it will allow operators to determine what assets are involved between two locations and thus make planning roll-outs to areas or single custom builds a lot simpler. Compared to old school methods of paper records, fax or email we are certain the new system will get a lot of interest, the question is whether it will generate actual roll-out of fibre to the premises for millions of homes, or as we suspect be used more for helping to reduce the costs of deploying business fibre connectivity. The online portal follows closely on the heels of changes to the PIA processes that have been in trial since Summer 2016 that moved to full launch mode in January.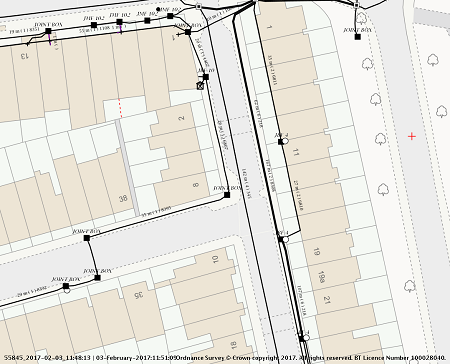 Click image for larger version
"This is another important development in our plans to give greater access to our network and encourages other companies to join Openreach in building better, broader and faster communications services for the whole UK.

As our infrastructure already exists, CPs will be able to build and expand their fibre network in far quicker timescales than if building it from scratch. The mapping tool further enhances that process – giving CPs exactly the same level of access to our network data as Openreach.

Our ducts and poles have been open to these companies for several years, and Ofcom has been clear that the price to access them is in line with international comparisons, but they haven't been used on a large scale to date. We hope that these new, simpler processes – which have been designed and developed in partnership with the industry – will encourage more companies to invest, particularly in parts of the UK that aren't already served by high-speed networks."

Clive Selley, Openreach CEO
Monday 06 February 2017 19:53:51 by Andrew Ferguson
Relish has been working hard to crack the UK fixed wireless market making use of the band it holds the licence for in the 3.5 GHz and 3.6 GHz bands and it looks likely that this band has convinced three to pay some £250m for Relish who are otherwise known as UK Broadband in the UK.
The Financial Times has the low down and given UK Broadband (PCCW) was owned by Richard Li who is the son of the owner of three (CK Hutchinson) the sale is even less of a surprise. There is an Ofcom auction of more spectrum due later in 2017 but by securing this block to either use for 4G mobile or fixed services three looks to have de-risked the cost of being outbid and getting nothing from the spectrum auction.
Relish operates two well known services, the broadband in a box 4G LTE solution sold in parts of London and ideal for people who move around a lot and the Superfast Swindon contract where a fixed wireless solution is being deployed to increase superfast coverage in the area. How many customers Relish have is an unknown, our estimate is somewhere in the 30,000 to 40,000 bracket.
The band 42 and 43 which is what Relish operate in is not available in any mobile handsets that we are aware of and while there are Huawei 4G LTE modems with support you need to make sure the correct version is used. With demand for increasing chunks of spectrum globally it is likely that as part of continuing 4G enhancements or the yet to emerge 5G more devices will support these and a myriad of other bands.
---