Broadband News
Friday 28 November 2014 09:12:32 by Andrew Ferguson
PlusNet is offering its Unlimited ADSL2+ service free for 12 months on a 12 month contract and also is adding a £75 cashback cheque, meaning all you need to do is pay the voice line rental at £15.95 per month.
The free broadband offer is only available until 1st December 2014 and reading the offer small print appears to also apply to those outside the PlusNet low-cost areas too. Free Weekend phone calls are included, and you can upgrade to Evening and Weekend calls for £2 per month or £4.50 per month which gives you unlimited UK landline calls.
The six months free fibre offer has also returned then £14.99 per month, but is an on-going offer, so less of a rush to sign up.
Friday 28 November 2014 08:45:17 by Andrew Ferguson
There are several ways reaction will go to the news that 36km of fibre (including 16km of overhead fibre) has been deployed to bring FTTP to Dinas Mawddwy. Either scoffing at the noise being made about 164 premises now getting access to superfast broadband in Wales, or people calling it a waste of money or complaints that why FTTP for that part of Wales and not their part. What we know is that the service is now available to order from those retailers selling Openreach GEA-FTTP, but generally for consumers this means the Infinity 1 to 4 products ranging in price from £10 to £50 per month (plus £16.99 voice line rental).
This deployment involved 16km of overhead and 20km of underground ducted fibre to link the village to the new core network and increases the amount of FTTP available in Gwynedd to around 0.5% of households with the addition of another 164 properties able to get the service.
"This is excellent news for the residents and businesses of Dinas Mawddwy and shows the lengths the Superfast Cymru programme is going so people can enjoy the benefits of fast fibre broadband.

The sheer distance of the overhead fibre to reach the village is an achievement which hasn't been realised before throughout the UK and shows our commitment to connect rural communities in Wales.

Bringing superfast speeds to Dinas Mawddwy is a symbol of how ambitious the Superfast Cymru programme is and by Spring 2016 we aim to reach 96% of properties meaning people will have access to faster internet speeds quicker than the rest of the UK.

We are committed to seeing Wales become a truly digital nation and the Superfast Cymru scheme is vital in making that vision a reality.

Deputy Minister for Skills and Technology, Julie James
The network has been live for a few weeks so hopefully we will start to see much faster speeds than the 1 to 6 Mbps than we have previously seen as people order and get the service installed.
The deployment of FTTP is key to ensuring that the 90% superfast (96% fibre based) target is met across Wales as a whole and while we are not expecting anything like the level of coverage achieved in Cornwall it is becoming more widespread.
Thursday 27 November 2014 16:23:20 by Andrew Ferguson
BT is entering into the spirit of the Black Friday Sale period with some special offers that run only until 1st December 2014, as well as the slightly longer running Sainsbury's Gift card offers that expire on 4th December 2014.
Voice line rental at £16.99 per month is a requirement of both offers, and while the prices are higher outside the minimum term (£18 and £23 respectively) if people are willing to sign up to a another contract term deals can sometimes be made.
Thursday 27 November 2014 12:52:31 by Andrew Ferguson
100GB of free 4G data seems almost too good to be true, but it seems to be what EE is offering people who sign up for a Dan and Phil Limited Edition SIM.
The SIM will work for two months and you get 100GB of data included per month, so its perfect for seeing how the EE data network performs in your area and of course our speed test that is mobile friendly is the perfect way to test speeds and share the results with friends.
You have to sign-up for the SIM by 23:59 on 21st December 2014 and use the SIM within 14 days of it arriving. Update Friday 28th November: If you want to make calls/texts then a £10 top-up will be needed to active the SIM and this will buy you 250 minutes and unlimited texts that are available for 30 days.
Thursday 27 November 2014 12:07:25 by Andrew Ferguson
For those lucky people in the right areas of London, Bristol, Cardiff, Liverpool, Reading, Leeds and Manchester there is the chance to get Gigabit broadband free for 3 months. Hyperoptic is running a Festive promotion until 31st December 2014 where if you order any of their broadband and phone packages, you pay nothing for the first free months.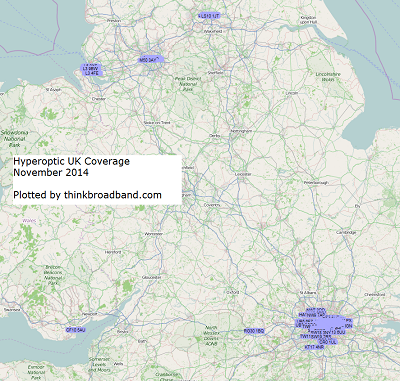 (click to image to enlarge)
For a more detailed London view click here (2MB file)
Unlike many free broadband offers this does include free voice line rental too, contract length remains at 12 months.
Thursday 27 November 2014 10:46:41 by Andrew Ferguson
Sale fever is building and today sees Virgin Media announce £50, £75 and £100 rewards for people who sign-up online to one of their TV, broadband and phone bundles before 1st December 2014.
The reward will be applied as a credit to your Virgin Media bill and is £50 on the Big Easy Bundle (50 Mbps), £75 on the Big Bang Bundle and £100 on both the Big Kahuna and Big Daddy bundles.
The existing reduced price for 12 months and six months free subscription to Netflix offers stack with the credit, just don't forget to factor in the voice line rental price when rushing to grab the deal.
Thursday 27 November 2014 10:22:06 by Andrew Ferguson
Security through obfuscation is a common trick and to some extent now we can actually read the detail of the Counter-Terrorism and Security Bill 2014-15 and how it relates to Internet providers we are still not sure what the impact really will be. It is this confusion that has lead to the press and ministers using varying language to describe the measures, often instilling a sense of fear and invoking war type language.
For those with a degree in Law feel free to have a read of the bill which is set for its second reading in the House of Commons. We have read it and the extract relevant to the Internet is shown below, and when reading it bear in mind this quote made with respect to RIPA 2013 "I do not think the ordinary person or Member of Parliament would be able to follow the Act without a lawyer" - Sir David Omand, former Director of GCHQ.
17 Retention of relevant internet data

Section 2(1) of the Data Retention and Investigatory Powers Act 2014 (temporary provision about the retention of relevant communications data 20subject to safeguards: definitions) is amended as follows.
In the definition of "relevant communications data"—

for "means communications data" substitute "means—communications data";
after "Regulations" insert ", or relevant internet data not falling within paragraph (a),";
the words from "so far as" to the end of the definition become full-out words beneath the new paragraphs (a) and (b).

After the definition of "relevant communications data" insert—""relevant internet data" means communications data which—

30relates to an internet access service or an internet communications service,
may be used to identify, or assist in identifying, which internet protocol address, or other identifier, belongs to the sender or recipient of a communication (whether or not a person), and
is not data which—

(i)may be used to identify an internet communications service to which a communication is transmitted through an internet access service for the purpose of obtaining access to, or running, a computer file or computer program, and
is generated or processed by a public telecommunications operator in the process of supplying the internet access service to the sender of the communication (whether or not a person);".

In addition—

before the definition of "communications data" insert—""communication" has the meaning given by section 81(1) of the Regulation of Investigatory Powers Act 2000 so far as that meaning applies in relation to telecommunications services and telecommunication systems;";
after the definition of "functions" insert— ""identifier" means an identifier used to facilitate the transmission of a communication;";
after the definition of "notice" insert—""person" includes an organisation and any association or combination of persons;".

Subsections (1) to (4) are repealed on 31 December 2016.

Section 17 from Counter-Terrorism and Security Bill
So what do we think it means, basically any service provider be they a traditional ISP or a Wi-Fi hot-spot or mobile provider will have to retain logs of when and which account IP addresses are handed out to. Exactly how long and in what format access will have to be provided in appear to be unknown quantities. As things stand providers generally retain authentication logs, hence who the copyright infringement letters finally find their way to an account holder, so one presumes this is about ensuring that providers archive the data rather than just clearing the logs from a device every few months.
It seems to exclude the recording of any information about where people are visiting with their Internet service, which has previously been a sticking point when similar legislation has been attempted. While authentication information is useful, it tells no-one about those accessing open with weakly secured Wi-Fi networks, particularly as all the IP assignment logs tell you is the account involved.
Of course the problem with the language used is that a lawyer can probably come up with a dozen different meanings and maybe that is why it is written this way, but after the previous problems with RIPA and 'abuse' one would have hoped to start out the journey to a law with something a little clearer.
If we go back to the days when cheap printing and leaflets handed out in public were a key information source, the printed word was considered dangerous and subversive. The Internet is still at that stage it seems.
Wednesday 26 November 2014 10:53:10 by Andrew Ferguson
Fuel Broadband (aka Primus Saver) has escalated the broadband competition another step by now offering free broadband for 12 months on a 12 month contract, all you have to pay is the £15 per month voice line rental.
The US practice of having lots of sales during Thanksgiving week is now firmly rooted into the UK consumer psyche, so keep an eye on our broadband offers page for all the latest offers and with cyber Monday coming soon there may be a chance to pick up some broadband bargains. For those Christmas shopping for a tablet, the Amazon offers on Kindle HDX tablets are very good currently, with the 7" Wi-Fi with 3G/4G Kindle HDX selling for £119 rather than the standard £269.
Wednesday 26 November 2014 10:15:25 by Andrew Ferguson
Back in June we covered the news that Gigaclear was looking at collecting demand registrations for eight villages around Peterborough and the network would link into the dark fibre network that CityFibre has in the city. Now it seems that the order target has been reached and thus the network delivery can commence.
The order target may have been helped by those who signed up early getting a free upgrade from the entry level symmetric 50 Mbps service to a 100 Mbps connection for the first year of service.
Wednesday 26 November 2014 09:58:48 by Andrew Ferguson
After a few years of getting PR emails expounding the virtues of DLM systems around the world that ASSIA have provided a court case has seen BT found to be infringing two ASSIA patents with its NGA DLM system.
"For several years, British Telecom has used a system called "RAMBo," which is short for Rate Adaptive Management Box, to provide Dynamic Line Management ("DLM") to optimize broadband speeds for its DSL broadband services. The "BT Infinity" superfast broadband service is provided on BT's Next Generation Access (NGA) network. UK courts found that the DLM system used to manage BT's NGA network infringes two patents owned by ASSIA, Inc., a leading provider of software solutions for broadband access networks. The courts ruled that BT would have to stop using the NGA-DLM system or pay ASSIA £250,000 per week until the system is modified to make it non-infringing. ASSIA has been notified that BT discontinued use of the NGA-DLM on Friday, 21 November. ASSIA believes that this action will have a negative impact on BT customers' quality of service and speeds."

Extract from ASSIA press release
The presumption we are making is that the removal of the DLM refers to JUST the Openreach FTTC based services and will thus affect all providers, not just Infinity. The wording NGA-DLM is a bit confusing since in some circles WBC ADSL2+ is called NGA, and an enquiry has gone out to BT to confirm which system has been turned off.
Paying the penalty while continuing to run the system would be the same as NOT installing another five or six fibre cabinets, or the equivalent of adding around 30p per month to every FTTC connection (remember that the wholesale price is £8 to £10 per month).
While ASSIA is keen to say that turning off the service will lead to a degradation of service, it is very much an unknown as to how many will be affected. There is a school of thought too that the DLM is often too harsh and increases interleaving or descreases speeds too much, so while some may see their line start to flap around more, others may see speeds improve at the expense of the occasional re-sync. The main aim of any DLM system is to avoid a line trying to sync at a high speed and then re-syncing two minutes latter, i.e. flapping about.
An interesting aspect is that it looks like Sky or TalkTalk use the ASSIA DLM system as the report talks of five million lines using the system in the UK, which has to be referring to ADSL2+. For now BT is either working furiously to create a new DLM system and avoid the penalty or will end up buying the ASSIA system, or we might discover that the problems are small enough that giving providers manual control for speed capping may be enough.
Update 27th November 2014: We have received a statement from BT which is reproduced in full below, and tells a slightly different story to the ASSIA release.
"BT has been defending a claim brought by ASSIA since November 2011. They had asserted three patents against BT but during the proceedings, they had to narrow their allegations and withdraw one of these patents entirely.

In January 2014, the High Court found BT was infringing on only a minor part of one patent, and the Court of Appeal, whilst invalidating the majority of the claims of ASSIA's other patent, ruled that BT's network infringes what remains of the other patent.

Although BT was disappointed with the ruling, we have made minor changes to our programming which means these two decisions have no material effect on the operation or performance of our networks."

BT Statement on DLM ruling
---