Broadband News
Friday 23 September 2016 09:23:44 by Andrew Ferguson
Virgin Media has partnered with Virgin Wines for the latest flash sale on the broadband operators, triple and double play bundles. This latest offer is only available until the end of 27th September and you need to pay via Direct Debit or an eBilling option.
For those ordering the Mix, Fun, Full House or VIP bundles that comprise broadband, phone and TV there is a choice between a 12 bottle case of wine (including champagne) with a RRP of £186 or a Pure Jongo S3 wireless speaker. 18 month contracts apply on the triple play bundle.
For those ordering a phone and broadband bundle, a less expensive case of wine with a RRP of £86 is on offer, or a Pure Jongo T2 wireless speaker.
Of course we don't condone drinking irresponsibly and would remind people to enjoy the wines in moderation, drinkaware.co.uk is an independent charity that helps to provide information on reducing harm from alcohol.
Thursday 22 September 2016 12:08:02 by Andrew Ferguson
While the debate about what is best for the UK in terms of its broadband future continues with the public battle of the PR machines between BT/Virgin Media and the group behind the FixBritainsInternet campaign continues Openreach is still in the game of delivering connectivity and the CEO Clive Selley has announced some key changes for the coming year and beyond.
Following on from previous FTTP options for developers of larger new build developments, this has been extended so that where developers engage with Openreach, FTTP will be delivered for free to developments of thirty or more premises. For smaller new builds a cost share model allowing FTTP is available too.
LR-VDSL (Long Reach VDSL) has shown average increases of 13 Mbps across eight lines in the Isfield trial and 2017 will expand on existing the two trial locations (Isfield and North Tolsta) to cover 1,500 premises including in Ashcott, Somerset and Peatling Magna in Leicestershire.
New delivery methods (e.g. the North Swindon trials of connectorised fibre) have delivered cost savings and Openreach is looking to seeing if this reproduces itself for other FTTP areas delivered.
G.fast is moving onto production equipment, and therefore the pilots are extending to around 140,000 homes and businesses by the end of March 2017 in seventeen locations. Bolton, Cherry Hinton, Cheltenham, Derby, Donaldson, Gillingham, Langside, Gosforth, Huntingdon, Luton, Rusholme, St. Austell, Swansea, Swindon, Sheffield and in London - Balham and Upton Park. Initial production kit trials will start in Cherry Hinton and Gillingham to verify that the production volume hardware matches the performance of the much more hand built kit of the early pilot projects.
Two vendors for the production G.fast hardware, Huawei and Nokia and further iterations of the hardware is expected further improving performance. Ambition to have passed 500,000 premises by the end of April 2017, making the two speed tiers of 160/30 and 330/50 (Mbps down/up) available as option.
The PIA product is in a concept trial running until December 2016, with some 65km of duct reserved so far and 51km under construction and is running with five communication providers involved.
The overall aims of making ultrafast broadband available to some 12 million premises by 2020 is still in place, but we are sure that as that deployment reaches volume that we can expect to hear more about what will happen from 2020 onwards in the next few years. There is always the possibility that those saying FTTP is cheaper to install than G.fast might be proved right and by 2020 might see an even higher ratio of FTTP delivered by Openreach. At the end of the day the majority of the public care little about the technology, they just want a connection to be at the right price point, plus offer speeds that let them do what they want (i.e. decent speeds and low latency).
For those struggling along on a sub 2 Mbps connection of having to drive to the next village to check email, the news about more faster products will annoy, but areas such as the Universal Service Obligation were addressed and in some cases we are already seeing FTTP being delivered to premises with sub 2 Mbps type connections in areas like Northumberland and Herefordshire to name a couple of areas.
Obviously by still working on G.fast, Openreach will be accused of sweating its copper assets, but in a climate where people want better connectivity yesterday and no-one is willing to put the money on the table to achieve 100% FTTP within a short time frame (hardware costs remain the same no matter what time frame, but labour costs and work force size become more of an issue the shorter the time frame is) using solutions such as G.fast mean you can hit premises passed targets faster. So while G.fast is not future proof for the whole of the 21st century it will help the UK retain its position in the global digital economy.
On the Isfield LR-VDSL trial we are seeing speed tests in the area, but do not have the same level of before and after information to verify the Openreach average claim, but as the trials expand to more premises it will be easier to get a significant sample to look at. Also as the G.fast footprint increases we will endeavour to add G.fast to our speed test analysis so that an idea of what speeds people are choosing to buy and achieving become clearer, i.e. is G.fast actually ultrafast.
Tuesday 20 September 2016 11:51:19 by Andrew Ferguson
Others have already reported on problems with the network migration that has been underway at PlusNet for sometime and we've been trying to find a way to quantify both the numbers affected and what evidence is present in our various tools such as the broadband speed test and our ping monitoring and unfortunately while individuals can show issues on their connections, spotting blocks of people affected is proving harder.
For those not aware the network migration at PlusNet is due to the provider starting to commission and move users to what should be a more scalable and cheaper to operate in volume WBMC network. The move is not something customers request, so it is often difficult to tell an everyday change in performance apart from issues arising from the move to the new network, or put another way even when people identify their connection as being on the new network symptoms such as packet loss, disconnections, video buffering, DNS problems and other issues can just be a coincidence.
Some hardware changes at PlusNet such as the Hub One (which is a BT HomeHub 5) makes it impossible to observe latency performance using external ping tools since this router cannot be configured to respond to pings, which when added to the default dynamic IP addresses at PlusNet makes spotting whether its 1 in 1000 or 1 in 3 affected is proving very difficult. Additionally PlusNet is mitigating some of the problems for some people moved to the new network by providing a static IP address via a tunnel across the new network.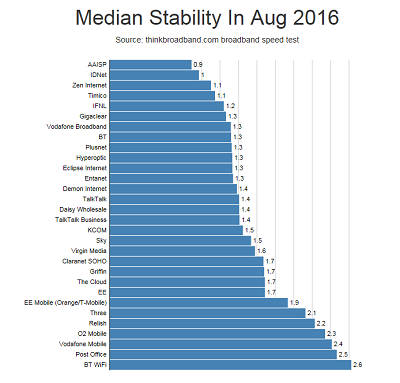 Click image for full size version
The above chart shows one of the metrics we produce from the speed tests results with the stability measure looking at the variability of the speeds during each test. Results of 0.9 to 1 are what in an ideal world one should see and as one would expect BT WiFi which is by its wireless nature and contended environment has highly variable results shows how bad things can be. If we eliminate mobile phones and tablets from the PlusNet result it does drop to a figure of 1.2, but similar drops apply to all the large providers. PlusNet is performing in the same band as its main competitors and the trend over time is pretty stable, suggesting that the new network problems of packet loss, variable speeds, disconnections and DNS issues while seriously impacting those afflicted are not yet affecting the majority of customers. If we take the performance of BT Wi-Fi as been bad (i.e. stability more than 2.6), then PlusNet shows around 15% of those testing on a PC with similar or worse stability, BT Consumer ranks at 12%, TalkTalk 16%, Sky 17% and Virgin Media 20%. We will keep more of an eye on this split as time passes when doing our monthly speed test round-up.
Tuesday 13 September 2016 00:47:26 by Andrew Ferguson
With the Digital Economy Bill set to receive its second reading in the House of Commons on Tuesday 13th September 2016, the Local Government Association (LGA) has issued a briefing document and we have highlighted the key elements of the bill, most of which our readers will be very familiar with.
Broadband USO - the 10 Mbps minimum speed guarantee. The LGA highlights the need for the 10 Mbps safety net to keep pace with technology and that the USO should not just focus on the download metric but other aspects such as latency and upload speeds with a call for a minimum of 2 Mbps upload speed when the USO is launched.
Broadband compensation - automatic compensation for faults or periods of poor service may be on the way. How this will operate and the level of compensation is not known yet and as with other compensation cultures it may simply be that providers raise prices to compensate for refunds. Identifying problem periods for a user will be an area for lots of argument, at the simplest level someones connection may be slow due to something they have done in the home, or wireless interference from outside the property might be impacting Wi-Fi/4G/Fixed Wireless service speeds with these outside the providers control.
Switching providers - switching broadband and phone packages are already pretty simple, but Ofcom and the Digital Economy Bill is working towards the holy grail of a unified switching process. What this delivers will be interesting as it could drive the bundle market, or it could rip it apart and mean that products are not cross subsidising each other and each product has to be able to stand on its.
New powers for Ofcom to acquire speed test information for individual premises from providers. Ofcom periodically releases speed data that is based on connection speed information from providers, but this is generally only to the postcode level. If Ofcom can be empowered to get access to premise level data the hope is that comparison sites and analysis of what is available in the UK can be done at a much more granular level, i.e. the 29 million premises rather than 1.7 million postcodes.
The new data set on broadband speeds is clearly of great interest to us, because we have built our own coverage model and also do lots of analytics on our extensive broadband speed test results. For individuals premise level results as an open dataset from Ofcom would be very useful, but caveats around how data is made available, how up to date it is and what use is allowed of the data will be critical. Also with our experience helping people on our user forums, it is clear that many people still have issues affecting their broadband speed that may label a property as slow but this is just because they are using a poor quality telephone extension and thus are not getting the best from their line. The biggest elephant in the room is that for ADSL/ADSL2+/VDSL2 and fixed wireless services you don't really know what connection speed a premise will receive until it is live too, so even if Openreach and others were forced to release connection speed estimates we know from helping our visitors that even the Openreach data at the premise level is not 100% accurate.
One aspect of broadband technology often overlooked is that if you switch between VDSL2 providers there should be no major difference in connection speed (sometimes choice of modem can affect connection speeds), what does vary though is the quality of the Wi-Fi access provided by hardware and the difference between peak and off-peak speeds. As the variations seen by Virgin Media users attest to, even if you are on a fixed connection speed medium you will not always hit the speeds shown on the tin, and the same applies for Fibre to the Home based services.
Saturday 10 September 2016 22:00:05 by Andrew Ferguson
The Scottish Government has published a Prior Information Notice on its R100 project that is the Scottish Government's ambition to bring 100% superfast broadband coverage to Scotland. The definition of superfast is 30 Mbps and faster and thus this exceeds the Westminster USO of a minimum 10 Mbps by a long way.
"The purpose of this programme is to facilitate the deployment of infrastructure that will support superfast broadband connections (i.e. above 30 megabit per second (Mbps)) to premises that will not receive such a service with existing or planned infrastructure by the end of 2021 with significant progress by the end of 2018."

Extract from notice
The prior notice is so that potential suppliers can engage and thus the Scottish Government get an idea of what providers and technology options are open to them and we presume get some ball park ideas of the cost. The existing BDUK process comprises of the Highlands and Islands in one project, and the Rest of Scotland, running alongside a number of community initiates - the indications are that we can expect several procurements/lots to make up the contracts in taking coverage from whatever the contracts with BT deliver to the 100% mark.
We have re-worked our coverage data to allow us to express it in terms of the rural/urban definitions that are used in Scottish political circles and the progress over a number of years, along with the relative sizes of each area of Scotland is shown below. The interesting part with the BT projects marching onwards to a 95% fibre based coverage target what will the rural/urban splits look like.
Area
% of Scottish Premises
Superfast Coverage 30 Mbps and faster
8/2010
8/2011
8/2012
8/2013
8/2014
8/2015
8/2016
Large Urban Area
40%
69.3%
69.7%
74.5%
81.4%
87.8%
93%
96.1%
Other Urban Area
28.8%
42.7%
45.1%
50.5%
66%
85.1%
90.1%
94.4%
Accessible Rural
12.7%
4.1%
4.8%
6%
9.6%
20%
44.1%
58.5%
Accessible Small Town
8.5%
4.5%
4.5%
6%
12.8%
48.1%
73.6%
86.6%
Remote Rural
3.3%
0%
0%
0.6%
0.7%
6.9%
26.3%
42.5%
Very Remote Rural
3%
0%
0%
0%
0%
0%
11.7%
33.5%
Remote Small Town
2.4%
0%
0%
5.5%
5.5%
36.4%
72.3%
86.8%
Very Remote Small Town
1.3%
0%
0%
0%
0%
9.5%
71.1%
87.5%
Correction Monday 12th September: Due to the various methods used to record the go live date for various areas the original data analysis included some cabinets that had actually gone live later in the time lines. We have re-run the data analysis and updated figures are shown above. The result of this is that the change over time is much more pronounced in the more rural areas and this may not be a popular sentence with those who have not benefited from the project yet, but the corrected figures highlight the level of change the project has brought to rural areas of Scotland.
The pace of change for the different areas of Scotland shows that while the commercial roll-out was handling the most urban areas, it was not until the Scottish projects started deliver did significant improvements happen in the smaller towns, and the figures also show the amount of work left to do in the most remote areas where the distances involved highlight the problems of any technology that has distance limitations (VDSL2 in this case) since VDSL2 has passed some 53.5% of Very Remote Rural premises but it is only 33.5% that qualify as superfast at 30 Mbps and faster..
Wednesday 07 September 2016 15:50:17 by Andrew Ferguson
Looking at the figures one could arrive at the conclusion that the superfast broadband roll-outs took a holiday during August, and while to some extent that may be true in terms of the number of cabinets we have been seeing go live things have not slowed down to the extent the figures suggest. The FTTP coverage figures are climbing and the extra hours of work involved in bringing FTTP/FTTH to an area may be part of the reason for the slowdown.
thinkbroadband calculation of Superfast, USC, USO and Fibre Broadband Coverage across the UK, its nations and regions for premises
In descending order of superfast coverage - figures 7th September 2016
(change since 7th August 2016)
Area
% fibre based
% superfast
24 Mbps or faster
% superfast
30 Mbps or faster
% Ultrafast
100 Mbps or faster
% Openreach FTTP
% Under 2 Mbps USC
% Under proposed 10 Mbps USO
London
96.1%
95% (=)
94.8%
68.1% (-0.7)
1.52%
0.1%
1.2%
East Midlands
97%
94.6% (+0.1)
94.2%
57.2% (=)
0%
0.5%
2.3%
South East
97.2%
94.6% (+0.2)
94%
49.4% (=)
0.85%
0.4%
2.3%
North East
95.7%
94.3% (+0.1)
94%
51.4% (+0.2)
0.05%
0.3%
1.9%
West Midlands
96%
93.8% (+0.1)
93.3%
62.4% (=)
0.12%
0.4%
2.6%
North West
96.3%
93.5% (+0.1)
92.9%
46.5% (=)
0.6%
0.8%
3.3%
England
95%
92.3% (+0.1)
91.8%
53.5% (+0.1)
1.28%
0.6%
3.4%
United Kingdom
94.6%
91.4% (+0.1)
90.8%
50.6% (=)
1.13%
0.8%
4.1%
East of England
93.5%
90.2% (+0.5)
89.5%
50.1% (+1.9)
0.36%
0.7%
4.6%
South West
94%
89% (+0.1)
88.1%
43.4% (+0.2)
2.73%
1.1%
5.4%
Wales
93.3%
89% (+0.3)
87.8%
30% (+0.1)
1.1%
0.9%
6.6%
Rest Of Scotland
91.8%
88.6% (+0.2)
87.9%
43.8% (=)
0.01%
1.5%
5.8%
Yorkshire and Humber
90.3%
87.4% (+0.1)
86.8%
49.4% (=)
3.49% (includes KCom Lightstream)
0.7%
6%
Scotland
90.6%
86.6% (+0.2)
85.9%
39.9% (=)
0.01%
1.3%
7.2%
Northern Ireland
97.2%
80.6% (+0.1)
78.9%
27.7% (=)
0.17%
6.7%
12.9%
Highlands and Islands
78%
65.7% (+0.5)
63.7%
0.02% (=)
0.02%
5.8%
27%
We should highlight that the -0.7% ultrafast coverage in the London area is down to our periodic reviews of the data, and that we have usually concentrated on the regions outside the capital so this was the first review of the levels of Virgin Media cable coverage in the capital for a long time. A further factor for the fairly flat performance in August was the six monthly integration of new premise postcodes, some lucky new builds have been found with Openreach FTTP and others connected to existing cabinets, but it takes time to find the evidence showing what is exactly available for new builds.
In some regions the level of fibre based coverage (VDSL2/cable/FTTH) has remained the same to 1 decimal place, but the superfast coverage levels have increased and this is because we are seeing an increasing number of infill cabinets, i.e. an area where VDSL2 at slow speeds was already available but a second cabinet closer to the long lines is added boosting more properties into the superfast region (in some parts of the UK FTTP is deployed to the longest lines on a cabinet, the variation being down to the budget constraints of each project).
Monday 05 September 2016 22:56:10 by Andrew Ferguson
Another month is over and silly season is over with most people back from their holidays, so its down to the hard work of the last 3 months of 2016. Our speed test is almost unique in offering both a single download and a multiple thread download and on a good broadband connection the two tests should be almost the same exact same speed, but on some connections a variety of issues can cause the two tests to diverge with single download test being slower than the multiple thread one.
We have moved this table from the bottom of our monthly report to the top this month in response to increasing number of questions we have been receiving over the performance of Virgin Media, in some cases its because people think our test is broken but looking at the wider picture it is increasingly obvious that something is odd with parts of the Virgin Media network, as some users see single thread downloads from a wide variety of applications that are slower than software that uses multiple downloads such as the Steam client.
Peak and Off-Peak Download Speed Tests Results August 2016
Provider
tbbx1 Test
(1 download)
httpx6 Test
(6 downloads)
7am-3pm
6pm-midnight
% difference
7am-3pm
6pm-midnight
% difference
BT
22.8 Mbps
23 Mbps
+0.9%
21.6 Mbps
21.8 Mbps
+0.9%
EE
12.7 Mbps
13.3 Mbps
+4.7%
13.1 Mbps
13 Mbps
-0.8%
Plusnet
23.4 Mbps
21.7 Mbps
-7.3%
18.8 Mbps
19.2 Mbps
+2.1%
Sky
13.7 Mbps
12 Mbps
-12.5%
13.1 Mbps
12.4 Mbps
-5.3%
TalkTalk
14.5 Mbps
13.8 Mbps
-4.9%
13.9 Mbps
13.5 Mbps
-2.9%
Virgin Media
42.4 Mbps
35.7 Mbps
-15.8%
55.2 Mbps
47.7 Mbps
-13.6%
Losing 15 to 20% of the speed from a connection that is already delivering 50 Mbps to 200 Mbps may sound petty to those stuck with an ADSL connection that on a good day can only achieve 1.2 Mbps, but people are reporting that that sometimes streaming video where bitrates are in the 5 to 10 Mbps can struggle on the cable broadband service and the level of variation in latency can mean the difference between life and death for online gamers. Hopefully Virgin Media will figure out what is affecting the quality of service for those affected and fix it too. If the slowing down of a single download is by design then there needs to high level discussions with people like ASA/BCAP and Ofcom over how services are advertised. Providers of course will often point to speed test results that show no problem at all, and when you dig deeper this is because those testing services are using 8 to 32 downloads at once, thus successfully masking a whole range of issues from local Wi-Fi problems, RWIN sizes through to network management applied by an operator.
The 25 Fastest UK Broadband Providers in August 2016
(ordered by median speed)
Smaller providers without enough geographic data samples are not included
Provider
Download Speed of bottom 10%
Mbps
Median Download
Mbps
Mean Download
Mbps
Median Upload
Mbps
Mean Upload
Mbps
Download Speed of top 10%
Mbps
Gigaclear
20.6
47.6
65.5
40
70.2
148.1
Hyperoptic
18.8
46.6
88.5
44
85.7
163.5
Virgin Media
9.6
44.2
52.7
5.1
6.2
104.8
AAISP
4.2
34.1
35.7
7.1
8.4
73.5
Daisy Wholesale
2.8
29.8
31.7
8.7
9.8
61.8
Vodafone Broadband
2.9
19.9
23.4
5.3
6.2
46.6
EE Mobile (3G/4G)
2.3
17.8
23.8
2
4.8
49.9
IDNet
5
17.6
28.1
3.3
6.4
67.2
Zen Internet
2.5
16.8
26
3.4
7.1
66.1
BT
1.6
16
21.8
2.8
5.1
50.6
Vodafone Mobile
2.1
12.1
15.7
2
3.6
35.3
Plusnet
1.4
12
18.8
0.9
3.8
45.4
O2 Mobile
1.8
9.2
13.6
1.4
3
30.7
KCOM
2
8.9
31.8
0.7
7.6
80.7
Relish
1.3
8.9
14.6
1.6
2.1
31.9
Sky
1.3
8.5
12.4
0.7
2.7
30.3
Three
1.7
8.1
15
1.4
3.8
40
TalkTalk
1.5
8.1
13.4
0.7
1.8
33.5
EE (ADSL2+/FTTC)
1.1
7.9
12.7
0.8
3
34.2
Eclipse KCOM outside Hull
0.6
7.7
14.9
0.7
3.3
38.7
Entanet
0.7
6.8
21.3
1.2
7.6
55.5
Demon Internet
1.3
6.3
10.6
0.6
2.4
17.2
BT WiFi
0.5
4.9
6.1
0.8
2.4
10
TalkTalk Business
1.5
4.6
5.6
0.6
0.7
9.7
Post Office
0.7
2.9
3.9
0.3
0.4
8.5
A new king at the top of the provider results, with Gigaclear scraping past Hyperoptic, but only if you use the median metric to order the table by. As always the overall provider results reflect as much the providers performance as the choice people are making on packages, but we are able to look at the spread of speed test results for each provider so for Gigaclear while they are known as a Gigabit provider, only around 10% appear to opt for a package over 100 Mbps and a massive 75% are picking the 50 Mbps base line package. Similar splits appear at other providers too. This package choice equation can sometimes explain why when making International comparisons UK overall speeds look so slow, i.e. a smaller European nation may have high levels of FTTB/FTTH availability where the minimum package speed is 100 Mbps.
ADSL/ADSL2+ Connection Speed Tests August 2016
(Change since previous month)
Provider/Area
Download speed of bottom 10%
Mbps
Median Download
Mbps
Mean Download
Mbps
Median Upload
Mbps
Mean Upload
Mbps
Download speed of top 10%
Mbps
BT
0.8
4.9 (=)
6.7
0.5 (=)
0.5
15
EE
0.8
4.8(-0.1)
6.2
0.7 (=)
0.6
13.9
Plusnet
0.9
5.4 (-0.1)
6.6
0.6 (=)
0.6
15.4
Sky
1
5.3 (-0.1)
6.6
0.6 (=)
0.6
14.7
TalkTalk
1.1
5.5 (=)
6.6
0.6 (=)
0.6
14.3
Vodafone
0.9
5.1(=)
6.3
0.6 (=)
0.6
15.6
Rural ADSL
0.7
3.9 (=)
5.0
0.3 (=)
0.4
13.8
The levels of superfast broadband coverage in the UK mean that while ADSL/ADSL2+ should rapidly be heading the way of dial-up the volumes of tests still reflect the known the take-up levels across the UK and many are electing to stay with the cheaper ADSL/ADSL2+ services. For those who are stuck with an ADSL (up 7 Mbps) service still as no LLU provider came to their exchange it is worth double checking whether ADSL2+ is now available via the WBC network as this is better backhaul and DLM systems than the original IPStream services and should give many slightly better speeds and particularly better peak time performance which is all important for the growing numbers watching TV using online services.
Large Provider Fibre Based Connection Speed Tests August 2016
(Change since previous month)
Provider
Download speed of bottom 10%
Mbps
Median Download
Mbps
Mean Download
Mbps
Median Upload
Mbps
Mean Upload
Mbps
Download speed of top 10%
Mbps
BT Infinity FTTC/VDSL2
13.8
33 (-0.7)
34.5
8.3 (-0.2)
8.6
54.7
BT Infinity FTTP/FTTH
15.2
42.6 (+0.7)
53.7
10.5 (+0.2)
13.4
91.1
EE
11
27.1 (-0.4)
27.1
8 (-0.2)
7.5
33.7
Plusnet
14.3
33.5 (+0.3)
34.7
6.2 (-0.1)
7.5
60.2
Sky
11.1
25.4 (-0.3)
25.2
6.9 (+0.2)
6.7
37
TalkTalk
13.9
27.3 (+0.2)
28.5
1.8 (=)
4.3
39.5
Virgin Media
9.6
44.2
52.7
5.1
6.2
104.8
Vodafone
13
27.7 (-3.2)
29.9
8.2 (-0.5)
8.1
50
The difference between the various types of 'fibre' based broadband services and the original generation broadband services is pretty clear and while its a case that not everyone gets an improved speed from VDSL2 based services when looking at the wider picture there is a massive improvement. Looking to the future the performance of the BT FTTH/FTTP connections shows what is possible when the technology has no distance dependancies and the higher speed for the top 10% reflects the numbers choosing the Infinity 3 and Infinity 4 products. Around 14% appear to be picking a faster than 76 Mbps service, with just 1% on the top speed 300 Mbps option, the vast majority around 70% are on the up to 52 Mbps Infinity 1 FTTH variant.
Technology Comparison From Internet Speed Tests August 2016
Technology
Download speed of bottom 10%
Mbps
Median Download
Mbps
Mean Download
Mbps
Median Upload
Mbps
Mean Upload
Mbps
Download speed of top 10%
Mbps
ADSL/ADSL2+
1.0
5.4 (=)
6.7
0.6
0.6
14.8
VDSL2/FTTC
12.7
29.4 (-0.7)
31.2
7 (-0.4)
7.7
51.5
Cable Broadband
9.6
43.5 (-0.2)
52.1
5.1 (=)
6.1
104.1
FTTH/FTTP
16.4
50.2 (-0.8)
75.6
17.3 (+3.7)
36.9
162.8
3G/4G Mobile
2.4
12.5 (+0.1)
18.9
1.7 (=)
4.1
42
Fixed Wireless
1.6
9.8 (-1.5)
16
1.7 (-0.2)
5.3
40.1
Satellite
0.3
7.4 (-0.8)
9.0
0.1 (=)
0.3
15.9
Friday 02 September 2016 15:57:17 by Andrew Ferguson
Traditionally in the broadband market the gamers are those that eat up any improvements in their broadband connectivity, and while the basic needs for most FPS style games has not changed much in over a decade, i.e. maintain reliable consistent low latency bandwidth of just 6 to 10 Kbps (Kilo bits per second) for both download and upload the rise of side-casting via Twitch has pushed the upload requirements, i.e. people now stream live video of their game play with commentary or more commonly use voice to communicate with other players in team based games.
Virgin Media is attempting to corner some of this market with a new 200 Mbps download and 20 Mbps upload Gamer product, that commands a £5 a month premium over the existing VIVID 200 service. The new Gamer service gives you 20 Mbps upload versus 12 Mbps upload and also the traffic management that would hit the upload side particularly is not present on the service - there are no tweaks that we are aware of that will improve jitter or latency (unless this was caused by you saturating the upload side of your previous package). This means the package is not for your everyday Battlefield 1 player, but those who play with voice and broadcast their game play and maybe there is more than one player in the home, so was running into the upload traffic management of the previous top tier package.
The launch coincides with a raft of price and package name changes that are reflected in our Virgin Media listing where voice line rental is now £19/m, 18 month contracts apply to most bundles and and the service set-up fee is £14.99.
Tuesday 30 August 2016 13:11:03 by Andrew Ferguson
The Labour leader talked about universal high speed broadband recently but in a new speech today has set out some more detail, though full copies of what has been said do not appear online yet. Jeremy Corbyn MP is making it pretty clear that he wants universal broadband to be available to all no matter how urban or how rural and he sees this being delivered by FTTP and/or mobile coverage and is earmarking some £25 billion to achieve this.
The Universal Service Network will be financed by the National Investment Bank which will be created if Labour wins the 2020 General Election with the NIB aiming to invest many billions in a variety of infrastructure projects.
Precise details on timelines and how a universal network would be achieved are of course thin on the ground, the same with all political ambitions that start off as a dream and are then slowly fleshed out, but it is thought that a timeframe of ten years for completion may the sort of timescale involved.
The UK may currently only have around 2% FTTP coverage, but if this new network is truly universal there are questions around how it will be achieved, e.g. new universal provider, nationalisation of Openreach or another alternative. Of course those existing FTTP operators may not be keen on a state subsidised operator coming their way, and we very much doubt Virgin Media will be keen either.
For those who have followed the NBN in Australia this announcement almost mirrors similar ones made some years ago by the Labour Government then, but a change of party in charge saw a change in direction, particularly once the bills for the building work involved started to roll in.
Having a firm timeline to 100% FTTH/FTTP coverage would be brilliant to have in the UK, but with the next General Election just under four years away there is a risk that some councils may scale back their ambitions in terms of gap funding i.e. promise of a new universal network will make councils and possibly investors wary of spending their own cash when it might be over lapped by a new network. In the days of EU membership this overlap would be stopped by EU State Aid Rules but by 2020 Brexit and EU membership should be part of UK history.
Friday 26 August 2016 15:10:01 by Andrew Ferguson
For those close enough to the cabinet get benefit from the faster up to 76 Mbps VDSL2 (FTTC) services there used to be little price competition, but the revamp and launch of Sky Fibre Max over at BSkyB has produced a 12 month price offer already. The up to 76 Mbps download and up to 19 Mbps upload service is available for £15/m for 12 months plus the usual voice line rental at £17.40/m on a 12 month contract (there is the £9.95 router delivery charge to pay too).
If you stay with Sky after the 12 months on the same product the broadband price rises to £25/m. Ordering is done over the phone, we presume so that Sky can ensure that no false speed expectations are set, as in people ordering the service when the estimates for the line suggest that the up to 38 Mbps product would be the better option.
Sky currently only has around 7% of its FTTC customers on an up to 76 Mbps service according to our data compared to around 25% of BT Consumer FTTC users, so there is plenty of scope for growth in this customer base.
---