Broadband News
Friday 06 December 2013 11:55:17 by Andrew Ferguson
A month ago the Connecting Cheshire project published a rough map of its roll-out and as promised the first areas to benefit have now been announced. The first phase which should see some 15,000 homes benefit across 30 communities from access to a fibre based (FTTC) service should see people starting to connect at the end of March 2014.
Cheshire East Council; Acton, Alderley Edge, Allostock, Aston, Brereton Green, Cranage, Hough, Peover, Plumley, Twemlow Green, Warmingham, Wrenbury and Wybunbury

Cheshire West & Chester Council; Acton Bridge, Barton, Christleton, Clutton, Davenham, Great Mollington, Guilden Sutton, Kelsall, Lach, Dennis, Norley, Tarporley, Tarvin, Tattenhall, Weaverham and Wincham

Halton Borough Council; Halebank and Weston

Warrington Borough Council; Dallam, Westwood and Winwick

The following areas already have some fibre based services, but will see additional roll-out to cover more of the community.

Central Chester, Central Runcorn, Central Warrington, East of Crewe, Great Sankey, Holmes Chapel, Nantwich and Penketh

Areas to benefit in the first phase roll-out
For those chasing the figures, rather than panicking about when they will get a service, some interesting figures have been announced, the project has a total fund of £28.5 million (£13.6m ERDF, £9m BT, £4m BDUK and £1.85m from councils) and estimates are that some 400 fibre cabinets will be installed along with 875 miles of fibre optic cable utilising a team of 100 engineers and planners.
The presence of places like Chester, Warringon and Runcorn shows how daft it is to see people constantly referring to the BDUK projects as a rural broadband scheme, the reality is that the projects are building out from the existing commercial footprint, and to ensure the best value for money are enabling many areas that an outsider would consider urban. If one was to search out an endearing image for the BDUK projects, a business park on the edge of a town, or that estate that is on the fringes of a large town are probably more representative in terms of the numbers helped than a lone person holding a tablet in a large field.
Thursday 05 December 2013 15:34:08 by Andrew Ferguson
Following on from the National Infrastructure Plan updates the DCMS has released some snippets of data on what progress has been made with the public money to increase coverage of superfast broadband beyond the commercially viable areas.
Table 1: Quarterly cumulative broadband data
Cumulative to end of:
Premises with superfast broadband service made available
BDUK funding (£)
Number of premises covered per £million of broadband delivery programme expenditure
December 2012
254
£434,735
584
March 2013
16,638
£6,767,185
2,459
June 2013
38,343
£6,767,185
5,666
September 2013
111,968
£10,347,568
10,821
The list of caveats is large, but the key ones are that the premises numbers only includes those expected to get a service with a download speed above 24 Mbps, and this only covers the central BDUK funding, so any investment by the local authority, BT or ERDF are excluded, as are also any costs of running the BDUK. Additionally as cabinet level roll-outs do sometimes overlap with for example Virgin Media cable areas, those premises are excluded from the numbers.
Some may want to draw the conclusion that the first cabinet in North Yorkshire, which was the extent of the roll-out in December 2012 cost £434,735 to deliver, but as with many infrastructure projects the first element is more expensive, and as more infrastructure is deployed in an area the extended roll-out benefits from earlier work. Doing the basic sum, it seems that central Government is contributing £97 for every premise passed up to September 2013 (passed means connected to a green street cabinet that has a fibre twin and is able to order a superfast service at faster than 24 Mbps to avoid any doubt). It is our understanding that if a cabinet shows high take-up and is filled up that Openreach will then add a subsequent cabinet and as demand has been shown to be high this will most likely be done under commercial terms.
One of the reasons BT may have been the last horse standing in the race to the BDUK funds, was that projects do not pay out any money until receipts for work were produced and as far as we know no counties have paid any money to BT.
The small update on coverage levels and cost are welcome, but information on which postcodes had benefited would have been useful to help people understand what is being achieved. To do the analysis on premises passed it is clear that DCMS has this level of information.
Thursday 05 December 2013 14:24:46 by Andrew Ferguson
Until now the Sky Store was only available to Sky TV customers, or those using the NOW TV service. The movie rental service has now been opened up to anyone, meaning you can rent content ahead of it appearing on most streaming services.
The popularity of OTT services such as Netflix and Lovefilm Instant has been the large libraries of content for a fixed price, but other services such as Blinkbox and wuaki.tv have ran a hybrid system for sometime, i.e. digital rentals and subscription based services.
Whether the market is willing to pay £3.49 to rent a movie for 48 hours is a bit of an unknown though one assume plenty of people are happy to spend this as Google Play and iTunes also charge similar amounts. Most excitement and demand has been for the £5 to £6 unlimited streaming services, but the annoying rights system means that studios hold back films for extended periods making rental or purchase of physical media the only option.
The future is likely to be exclusive deals with certain studios releasing films ahead of general streaming release, and everyone having to suffer several rental apps on their TV or media console/device. Integrated searching is the real key to getting people to use the online services, as it is time consuming to search multiple stores to find a specific film or who has the best price on a specific day.
Thursday 05 December 2013 13:52:15 by Andrew Ferguson
The latest National Infrastructure Plan for 2013 and onwards has been published by the UK Government which provides a summary of current projects and what sort of investment is currently planned for the next few years.
Innovation and disruptive ideas have been the key to the success of Internet and has allowed UK companies to compete on the world stage and other countries to sell to the UK consumer at very cheap prices. As such broadband is a key infrastructure and the investment since the current Government come into power is starting to become apparent, but is also attracting increasing amounts of complaints as people wonder when the improvements will reach them.
"42 out of 44 local projects have now completed their procurements

Final two projects due to complete procurement before the end of the year
First superfast upgrades have now gone live in a quarter of the projects
As at the end of October, nearly 140,000 premises have been passed with superfast broadband as a result of public funding
Premises were being passed at a rate of 10,000 per week in October 2013 as a result of the programme
By spring 2014, premises passed will rise to 25,000 per week and to 40,000 per week by the summer
Rutland, Surrey and North Yorkshire are anticipated to complete current rollout programmes within 2014

Progress update from National Infrastructure Plan on BDUK projects
The new part of the 2013 plan is that a new £10m fund will be created in 2014, with the aim to test innovative solutions to deliver superfast broadband services to the hardest to reach parts of the UK. This is in addition to the current BDUK projects, and the other £250m previously announced for the 2015 to 2017 period which should see 95% of UK premises able to order a superfast broadband service.
"...opening a £10 million competitive fund in 2014 to market test innovative solutions, delivering superfast broadband services to the most difficult to reach areas of the UK; the government will continue to support local bodies to develop appropriate strategies to procure additional coverage in areas not covered by current plans, using the £250 million allocated at Spending Round 2013"

The new £10m rural innovation fund
Extra investment is welcome, but to be totally honest it is not clear if we need another test bed, unless this is to help the civil service understand what many people have been saying for some years. The choices as we see them for the most rural areas are:
Satellite broadband, potential for up to 20 Mbps currently and potentially every rural farm could have this deployed in a few weeks/months
4G via mixture of fixed antenna and standard mobile tech, which EE are about to launch
FTTP will provide the ultimate future proof reliable connection (apart from JCB or rat damage) but running this 2km to a lone property is very expensive
Fixed Wireless, a range of frequencies available and can cover a fairly wide area quickly, provided enough mast capacity is installed
Extra FTTC hardware, e.g. adding small sub cabinets closer to properties than existing cabinets, suitable for clusters of perhaps 50 properties within 500m of the new node
G.fast could work for clusters of 8 to 12 properties all within 100m, but in the most rural areas this is very rare
We suspect that the £10m is probably what the Government expects to be left from the old Rural Community Broadband Fund, which has largely failed, either due to BT playing a clever game, or more likely the joys of taking part in a Government procurement project which are generally never cheap to take part in. The complex rule systems to avoid people embezzling money that have built up over hundreds of years make it easier for a firm with large teams of lawyers to bid, rather than a small community project.
A final thought, one can only wonder what rural broadband projects could achieve if funding of up to £3,000 per connection was available to them in the same way as the voucher scheme trial for super-connected cities worked.
Tuesday 03 December 2013 11:08:52 by John Hunt
Sky has unveiled its latest version of the Sky Hub. The new design in black will allow Sky to offer self-install for their Sky Fibre broadband products as the new Sky Hub includes a VDSL2 modem allow customers to plug it directly into the phone socket without the need for a separate Openreach FTTC modem.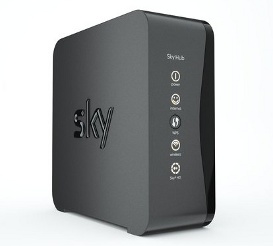 The new router will put Sky inline with BT and their 'Home Hub 5' and EE with their 'Bright Box 2' which already have a VDSL modem built in. The feature set for the new Sky router seems broadly the same as the previous Sky Hub (SR101) we reviewed. For user connectivity it includes 4x 10/100Mbps Ethernet ports and 2.4GHz 802.11n Wi-Fi with 2x2 MIMO internal antennas allowing for data transmission rates of 144Mbps. The actual design and layout of router the router remains unchanged.
The new hub will come as standard for all Sky Broadband Unlimited and Sky Fibre Unlimited customers.
Friday 29 November 2013 12:01:43 by Andrew Ferguson
It is offer round-up time, and BT Retail is back with its £100 Sainsbury Gift Cards on the Infinity products, and a lesser £50 voucher for the ADSL2+ based products. Virgin Media has had a sale running for some time, but has increased the appeal by adding a £25 credit for broadband-only services, £50 for double play and £100 for the triple play collections.
Sky has the option of a free NOW TV box or a £25 M&S voucher, with their main offer being 6 months half price TV and a £25 M&S voucher. TalkTalk has brought back its shopping voucher for a limited time again on its Plus TV product where a £30 voucher is available. PlusNet does not have any vouchers, but is offering unlimited ADSL2+ for £2.75 per month for the first 12 months, £9.99 thereafter (usual caveat of voice line rental to pay on top).
Update 12:15pm, Virgin Media has updated the speeds of its fastest product now that the existing speed upgrade programme is nearing completion. The 100 Mbps service is now listed as a 120 Mbps service, with the expectation that 96% of the Virgin Media cable network will be offering that speed by January 2014. The upgrades for existing 100 Mbps customers should be automatic.
Friday 29 November 2013 07:55:21 by Andrew Ferguson
Our latest quick poll was a nice short and simple one, tell us how much you spend per month on your basket of telecom services and we had over 1,400 responses.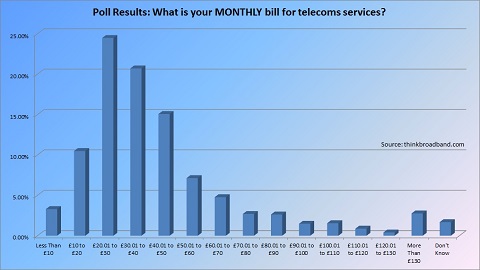 Click for larger image
The peak is 24.5% who said their spending was in the £20 to £30 range, if we combine the three main peaks we have 60% of those taking part saying their spending is between £20 and £50.
This seems slightly low particularly given the voice line rental is hovering at the £15 to £16 mark, but then there are broadband packages starting at £2.50 to £10 per month and if people are using a Pay As You Go mobile package they may not be paying the big price tags. Certainly for those people who do the maths and have worked out that its cheaper to buy a SIM free phone to give them more freedom to chase the best call/text bundle it possible to get the trinity of phone/mobile and broadband to under £30.
For those who are chasing a bargain remember there is a longer annual poll that we are currently running, which has three Amazon.co.uk vouchers up for grabs. The vouchers are £200, £100 and £50 and you can choose to enter or not when you complete the survey. The survey should take 10 to 20 minutes to complete and should work on your pc or tablet.
Thursday 28 November 2013 11:27:08 by Andrew Ferguson
The original ADSL market was relatively slow until self-installs started and this is also kick started the third party modem/router industry. The same change in demand levels may be about to take place for the Openreach FTTC products sold by some 60 to 70 providers, as Openreach has confirmed the pricing for its self-install option and this will come into effect on 31st December 2013.
The launch is described as an early market deployment, and expands the range of options for installing a FTTC service to four different options, ranging from £49+VAT to £99+VAT. Most of the larger broadband providers have already lined up VDSL2 capable hardware so that people can benefit from self install, both in terms of only needing one powered device to get the service and also no need to be home on the day of the install.
The four install options are:
Engineer Installation with Openreach Modem, £92. The Openreach modem is connected up, faceplate installed, but CP router connection is down to the end-user.
Managed Engineer Install with Openreach Modem, £92+VAT. The current white Openreach modem will be installed and the service will be connected to the CP router.
Managed Engineer Install with CP Device, £99+VAT. Engineer will install a VDSL2 faceplate, check the home wiring and prove the connection to the Internet works.
PCP Only Install, £49+VAT. Engineer will do the changes needed at the street cabinet, between 8am and 6pm on the appointed day. Morning/Afternoon slots can be booked for an extra £12.50.
The issue of filtering is a major reason why Openreach for the first few years of FTTC has insisted on engineer installs and a new faceplate. For self-install it is possible to use micro-filters and assuming your existing filters are of a decent standard they should suffice. There is a warning though, you may have your ADSL2+ running reasonably over 30m of extension wiring in your home, but to get the best and most stable speeds from VDSL2 (FTTC) keeping internal wiring in the home to the minimum is the ideal solution.
An ISP like TalkTalk has its own engineers that can be booked for things like boost visits but the cost of one of those negates any saving from a self-install, the best route is to fit a faceplate and a dedicated data extension, i.e. what happens with an Openreach install. The VDSL2 faceplates work perfectly well for ADSL2+ too, so doing these changes in advance is possible and advisable. The nuclear option is to reduce your telephone wiring to a master socket, with the faceplate and no extensions and use DECT cordless phones.
Our user forums have seen people reporting that where the engineer arrives and sees it is a HomeHub 5 they are already connecting these without using an Openreach modem. Which while neater and ideal for many, can be an issue for those who wanted to use their own Ethernet router, so if you have booked a standard install where an Openreach modem is expected and you would prefer the Openreach modem it may be worth politely saying so.
Fingers crossed the self-install system will reduce the workload on Openreach, and thus allow for improvements in other areas like time to fix faults and install services.
Tuesday 26 November 2013 15:06:54 by Andrew Ferguson
Northamptonshire is doing things a little bit differently and has perhaps been listening to the rural broadband campaigners who have complained that access to capital is holding them back from building networks in the areas where the current BDUK projects and BT fear to tread.
Northamptonshire is set to offer commercial secured loans (with interest charged) to firms that can demonstrate viable business plans to deliver speeds in excess of 30 Mbps, with the important caveat that any service be available from a range of retail providers. The final decision on offering the loans will be considered by the Council Cabinet in February 2014 and if approved full applications can be processed.
In terms of square miles there are large chunks of Northamptonshire that will miss out from superfast broadband improvements under the BDUK process, these areas are the most sparsely populated parts of the county. These loans are just one part of the 2015 to 2017 strategy that will see the county work with BT and other suppliers to ensure the county becomes a leading island of connectivity in the UK.
Who knows we may see innovative proposals to put full FTTP into a couple of core villages and use fixed wireless to reach the more widely dispersed properties and businesses.
Tuesday 26 November 2013 14:39:33 by Andrew Ferguson
While parts of Spalding have had access to superfast (FTTC) broadband via Openreach for a while, there was parts of the town that missed out on the commercial roll-out, and the Onlincolnshire project has solved that problem by turning on a cabinet (or maybe a couple of cabs) two months ahead of schedule.
This main areas to benefit are: Westlode Street/New Road, Pennygate/Monks house Lane Market Place/Sheepmarket, High Street, Horse Fayre Fields/Broadway, Camel Gate, Riverside Park/Clay Lake, Low Road and Hoekman Way which look to be on the southern side of the town and accounts for some 1,400 properties.
The key now is for people to learn the service is available to order and upgrade to the new faster services, with self installs about to be officially available the pain of having to take a day or morning off to wait for the engineer will be a thing of the past.
---