Broadband News
Monday 25 July 2016 10:05:58 by Andrew Ferguson
Before we go ahead and fully add the various alt-net FTTH providers into the full superfast, 2 Mbps, 10 Mbps and other statistics we produce we thought it would be a good point to share copies of the maps for where we believe Openreach/Virgin Media and KCOM is not able to supply a 2 Mbps or 10 Mbps or better service.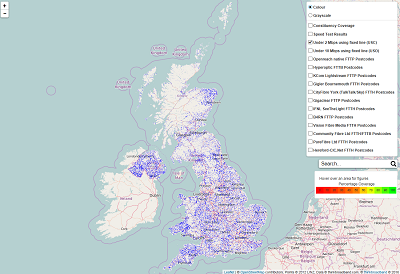 Click image for full size version
The Universal Service Commitment map above shows some 65,778 postcodes where our model for broadband in the UK believes that speeds of 2 Mbps or slower are available. The postcode lookup on our broadband coverage checker highlights those postcodes when people search and we will be checking the links to the various voucher schemes to make sure the links for obtaining vouchers are up to date. Generally the vouchers are enough to allow for a free install of a satellite broadband scheme and while this will allow for basic web browsing and email the low usage allowances mean that while some video streaming is possible using up the allowance is all too easy. Some of the local authorities have extended the vouchers to cover fixed wireless schemes which generally have better usage allowances than the satellite schemes and don't suffer the high latency that is implicit in satellite connectivity.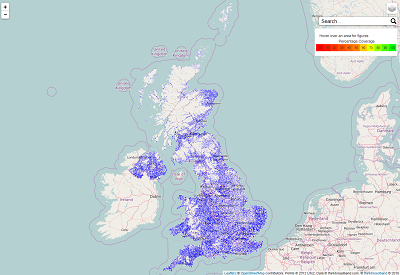 Click image for full size version
The more rapidly changing picture is the Universal Service Obligation map, which while not in force yet (since to be enshrined in law takes time) is still worth tracking. The 151,943 postcodes forming the USO map is dropping as the BDUK roll-outs continue and already comprises just 4.3% of UK households and how far it will drop depends on precisely where the superfast roll-out goes, but it is not impossible that this may be as low as 1.5% in late 2019.
The USO and USO maps are available as layers on our checker and while we do weekly updates to the coverage percentages, we run a cycle of endeavouring to update the USO/USC map layers every fortnight.
Of course making services available in theory is not much use if people don't adopt them, and that is why we are tracking speed test results carefully so for example England has gone from 0.4 Mbps as the download speed for the slowest 10% of tests seen in July 2009 to a figure of 1.9 Mbps in June 2016.
Thursday 21 July 2016 09:43:14 by Andrew Ferguson
TalkTalk has issued a small trading update for the quarter ending 30th June 2016 and it may be that the flat performance which is being described as a strong start to the year by TalkTalk itself is because they expected a worse set of results as confidence in the provider is still being rebuilt after the hacking events of 2015.
The overall number of broadband customers dropped 9,000 in the quarter, but this was balanced by 36,000 net adds on the fibre based products. The end result being revenue was only down -0.4% compared to the same quarter in the previous year.
The FTTH pilot in York continues, but we are a little sceptical about the future of this trial given that while Sky are also involved TalkTalk are much more visible and seem to be talking about it, plus evidence from speed tests seems to show a much smaller number of Sky customers than TalkTalk with speeds above the standard FTTC services.
"We have continued to make good progress with our fibre to the premise (FTTP) trial Ultra Fibre Optic (UFO) in York. The build has passed nearly 11,000 homes to date, with penetration reaching c12% only 3 ½ months after commercial launch, and ramping steadily. Nearly half of the TalkTalk connections are from customers who were not previously with TalkTalk, driving a material increase in our market share in the area. With build costs already established at below £500 per home passed, we are increasingly confident of reaching our targeted penetration rate of 30%-40% and delivering the proof of concept required to expand beyond York."
One hopes that this proof of concept will expand to other areas before the 30-40% penetration rate has been reached, otherwise it might be well into 2017 before anywhere other than York starts to benefit and with an ambition to reach ten million premises eventually a slow roll-out will not please anyone apart from BT shareholders. While the CityFibre model sees the residential roll-out of FTTH as the icing on the cake, with the core network model relying on council and business users we suspect that if the various Gigabit Cities don't seem a big move on consumer FTTH the open arms welcome may shift to a less welcoming one.
Thursday 21 July 2016 09:07:27 by Andrew Ferguson
We had hoped that the problems with the BT core network were a one off but looking at social media and other data sources there appears to be packet loss somewhere in the core BT network meaning people using broadband at home and work will have another morning of frustration.
Problems started at around 8.30am on Wednesday 20th July when a power blip at a Telecity data centre in London triggered problems on the BT network, evidenced by lots of packet loss or total loss of access to anything useful on the internet. By around 11am things had started to improve and generally by midday everyone was back up and running. When things were really bad around 9.30am there was a time when almost every speed test we saw from a BT user was under 1 Mbps.
Alas the problems for users are back and it does not matter if you are paying £10.99/m or £1999/m since when the core network has issues it is likely to affect everyone with packet loss.
For business users even if you have a strong SLA the compensation for downtime may not compensate for the loss of business, so if broadband is critical to a business having two or more fully diverse connections is important. For a small SME this might just mean having a 4G dongle that can be connected to your router for emergency use, or if in a rural area a satellite broadband connection. One common solution where FTTC and ADSL2+ are available is to have FTTC as the primary connection and then an ADSL2+ provider who use a different backhaul network, e.g. if you had BT FTTC then a TalkTalk ADSL2+ service.
With the attention on Openreach two days of problems is not going to help, though it must be pointed out that the IP core network is not part of the Openreach remit and even if Openreach had rolled out nationwide FTTP by now issues like this could still happen.
The fact that the BT Home Hub for some years has had ICMP/ping responses blocked means that one diagnostic option open to people to remotely spot issues is not available, perhaps it is time for the BT Home Hub development team to consider allowing advanced users the ability to turn on ping responses to make monitoring remote works and friends and family connections easier. This is made more important since with the latest problems the 'speed test' built into the hub seemed to return the normal results and the mobile app for some was saying no problems in their area.
For clarity the problem on Wednesday was a power issue in Telecity Hex 8/9 and the problem on Thursday is a different data centre Telehouse North with reports saying there was a power failure on part of the 3rd floor.
Wednesday 20 July 2016 10:09:19 by Andrew Ferguson
Hyperoptic has secured an eight year loan from the European Investment Bank (EIB) to the tune of £21m which should help the Gigabit broadband provider add another 300,000 premises to its FTTP footprint in the next three years.
Hyperoptic is the largest Gigabit broadband provider in the UK, and second only to Openreach for FTTB/FTTP and if the expansion plans by Hyperoptic go ahead sooner rather than later might even surpass Openreach to be the largest FTTP provider at any speed. If this happens then it is testimony to the efficiencies Hyperoptic has brought to the party as the total investment with the new loan is £75m.
"Hyperoptic is excited by the European Investment Bank's investment, which will further fuel our roll out and addressable market expansion. The confidence of both EIB and Soros Fund Management LLC supports the importance of FTTP in providing a boost to the UK's digital infrastructure and economy."

Dana Tobak, CEO of Hyperoptic
Hyperoptic targets apartment blocks and operates in 13 UK cities with previously announced plans to increase this to 20 cities and as broadband becomes increasingly important to consumers any new apartment block that does not come with pre-installed decent broadband is going to find attracting new tenants harder.
Wednesday 20 July 2016 09:51:57 by Andrew Ferguson
Business broadband users have been becoming more vocal over being missed out from low cost good broadband on business parks, often with only the choice of ADSL or an expensive leased line and almost nothing in between. Step forward Virgin Media to the rescue as it is promising as part of its Project Lightning expansion to connect tens of thousands of businesses to its network.
The first business parks to benefit have now been announced with the Portway and Walworth Business Parks in Andover, Hampshire parks benefiting as some of the 9,000 business premises that will gain the option of a Virgin Media up to 300 Mbps connection in the next 6 months.
"High bandwidth and affordable broadband is an essential utility for everyone. Businesses on traditional commercial areas seem to have been left behind as the rollout of next generation access broadband is taking place across Test Valley. "We're delighted Virgin Media Business has chosen Andover because of its continuing growth potential. This is the perfect opportunity for businesses to register their interest in a new broadband service for Andover so I would urge businesses to take advantage of this."

Test Valley Borough Council's Economic Portfolio Holder, Councillor Peter Giddings
Some business parks have benefited from the BDUK projects and in areas with extra EU funding there is a higher chance of FTTP on business parks, add to this the work of providers such as WarwickNet and the ever expanding Gigabit City scheme by CityFibre and there should be many more options for businesses seeking to improve their broadband or those trying to cut back on expenditure on their Internet connection by paying less for their broadband by downgrading from expensive leased lines. Though a warning for businesses looking to save money by dropping a leased line, many of the cheaper options do not carry the same bandwidth and uptime guarantees, therefore if not having broadband for a day would be a disaster you should ensure backup connections are in place to allow business to carry on.
Tuesday 19 July 2016 10:59:26 by Andrew Ferguson
While the headlines are going to be all about hiving off Openreach to make it more independent the latest Culture Media and Sport Committee report on UK Broadband and how to make it world leading covers many more areas.
Dealing with the independent Openreach firstly, it seems that opinion is divided with different parties able to produce 'experts' willing to state one way or the other depending on their preferred viewpoints, the committees conclusions states "there is good reaspon to suggest that a more independent Openreach might increase infrastructure investment significantly" and the key words being suggest and might, suggesting that if Ofcom and the Government was to push a more independent Openreach path a much better analysis of the potential outcomes needs to be undertaken, unlike the recent Brexit vote where it seems we have entered a vacuum of the unknown.
The report acknowledges the work of Openreach and the BDUK in reaching the 90% superfast coverage target, but there is criticism of the transparency allowed in the contracts, even though the BDUK itself is happy with its visibility of the costs and that any underspend by BT will be returned under the contracts. To be totally frank worries over the BDUK process stalling investment by commercial operators has been around since Labour published the Digital Britain report in 2009 and public intervention was on the table. The key mistake was allowing one bidder to win all the phase 1 contracts for better or worse having an alternate provider in one county would have given committees another firm to question.
With a 90% target, there was always going to 10% left out, but the big debate seems to be whether that 10% is the right 10%, we have seen the numbers only able to get 2 Mbps fixed line broadband falling over the years and similarly for the numbers under 5 Mbps and 10 Mbps too, but the report (possibly influenced by complaints from members of the public not helped yet) has the following to say on coverage decision making:
"19.The remaining holes in coverage may be all the more difficult to fill. West Yorkshire Combined Authority explained that they had situations where the roll out meant that one half of a village had received superfast broadband, and the other half had not, when all the residents had been ready and waiting for it.28 This was by no means the only example of such a baffling pattern of rollout under the BDUK programme encountered during our inquiry, including similar cases in the constituencies of Members of the Committee. We were also told that the incentive to achieve 90% coverage as quickly as possible had favoured enhancing the services of premises that already received some degree of broadband connectivity at the expense of the more remote with little or no coverage. There was also the question as to what extent BDUK funding had subsidised deployment that would have taken place anyway on a purely commercial basis. 29

...

5.One consequence of BDUK's and BT's rapid rollout is that the programme appears to have tackled the easier-to-reach premises first and has not delivered coverage to whole areas as such. This has left a patchwork of premises that have not been reached, and much uncertainty among local residents as to whether or not they will be connected or receive improved speeds and in turn has been compounded by repeated failure by BT to give accurate information on timing of deployment to consumers. Many counted as covered still appear unlikely to receive superfast speeds owing to the poor quality or length of the copper lines. It is yet to be shown whether and how far BT's development of new technologies such as 'Long Reach VDSL' will improve the situation for those at some distance from a cabinet. (Paragraph 33)"
The contracts were generally signed to deliver a number of premises with access to superfast, and some included detail on less speed coverage but if the system of universal superfast coverage was adopted for a village area, it may mean that in addition to dealing with Exchange Only lines earlier in the project roll-out, more FTTP would be deployed to lift those on the edge of cabinet areas and thus costs may have been higher. The consequence being that another village that now has maybe 50% superfast coverage might have seen none. The gain-share scheme is releasing money back into many of the projects so that more areas with sub superfast speeds can be addressed in addition to the phase II roll-outs, plus with the BDUK audit (where they have access to financial data us mere mortals do not) they are able to identify underspend which BT is contractually bound to return. The report includes a line from Virgin Media where they call the BDUK funding more like a low cost loan to BT and to a great extent it is very much that. The big benefits to the UK economy though that this loan creates are what the Government and local authorities are stimulating.
Service levels within Openreach have been in the firing line all year and while Openreach is the clear target, the levels to be met are set by Ofcom so maybe time for a Ofcom to be more radical and set targets much higher. Though a downside of a better performing Openreach might be better infrastructure and any competitor will find it harder to compete. One downside to higher targets might be higher prices and this will not be popular, the last year has actually seen one major provider opt for a lower SLA from Openreach on its consumer service (i.e. providers have options to buy better levels of service). Price pressures on broadband are not just to do with the copper and partial fibre local loop, but also to do with levels of usage driven by our love of online video and increasingly large downloads for gamers and software updates.
Moving away from the area of hindsight that a lot of the report is based on, the USO (Universal Service Obligation) is looked at and while the 10 Mbps by 2020 is seen as a reasonable target the committee does want any technology used to be readily upgradeable to support something like 30 Mbps for 2022. In terms of paying for the USO, the preferred option is a levy on all communication providers, including mobile providers.
Overbuild of commercial networks, either existing or new, has always been a heated argument on social media as the BDUK projects progress and in evidence to the committee Gigaclear says that around 45% of its network has been partially or substantially overbuilt by BT. In the case of Gigaclear it seems the demand led approach to their roll-out is partially why this has happened, or put another way if every village Gigaclear was monitoring demand at was excluded from the BDUK project those that did not meet the Gigaclear targets would have missed out of the BDUK scheme.
The report does look at the capex situation with Openreach and for those delving into the report its perhaps worth remembering that while Openreach has a revenue of around £5 billion per year, the 5.9 million GEA-FTTC/FTTP customers only generate around £550 million to £650 million of additional revenue and even that figure is under threat as some want the price for GEA products to decrease further while forcing BT Consumer prices to remain high, thus allowing them to undercut the retail arm of BT.
Perhaps a more radical approach than Ofcom or the Government has dared to attempt is needed if we want to guarantee a world class UK Digital Infrastructure for the next century and that is to leave Openreach to operate as a commercial enterprise and instead start a new UK infrastructure firm with the pure mandate of full Fibre to the Premise with every business covered within the next five years and all homes within fifteen years. Under EU State Aid rules this was never likely to happen, but now anything is possible.
Saturday 16 July 2016 10:17:29 by Andrew Ferguson
Politics is a funny old game and the last month has seen many changes, but generally the broadband world has carried on as usual, but with the news that the Rt Hon Ed Vaizey MP is leaving DCMS and his role as Minister of State for Digital and Culture there is a possibility (or risk depending on viewpoint) of change. The new Prime Minister has appointed Matthew Hancock MP (@MattHancockMP) as the new Minister of State for Digital & Culture.
Whilst we are sure not everyone agreed with what the Rt Hon Ed Vaizey MP said and did with regards to broadband in his term, as the longest ever minister serving in the role this did mean the industry and campaigners had been able to build a working relationship and with regards to the broadband side of things the long term knowledge gained was very important.
Matthew Hancock MP joins at a time when the projects to push superfast coverage to 95% are all pretty much underway so the chance of forcing any change of direction there are unlikely given the 18 months left to run before the target should be reached, but there is a lot of work to be done on the Universal Service Obligation and working to ensure that superfast roll-outs continue so that the 96 to 97% coverage figures many are hoping will be reached in the couple of years happen rather than be forgotten in all the political turmoil this summer.
For the UK technology as a whole, there are wider issues that also need clarity and a strong minister to work with, since the IP Bill with its controversial Internet Connection Records (ICR) that will store metadata on internet use and the continuing confusion over end to end encryption has much of the industry concerned and if handled poorly could persuade high value tech firms to locate elsewhere.
Tuesday 12 July 2016 12:14:20 by John Hunt
Virgin Media have announced the next 30 communities which will receive ultrafast broadband and access to Virgin Media tv services. This is part of the £3bn 'Project Lightning' network expansion which will see the company expand to an extra 4 million premises by the end of 2019.
The latest 30 communities listed are to be connected with fibre direct to the home, which will take advantage of RFOG (radio frequency over glass), allowing the continued use of DOCSIS to be totally interoperable with the existing network and services, whilst offering the ability to provide future upgrades to pure fibre solutions. Existing Virgin Media products will therefore be available, and the areas listed are expected to be ready for service by Spring 2017.
The areas listed below are in order of number of votes cast.
Windlesham (Surrey)
Sutton Courtenay (Oxfordshire)
Balsall Common (West Midlands)
Old Basing (Hampshire)
Oakley (Hampshire)
Farnham Common (Buckinghamshire)
Wargrave (Berkshire)
Lickey, Catshill, Marlbrook & Barnt Green (Worcestershire)
Cullingworth (West Yorkshire)
Shrivenham (Oxfordshire)
Baddesley Ensor (Warwickshire)
Harden (West Yorkshire)
Broughton Astley (Leicestershire)
Grimethorpe (South Yorkshire)
Wigginton & Haxby (North Yorkshire)
Copmanthorpe (North Yorkshire)
Grassmoor (Derbyshire)
Pontyclun (Rhondda)
Darfield (South Yorkshire)
Talke & Talke Pits (Staffordshire)
Cudworth (South Yorkshire)
Duffield (Derbyshire)
Shafton (South Yorkshire)
Denham (Buckinghamshire)
Llanharry (Rhondda)
Marcham (Oxfordshire)
North Leigh (Oxfordshire)
Repton (Derbyshire)
North Cornelly (Bridgend)
Watchfield (Oxfordshire)
If you are hoping to get an upgrade to your broadband speed, and would like to see Virgin Media cable your street, check out their website and vote for your area.
Friday 08 July 2016 15:47:29 by John Hunt
EE are still receiving the highest number of complaints about broadband customers according to data compiled by Ofcom. The data compiled covers Q1 2016 (January to March) and includes complaints from consumers received by the regulator. It doesn't however include complaints that have been made directly to the provider or to ADR (Alternative Dispute Resolution) schemes. Although different providers record the number of subscribers in different ways, Ofcom have checked the data to ensure it is accurate to provide useful comparison data for consumers.
The last two years of data, between Q2 2014 and Q1 2016, is displayed in the graph below.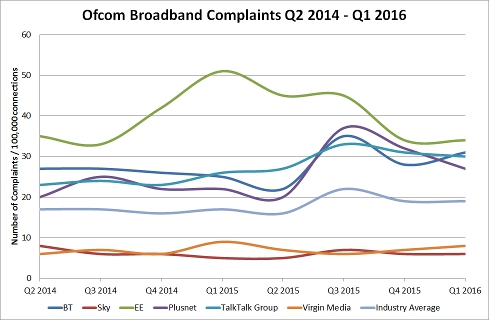 Click image for full size version
As can be seen, EE clearly have improved over time but still have a long way to go to get their broadband complaints down to the levels seen by Virgin Media and Sky who receive a lot less per 100,000 connections. With EE now joining Plusnet as within the BT family, there is obviously work to be done to get things improved.
Thursday 07 July 2016 23:15:57 by John Hunt
The 2016 ISPA awards took place tonight and we can now unveil the winners! The ISPAs awards dinner was held at The Brewery London, close to TechHub in Shoreditch. The event saw a keynote speech from Clive Shelley, CEO of Openreach, who stated that LR-VDSL can deliver 10Mbps out to 3.5KM from the cabinet, confirming that it will be an ideal technology to help meet the 10Mbps USO.
The ISPA awards are decided through several months of technical testing in a number of categories and a judging panel selecting the eventual category winners from short lists. A range of categories allow ISPs to battle it out, and these include hosting, VoIP, broadband, security and a new marketing category, amongst others.
The Internet Hero and Villain awards followed a cyber security theme this time with Apple taking the Internet Hero award for its fundamental principle of encryption and protecting customer security. Mossack Fonseca, Panama (the company whose data was leaked in the 'Panama Papers') won the Internet Villain award after showing poor cyber security for their data breaches.
Of note this year, Hyperoptic won the Best Superfast Broadband category for the 4th year running, and Relish won the Best Consumer Broadband. Venus was awarded the Best Business ISP and wireless ISP Wessex Internet walked away with the Best Wireless Award.
Internet Hero

Apple

Internet Villain

Mossack Fonesca, Panama

Best Superfast Broadband

Hyperoptic

Best Consumer Broadband

Relish

Best Business Broadband

Venus

Best Wireless

Wessex Internet

Best Shared Hosting

Heart Internet

Best Dedicated Hosting

Memset

Best Cloud Product

Storm Internet

Best VoIP

Telappliant

Best Consumer Customer Service

Wifinity

Best Business Customer Service

Catalyst2

Best Marketing Campaign

Vodafone: Terry the Turkey

Best CPE Hardware

Fritz!Box 7490 Router

Safety Award

UK Safer Internet Centre

Security Award

F-Secure

Best Tech Law Firm

Kemp Little
---