Broadband News
Friday 29 July 2016 10:08:02 by Andrew Ferguson
Regular readers will be well versed in how the language used to describe broadband targets can be misleading, hence why we have to publish so many speed points when reporting coverage to try and cover all the eventualities.
To date the Superfast North Yorkshire project which was the first project to deliver a BDUK gap funded cabinet at the end of 2012 has been doing relatively well, perhaps a little behind original targets , now the BBC is reporting that the latest target in the county for rural broadband is to be missed.
For those living in working in North Yorkshire once the moment of outrage over this news has passed it should be apparent that the article does not make it crystal clear what the target being missed actually was. Some reading around reveals that there does appear to be a goal of 100% coverage, but this is described in a number of places as 100% high quality broadband which seems to be defined as 10 Mbps and faster - a big departure from the 100% superfast that will pop into most readers heads. Another confusion is any mention of 'by 2017' as in politics this often is a 12 month window, i.e. the public thinks it means by 1 minute past midnight on 1st January 2017, but it often is actually 1 minute to midnight on 31st December 2017.
We suspect one reason why the 100% may be called a high quality target is that fixed wireless has been openly embraced in the area and the coverage map ran by the project while showing VDSL2/FTTP superfast services restricted to their footprints shows fixed wireless as covering very wide areas with no gaps. Now if this was the fenlands with flat topography we'd accept the large polygons, but with the variation in height and shielding effect of trees we are pretty sure there will be gaps. If you are a fixed wireless provider in North Yorkshire and you have your coverage area available in a form we can use please get in touch.
We produced a round up of the North Yorkshire area back in September 2015 and now we are well past phase 1 we have excluded York from this update.
thinkbroadband calculation of Superfast, USC and Fibre Broadband Coverage across constituences that comprise North Yorkshire
Coverage figures as of 28th July 2016
(change since of 6th September 2015
Area
% fibre based
% superfast
24 Mbps or faster
% superfast
30 Mbps or faster
% cable
% Openreach FTTP
% Under 2 Mbps USC
% Under 10 Mbps
North Yorkshire County (excludes York)
96.2% (+3.8)
86.1% (+5.5)
84.9% (+6.0)
13% (+0.1)
1.53% (+0.45)
4%
9.5%
Harrogate and Knaresborough
98.2% (+0.5)
95.2% (+0.9)
94.7% (+1.2)
75.5% (+0.8)
0.26% (+0.26)
0.6%
1.9%
Richmond
95.5% (+4.8)
79.7% (+5.7)
78.1% (+6.1)
0.1% (=)
0.22% (+0.1)
6.1%
14.5%
Scarborough and Whitby
98.2% (+2.1)
92.7% (+1.9)
92% (+2.4)
0% (=)
0.51% (=)
2.1%
4.5%
Selby and Ainsty
97.1% (+4.4)
86.1% (+9.9)
84.6% (+10.4)
0% (=)
4.79% (+1.3)
3.8%
8.1%
Skipton and Ripon
94.7% (+4.5)
82.5% (+6.1)
81% (+6.6)
0%
1.5% (+0.37)
4.6%
12.3%
Thirsk and Malton
93.3% (+5.9)
79.9% (+8.5)
78.4% (+9.5)
0.1% (=)
2.27% (+0.86)
6.5%
15.8%
Our figures for 10 Mbps and 2 Mbps do not take into account fixed wireless coverage and while people may wonder how the superfast coverage levels can increase more than the fibre levels in North Yorkshire there are an increasing number of infill cabinets appearing or FTTP clusters for longer lines.
Update Saturday 30th July 2016 Ok we found somewhere that gives a reasonable summary of the targets in North Yorkshire and it looks like nothing has actually been missed yet, just lots of worry about missing targets in the future, since for now only enough money to commit to a below 100% target has been reached. The phase 3 work comprises £7.3m from BDUK, £1m from ERDF and £12m from the council itself.
Phase 1 & 2 have a target of 91% superfast (over 24 Mbps) by end of June 2017
Phase 3 to take coverage higher to 95% to 96%
Looking at the amount of FTTP that is starting to appear it is possible that a shift in technology choice is taking place as with other BDUK projects, i.e. as they reach the areas where VDSL2 makes less economic sense in terms of speed delivered full fibre is being used.
Thursday 28 July 2016 13:36:41 by Andrew Ferguson
With just a month to go until 1st September we need to highlight the price changes on the way for existing Plusnet customers and those who may sign up, particularly as their is a new ADSL2+ offer of free broadband for 12 months plus line rental and £50 cashback that has just started.
The price changes are detailed on the Plusnet website and also affect some legacy products no longer sold. Customers affected should have been emailed about the changes that come into effect on 1st September 2016.
Line rental increasing from £16.99/m to £17.99/m
If you have an Evening and Weekend call plan now, price will increase from £3 to £3.50 per month
If you have an Anytime call plan now, price will increase from £6 to £6.50 per month
New customers joining after 1st September will pay £4/m for an Evening, Weekend and Mobile call plan
New customers joining after 1st September will pay £8/m for an Unlimited UK and Mobile call plan
Call setup fee increases from 16p to 19p
Calls to 01, 02 and 03 numbers to rise from 10p per minute to 12.54p
Mobile call charges to decrease from 13p per minute to 12.54p
Engineer charge to increase from £50 to £65
Existing customers on Unlimited broadband (with no voice line rental via Plusnet) will see price increase by £1/m
Existing customers on legacy Essentials and Value broadband with phone packages will see a broadband price increase of £1/m
Price rises are never popular, but for long term Plusnet customers who are not looking to move the best bet would be to lock in the voice line rental pricing by moving onto the line rental saver product, and you may also want to check your phone bills to check whether any call bundle is value for money based on your call pattern.
One thought is that if later in the year advertising rules change to make total cost of ownership over a contract period something that has to be shown prominently then periods like this where the TCO price is changing daily as the 1st September edges closer are going to cause lots of problems.
Thursday 28 July 2016 10:32:53 by Andrew Ferguson
The quarters results to the end of June 2016 have been published by BT and for those comparing with previous quarters results they need to remember that the impact of the EE customer base has to be factored in.
"Fibre broadband is available to well over 25m premises and take-up remains strong. At a retail level, we performed well achieving a 79% share of broadband net adds in the quarter. We were pleased to renew our FA Cup rights during the quarter and we look forward to showing more games from the Premier League at a much better time slot, starting in two weeks. Our customers can also look forward to all the exclusive live action from the UEFA Champions League and UEFA Europa League once again this year.

Our investment plans remain central to our future and so we will be rolling out further fibre in the coming months, as well as 4G through the Emergency Services Network contract. Our aim is to make these services as universally available as we can, whilst also deploying a new generation of ultrafast broadband. Such investment requires regulatory clarity, particularly in these uncertain times.

Having listened to Ofcom and industry, we have set out our proposals for greater independence and transparency for Openreach. Our proposals can form the basis for a fair, proportionate and sustainable regulatory settlement and we believe they can also enable Ofcom to bring its Digital Communications Review to a speedier conclusion. We will continue to engage with Ofcom over the coming months."

Gavin Patterson, Chief Executive
On the subject of Openreach once the consultation period of the Ofcom proposals for dealing with Openreach are over the regulator will make its final decision and the impression given by the head of Ofcom Sharon White is that it is more likely to impose its view on what needs to be done, rather than accept the BT Group proposals. What impact any changes have will depend a lot on the way the other broadband operators utilise the changes, if business continues as usual then probably no real change to investment plans, and with TalkTalk leading the running of an active campaign to create a ground swell of calls for a full sell-off it does not look as if the major competitors are ready to embrace the proposed options of more influence on Openreach and the PIA v2 product.
Openreach saw a further growth in the number of broadband connections, up 95,000 in the last quarter (compares to 149,000 in the same quarter a year ago), but crucially the number of net fibre (GEA-FTTC or GEA-FTTP) additions was 333,000 showing that the migration of exchange based services to the GEA range continues. Some 6.2 million premises are now on a GEA service which is 24% of the premises passed.
"Capital expenditure was £337m, down £65m or 16%. This was after gross grant funding of £39m (Q1 2015/16: £99m) directly related to our activity on the Broadband Delivery UK (BDUK) programme build in the quarter. This was offset by the deferral of £12m of the total grant funding (Q1 15/16: £100m). The funding deferral is a non-cash item in the quarter. We continue to expect gross capital expenditure in 2016/17 to be higher than in the previous year."

Openreach capital expenditure
One result of regulation price changes was a £50m reduction in revenue, which the 33% growth in fibre broadband revenue mainly offset. In terms of performance there are some 60 metrics for performance mandated by Ofcom and the results state Openreach was ahead of the target for all of them and the annoying matter of engineers missing appointments has been reduced by a third in the quarter. On the BDUK projects the base case assumption for take-up remains at 33% and on the commercial investment in the ultrafast arena the started target is still 10 million G.fast and two million FTTP premises passed by the end of 2020. For the G.fast deployment we an analysis of the number of cabinets needed back in June 2016 and we have now plotted the two scenarios for where BT may deliver 10 million premises passed with G.fast at speeds of 100 Mbps and faster.
BT Consumer added 79,000 new retail customers in the quarter, a massive 79% of the total seen by Openreach and also added the lions share of the fibre additions at 181,000 connections. BT Consumer now has 47% of its customers on a fibre based product. One interesting claim is that the new BT Smart Hub is twice as fast over Wi-Fi compared to the Sky Q Hub when using them two rooms away - and while we presume this is actual testing rather than a theoretical result reports on our forums are a little more mixed but difficult to adjudicate as very little chatter about Sky Q Wi-Fi performance. The venture into the TV sector continues for BT Consumer where it now has some 1.6 million BT TV customers adding 59,000 in the last quarter.
The take-up rates for fibre once combined with Virgin Media means a total penetration rate of 37.7% for the UK and while there are a long tail of other fibre based providers our recent integration of their availability data into the UK superfast figures suggests the additional impact in terms of penetration may be worth another 0.2%. When we compare this reported figure of 37.7%-37.9% with the proportion of speed tests we are seeing 36 to 40% of tests at superfast speeds in June 2016. There is another 2 to 4% of tests that appear to be on a NGA based infrastructure but getting sub superfast speeds and so while the overall figure is higher than reported penetration the difference is easily explained by people doing speed tests to see if their newly upgraded service is performing as per the sales estimate.
Thursday 28 July 2016 09:47:50 by Andrew Ferguson
Sky in the last year launched its new Sky Q set-top box and has recently added Ultra HD content, continuing its dominance of the pay TV market in the UK. In the broadband sector it is the second largest retail provider (5,967,000 customers) and over the course of the last 12 months added 347,000 customers, though the last quarter only contributed 24,000 new customers.
The results make it clear that Sky believes that limits to retention discounts, alongside a 4-5% rise in TV pricing have contributed to a 11.2% churn rate across the full product range. Interesting customers taking broadband with a TV package are highlighted as having a high propensity to switch providers, and it is in that area Sky often tempts with £50 to £100 vouchers - the hope we presume being that providers once exposed to more Sky marketing will buy into the TV platform eco-system.
The NOW TV Combo only launched in June so too early to see what effect a contract free triple play will have, though as with Sky Q once you stop paying the box stops working - which is a departure from the Sky Plus boxes which would degrade to showing only free to air channels (but with any recording facility disabled). NOW TV managed some 600,000 transactions for sports passes in Q4, alas no figures on the entertainment and mobile passes.
The future looks set to bring a new Sky Mobile product range as a virtual network operator and the one mention of fibre indicated increased penetration but gave no figures. The York FTTH joint venture with TalkTalk and CityFibre gets no mention at all.
Wednesday 27 July 2016 10:25:46 by Andrew Ferguson
The Local Government Association has highlighted a desire from the councils it represents in England and Wales for the Government to publically make it clear that with the new broom that has swept through Whitehall that it is totally committed to the 10 Mbps Universal Service Obligation.
"It is undeniable that access to fast and reliable digital connectivity is a necessity for households and businesses in the UK.

Good digital connectivity is a vital element of everyday life for residents and can help them cut household bills, shop online for cheaper goods, stay in touch with distant relatives, file tax returns and access their bank accounts. As central and local government services increasingly become 'digital by default', more people will need to have faster and more reliable speeds.

It is paramount that the Government maintains momentum and presses ahead with plans to enshrine the USO in law. We hope that the recent changes in Government do not delay work on the USO and call on ministers to reaffirm their commitment to it.

Equally, while this minimum standard is a good start it must keep pace with national average speeds and the expectations of households especially at peak times. Without this there is the real possibility of some areas – particularly in rural and hard-to-reach areas - falling into a digital twilight zone.

Cllr Mark Hawthorne, Chairman of the LGA's People and Places Board
As things stand at this moment in time we believe there are 1.22 million premises where the only fixed line broadband option is below 10 Mbps (this latest figure includes the impact from FTTH operators such as Hyperoptic, Gigaclear, IFNL, B4RN and others, without them the figure would be 20,000 premises higher) and this will decrease more as the 95% superfast broadband target gets closer but as anyone who has looked at the maps we publish can see this is not just a rural broadband problem.
We always try to ensure when talking to anyone involved with the USO that while download speed is what people talk about most, issues like ensuring upload speeds are decent is increasingly important particularly for business use. Also while satellite broadband does have a place and can hit and exceed the download target upload speeds tend to suffer and the latency is very apparent, it certainly is not the solution that should be considered for what might be 0.75m to 1m premises.
As a safety net 10 Mbps will allow business and home users to do the key tasks, but as things evolve this is likely to prove inadequate (even if its just keeping devices up to date with firmware and software updates) and this is why there is talk of an escalator where the USO will be reviewed every few years. The problem for Government is balancing the cost of implementing a solution that will suffice for 20 to 30 years when budgets are so limited versus smaller incremental changes that stress the public purse less in the short term.
One aspect that is often overlooked is the performance of broadband connections at peak times, and with the never ending rise of online TV viewing as the biggest drive of bandwidth consumption one gets the sense of a growing anger from people who buy ever faster packages in the hope it will fix buffering or know the speed they are connecting at is well in excess of the speed needed for streaming but the buffering symbol is still a daily friend. Buffering of a HD video stream while unlikely on a 1 Gbps service is still technically possible if a provider over contends their links to where video is being served from. Broadband history is littered with providers who have done really good deals and service quality plummets, ensuring that any USO provision does not fall into this trap will prove a challenge, but is not impossible.
Tuesday 26 July 2016 07:08:56 by Andrew Ferguson
Ofcom has announced how it sees Openreach operating for the next decade and onwards and it will be as a more independent entity from the BT Group. The changes are pretty radical and seem to fall one step short of Openreach becoming its own PLC on the stock market, but who knows that may eventually happen.
New branding to reflect a new company, i.e. no mention or hints of BT
Staff to be employed by Openreach, i.e. transferred totally from BT Group. Consultations will resolve issues such as pensions and other benefits
More consultation with customers (e.g. TalkTalk and Sky) around large investments, and this will include a 'confidentiality' phase where plans can be discussed without any disclose to BT Group.
Assets under Openreach control to now be owned by Openreach
Its own board, where the majority (including the Chair) will be non-executive members with no affiliation to BT Group. Appointment will be made by BT, but Ofcom must be consulted on appointments.
Openreach to be given its own 'articles of association' and its directors given a duty to promote the success of the company and work in the interests of ALL customers.
This is the model that Ofcom has put onto the table and it is significantly more radical than the changes a decade ago that took the UK broadband market to where it is now. Whether the changes will produce a positive result with much more investment in Fibre to the Premises and better customer service is a massive unknown but there is an opportunity for that to happen and the question is once a new Openreach board has formed and the dust settled whether they find themselves struggling or awash in capital and enough staff to roll-out millions of FTTH/FTTP.
For the embattled SME and consumer, today's news is promise of a better future but with no certainty as to when this will happen and this is unfortunate as much of the campaigning has been around service standards with many of the existing problems down to previous decade old Ofcom decision and staffing levels of Openreach which are being stretched to keep up with the existing VDSL2 roll-outs and meet install/fault targets.
For those who are yet to see superfast broadband rolled out to them and are now part of the 95% due to be covered by the end of 2017, we strongly believe that today's changes will mean no difference, since the most likely result of this new Openreach will be a revision of the split between G.fast technology and FTTP in the commercial roll-out that was already planning to target some 12 million premises. There is actually a very high possibility that if large providers such as Sky and TalkTalk are more interested in steering Openreach investment into their emerging IPTV ranges and competing with Virgin Media that we might see Openreach doing little in rural areas for decades unless there is Government incentive.
Ofcom seems confident that this split is not going to cause disruption and massive costs to the consumer or industry, but we believe it will introduce some uncertainty and negotiations over staff transfers (both in individual terms, pension liabilities and the number of staff) are going to be a sticky problem and we can envisage, just as with previous changes, long term BT Group staff may take this as an opportunity to take early retirement.
The previous revised pole and duct access plans announced in February continue with the aim being to give more people more choice of infrastructure into their home, and FTTH has its new rules coming into force on 31st July. It is conceivable that Openreach may morph into a custodian of the existing VDSL2 and copper networks and the ducting they exist in, and the major customers just exploiting the new duct and pole access rules to roll out their own FTTH networks. Thus allowing TalkTalk to roll-out its much talked about 10 million home network without having to dig up every pavement.
The next couple of months are now the time for TalkTalk, Sky and others to step forward and either embrace the duct access abilities or work with the new Openreach to get them to do a more FTTH heavy roll-out. If these two largest competitors to BT Retail do not step up, then these changes are wasted and all they will achieve is allow BT Retail to further exploit its market share in the retail sphere. So just as with the Brexit changes it is time for those that have campaigned for the changes for years to now step up and get on with making sure that after the champagne bottle has emptied that work starts swiftly to produce the world leading changes they promised.
A number responses are expected today from interested parties and the first is from the Government.
"Nine out of ten homes and businesses now have access to superfast broadband, but our goal is to make sure the UK builds the right infrastructure to maintain our position as a world leading digital nation.

We are clear that a more independent Openreach is needed to benefit consumers and the UK's digital infrastructure. We are concerned that BT's proposals do not go far enough and think it is right that full structural separation remains an option. Swift and clear action is needed to give certainty to consumers, industry and investors in the UK's broadband infrastructure, and which delivers rapid improvements in the level of investment and service."

A Department for Culture, Media and Sport spokesperson
"Today's proposal to create a legally separate Openreach is a step in the right direction, although falls short of the full change that would have guaranteed the world-class broadband network customers expect and the UK will need. In particular, leaving Openreach's budget in the hands of BT Group raises significant questions as to whether this will really lead to the fibre investment Britain requires."

Jeremy Darroch, Group Chief Executive, Sky
"Fundamentally, today's proposals do not address Ofcom's key objectives of reducing the country's dependence on Openreach and encouraging essential investment in fibre. Whilst correctly identifying Openreach as the principal source of the industry's dysfunction, it is hypocritical of Ofcom to focus on a restructured Openreach as a panacea.

Further debate and navel-gazing as to the appropriate structure of BT will continue to create a period of uncertainty at a time when the industry needs clarity, direction and competitive investment. Openreach has a critical role to play, but it is not prudent to entrust them with sole responsibility for our digital future.

CityFibre has proven its commitment to delivering future-proof digital infrastructure across the UK through its significant investment in dark fibre assets. Unconstrained by the ongoing regulatory debate, CityFibre has the financial flexibility and independence to rapidly deliver the fibre infrastructure, innovation and challenger ethos essential to meet the UK's future digital needs."

Mark Collins, Director Strategy & Policy at CityFibre
"Anything which brings the UK closer to a full fibre to the premise rollout is a step in the right direction. Industry will be supportive of Ofcom's focus on outcomes, particularly the focus on increasing fibre connections 'to the doorstep'. Separating BT Openreach functionally within BT Group, should allow BT Openreach to invest in the infrastructure required to ensure the UK has digital infrastructure which is fit for the future.

What is needed now is a rigorous focus on how fibre rollout in the UK can be speeded up. The Government has a clear roll to play in setting out a robust Digital Economy Strategy to give confidence to industry that the UK will not be left behind in this crucial area."

Chris Richards, Senior Business Environment Policy Adviser at EEF, the manufacturers' organisation
Monday 25 July 2016 10:05:58 by Andrew Ferguson
Before we go ahead and fully add the various alt-net FTTH providers into the full superfast, 2 Mbps, 10 Mbps and other statistics we produce we thought it would be a good point to share copies of the maps for where we believe Openreach/Virgin Media and KCOM is not able to supply a 2 Mbps or 10 Mbps or better service.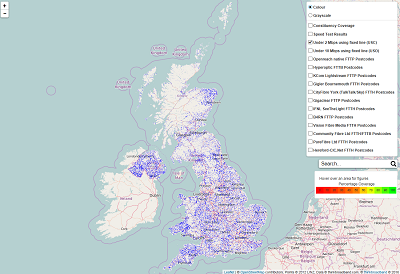 Click image for full size version
The Universal Service Commitment map above shows some 65,778 postcodes where our model for broadband in the UK believes that speeds of 2 Mbps or slower are available. The postcode lookup on our broadband coverage checker highlights those postcodes when people search and we will be checking the links to the various voucher schemes to make sure the links for obtaining vouchers are up to date. Generally the vouchers are enough to allow for a free install of a satellite broadband scheme and while this will allow for basic web browsing and email the low usage allowances mean that while some video streaming is possible using up the allowance is all too easy. Some of the local authorities have extended the vouchers to cover fixed wireless schemes which generally have better usage allowances than the satellite schemes and don't suffer the high latency that is implicit in satellite connectivity.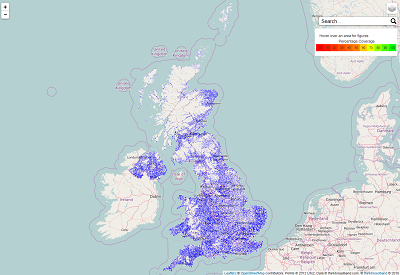 Click image for full size version
The more rapidly changing picture is the Universal Service Obligation map, which while not in force yet (since to be enshrined in law takes time) is still worth tracking. The 151,943 postcodes forming the USO map is dropping as the BDUK roll-outs continue and already comprises just 4.3% of UK households and how far it will drop depends on precisely where the superfast roll-out goes, but it is not impossible that this may be as low as 1.5% in late 2019.
The USO and USO maps are available as layers on our checker and while we do weekly updates to the coverage percentages, we run a cycle of endeavouring to update the USO/USC map layers every fortnight.
Of course making services available in theory is not much use if people don't adopt them, and that is why we are tracking speed test results carefully so for example England has gone from 0.4 Mbps as the download speed for the slowest 10% of tests seen in July 2009 to a figure of 1.9 Mbps in June 2016.
Thursday 21 July 2016 09:43:14 by Andrew Ferguson
TalkTalk has issued a small trading update for the quarter ending 30th June 2016 and it may be that the flat performance which is being described as a strong start to the year by TalkTalk itself is because they expected a worse set of results as confidence in the provider is still being rebuilt after the hacking events of 2015.
The overall number of broadband customers dropped 9,000 in the quarter, but this was balanced by 36,000 net adds on the fibre based products. The end result being revenue was only down -0.4% compared to the same quarter in the previous year.
The FTTH pilot in York continues, but we are a little sceptical about the future of this trial given that while Sky are also involved TalkTalk are much more visible and seem to be talking about it, plus evidence from speed tests seems to show a much smaller number of Sky customers than TalkTalk with speeds above the standard FTTC services.
"We have continued to make good progress with our fibre to the premise (FTTP) trial Ultra Fibre Optic (UFO) in York. The build has passed nearly 11,000 homes to date, with penetration reaching c12% only 3 ½ months after commercial launch, and ramping steadily. Nearly half of the TalkTalk connections are from customers who were not previously with TalkTalk, driving a material increase in our market share in the area. With build costs already established at below £500 per home passed, we are increasingly confident of reaching our targeted penetration rate of 30%-40% and delivering the proof of concept required to expand beyond York."
One hopes that this proof of concept will expand to other areas before the 30-40% penetration rate has been reached, otherwise it might be well into 2017 before anywhere other than York starts to benefit and with an ambition to reach ten million premises eventually a slow roll-out will not please anyone apart from BT shareholders. While the CityFibre model sees the residential roll-out of FTTH as the icing on the cake, with the core network model relying on council and business users we suspect that if the various Gigabit Cities don't seem a big move on consumer FTTH the open arms welcome may shift to a less welcoming one.
Thursday 21 July 2016 09:07:27 by Andrew Ferguson
We had hoped that the problems with the BT core network were a one off but looking at social media and other data sources there appears to be packet loss somewhere in the core BT network meaning people using broadband at home and work will have another morning of frustration.
Problems started at around 8.30am on Wednesday 20th July when a power blip at a Telecity data centre in London triggered problems on the BT network, evidenced by lots of packet loss or total loss of access to anything useful on the internet. By around 11am things had started to improve and generally by midday everyone was back up and running. When things were really bad around 9.30am there was a time when almost every speed test we saw from a BT user was under 1 Mbps.
Alas the problems for users are back and it does not matter if you are paying £10.99/m or £1999/m since when the core network has issues it is likely to affect everyone with packet loss.
For business users even if you have a strong SLA the compensation for downtime may not compensate for the loss of business, so if broadband is critical to a business having two or more fully diverse connections is important. For a small SME this might just mean having a 4G dongle that can be connected to your router for emergency use, or if in a rural area a satellite broadband connection. One common solution where FTTC and ADSL2+ are available is to have FTTC as the primary connection and then an ADSL2+ provider who use a different backhaul network, e.g. if you had BT FTTC then a TalkTalk ADSL2+ service.
With the attention on Openreach two days of problems is not going to help, though it must be pointed out that the IP core network is not part of the Openreach remit and even if Openreach had rolled out nationwide FTTP by now issues like this could still happen.
The fact that the BT Home Hub for some years has had ICMP/ping responses blocked means that one diagnostic option open to people to remotely spot issues is not available, perhaps it is time for the BT Home Hub development team to consider allowing advanced users the ability to turn on ping responses to make monitoring remote works and friends and family connections easier. This is made more important since with the latest problems the 'speed test' built into the hub seemed to return the normal results and the mobile app for some was saying no problems in their area.
For clarity the problem on Wednesday was a power issue in Telecity Hex 8/9 and the problem on Thursday is a different data centre Telehouse North with reports saying there was a power failure on part of the 3rd floor.
Wednesday 20 July 2016 10:09:19 by Andrew Ferguson
Hyperoptic has secured an eight year loan from the European Investment Bank (EIB) to the tune of £21m which should help the Gigabit broadband provider add another 300,000 premises to its FTTP footprint in the next three years.
Hyperoptic is the largest Gigabit broadband provider in the UK, and second only to Openreach for FTTB/FTTP and if the expansion plans by Hyperoptic go ahead sooner rather than later might even surpass Openreach to be the largest FTTP provider at any speed. If this happens then it is testimony to the efficiencies Hyperoptic has brought to the party as the total investment with the new loan is £75m.
"Hyperoptic is excited by the European Investment Bank's investment, which will further fuel our roll out and addressable market expansion. The confidence of both EIB and Soros Fund Management LLC supports the importance of FTTP in providing a boost to the UK's digital infrastructure and economy."

Dana Tobak, CEO of Hyperoptic
Hyperoptic targets apartment blocks and operates in 13 UK cities with previously announced plans to increase this to 20 cities and as broadband becomes increasingly important to consumers any new apartment block that does not come with pre-installed decent broadband is going to find attracting new tenants harder.
---