Broadband News
Friday 12 February 2016 10:36:53 by Andrew Ferguson
Virgin Media is back with its offer a free wireless speaker on its bundles, though this time for those who don't want a free Pure Jongo S3 speaker which comes with a voucher for 5 free album downloads too then you can opt for a £100 bill credit or £100 reward in the form of John Lewis, M&S or Amazon voucher.
The offer ends at the end of 16th February 2016, and the existing bundle price offers are still running from the Big Easy Bundle (up to 50 Mbps broadband + TV + phone) for £10/m for 6 months then £24/m plus £17.99 line rental from month 1 through to the Big Kahuna Movies Bundle (up to 200 Mbps broadband + TV + phone) for £29.50/m for 6 months then £55/m plus £17.99 line rental from month 1.
Thursday 11 February 2016 15:53:52 by Andrew Ferguson
Superfast Staffordshire has announced that it has hit its 90% superfast broadband coverage target and is now working its way towards a 95% goal which will mean some 476,000 premises across Staffordshire and Stoke-on-Trent will have access to a superfast service if they decide to subscribe.
The pace of the roll-out from the different county level broadband projects becomes very apparent when you compare the constituency data we hold for Staffordshire with the figures from August 2015, just over six months ago.
"From a business perspective we can now host our own email, update our operating systems and programmes in a time frame that does not keep the computers and the internet connection tied up for hours at a time. For example, our payroll update before superfast broadband took more than three hours - now it takes less than 20 minutes. On a personal basis, reading the newspapers and watching related videos is so fast that it means I can do other things in the afternoon. BBCiPlayer and Netflix both stream programmes seamlessly and Skype works well."

Richard Clarke, resident and business user in Moreton
thinkbroadband calculation of Superfast, USC, USO and Fibre Broadband Coverage for Staffordshire and Stoke-on-Trent and its component constituencies
Figures 10th February 2016
(change since August 2015)
Area
% fibre based
FTTC, FTTP, Cable
% superfast
> 24 Mbps
% superfast
>= 30 Mbps
% ultrafast
>= 100 Mbps
%

Openreach

FTTP
% Under 2 Mbps USC
% Under 10 Mbps USO
Overall Project Area
94.7%
89.8%
88.7%
45.5%
0%
0.8%
4.8%
Staffordshire
93.8%
87.6%
86.2%
37.1%
0%
1%
6%
Stoke-on-Trent
98.2%
97.9%
97.8%
76%
0%
0.1%
0.6%
Constituencies
Burton
94.2%
89.5% (+4.5)
87.9%
0%
0%
0.8%
5.7%
Cannock Chase
97.9%
90.9% (+2.6)
89.3%
21.7%
0%
0.9%
4.2%
Lichfield
95.7%
89.1% (+3.9)
87.4%
59.3%
0%
1.1%
6.5%
Newcastle-under-Lyme
95.8%
93.6% (+11.7)
93.2%
69.4%
0%
0.1%
3.5%
South Staffordshire
94.5%
84.6% (+7.8)
81.7%
0.9%
0%
1.2%
6.1%
Stafford
96.5%
91.2% (+3.3)
90.2%
68%
0%
0.9%
5.2
Staffordshire Moorlands
87.3%
76% (+7.1)
74.1%
28.9%
0%
2.7%
9.2%
Stoke-on-Trent Central
97.6%
97.6% (+1.2)
97.6%
88.2%
0%
0%
0.3%
Stoke-on-Trent North
98%
96.4% (+2.6)
96.2%
72.5%
0%
0.5%
1.5%
Stoke-on-Trent South
99.4%
99% (+1.8)
98.7%
0%
0%
0.2%
0.4%
Stone
81.3%
73.5% (+15.1)
72.4%
17.8%
0%
1.2%
12.7%
Tamworth
97.5%
95.5% (+0.9)
95.2%
70.1%
0%
0.4%
2.9%
Thursday 11 February 2016 15:09:06 by Andrew Ferguson
The £25/m (+ £17.99 line rental) Infinity 2 FTTC/FTTP offer has now ended and while the monthly price of £30/m (+ £17.99/m line rental) is back in place the return of the £125 prepaid MasterCard for new customers ordering Infinity online makes up for this.
For those unable to order BT Infinity or don't want the extra speed/expense there are £75 prepaid cards up for grabs on the ADSL2+ products so long as you also order online before the end of 15th February 2016. The unlimited services have returned to their normal offer of £7.50 for ADSL2+ and £12.50 for Infinity 1 (plus voice line rental at £17.99), with the subsequent knock on effect on the TV packages.
The BT Mobile SIM only deals have gained a reward of a £40 iTunes or Amazon gift card for both existing BT broadband customers and people who do not have a BT broadband service. The £16/m (£21/m for non-BT customers) offer on the 20GB 4G package is still running and expires along with the gift cards on 15th February 2016.
Thursday 11 February 2016 10:48:00 by Andrew Ferguson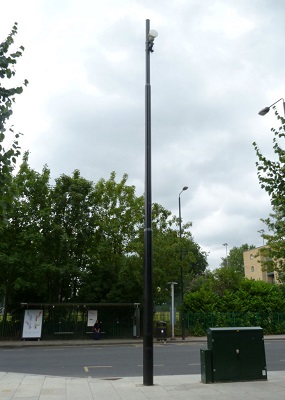 If the rejection of five masts had happened in a pure rural area we suspect the public reaction would be very different but residents and campaigners appear to be celebrating the decision by Swindon planning authority to reject applications for 5 masts that were part of the plans to extend superfast coverage in Swindon. This means that rather than the council/BDUK/UKB project covering 20,000 premises it would only cover 13,000 unless alternate locations can be found for the remaining masts. The planning applications were dealt with individually with the rejection revolving around objections to the proposed location rather than the concept of wireless broadband.
Much of the campaigning in the town revolves around people wanting fibre based broadband, be that VDSL2, cable or full FTTP and the most galling thing for many is that these networks end just around the corner, but as the 4G LTE bid was the only one submitted in the procurement process it won. The southern side of Swindon has one estate with INFL FTTH and a second is being built with Openreach FTTP as the preferred broadband option - one wonders why developers in the northern part of Swindon never explored similar options. Swindon of course does not end at the edge of the existing estates and does have a geographically large but sparsely populated fringe, but this may change as we believe there are plans to add another 20,000 homes in the area to the existing 95,000 or so over the next decade.
Swindon skipped the phase 1 BDUK process as it was looking at a joint venture to blanket the area with Wi-Fi back then and the coverage levels of 82.3% superfast and a 75.5% cable from Virgin Media presence are the result. The Superfast Swindon plan is meant to increase superfast coverage to 99.4% of premises. What is odd is the wording on the official Superfast Swindon website which is a partnership with Swindon Borough Council, DCMS and UKB, which promises 'buffer free streaming' and via phrases like 'Bringing Superfast Broadband to Swindon, Castle Eaton, Hannington, Highworth, South Marston, Liddington, Wanborough, Bishopstone, Chiseldon, Wroughton and surrounding areas' and 'Swindon Borough Council are working in partnership with Broadband Delivery UK (BDUK) and UKB Networks to deliver faster, more reliable superfast broadband to 99.4% of homes within the Borough by mid 2016' gives the impression to the uninformed that no superfast options are already available in the borough. Checking a postcode that has access to superfast VDSL2 and up to 200 Mbps Virgin Media cable tells someone that it is outside the project scope and sends them off to the DCMS checker which then does suggest Virgin Media, Openreach fibre and ironically Relish superfast broadband may be available. In our opinion the Superfast Swindon website should be doing a better job of showing the reality that the majority of the borough already has access to superfast broadband and 3 out of 4 can access ultrafast services.
UKB when describing what the project will deliver highlights the fact that as no voice traffic is needed the 6 x 20 MHz frequency blocks they have in the 3.5 GHz spectrum should perform a lot better than existing 4G mobile networks and this is even more the case when the ~30cm dish/antenna is fitted onto the outside of the premises. When we previously covered Swindon we showed a map of the speeds existing Relish customers were getting, but the UKB PR firm insisted that those speeds were unrepresentative, so in researching this article we found out that apparently DCMS tested the UKB service and rubber stamped it as NGA approved (we have our doubts as to whether DCMS dispatched a technical team to Chiseldon to carry out extensive testing, but rather analysed data UKB supplied) in Chiseldon and the best test we can find in that small area is shown below, of course we have no way of knowing whether the new dish system was in use or not.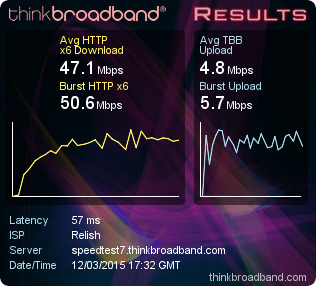 So why did BT Group and Virgin Media not bid? Simple answer we don't know but the wholesale access is the normal stumbling block for Virgin Media. What we have heard is that Virgin Media did offer to roll-out its cable network (which may have also included some FTTP as in other areas where they are rolling out via Project Lightning) to the same footprint and included some long cable runs to small clusters of premises, but this offer which would not need any BDUK or Swindon Borough Council money was rejected. Given cuts in other services that are taking place in Swindon there are questions to be asked why the council opted to spend some of its own money when someone offered to effectively do it at no cost to the council. One clue appears several times when reading up on the project and Q&A sessions in public meetings which is an aversion to roadworks and pavement digging in the council.
For those wondering about the retail side and packages, as yet we can find nothing suggesting who the retailers will be, but the UKB roll-out will be available on a wholesale basis with 2 x 10Gbps backhaul for the wireless network of potentially 20,000 homes and retail pricing and usage allowances will be down to the retailers. One simple assumption is that at least Relish will sign-up, as for who else we have no idea at this time. Public questions about the cost of mounting the dish were deferred with the proviso that the cost of that install could be spread out over the contract term, and UKB promised to work with those who had covenants that would otherwise stop them putting up an external dish.
The 4G LTE roll-out with the outdoor antenna (dishes) rather than Relish style 4G routers is due to take place this summer, so we will keep a keen eye on speed test results in the area and look forward to results that beat the latest mobile phone networks which are already showing tests at over 100 Mbps.
Wednesday 10 February 2016 12:47:12 by Andrew Ferguson
As one PlusNet offer expires the next one appears and running until the end of 23rd February 2016 new customers signing up to the unlimited ADSL2+ service from PlusNet can get £50 cashback and free broadband for 12 months.
The service is based around a 12 month contract, and requires you to take PlusNet voice line rental at £16.99/month and for those outside the PlusNet low cost areas this is one of their offers that does give you free broadband too. After the 12 month period the broadband price will be £9.99/month in low cost areas or for the minority outside those areas £17.49/month.
Wednesday 10 February 2016 12:06:48 by Andrew Ferguson
ASA rulings are by their nature slow to resolve issues and often adverts have adopted recommended changes well before the ruling gets published and the latest ruling that goes against Virgin Media revolves around advertising for its old up to 152 Mbps cable broadband service and adverts they ran promoting it as the 'UK's best widely available broadband for streaming'
"Virgin Media said download speeds had the greatest effect on the quality of streaming services, and latency and packet loss were also relevant albeit to a lesser extent; other metrics that affected broadband were secondary factors. They said without sufficient download speed, consumers would suffer more buffering when streaming, more delays loading web pages and downloading files would take longer. They believed their service was better than, or the same as, all other providers in terms of latency, and while some other providers were better in terms of packet loss, that factor had a comparatively small effect on the quality of a streaming service.

"Virgin Media said their faster speeds were the most critical aspect of a streaming service because high definition (HD) content required up to 12 Mb/s per stream and 4 Kb/s for an on-demand service. They said at those speeds, their 152 Mb product was the only one that would be able to support two concurrent streams with bandwidth remaining for additional web surfing. They said if there was an interruption to the stream, for example due to congestion before data reached a consumer's device, the additional speed would ensure that the buffer could be replenished before it ran out. That enabled a steady stream of video without interruption, avoiding content drop-out.

Extract from ASA ruling
The complaints were actually made by Sky and BT which is not uncommon as providers tend to watch and others adverts and dissect them with a fine toothcomb.
The ASA upheld the complaints around the three issues of "the UK's best widely available broadband for streaming", "Virgin Media's up to 152Mb service is the best for streaming, when compared to BT, Plusnet and Sky" and "Faster wireless hub than Sky and BT".
What we found most illuminating was the comments around HD content requiring up to 12 Mbps per stream (the 4Kb/s for on-demand we presume is a typo and should be 4 Mbps). The difference in speeds is odd, and probably relates to the movies you can buy from some online stores that are higher quality which don't strictly stream but rather download and after a short period you can start viewing. For live streaming and what most of the public accept as streaming should be around 4 Mbps to 5 Mbps for HD content, some Netflix content does go higher and their UHD content will obviously be a lot higher but that is not under the spotlight. Even if we work to the assumption that a stream needs 12 Mbps, we fail to understand why two streams and some web browsing should need a 152 Mbps connection? Any connection with a speed test of 30 Mbps or faster should suffice, so is Virgin Media actually telling the public that its entry level 50 Mbps service is not up to the task of handling two streams and a bit of web browsing? In some of our own testing of a mixture of and Wi-Fi and Ethernet devices we have managed to stream five HD streams on a connection that only manages 19 Mbps download speeds.
The issue of latency and packet loss on the DOCSIS based services is interesting as our broadband quality monitoring shows highly variable performance for Virgin Media connections and generally a higher level of jitter compared to xDSL based services and we have seen similar in the various Ofcom reports over the years too.
The faster wireless hub than Sky or BT, given the existing Sky Hub is just 802.11n and the Virgin Media hub is 802.11ac then it can only have been upheld over the BT Home Hub which also offers 802.11ac and even though the Virgin Media tested and presented data the ASA considered 'the testing adequate to support the claim, especially in relation to their comparison with Sky's and BT's services due to the limited device and operating systems used and because it did not reflect typical consumer situations'.
Broadband advertising is a difficult area as get too techie and most people stop paying attention, and given the current Virgin Media Wi-Fi sharing during a party TV adverts we look forward to someone counting the number of people in the advert and testing with multiple devices how the latest Virgin Media hub and VIVID 200 copes, especially if there are some Periscope users present. A 200 Mbps download speed will likely cope with the number of people, the issue will be around the router CPU/memory load and Wi-Fi congestion issues, e.g. those who've left their Mi-Fi switched on and other networks in the area.
Wednesday 10 February 2016 10:38:09 by Andrew Ferguson
Zen Internet has a special offer running on its truly unlimited download usage ADSL2+ based service with the first six months of broadband for free.
The ADSL2+ service is usually £16/month and requires phone line rental via Zen at £16.99 per month and involves a 12 month contract. A single static IP address is free and the free router requires payment for delivery of £6.95.
Zen Internet have other packages giving you the freedom of choice over who is the voice line rental provider, and is also one of the small number of providers selling Openreach GEA-FTTP in the areas where the native FTTH service is available.
Monday 08 February 2016 10:35:41 by Andrew Ferguson
The politics surrounding the Ofcom decision continue to dominate broadband headlines and the latest body to wade in is the Engineering Employers Federation which in a survey of 128 businesses in December found that half of those on business parks had speeds under 10 Mbps.
Openreach has the finger of blame pointed at it for multiple reasons, but the largest appear to be that dedicated capacity (i.e. no congestion) services are too expensive compared to the GEA services and that the various xDSL services are too unreliable sometimes costing manufacturers and business £1000's in lost revenue. Following up very closely is that the roll-out of these inherently unreliable services has often avoided business parks and concentrated on residential areas, which is a mixture of commercial decision and the way the BDUK process has been implemented by local authorities.
"Ministers have utterly failed to foster a competitive broadband market or oversee the rollout of future-proof broadband for businesses."

Chi Onwurah MP, Labour's Shadow Minister for Culture and the Digital Economy
There is an irony to the Shadow Ministers comments as the Digital Britain report and the groundwork for what the BDUK became actually started under their auspices in 2009. On the issue of not targeting business parks, the real debate needs to be about what sort of connectivity does a business need? A sandwich shop with a free Wi-Fi for its six seats will happy run on the residential grade services, but a manufacturer whose production line would grind to a halt with no Internet connection really should not be looking at services that are often just residential grade but with VAT added on top and a slightly more polite helpline.
Some of the BDUK projects actually had EU money that should have been ring fenced for business use, and that may explain why some areas are seeing native FTTP appearing for business parks. This is not everywhere and for those areas where targets are under 90% it is thought that the lower targets are because more focus has gone into business provision.
What is galling is that as with the recent new homes debate everyone calls Openreach and the BT Group to the table, but rarely do we see alternatives like WarwickNet, CityFibre, Virgin Media and others being asked to join in to show what they can actually do.
Sunday 07 February 2016 12:06:25 by Andrew Ferguson
The UK is edging closer to its original BDUK target of 90% superfast broadband across the UK every week and it is looking like the 24 Mbps or faster target will be crossed in March and the EU figure of 30 Mbps another couple of months later. Given the political ambition is 95% superfast coverage by the end of 2017 and as individual projects push on and they are getting to ever more sparsely populated areas in the main the 95% figure may look easy but we are seeing roll-outs slowing in some areas as the premises per cabinet ratio gets worse.
What is interesting is observing the complaints about broadband which are not diminishing even though more people can get superfast broadband but are actually increasing, and this is even allowing for the lobbying that is underway over what Ofcom should and will do with Openreach. We believe that complaints are going to get worse as coverage levels improve, this is because those missed out will be increasingly worried they are in the final 5% which has no firm delivery promises yet.
The changes are not all rural or peri-urban and with the Virgin Media Project Lightning expansion now starting to make an impact and Openreach still delivering some totally commercial cabinets in urban areas it is not all BDUK gap funded improvements.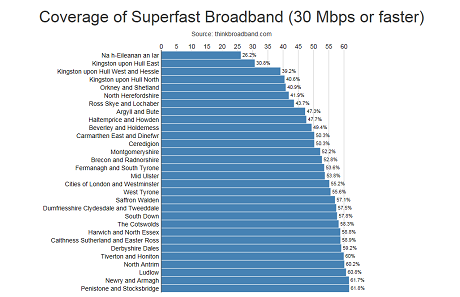 The bottom 30 out of 650 Parliamentary constituencies probably holds few surprises for those living in those areas. The large presence of Hull constituencies is because of KC carrying out a FTTH roll-out which is slower to deliver than superfast coverage, and would be in the bottom half of the 650 constituencies even if you used ultrafast broadband as the ranking metric such is the availability of Virgin Media cable across the UK.
thinkbroadband calculation of Superfast, USC, USO and Fibre Broadband Coverage across the UK, its nations and regions for premises
In descending order of superfast coverage - figures 7th February 2016
(change since 7th January 2016)
Area
% fibre based
% superfast
24 Mbps or faster
% superfast
30 Mbps or faster
% Ultrafast
100 Mbps or faster
% Openreach FTTP
% Under 2 Mbps USC
% Under proposed 10 Mbps USO
South East
96.6%
93.6% (+1)
93%
48.7%
0.75%
0.5%
2.7%
London
95.2%
93.4% (+0.1)
93.1%
67.8%
1.41%
0.3%
1.8%
East Midlands
95.8%
93% (+0.3)
92.4%
56.6%
0%
0.6%
3.1%
North East
94.6%
92.7% (+0.1)
92.3%
50.9%
0.04%
0.3%
2.5%
West Midlands
94.2%
91.6% (+0.5)
91.1%
61.4%
0.07%
0.5%
3.6%
North West
94.9%
91.6% (+=)
91%
45.6%
0.38%
0.8%
4.1%
England
93.4%
90.3% (+0.5)
89.6%
52.6%
1.12%
0.6%
4.3%
United Kingdom
92.8%
89.2 (+0.5)
88.5%
49.8%
0.97%
0.8%
5.1%
East of England
91.8%
88% (+0.6)
87.2%
47.66%
0.34%
0.8%
5.6%
Wales
90.3%
85.9% (+0.8)
84.7%
29%
0.33%
0.9%
8.4%
South West
90.8%
85.6% (+0.9)
84.6%
42.7%
2.51%
1.1%
7.3%
Yorkshire and Humber
88.4%
85% (+0.6)
84.2%
48.1%
3.01% (includes KC Lightstream)
0.7%
7.2%
Scotland
87.2%
83.2% (+1.1)
82.4%
39.2%
<0.01%
1.3%
9%
Northern Ireland
95.7%
78.7% (+1)
77%
27.2%
0.07%
7.2%
14%
The ultrafast column is a new introduction since January and replaces the cable column. The ultrafast figures combine operators like Virgin Media, Openreach FTTP, Gigaclear, Hyperoptic, B4RN, IFNL and other broadband providers who can offer a 100 Mbps or faster connection. The only operators contributing to the levels of fibre based and superfast coverage remains Openreach, KC and Virgin Media with the smaller operators due to be added once the 90% superfast target has been reached.
The big surprise of the month has been the South East region jumping from position three to the top of the table as the best served region for superfast broadband, which is a major achievement though partially helped by the number of enquires from people in the region that meant error checking of the model has closed the gap slightly between the basic something fibre/NGA based is available figure and a service also being available at speeds of 24 Mbps or faster. For the speed freaks London still wins in terms of the availability of ultrafast options and due to FTTH from Vision Fibre Media in the Barbican the small City Of London Borough has higher ultrafast availablility than superfast at this time.
We should highlight that while Westminster is aiming at an overall UK goal of 90% superfast and local authorities were asked to try and contract that coverage, not all of them did, some signed contracts to deliver under 90% and some more. Scotland had an 85% fibre based target and is working now to a 95% fibre based goal and if the current gap between fibre and superfast continues that may deliver 91% superfast coverage. Wales has a target of 96% (FTTC/FTTP based) fibre coverage by the end of 2016 and the 90.3% figure currently suggests they will reach this, with the likely result of being over 90% superfast, the exact figure will depend on how much more FTTP that is the pipeline actually goes live. The Welsh SuperfastCymru target is the one most often misquoted with many saying 96% superfast, which is not impossible but this would require a lot of FTTP coverage, or put another way delivering more FTTP than KC has delivered in the compact Hull area in just ten months rather than a few years.
Friday 05 February 2016 17:00:19 by Andrew Ferguson
The surprise news of the week is a new deal that should bring an end to the days of buying a new home and being stuck with ADSL type speeds. The DCMS announcement is a little unclear in its wording and we have waited until getting a bit more detail from Openreach before running with the news.
The first part that needs to be addressed is that while the press announcement may make it sound like builders and developers only have Openreach as a choice, the new deal does not preclude the competing operators like IFNL, Virgin Media and Hyperoptic and others from being chased by developers before building work starts to strike a deal. This deal is very much voluntary, but any developer who does not engage with Openreach or another supplier is likely to find lots of people not buying the homes. Perhaps one reason that DCMS has concentrated on Openreach is that invariably when there are complaints about problems with slow broadband on new estates everyone blames Openreach or BT.
"This is an important step towards bringing fibre broadband to as many new build properties as possible.

We recognise that high speed broadband connectivity is a major factor for homeowners when deciding to buy a house. That's why we're offering to deliver fibre to all new build developments either for free or as a co-funded model.

With the support of the HBF (Home Builders Federation) we've delivered a series of measures to give developers greater clarity, choice and more funding. Today's announcement underlines Openreach's commitment to further extend its fibre network – which reaches more than 24m premises – to benefit even more communities across the country.

Clive Selley, CEO Openreach
The new deal will very much rely on developers liaising with Openreach at least nine months ahead of the expected date for the first people to move in, and what Openreach will offer will vary according to the size of the development. In cases where developers are asked to co-fund a superfast solution and the developer turns this down it is very likely that ADSL/ADSL2+ speeds will be all that is supplied, i.e. the agreement is not a build a house anywhere in the UK and Openreach guarantee to deliver superfast broadband at any cost.
So while we have no actual indications of the costs to developers, we have some detail we can share namely:
The scheme is voluntary for developers, but if co-funding is needed to bring fibre based broadband a development and no agreement is reached, Openreach will default to copper based connectivity.
For new developments of under 100 premises there should be no charge if already inside the existing fibre footprint. The issue of superfast speeds is a little woolly, so it may be that there is an option for guaranteed superfast speeds with some co-funding, or rely on existing infrastructure and have part of the a development superfast and others in the 10 to 24 Mbps range.
For developments of over 100 premises due to the amount of new infrastructure needed a variable amount of co-funding will be needed, FTTC and FTTP will be offered at the same cost on the rate card.
For developments of over 250 premises, there will be no charge, as we presume the scale is getting into the commercially viable area on its own and FTTP will be the preferred solution.
So hopefully with the new rate card that will outline the various options available and an online planning tool developers will look to embrace broadband with the same level of importance they give to dressing the show homes. The situation for the competing FTTH operators may be a bit harder as Openreach has upped its game but given the pressure from the public and MP's this had to be expected.
With better connectivity options for new builds available and 1 million premises to be built as promised by the Government by 2020 we will soon start to find out if things are changing and how things will work on complex large developments which have multiple developers and may deliver 500 premises over a four year period in batches of 50.
Has anyone categorically promised superfast broadband for every new home built by 2020, alas no, but hopefully these changes will make it a lot rarer to find new homes with bad broadband in a year or two.
---