Broadband News
Tuesday 01 September 2015 13:38:04 by Andrew Ferguson
We highlighted how Nottingham North was the fastest constituency in August and if the roll-out of Project Lightning to some 50,000 premises in Nottingham area delivers we are likely to see Nottingham continue to lead at the top of the table for a long time.
Virgin Media has announced that as part of its demand led roll-out of its ultrafast cable broadband service that Nottinghm, Grantham, Mansfield and Newark-upon-Trent are all set to be the next new areas to get improved access to 152 Mbps broadband (rising to 300 Mbps later in 2015/2016).
"The early interest from homeowners, businesses and Nottingham City Council has been instrumental in Virgin Media being able to fast track our network expansion plans in the area. You can now help us to get ultrafast internet access to your home or business premise by registering today at virginmedia.com/cablemystreet."

Tom Mockridge, Virgin Media Chief Executive Officer
Nottingham already has extensive cable coverage with Nottingham East at 91.9%, Nottingham North 90.3% and Nottingham South 91.2%, it is Grantham (35.7%), Mansfield (77%) and Newark-upon-Trent (48%) that will stand to benefit the most from the roll-out.
Tuesday 01 September 2015 13:06:42 by Andrew Ferguson
While it is very easy to criticise the levels of coverage in the less well served areas the County of Herefordshire is at least making progress and BT has announced that with cabinet 2 on the Fownhope exchange going live that fibre based broadband availability has reached over half the county.


(click image for larger size)
Our own figures suggest that while the BT news release was correct at the end of July, the rate of growth in coverage is such that the area at the end of August 2015 had 52.7% of premises with the option of 30 Mbps or faster broadband and 61.9% able to access a FTTC based service (a further 0.55% had the option of native FTTP at speeds of 40 Mbps to 300 Mbps).
The goal by the end of 2016 still seems to be a figure of 90% fibre based coverage, which should mean around 82% availability at superfast speeds. The growth of just over ten percentage points in the first eight months of 2015, mean that 16 months to go the goal looks achievable so long as extra resources can be allocated to increase the roll-out speed.
thinkbroadband calculation of Superfast, USC and Fibre Broadband Coverage the two constituences that comprise Herefordshire
- figures as of 31st August 2015
Area
% fibre based
% superfast
24 Mbps or faster
% superfast
30 Mbps or faster
% cable
% Openreach FTTP
% Under 2 Mbps USC
% Under 15 Mbps
County of Herefordshire
62.5%
54.3%
52.7%
0%
0.55%
1.6%
36.4%
Hereford and South Herefordshire
80%
69.9%
67.8%
0%
0.87%
2%
25.1%
North Herefordshire
42.4%
36.6%
35.5%
0%
0.17%
1.1%
49.2%
The constituency split shows a big north/south divide and hopefully many more cabinets like the one in Fownhope will go live improving the chance of getting a superfast service in the north of the county.
Tuesday 01 September 2015 12:09:04 by Andrew Ferguson
Another month has slipped by and thus we are publishing the speed test results for August 2015 with our usual split of fibre based, ADSL and then a general top 20 results.
Large Provider Fibre Based Connection Speed Tests August 2015
Provider
Median Download
Mean Download
Median Upload
Mean Upload
FTTC Overall (excludes Virgin Media)
28.1 Mbps
29.3 Mbps
7.8 Mbps
8.5 Mbps
BT
31.2 Mbps
32 Mbps
8.5 Mbps
9 Mbps
Plusnet
32.2 Mbps
32.6 Mbps
10.4 Mbps
10.7 Mbps
Sky
24.6 Mbps
24.4 Mbps
7.7 Mbps
7.1 Mbps
TalkTalk
28.1 Mbps
28 Mbps
1.8 Mbps
4.6 Mbps
Virgin Media
40.8 Mbps
47.5 Mbps
4.6 Mbps
5.8 Mbps
Virgin Media held its speeds stable, but FTTC slipped slightly, with the largest drop in the PlusNet results (1.8 Mbps drop in median and 1.4 Mbps mean download speeds), interestingly the replacement on the entry level fibre based product at PlusNet with a 40/2 variant is not impacting the upload speeds yet, of course it may take some months for the sales of this product that replaced the old 40/20 to have an impact. We cannot be certain but the overall drop in FTTC speeds but we suspect a combination of longer line upgrades to escape slow ADSL in rural areas, increased crosstalk as take-up increases and people electing to save £5 to £10 per month and only buying the up to 38 Mbps versions.
ADSL/ADSL2+ Connection Speed Tests August 2015
Provider
Median Download
Mean Download
Median Upload
Mean Upload
All Providers
5.1 Mbps
6.4 Mbps
0.6 Mbps
0.6 Mbps
BT
4.3 Mbps
5.6 Mbps
0.4 Mbps
0.5 Mbps
Plusnet
4.7 Mbps
6.0 Mbps
0.4 Mbps
0.5 Mbps
Sky
5.1 Mbps
6.4 Mbps
0.6 Mbps
0.7 Mbps
TalkTalk
5.3 Mbps
6.4 Mbps
0.6 Mbps
0.5 Mbps
Rural ADSL
3.4 Mbps
4.1 Mbps
0.3 Mbps
0.3 Mbps
The ADSL/ADSl2+ results continue to show the fact that Sky and TalkTalk with their ADSL2+ only networks (their proportion of off-net customers is very small) benefits people on the upload side. BT and PlusNet are probably not matching the download speeds due to mixture of IPStream Max (ADSL) and WBC (ADSL2+) and particularly for BT with its uniform pricing no matter how rural the exchange they are likely to have a higher proportion of the rural ADSL connections.
The 20 Fastest UK Broadband Providers in August 2015
(ordered by median speed)
Smaller providers without enough geographic data samples are not included
Provider
Median Download
Mean Download
Median Upload
Mean Upload
Download Speed of top 10%
Hyperoptic
66 Mbps
159.4 Mbps
45.8 Mbps
141.9 Mbps
467.9 Mbps
Virgin Media
41.4 Mbps
47.9 Mbps
4.6 Mbps
5.8 Mbps
102.1 Mbps
XILO Communications
16.7 Mbps
25.1 Mbps
0.9 Mbps
5.5 Mbps
61.7 Mbps
Claranet SOHO
15.1 Mbps
24.2 Mbps
3 Mbps
11.6 Mbps
64.7 Mbps
Zen Internet
14.5 Mbps
23.8 Mbps
1.1 Mbps
5.7 Mbps
64 Mbps
IDNet
13.7 Mbps
21.4 Mbps
0.5 Mbps
5 Mbps
63.3 Mbps
AAISP
13.6 Mbps
24 Mbps
1.1 Mbps
5.4 Mbps
61.6 Mbps
BT
13.5 Mbps
19.6 Mbps
1.5 Mbps
5 Mbps
43.6 Mbps
EE Mobile (inc. Orange/T-Mobile)
13.1 Mbps
18.8 Mbps
1.6 Mbps
4.9 Mbps
40.8 Mbps
Daisy
Wholesaler to providers like SSE and The Phone Co-Op
9.9 Mbps
17 Mbps
0.9 Mbps
5.2 Mbps
40.4 Mbps
PlusNet
9.5 Mbps
17.1 Mbps
0.9 Mbps
4.8 Mbps
40.9 Mbps
Entanet
8.9 Mbps
24.8 Mbps
1.1 Mbps
6.8 Mbps
65.7 Mbps
Tooway Direct
(satellite broadband)
8.5 Mbps
9.1 Mbps
0.4 Mbps
0.4 Mbps
15.2 Mbps
Sky
8.2 Mbps
12.4 Mbps
0.9 Mbps
2.8 Mbps
30.7 Mbps
Timico
8.1 Mbps
13.5 Mbps
0.7 Mbps
2 Mbps
35.5 Mbps
Vodafone Mobile
7.9 Mbps
12 Mbps
1.3 Mbps
3.3 Mbps
29.2 Mbps
FastNet
7.8 Mbps
13 Mbps
0.9 Mbps
5.5 Mbps
28.8 Mbps
KC
7.7 Mbps
22.5 Mbps
0.7 Mbps
6.8 Mbps
81.8 Mbps
O2 Mobile
7.1 Mbps
11.9 Mbps
1.3 Mbps
3.3 Mbps
29.2 Mbps
TalkTalk
6.9 Mbps
12.5 Mbps
0.7 Mbps
1.7 Mbps
34.5 Mbps
Tooway Direct is a new entrant perhaps reflecting the shift slowly towards an acceptance in some of the slowest areas of the UK that satellite connections may be the most economic way of reaching the 2 Mbps USC though at the expense of latency which runs into the 800ms and 1000ms region.
We have not forgotten about one of the major broadband providers, EE and its fixed line services did not make the top 20 this month with a median speed of 6.8 Mbps, though they did beat Demon (4.7 Mbps), Tesco (4 Mbps) and the Post Office (1.9 Mbps).
The FTTH providers such as B4RN and Gigaclear did not feature due to the small sample size once more, but B4RN would have been at the top of the table with a 93.3 Mbps median. The low performance of KC where FTTH is the dominant fibre technology rolled out is not because their FTTH network is slow, but simply that it is only available to around a quarter of the premises in their network area, meaning ADSL2+ speeds dominate still, for those wondering what the FTTH performance is like the top 10% figure of 81.8 Mbps download looks promising.
We are tracking Vodafone Connect results now, and while the sample size was too small, we can mention the median speed of 31.1 Mbps and a mean of 31 Mbps, this suggests that for those signing up to Vodafone Connect they are all pretty much choosing the FTTC products.
Looking at the geographic results in August the fastest constituencies were with respect to median download speed, Nottingham North (35.6 Mbps), Redcar (32.6 Mbps), St Albans (27.7 Mbps), Portsmouth South (27.5 Mbps) and Leeds West (27.2 Mbps). Interestingly Nottingham North is at the top no matter whether you order by mean, median or upper quartile speed and when you look at the coverage data for the area you can understand 90.3% cable broadband availability rising to 97.9% at superfast speeds once Openreach FTTC is added to the mixture.
Tuesday 01 September 2015 10:20:14 by Andrew Ferguson
The roll-out of superfast broadband in Wales is continuing and today we can announce that broadband coverage at 30 Mbps or faster has reached the 80% milestone (81.3% if you use the lesser 24 Mbps target).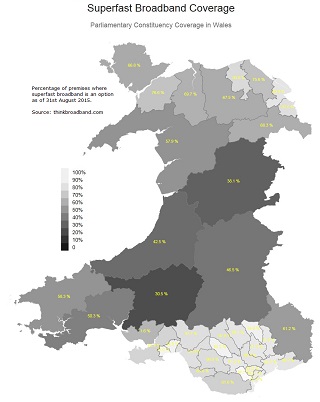 With 1 in 5 still not able to access superfast speeds and those left out becoming increasingly angry it is all to easy to forget that at the start of 2015 the coverage figure was a lot worse at just 69%.
The Superfast Cymru contract was signed back in 2012 with the lofty ambition of 96% fibre based broadband coverage. The current coverage of FTTC, FTTP and cable broadband in Wales without any speed qualifiers is 86.3% so another 9.7 percentage points of coverage are needed if the original by the end of 2015 date are to be met.
The coverage is far from uniform across Wales as the constituency level map shows, but when you consider that Cardiff and the large urban area around it comprise almost half the premises in Wales you can partly understand why commercial coverage concentrated in that part of the country and thus fairs so well in current coverage.
Superfast Cymru is deploying from FTTP/FTTH and coverage of 0.19% is small, but we have heard the ambition is to increase to around 6% or roughly 80,000 premises and based on the reports of people seeing work going on with fibre tubing we do expect the amount of native FTTP to increase in the next few months.
While the FTTC heavy roll-out has not solved all the slow broadband problems yet, we estimate just 0.8% of premises in Wales (around 9,500 to 10,000 premises) are only able to get a slower than 2 Mbps connection, though if the proposed USO figure of 5 Mbps is used this does rise to 7.8%. Based on experience from people with sub 2 Mbps speed connections all too often the choice of provider does not help, as a general rule the big name providers such as Sky and TalkTalk (and TalkTalk wholesale providers like the Post Office) do not provide a very good service outside their core network footprint, so if you are in a slow area and speeds plummet once the kids get home from school consider a change of provider. Another point not often understood is that even if FTTC is available at say 5 to 7 Mbps as it runs across the newer backhaul networks it will often out perform the peak time performance of the older IPStream Max (ADSL) service.
Friday 28 August 2015 10:44:51 by Andrew Ferguson
Sky has rejigged its ADSL2+ offers and recently introduced a nine month contract offer for students, also for now it has one of the lower voice line rental prices of £16.40 amongst the major providers.
Unlimited ADSL2+ for Students free broadband on a nine month contract, just pay voice line rental at £16.40 per month. After nine months if you remain broadband price is £10 per month.
Free unlimited ADSL2+ for new customers not taking Sky TV. Free broadband for 12 months, plus a £100 reward or a free Samsung Galaxy Tab 4 7" tablet (retails for around £114 online). 12 month contract and voice line rental is £16.40 per month. Broadband is £10 per month after the 12 months.
For existing Sky TV customers signing up to Sky broadband the 12 months free unlimited broadband is still available, but there are no promotional vouchers at this time.
For those wanting Sky Movies but without the long contracts or bother of a satellite dish, NOW TV has its standard 30 days free trial and if you don't cancel your first month will be charged at 30% off, i.e. £6.99 rather than the normal £9.99. With NOW TV you can cancel at anytime. This offer is only available until 31st August 2015.
Friday 28 August 2015 10:31:19 by Andrew Ferguson
The BT Retail £125 and £75 Sainsbury's Gift Cards offer had a limited life time and that has now passed, the cards have been replaced with a £50 card on the Infinity range and £25 on the ADSL2+ based services.
The offer price of the unlimited ADSL2+ has also jumped back up slightly to from £5 to £7.50 per month for 12 months (12 month contract) then £18 per month, with a subsequent knock on effect with the ADSL2+ and TV bundles.
We are sure higher value cards will return, but no-one is telling us when yet, or whether we will see the gift cards vanish totally which they do from time to time.
Friday 28 August 2015 10:25:15 by Andrew Ferguson
PlusNet is running a flash sale on its unlimited ADSL2+ service, where online orders placed before the end of 1st September 2015 by new customers will benefit from 12 months free ADSL2+ and £75 cashback with a 12 month contract.
As usual there is voice line rental to pay which is £16.99 per month (£15.49 with line rental saver), the PlusNet site still lists the £15.95 price, but this changes on 2nd September anyway.
For those outside the PlusNet low cost areas, the service is still free but after the minimum term rather than the standard £9.99 per month, the price is £17.49 per month.
Their entry level fibre (FTTC) service has switched from being free for six months to £5 per month for the first six months, then the standard price of £14.99 per month.
Thursday 27 August 2015 12:34:10 by Andrew Ferguson
We have just learnt that voice line rental costs at TalkTalk are increasing and will be updating our package listings accordingly.
The new line rental price is a full £1 per month more than previously, so will be £17.70 for new customers and if the price rise affects any existing customers they should receive a letter informing them of the price change and the option to exit any contract penalty free as per Ofcom rules. Line rental saver where you pay for 12 months in advance is also changing, it will be an annual cost of £191.16 now, equivalent to £15.93 per month.
Update 12:50 While updating the line rental changes that TalkTalk informed us about we noticed that the standard price of Simply Broadband is increasing from £5 per month to £7.50 per month, this will have a knock on effect for their FTTC products too.
The rise coming so soon after the BT Retail price rise to £17.99 per month will set people questioning even more whether broadband costs are being subsidised by the voice line rental element, particularly as the core MPF or WLR costs have not altered by anything like this amount. The theory that people are exploiting their call bundles does not hold water with TalkTalk, since their Simply Broadband (ADSL2+) product does not come with any inclusive calls.
The York UFO product was price matched to the Simply Broadband service even though it is a LOT faster, interestingly the UFO service appears to have remained at the same monthly price of £21.70 which makes it substantially cheaper than the standard priced Simply Broadband with line rental at £25.20.
With so many providers appearing to play the game of price matching BT Retail or slightly under cutting them, those who do have multiple provider options may find themselves changing provider every few months to keep up with the cheapest deal. We wonder how long now before Sky increase from £16.40 to £17.40 per month.
Tuesday 25 August 2015 07:48:07 by Andrew Ferguson
The G.fast trial in Huntingdon is underway and Openreach has declared the first customers are connected, though with a much smaller scale than the 200 and 300 Mbps trials from Virgin Media earlier in 2015 we are still awaiting the first speed test results from the area.
"Today is the start of a new chapter in building Britain's connected future. This is the largest trial of G.fast technology in the world and it builds on the pioneering research of BT's world-class R&D teams.

We conducted the world's first G.fast trial in 2013, and our experts have been heavily involved in creating global industry standards for this technology. We're now eager to support all our service providers in learning how customers enjoy the service.

The people of Huntingdon will play an extremely important role in helping us gauge how the technology performs, and how we might deliver ultrafast speeds to more of the UK over the coming years."

Joe Garner, CEO Openreach
The service that forms the G.fast trial is configured to deliver 330 Mbps download speeds, which matches the current top tier speed sold via native Openreach GEA-FTTP which will make it easier for the eight trial providers to deal with.
We know that many will question whether G.fast is a technological dead end and that it would be cheaper to deliver FTTH for many millions and while some will say Openreach will never deliver FTTH as it wants to sweat its copper network, part of the current trial is to take lessons learnt from the fibre side of the G.fast trial and apply them to a FoD2 product that will be trialled for a smaller set of premises. Fingers crossed this may lead to lower prices on a FoD2 service and quicker install times.
With regards to the economics of G.fast versus FTTH we hope that Openreach will consider a demand led scheme with people paying a deposit that guarantees them G.fast or if enough deposits are placed then rather than install a G.fast node a full FTTH deployment may go ahead.
The trials are set to run for six to nine months, and if all goes well roll-out should start in 2016/2017 with the ambition to have it available to millions of homes by 2020 and if lab work delivered improved versions further speed upgrades to 500 Mbps may appear.
The race towards who will be the ultrafast king of the United Kingdom is now well underway and the race is very much on with the nascent FTTH industry to see who can get coverage to a level to compete and whether the average consumer cares about the delivery medium. Both the Virgin Media speed upgrades and Openreach G.fast trials have the advantage that no work is needed for the final run into someones home, whereas the TalkTalk ambition for 10 million FTTH homes may be easy to achieve with micro trenching down a street but the final run across peoples drives and gardens could prove the stumbling block.
In case you are not up to speed on what G.fast means Openreach has a new ultrafast micro-site that will also give any detail on the FoD2 which is going to test a 1 Gbps deployment and covers both Huntingdon and Gosforth.
Monday 24 August 2015 16:23:32 by Andrew Ferguson
It will not happen overnight, but by the end of 2017 some 6,500 premises in the Cotswolds should be enjoying Gigabit broadband from Gigaclear. The FTTH operator won a contract back in June 2015 to deliver ultrafast broadband to some of the most isolated premises in the Fastershire project area.
Fastershire has today released an spreadsheet of the addresses that should benefit and we have rolled this into our availability checker so it is easy to tell if you should be expecting to see Gigaclear in the next eighteen months, it also means that once the area has gone live we can these premises include in our coverage data.
---