Broadband News
Wednesday 23 April 2014 17:15:04 by Andrew Ferguson
Mapping is something that many take for granted when resources like Google Streetview at just a click or two away, but collating and integrating map layers is a time consuming process. The scale and costs of the mapping needed by Openreach are revealed by them signing a new five year deal with Ordnance Survey which is worth some £4.6 million per year.
"This is a strategically important agreement for both organisations and I am looking forward to building on our existing relationship by working on a number of exciting collaborative projects. The new agreement is more than just data, it is about delivering value for Openreach and ultimately supporting Openreach in providing the highest level of products and services to its millions of customers.

The recognition of the importance of location data, services and solutions by businesses has grown significantly over the last five years. Openreach are one of many businesses who benefit from the use of location data - today intelligent data is helping to deliver efficiencies, support growth, underpin decision making and enable greater customer insight.

Andrew Loveless, Commercial Director at Ordnance Survey
Mapping fibre cabients may seem irrelevant now that many have been built, but continual updating of records is needed and if Openreach is eventually to embark on a wider FTTP roll-out, access to accurate mapping will make planning and costing work a lot easier.
Wednesday 23 April 2014 10:47:23 by Andrew Ferguson
Virgin Media has added a £50 credit to the account for online orders for a number of its broadband and phone bundles. This £50 reduction is only available until 30th April and the 12 months half price deals on the 100 Mbps Premiere and 152 Mbps VIP collection will end on the same date.
Up to 50 Mbps Starter Collection Broadband, telephone and TV bundle with over 60 channels. £50 off and the first six months at £10 per month reverting to the standard price of £20 per month. Voice line rental charged at £15.99 per month.
Up to 100 Mbps broadband and phone £50 credit and £12.50 per month for the first six months, then the standard price of £20.50. Voice line rental at £15.99 per month applies.
Up to 152 Mbps VIP Collection, fastest broadband, telephone and over 225 TV channels (50 HD). Half price (£52.22) for the first 12 months of the 18 month contract reverting to £104.45 thereafter. Includes BT Sport, Sky Sports and Sky Movies channels. Add £15.99 per month for voice line rental.
Wednesday 23 April 2014 10:25:07 by Andrew Ferguson
A slightly unusual week with two catch-up TV services that work over your broadband connection being called to answer in the head teachers office this week. Both TalkTalk who operate the Essentials TV and Plus TV services and Sky with its NOW TV service have had complaints upheld about them by the ASA.
The ruling against NOW TV was because of gaps in the schedule for the Live TV channels where shows such as the Simpsons and Futurama were not available due to licensing restrictions. The adverts tried to convey information that not all content was available but at the same time suggested all Sky 1 content was available which the ASA concluded was misleading.
The complaints against TalkTalk focused on whether all the content on the catch-up services was available. The adverts had made it sufficiently clear that catch-up was only available on limited channels but because some content was missing from services that ad was deemed as misleading.
The limited availability and licensing agreements with exclusives and other time limited deals between content creators and delivery platforms are probably the biggest problem for people looking to buy a film subscription service. It looks possible that in a few years time, we will rather than buy large bundles of channels all have multiple subscriptions.
Thursday 17 April 2014 15:37:46 by Andrew Ferguson
The nature of the fault is open to speculation, but for iPhone and iPad users they are currently unable to stream content from BBC iPlayer, Sky Go or the NOW TV platform.
Users it appears are able to browse and the fault only becomes apparent when they try to view content. The problem only affects iOS based devices, for example there are no problems streaming Sky content via the dedicated NOW TV hardware.
The suggestion to roll back the date by a day or two may allow people to stream content but can cause other apps to have problems. The current suggestion that this is linked to an expired certificate is plausible, particularly with the HeartBleed issue lots of certificates have been revoked and re-issued and thus apps may be in need of an update, or a newly issued certificate used to control DRM may not be correctly setup.
While a lot of the content affected is catch-up, there are people who use NOW TV subscriptions for their only access to Sky channels and if the outage goes on for a few days questions of compensation are likely to be raised for those unable to access subscription content.
Update 5:15pm The BBC appears to have fixed the iPlayer, tweet saying iPlayer. NOW TV on iPhone still returns an error when trying to start a stream.
Wednesday 16 April 2014 17:10:02 by Andrew Ferguson
Berkshire and its broadband project is continuing to publish information on the roll-out and the latest update reveals 39 locations that will be surveyed between April and July 2014.
Crowthorne cabinet P29,
Bourne End cabinet P33,
Wraysbury cabinets P1, P2, P3,
Colnbrook cabinets P40, P46,
Reading South cabinets P63, P65, P67, P70,
Burghfield Common cabinets P1, P8,
Arborfield Cross cabinets P1, P4, P7,
Eversley cabinet P13,
Twyford cabinet P12,
Woodley cabinet P17,


Exchange Only areas within the following exchanges:

Ascot, Littlewick Green, Windsor, Reading Central, Langley, Slough, Burghfield Common, Chaddleworth, Chieveley, Great Shefford, Hermitage, Kintbury, Lambourn, Mortimer, Pangbourne, Theale, Woolhampton, Spencers Wood, Wargrave, Wokingham

Superfast Berkshire Cabinets for survey between April and July 2014
An area appearing on the survey list does not guarantee that superfast broadband will be available in the next few months to the area, the surveys are carried out to check what is viable and which cabinets represent the best in terms of value for money for a project.
The usual solution for clusters of exchange only lines is to install a new telephone cabinet and add a fibre twin to then provide a fibre based broadband service. For those who do not know if they have an exchange only (EO) line check using the BT Wholesale, any result that does not mention a cabinet number next to the phone number or address is an exchange only line. For those in an EO area beyond physically spotting the work, you might suddenly find the checker reports a cabinet number where it previously did not. Occasionally an EO area may be cheaper to upgrade using FTTP (full fibre to the home) but this situation is relatively rare, but we do know of some areas where it is happening.
People often wonder why the VDSL2 (FTTC) cannot just be run directly from the exchange and the reason is that to avoid undue crosstalk and interference to existing ADSL and ADSL2+ services the rules require cabinets to be located outside the exchange. There are also additional rules on the power levels used at cabinets to stop VDSL2 slowing down existing ADSL2+ services in an area.
Wednesday 16 April 2014 11:30:10 by Andrew Ferguson
After a quick flash sale a week ago where Sky offered a £100 reward for people signing up to a TV bundle, the online only deal has returned. Anyone signing up to a new Sky satellite TV package from the Original, Family, Movies, Sports or Complete range (£21.50 to £67.25 price range) has a decision to make as to how to receive their £100 reward, either as a £100 prepaid MasterCard, Tesco Gift Card or a M&S voucher.
The only broadband offer that stacks with the TV offer is the six months of up to 38 Mbps fibre based service for £7.50 per month (standard price is £20). The minimum term has increased from 12 months to 18 months (does not affect existing customers). The delivery charge for the Sky Hub which applies to both ADSL2+ and fibre orders has increased to £6.95 this week too. The Sky fibre service is self-install usually, i.e. no need for an engineer to visit your home. If you order the fibre based service without a TV package a smaller £25 M&S voucher is available.
The basic ADSL2+ services are still available at half price for the 12 month minimum term contract, i.e. £3.75/month if you have an existing Sky TV service, or £5/month if you do not subscribe to a TV service. The very observant may spot the up to speed has increased from 16 Mbps to 17 Mbps, this is not down to any technical changes, but simply reflects the fact that Sky can now show 10% of customers on ADSL2+ get 17 Mbps or faster.
Tuesday 15 April 2014 11:53:56 by Andrew Ferguson
The speed landscape of the UK is a complicated one with many parties doing their best to ensure their vision is the promoted one, and it this reason why Ofcom spends so much time analysing broadband speeds and has for some years produced a set of statistics to try and inform policy makers as to how the UK is doing. The latest round of testing by Ofcom using a panel of 985 hardware testers gives a UK average speed of 17.8 Mbps, a rise of 3.1 Mbps compared to May 2013.
The growth in the average speed is not because ADSL2+ has become faster, but that more people are buying fibre based connections via the wholesale Openreach service or Virgin Media. Our own estimate for the calculated UK average broadband speed is 23.7 Mbps and this is based on the financial figures to the end of 31st December 2013 and this takes into account the distance limitations of xDSL technologies, and is very close to a similar calculation by Ofcom which uses different statistical analysis to their main average to suggest a UK speed of 25.3 Mbps.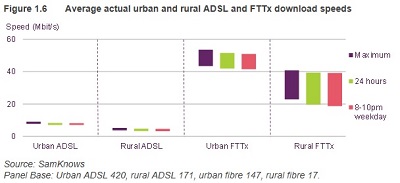 Click image for larger version
We know the urban/rural digital divide will be upmost in many peoples thinking and Ofcom seems to confirm the existence of the divide with the headline that urban FTTx (Openreach and Virgin Media) has an average speed of 46.3 Mbps and rural 29 Mbps. Alas we must urge caution as only 17 rural fibre based connections were used to draw this conclusion which is not enough location samples to get a full picture of how VDSL2 and Virgin Media perform in rural locations.
While software based speed testing is not used by Ofcom, our own tester at thinkbroadband has the advantage of having a lot more geographic data points and our last set of data in January 2014 shows the postcode lottery that takes place. Places like Crawley, Luton, Nottingham and Stevenage all show more than 40% of tests on our broadband speed checker are at superfast (30 Mbps or more) speeds, while at the other end of the scale Conwy, Purbeck, Derbyshire and Forest of Dean all have less than 1 in 40 tests at superfast speeds. As with all our speed test analysis we average out individual results to avoid one person skewing an area with thousands of tests.
If you want to play with various scenarios for where the UK may be in the future, this calculator will let you play with take-up and coverage figures.
Tuesday 15 April 2014 09:34:05 by Andrew Ferguson
CityFibre has been promising a lot in terms of fibre to the premises and a new partnership between Sky, TalkTalk and CityFibre may actually be about to deliver on the potential with a Gigabit to the home network in the City of York.
"TalkTalk has a long history and proven track record of disrupting new markets, and this is the next step in that journey. We are excited to be working in partnership with Sky and CityFibre to build this new network that will offer significantly higher speeds at much better value than is currently available. This marks TalkTalk taking its first steps into investing in building infrastructure as part of our mission to make British homes and businesses better off."

Dido Harding, Chief Executive of TalkTalk Group
The announcement today describes the roll-out as city-wide, which potentially means it will be available to some 85,000 households and leverages on the core network that CityFibre connected its first business customer to back in 2013. There is little information on the price, which while lots of people want faster speeds they are still traditionally very price sensitive, the press release makes the suggestion that the service will be faster and cheaper than current high speed products. This we believe means faster than 152 Mbps and cheaper than £37.50 per month, given the existing price points for Gigabit services in the UK we might see a £60 price point. The first customers are expected in 2015 so it is likely no pricing will be announced until then.
"This announcement makes York the digital infrastructure capital of the UK. Gaining ultra-fast broadband across the city is a huge boost for our economy; providing significant new opportunities for businesses based here and better quality and value to our residents.

I'm delighted that York has been chosen as the first city, building on work over the last two years to improve the city's digital infrastructure, and that we'll see this in place as soon as 2015."

Cllr James Alexander, Leader of City of York council
York is not the first place where CityFibre has a residential Gigabit network, there is Bournemouth where the service is available to 20,000 homes, but due to complications during the roll-out and a lack of marketing at last count there was just 250 customers.
The challenge for this three way split where CityFibre, Sky and TalkTalk all own one third of the equity in the company deploying the network from the core to the homes will be stiff competition from Virgin Media and BT. The marketing departments of Sky and TalkTalk are sure to be able to capitalise on tempting existing customers over to the new network.
CityFibre is suggesting that two more cities will be announced in due course, so it will be with great interest to see how the project progresses.
If only partnerships like this could have been formed four years ago, we might have had 15 to 20 Gigabit cities and there would have been no need for the superconnected voucher scheme, allowing a larger pot of funding to be used for the rural areas. Additionally if local authorities across the UK had been able to see a vibrant and growing Fibre to the Home (FTTH alternatively called FTTP) footprint there might have been more competition in the BDUK process.
Update 12:30pm The competition has started and BT has issued the following response:
"I welcome the competition. The UK is already ahead of France, Germany, Spain and Italy when it comes to fibre and demand is growing rapidly. In fact, today's report from Ofcom shows that speeds have increased 48 per cent in the past year alone.

Openreach's fibre network covers more than 18 million premises and is open to all companies on equal and competitive terms. Customers and business are already benefitting from our high internet speeds and low prices.

Openreach already offers Fibre To The Premises in parts of York. This means that customers and businesses in the City will have even more choice which can only be a good thing. We will continue to respond to our customers evolving needs.

Joe Garner, CEO of Openreach
Looking at the checkers, all six exchanges inside the York ring road offer FTTC and Fibre on Demand, and four actually offer or have plans to offer native FTTP (i.e. full fibre to the premises with the same install costs as the FTTC services). The Haxby exchange has some actual live FTTP available that we could find and seems to be around The Garden Village, Earswick (YO32 9TP), there also appears to be some FTTP in the BDUK plans for various York exchanges mainly to service Exchange only lines (e.g Rawcliffe and Woodthorpe) as part of the NYNet plans. Fingers crossed the CityFibre/Sky/TalkTalk roll-out will not overbuild the BDUK areas and thus waste taxpayer money and create the scenario where people go from basic broadband to a choice to two full FTTP options.
Monday 14 April 2014 19:38:21 by Andrew Ferguson
While the Rural Community Broadband Fund (RCBF) was not a perfect process and the arguments over mapping could continue for a century, the important news is that some more homes and businesses are set to benefit from extra money in Berkshire.
Berkshire secured funding of £550,000 from the RCBF in its final funding round the Superfast Berkshire website is giving some more detail on the areas to benefit. We have supplemented the list of areas with the information we have also been able to garner. Once all the money has been spent the result should be that an extra 3,330 properties have access to much better broadband with the vast majority enjoying superfast speeds.
Aldermaston Cabinets 1 from Silchester, cab 3 from Woolhampton exchange and cabinets 16 and 17 from the Tadley exchange serving Calleva Industrial Estate.
Brimpton Cabinet 2 from Woolhampton exchange
East Ilsey Believed to be Cabinet 2 which is on the High Street and serves East Isley. Cabinet 1 is in West Ilsey and is possibly going to be part of the main project roll-out. Postcodes RG20 8SR, RG20 8SS, RG20, 8SP and RG20 8SW at around 2.6 miles from the cabinet would not benefit from a FTTC solution. Exact technologies will be part of what the BT survey will figure out.
Beenham Cabinet 4 from Woolhampton exchange
Compton Cabs 2 and 4 on School Road and the High Street in Compton.
Hampstead NorreysCabinets 3 (RG18 9SA) and 5 (RG18 0TE) on the Hermitage exchange
Brightwalton Cabinet 1 on the Chaddleworth exchange
East Garson Cabinet 1 and the oddly numbered 601 on the Great Shefford exchange
Inkpen Cabinet 1
NOTE All of the above is of course subject to survey and discovery of issues that may make a cabinet too expensive to deploy, or if FTTP was chosen for an area (no indications if this is the case for any areas yet) whether collapsed ducting pushes the price up.
There is some bad news though, Aldworth, Ashampstead and Winterbourne which were part of the original 12 areas in the plan were found to be too costly to provision as part of this funding round. It is possible that the Superfast Extension Plan (SEP in civil service speak) that is providing funding for work in the 2015 to 2017 with the aim of national coverage at superfast speeds of 95% may help these and other parts of Berkshire that are not part of the main broadband project for the county.
Monday 14 April 2014 14:36:14 by Andrew Ferguson
Congratulations to those residents in Kirkton of Skene in Aberdeenshire, you have the claim to fame of hosting the first fibre cabinet to go live as part of the 'Rest of Scotland' project under the Digital Scotland umbrella. The project (in conjunction with the Highlands and Islands project) has a lesser target than the rest of the UK, aiming to just get 85% of premises across Scotland with access to a fibre based service. This lower target probably being a reflection of expected difficulties in reaching the remoter villages of Scotland.
The cabinet that has gone live is cabinet 10, which is on the edge of the car park by the Red Star Inn in Kirkton of Skene so should provide good speeds to many people. Looking across the whole exchange area (cabinet is part of the Aberdeen Kingswells exchange) this is the first cabinet to go live on the exchange and we estimate that once all the likely cabinets are live superfast coverage will be in the 55% to 70% range. This is low because of the amount of TPON and Exchange Only (EO) connections (~15% of lines on the exchange) and while we believe some EO is to be dealt with under the project, we have heard nothing about the old TPON area of the exchange. It may be that these areas need to wait for Scotland to plan and start implementing the next part of the project, i.e. 95% fibre based coverage for some point in 2017/2018.
While there seems to be a negative feel about this announcement, a good few thousand are going to see superfast speeds via the work by the project in the area and there are signs of some FTTP possibly to the industrial estate around the AB32 6JQ postcode area.
At least by getting cabinet 10 up and running first one of the existing slow areas (we see speeds of 1 to 2.5 Mbps) has been addressed. A common complaint is that the broadband projects are not addressing the slow areas first so cabinet 10 ticks that box.
---