Broadband News
Thursday 27 October 2016 12:11:11 by Andrew Ferguson
The problem with London and broadband is the wide range of speeds, and with something like 3.7% of London premises still only able to access ADSL2+ it is no surprise that the exchange only areas of London are shouting with increasing volume to ensure they are not forgotten. Into this breach are stepping numerous providers, the highest profile one being Hyperoptic that has now been running for five years, but others such as Community Fibre Ltd are having an increasing impact as their roll-out progresses.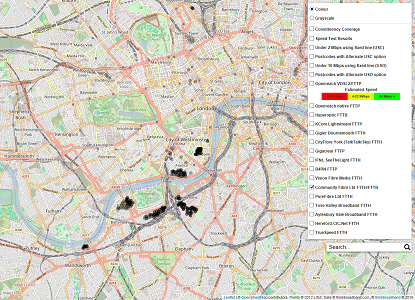 Map of Community Fibre Ltd coverage, available as a
map layer on our broadband stats site
The above map has just been updated with the latest set of postcodes where the Gigabit service is available across the Savona, Patmore, Carey Gardens, Doddington, Rollo and Surrey Lane estates where Community Fibre Ltd is working with Wandsworth council.
The roll-out is continuing with cabling work already underway at Battersea Fields and Ethelburga. For those living on one of the estates who don't already subscribe or have not experienced the difference a Gigabit connection can make there is an event for council residents on Friday 4th November between 11am and 2pm at the Carey Gardens club room, which includes demonstrations of the difference the new connection can make, info on the various packages available and for those who want it tablet training.
Three service speeds are available, a basic up to 20 Mbps down (1 Mbps upload) for £17/month, an up to 100 Mbps symmetric service for £30/month and the full symmetric Gigabit for £40/month, all are unlimited.
Thursday 27 October 2016 11:25:22 by Andrew Ferguson
Google Fiber while not covering as many premises as many had hoped for looks set to pause its roll-out. Whether pause is actually talk for just completing what we are committed to and a switch to a wireless delivery method, or a real pause before they hit the ground running in another year or two is a big unknown. The Google Fiber official blog carries a post by Craig Barratt, CEO of Access who is now stepping down but remaining in advisory role.
The roll out has delivered to various fibrehoods in some nine US cities and another four will see deployment happen, and there will be some job losses suggesting this is not going to be just a short pause but is a change in direction.
The signals have been out there for some time that Google may be switching to a fibre/wireless hybrid roll-out and given the exciting technology opportunities that exist with 5G and other wireless tech this is hardly a surprise.
While the number of customers and exact footprint is harder to ascertain than what BT is up to in the UK, it is clear that in the cities where service has arrived competitors have stepped up their game, and the service is very much appreciated. What is not clear is the split between the $300 up front but then free basic service and the full Gigabit, some indicators suggest the basic service is popular with landlords but a little disappointing for renters as there is no simple way to unlock the Gigabit potential of the glass to the property while renting.
Those with long memories may recall that the BT Group originally was going to roll-out much more FTTP when it started its fibre roll-outs, but once the timescale for installed FTTP was translated into labour costs and VDSL2 was seen to be performing better than originally thought a seismic shift took place and many areas got VDSL2 instead of FTTP. Perhaps Google has hit some of the same issues, i.e. some areas are nice and simple to roll-out in, but others take significantly longer or lots of time and money is wasted on negotiations to get access to infrastructure and as alternate technologies that allow whole streets and apartment blocks to be passed much quicker and cheaper arrive they may be the preferred method for roll-out. In the case of BT this is the new G.fast technology and for Google it is believed to be wireless technology.
Perhaps the problem is that nothing in the fibre roll-out is particularly challenging for Google, just time consuming and they feel its time to move onto the next technology challenge.
Thursday 27 October 2016 10:45:08 by Andrew Ferguson
The Ofcom Digital Market Review has not lead to any changes yet, so the financials of Openreach are still part of the BT Group where in second quarter to end of September 2016 Openreach was the largest generator of free cash flow in the group.
The GEA-FTTC and GEA-FTTP products are growing with an extra 300,000 premises passed during the last quarter by Openreach (around 1% of the UK) and the net additions for fibre customers was 440,000 connections, and once combined with the existing connections gives a take-up rate of 26%. Interestingly while one would expect profits to be rising with such large increases in actual connections, profit dipped by £20m to £297m, due to the negative impact of regulatory price reductions amounting to around £60m. Cap-ex was by by £9m to £357m compared to the same quarter last year.
Capital expenditure was £357m, up £9m or 3%. This was after gross grant funding of £34m (Q2 2015/16: £87m) directly related to our activity on the Broadband Delivery UK (BDUK) programme build in the quarter. This was offset by the deferral of £21m of the total grant funding (Q2 15/16: £26m). We continue to expect gross capital expenditure in 2016/17 to be higher than in the previous year."

Extract from results on Openreach Capital Expenditure
The base case for take-up used in the gain share calculations is remaining at 33%, and means a total of £292m has been deferred. A quick word on the 500,000 ultrafast connections delivered by April 2017 mentioned in the results, this does include the existing GEA-FTTP footprint, which is growing in cabinet sized chunks in Wales and Herefordshire, but we are increasingly finding in-fill delivery in North Yorkshire to address lines where a VDSL2 cabinet gave no speed uplift above 10 Mbps due to distance from the cabinet.
BT Consumer (or as many still refer to them BT Retail) had a 36% increase in profits to £200m reflecting the increased ARPU which is attributed to the higher take-up of fibre broadband, BT Sport and BT Mobile revenues. The consumer arm grew by 76,000 broadband connections thus making the largest retailer of broadband in the UK even bigger and accounted for 216,000 fibre based product additions (49% of Openreach total). The call centres for customer calls continue to move back to the UK with the aim of 90% of calls being answered in the UK by end of March 2017 and an extra 1,000 UK based customer service agents. There results include a warning that these extra staff will 'impact costs in the second half of the year', and while no-one enjoys the price rises that have been seen in line rental, costs of improved support and other things like the improved voice fault SLA (reduced by a day) have to be paid somewhere.
Obviously the countdown to an absolute final decision by Ofcom on the future of Openreach in the BT Group is getting ever closer to zero and the BT Group remains firm in holding to the position that its proposals can deliver the benefits Ofcom wants without a messy divorce.
"On 4 October 2016, we and other stakeholders submitted responses to Ofcom's proposals for strengthening Openreach's strategic and operational independence. We remain of the view that our own proposals for significant governance change provide every benefit that Ofcom is seeking while avoiding extensive, disproportionate costs. We will continue to engage with Ofcom over the coming months.

The current charge controls set by Ofcom for the fixed access markets will expire on 31 March 2017. Ofcom is currently undertaking a review of these markets, but does not expect this to be complete by that date. In order to provide certainty to our customers and the wider industry, on 4 August 2016 we provided Ofcom with a commitment to maintain a cap on the relevant price baskets of CPI-CPI until 31 December 2017, or the conclusion of Ofcom's review if earlier."

BT Group on Ofcom Digital Market Review
While we know the Leave/Remain EU vote earlier in 2016 was a very different matter and no matter which way you voted the mess now is disappointing. We sincerely hope that no matter what Ofcom decides with the Digital Market Review that the path ahead has been explored much than is the case with Brexit, where it appears no plans for how to handle a leave vote were even explored and promises were worth less than the posters they were printed on. Or put bluntly, Ofcom needs to ensure that if Openreach remains in the BT Group that investment and service levels are stepped up a gear or alternatively that if Openreach is split that the independent group will have sufficient bodies willing to invest billions in the long term to deliver the FTTP rich roll-out that those saying broadband in the UK is totally broken needs stop sweating the copper and deliver pure fibre to all in as short a time frame as possible.
Wednesday 26 October 2016 11:44:37 by Andrew Ferguson
The sleeping tiger of Ofcom has bitten and taken a £4,620,000 chunk out of Vodafone. The fine is the result of two investigations run by the national telecoms regulator.
Some 10,452 pay-as-you-go customers who tried to top up their mobile service but Vodafone failed to credit the accounts lost £150,000 in total over a 17 month period. Vodafone has chased down all but 30 of these accounts and refunded people. As a result of this failure a fine of £3,700,000 was handed out. Apparently a new billing system is at fault and the size of the fine reflects the fact that apparently Vodafone only acted once Ofcom intervened. For the 30 where they are not able to identify the customer a sum of £100,000 has been donated to charity.
The smaller fine of £925,000 was handed down for failures in how Vodafone handled complaints, with customer service staff not having clear guidance to help them identify what constitutes a complaint and a failure to escalate complaints in a fair and timely manner.
The fines come with a 20 day notice to pay and the money once paid to Ofcom will be passed onto HM Treasury.
Wednesday 26 October 2016 11:15:42 by Andrew Ferguson
The new ASA rules governing how broadband and line rental should be advertised are now just a few days away and there are still numerous providers to yet announce their changes, for all those we list we have for some time been showing inclusive pricing.
EE is the latest to switch today but while the inclusive pricing will mean less mental arithmetic their is a £1/m rise in the prices, which is due to the retail price of the line rental rising from £17.50/m to £18.50/m. Another difference appears to be that the line rental saver option may have vanished, certainly if it still exists it is a lot less prominent than previously.
It was always a forlorn hope, but some were still hoping that the new rules would mean lower prices, so far the indications are the normal annual price rises are taking place (even when underlying wholesale line rental [WLR + LLU] and broadband port pricing is not rising). We suspect that the rules requiring all inclusive pricing may also mean that for a period of time special offers will be slightly lack lustre as the limits of what is and is not acceptable to the ASA and CAP are explored.
For those who thought UK broadband and telephone pricing was difficult to navigate we recommend a trip to a US home and ask to see their phone and broadband bill, where advertised prices don't include sales tax, because this varies from state to state along with other charges which cover things like the Universal Service Fund.
Tuesday 25 October 2016 14:32:13 by Andrew Ferguson
Lithuania appears to be the country that the UK should aspire too, but for those living in rural areas look away now - Lithuania has FTTH to around 60% of premises, so plans to beat Lithuania may not touch rural areas at all.
The good news is that TalkTalk is expanding its footprint in the joint venture with CityFibre in York from around 14,000 premises to around 54,000 premises (take-up sitting at around 2,400 premises currently, and 40,000 more premises to be passed in today's announcement).
"We are very pleased with the success of UFO in York so far. Our customers are amazed at what they can do with their ultrafast connections – streaming HD TV without buffering, playing games in real time with people on the other side of the world, or simply enabling every member of the family to be online at the same time. We're very excited to be extending our roll out – York is well on its way to achieving its ambition of becoming the digital capital of the north."

Richard Sinclair, General Manager Ultrafast for TalkTalk
The TalkTalk press release suggests that the further 40,000 homes announced will mean the majority of city's premises are served, and we believe 54,000 homes passed would equal around 63.5% of York, so whether this is good or bad will depend on where you live. The unknown is exactly where these extra homes will be as York already has an ultrafast coverage footprint of 53.5%, where ultrafast is defined as 100 Mbps and faster, but this could easily be flipped to a 300 Mbps or faster definition now that Virgin Media is soft launching its 300 Mbps service. The degree of overlap with DOCSIS and Openreach FTTP will be interesting to see, as the Ofcom vision of urban areas with three different ultrafast infrastructures may be reality in York sooner rather than later.
More Gigabit based connections are welcome, and while each small announcement means a big difference to those directly affected for the UK as a whole if we want to race from 2% FTTH coverage to 60% premises passed and a timeframe of 2020 for 60% is used, then around 16,000 premises need to be passed every day.
Tuesday 25 October 2016 10:54:04 by Andrew Ferguson
Slow public and hotel Wi-Fi seems to be a feature of life across the globe and while there are some public places with decent Wi-Fi (including some London Museums) the best to date we have found is Leeds Bradford Airport so it is with interest we find out that a partnership between BT, Intersection and Primesight is bringing kiosks similar to the LinkNYC ones in New York to the UK.
The partnership should bring more than 750 kiosks to London and other cities in the UK over the course of the next few years, with an initial roll-out of 100 in Camden. The kiosks will offer up to 1 Gbps Wi-Fi for free and other free premium services will apparently include UK landline and mobile calls, mobile charging (2 USB ports) and access to a local services directory via touch screens.
The free aspects in theory are all paid for via the advertising income from two 55" HD displays, which is perhaps one more step towards a Bladerunner style future. Primesight as part of the agreement will also sell advertising in 17,500 BT payphone kiosks across the UK.
Each month we look at the fastest mobile devices, and the best of the current generation of phones and tablets generally seem to max out at around 300-400 Mbps over their wireless links. So it will be interesting to see what is possible from the kiosks, generally laptops have better Wi-Fi performance than mobiles due to the size limitations imposed on handhelds. With 802.11ad offering the potential for beyond Gbps Wi-Fi connectivity over short distances using the 60 GHz band Wi-Fi is set to keep getting faster, but may need even more access points in a home to get the best speeds.
Thursday 20 October 2016 14:28:41 by Andrew Ferguson
BT Mobile offers run through various cycles and the 15GB 4G SIM is currently running with a £4 per month discount on the standard £20 for BT Broadband customers (£25 if not a BT Broadband customer) and a £80 iTunes or Amazon gift card to claim for those ordering before the offer ends on 28th October 2016. 2GB SIM is a £40 gift card, and 500MB a lowly £20 gift and no price discounts running on these two.
The change for this cycle of offers is the introduction of the Family SIM plan, i.e. a family can have multiple SIMs each with their own allowances and the price for each additional SIM is less (though additional SIMs don't qualify for the special offers. The pricing means that if paying £10/m for 2 GB SIM as the primary account, the second SIM will cost £8/m, third £7/m, fourth £6/m and fifth £5/m. The additional SIMs are all billed to a single account and the additional SIMs are on a flexible 30 day term.
Thursday 20 October 2016 12:38:10 by Andrew Ferguson
Under the existing telephone Universal Service Obligation only BT of the national providers is duty bound to offer a social tariff (we assume KCom has something similar in Hull), this is a basic line rental (BT Basic) and 10GB allowance ADSL2+ service for £9.95/m (£5.10/m line rental plus £4.85/m for the broadband service).
The Local Government Association has highlighted that with the USO under review and the possibility that the USO may be served by different providers in different areas that social tariffs should be an inclusive component of the USO.
BT Basic line rental is available on its own, but finding broadband at a similar low price without the requirement for that providers own line rental product can be difficult, and while some promotional offers once you include cashback and voucher offers can almost match the price, once the 12 or 18 month contract is over prices will jump significantly.
"BT already provides a basic subsidised BT telephony and broadband package to its qualifying customers. The LGA believes that a similar offer should be provided by any supplier/s that would deliver the USO. This would mean that people who qualify for a basic reduced service would be able to request a connection of at least 10Mbps at an affordable cost should their current package not be up to speed. The call forms part of the LGA's submission to the Government ahead of the Autumn Statement on 23 November."

LGA calls for broadband USO to include social tariff for most in need
Even without the forthcoming USO, there is a wider question that Ofcom may need to consider and that is for those where superfast solutions have been deployed which may for the first time be bringing broadband to an area at speeds beyond dial-up and ISDN. We know Gigaclear in its BDUK project areas usually has an additional lower priced tariff, and some developers of social housing do include a basic free product, but relying on the corporate responsibility of operators is not going to be enough in the long term.
The USO and social tariffs need not be fixed line based either, e.g. if the aim is to ensure access to digital government services and other services (such as banking) that are now harder to do offline than online and we accept usage limits then mobile (4G) services may suffice.
Wednesday 19 October 2016 13:37:08 by Andrew Ferguson
Matt Hancock MP who recently replaced Ed Vaizey MP as the Minister of State for Digital and Culture delivered a keynote address at the Broadband World Forum conference today and while up beat about the 91% superfast coverage the UK has was very much putting both feet in the pure fibre is the future camp.
A pure fibre future (i.e. FTTH and FTTP) is something that almost no-one denies, the difference is the journey in how you get there, a new operator with no existing legacy network will always opt for a pure fibre roll-out, some smaller existing operators such as KCom have opted for a FTTH heavy roll-out too, but the BT Group opted for a mixed-fibre approach mainly because of the rapid pace of roll-out this could achieve and it is worth noting that even this roll-out is not fast enough based on the complaints about lack of coverage that outnumber the number of complaints about how VSDL2 performs. Even in BT a pure fibre future is seen as the eventual goal, but pace of roll-outs and costs mean that a path has been adopted that is getting there in incremental stages.
"And the future is fibre.

Interim technologies, yes. Part fibre, great. Satellites, sure, where necessary.

But around the world the evidence increasingly points to fibre roll out as the underpinning of a digital nation.

To those who say it's been tried and failed, I say go to Hull.

It's the one part of the country not covered by BT, and full fibre is now available to over half its businesses and homes. I'd like to give praise to Hull's KCOM, who just last week announced that 25,000 more homes and businesses are to be connected to their full fibre service within the next six months. Between May this year and the end of the next they will have doubled the number of premises that can get full fibre. All this without Government subsidy.

But there is a clear role for Government, and we intend to play it:

In setting the structure. And I am clear that we want a market structure that delivers fibre as widely as possible.

In experimentation and testing.

In reducing the costs.

And above all in leadership, in setting the ambition. In some cases even in stating the obvious.

And believe you me: we will ensure Britain gets connected.
Picking Hull is interesting as while as a local authority it has the highest proportion of FTTH in the UK (41.9% based on our tracking of KCom roll-out), the constituencies comprising the Hull and East Riding area are stuck at the bottom of the league table for superfast coverage alongside areas such as the remote Western Isles. It raises the question where BT would have had a smooth ride with Government and the regulator if it had gone for a pure FTTP roll-out starting in 2009, at #BBWF their speakers suggested that coverage would be about half and costs at least double what has been spent so far.
The existing commercial and BDUK led roll-out of partial fibre solutions is almost communist in its approach, since if the USO and further roll-outs do deliver it will be a case of having given almost everyone something superfast i.e. an equality will exist.
Openreach is planning 10 million G.fast connections and 2 million FTTP by 2020, with more hopefully beyond then, and it will be interesting to see what the public make of G.fast and the demand level for upgrading from VDSL2.
For the minister on the problem he had with his Wi-Fi at the weekend, we hate to point out that if this was a Wi-Fi issue, i.e. a computer connected by Ethernet was still working then the problem would be identical no matter what actual connection delivery method was used. Also locating Wi-Fi hardware under a desk is not ideal due to clutter, best to be higher up and above the height of the humans inhabiting a dwelling.
So yes no denying the UK has around 2% of pure fibre (1.86% we believe) but with ultrafast connectivity at 100 Mbps and faster available to 50.96% of premises and superfast over 24 Mbps to 91.7% (superfast 30 Mbps and faster 91.08%) then things are a long way from a disaster. For those with no superfast option it is still a disaster, but perhaps the question should be are those with no improvements planned yet ready to wait a few years longer for a pure fibre solution?, or will any technology suffice so long as HD video streaming and online gaming work and no usage limits so long as it can be delivered before 2020.
So by all means sweat the copper if it gets something adequate to lots of people very quickly, but in doing so do not do anything that will stop a pure fibre future from being possible.
---