Broadband News
Thursday 23 May 2013 14:57:17 by Andrew Ferguson
The debate over the requirement to have an active voice line rental product on a telephone line is always bubbling away, but with the year on year rises in the cost of basic voice services while the cost of broadband is decreasing more people question the need for voice line rental. We ran a poll for seven days that attracted over 1,600 responses and gave a clear response with 78% saying they would like a naked DSL option.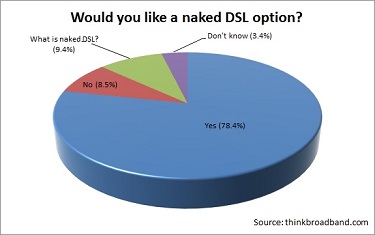 (click image for larger version)
For the 9.4% who did not know what naked DSL is, it refers to a copper telephone line that does not support voice calls, but can be used for broadband i.e. ADSL, ADSL2+, SDSL and VDSL2. In the 13 years that ADSL has been commercially available in the UK Ofcom has said that there is no commercial demand for naked DSL, but it seems the public is keen for an option.
Many people may think that by not having to pay voice line rental, they would save £10 to £16 a month, but part of the cost of providing a phone line would still need to be paid, hence we asked people what would be fair for a telephone line that cannot be used for calls.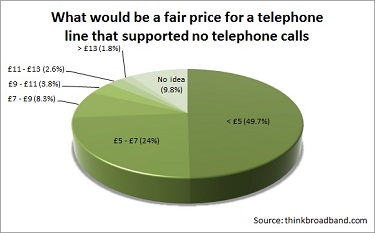 (click image for larger version)
No real surprise to find that half opted for the under £5 per month option, with what may be a more realistic figure of £5 to £7 per month chosen by 24%. The current wholesale pricing is such that a basic phone line with broadband support costs £7.09 to £8.77 (plus VAT) per month. So the real question is whether removing voice support can produce a lower price, or whether the regulator needs to enforce an option. There is a school of thought that by undermining the income from copper landlines, it would encourage a move to fibre by the operators, but conversely if copper broadband is made cheaper people in the current financial climate may prefer slower and cheaper broadband.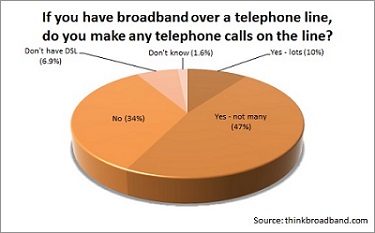 (click image for larger version)
Most of the time the calls for naked DSL are followed by the assertion that the person never uses the phone line for telephone calls which is actually the case for 34% of those in the poll, 57% use their landline for calls but only 10% make lots of calls. We presume the third not using the landline rely on their mobile or one of the VoIP services. VoIP carries the advantage that call costs are in line with or lower than a landline usually and for groups of home workers allow you to have a phone system that is the same as being in a large office.
We suspect that a big part of the reluctance to offer naked DSL at the retail level is that telephone and broadband bundles are increasingly reliant on revenue from the chargeable calls made over the landline.
In the short term, if you are one of those who does not use the telephone line and only needs it for the broadband service, check whether your telephone provider allows you to pay for 12 months line rental in return for a discount, or if you are on a WLR based telephone service shop around for the best line rental deals.
Thursday 23 May 2013 11:22:56 by Andrew Ferguson
The contract signing machine at BT has been busy again, this time in Staffordshire where the latest BDUK contract has been signed, the headline aim being to extend fibre based broadband coverage from the current commercial levels to 97% of the premises in Staffordshire and Stoke-on-Trent (a total of 472,000 premises). The target of 97% coverage is due to met by Spring 2016.
"Staffordshire led the way in pioneering creative industries, so it is now fitting that the county is spearheading this dynamic partnership that will not only build on the county's strong traditions but also, through the development of a high-speed communications infrastructure, harness economic growth that will herald a new era of creativity and prosperity for Stoke-on-Trent and Staffordshire."

Bill Murphy, managing director, BT Next Generation Access
With the deployment following the usual mixture of mainly FTTC (partial fibre) and some FTTP (full fibre) there will of course be some in the 97% who will not get super fast speeds, at this time the estimate is that 95% will have access to a connection of 24 Mbps or faster. The other 2% getting something in the region of 2 Mbps to 24 Mbps depending on the distance to the Openreach green street cabinet.
For the 3% of other premises (around 15,000) the project will also work to ensure a connection that meets the Universal Service Commitment of 2 Mbps is available, but the 2 Mbps is seen as the minimum for these areas not the target speed.
The contract has a total value of £27.35 million, with £12.47 million from BT themselves and the remainder split equally between the local authority and the central BDUK funding.
The press release indicates that work will start immediately, but this still means that the first service delivery via the project is probably not going to happen until early in 2014.
Thursday 23 May 2013 09:25:12 by Andrew Ferguson
The financial sections are all over the news that the George Soros a financier is via Quantum Strategic Partners investing some £50m into Hyperoptic. In case you don't know Hyperoptic offer three products, 20 Mbps, 100 Mbps and 1 Gbps with the fastest service available from £50 per month.
Hyperoptic has a footprint that is expanding rapidly adding 10,000 flats to its coverage footprint between October 2012 and March 2013 giving a footprint at that time of 20,000 and an average take-up rate that is running at over 20%.
"Hyperoptic is clearly paving the way for the UK to take a significant leap forward when it comes to superfast broadband. The UK's major property developers, managers, investors and owners alike are awakening to this reality, and will soon begin to realise the significant benefits – including increased value and marketability of a property – of 'future proofing' their assets, taking smart decisions today about what will be absolutely critical for tomorrow."

Louis Armstrong, non-executive director of Hyperoptic
This investment will mean two new directors on the Hyperoptic board who are from Soros Fund Management, but the more important part for the broadband consumer is that this extra money should allow for expansion.
The plans seem to be to expand coverage to another 10 cities by the end of 2013, with consumers and landlords firmly in the driving seat on which cities will benefit. The expansion is all part of a plan to build their coverage level pass more than 500,000 homes within the next five years.
"The entire Hyperoptic team is excited by the opportunity to further grow our network and fulfill demand for proper fibre connectivity. We will be looking to our Registered Interest and current Freeholder and Developer partners to decide which cities to target next. The question on the table now, is where will the next HyperCity be?"

Dana Pressman Tobak, Managing Director
After the debacle that is the Governments super connected cities plan, we have a company that with no recourse to public money might drag the UK into line with the best of what is available in some other countries.
Wednesday 22 May 2013 13:02:42 by Andrew Ferguson
Sadly while WiFi was brilliant and fast in the home a few years ago for many people they are now finding that the old 2.4GHz band is becoming congested and giving very variable speeds particularly in more densely populated areas. The clever people have for sometime bought broadband routers that add the 5GHz band to their network, and Virgin Media will soon have available its new superhub model that supports both bands (and BT Retail has its own dual band HomeHub 4).
To highlight some of the problems and maybe help people work around the issues, Virgin Media has put together a tongue in cheek campaign around the Broadbandits who are chasing after your WiFi.
The broadbandits are identified as:
Crafty cordless phones
Broadband-blocking baby monitors
Malicious microwaves
Wiley wireless absorbing fish tanks
We are not too sure how bad the cordless phone problem is in the UK, as UK DECT handsets are not in the 2.4GHz band, and even old analogue cordless phones should not be, though imports from USA and elsewhere may be using the band. A big area missed out and this can be a major issue in cities is that some older CCTV cameras used the 2.4GHz band, as well as people using wireless video senders.
The advice to people is of some help, but we have modified it slightly based on our experiences and that of users on our forums.
Wanted - more space: Don't hide your wireless router behind things or in a cupboard, they prefer to be higher than people (our high water content blocks the signal).
Aim high: See number 1.
Avoid other electrical devices which could hold your signal to ransom If you know you have devices that also use 2.4GHz and wireless is important, make sure the devices are as far apart as possible, or upgrade to 5GHz or buy a device that does not interfere e.g. repace a video sender with something like a Slingbox.
Don't give up! Saddle your router to a few different locations and see which one works best for you. Given the Virgin Media connection is reliant on access to the coax feed this is a bit odd, but yes if you can locate your wireless router at an optimum location it will work better. A good option is to add a wireless access point to cover the black-spot in the home and reduce its power level to avoid interference.
Change the channel Channel hoping can sometimes help, but if you can see four or five networks the chances of finding a wireless channel that does not overlap is rare. Some devices actually work better if sharing the exact same channel, than they do with overlapping, so put your lab coat on and experiment.
If all else fails: Try the old switch off and on game. We know that some wireless network cards in laptops can be fickle and a kick helps.
At the end of the day, it is still difficult to beat an Ethernet cable for reliable and stable connectivity. The new devices with 5GHz do appear to offer better speeds, though this might change in a few years once a few more million WiFi devices are using the band. The downside to 5GHz is that it has a shorter range than 2.4GHz, so people may find they need two wireless routers to cover a property at decent speeds.
At the end of the day there is a good reason why our speed test recommends you use an Ethernet cable if testing your broadband connection and the graphs showing the speed over time should people to see if a wireless glitch might be behind a slower than expected average speed.
Wednesday 22 May 2013 11:58:50 by Andrew Ferguson
While 4G promises much higher mobile broadband speeds, it appears the mobile operators are not going to rely on that solely, hence the increased emphasis on the roll-out of WiFi networks. O2 and Fluidata have just signed a multi-million pound contract to provide additional resilience and extend coverage via the Fluidata Service Exchange Platform to improve the O2 WiFi service.
With more and more people relying on WiFi when out and about in the high street outages are obviously becoming more of a problem and Fluidata has a strong reputation in providing resilient connections across the UK. The use of the Service Exchange Platform also helps to aggregate connections across some 16 major carriers and is linking around 50 providers at this time.
"Our Service Exchange Platform means that ISPs can offer a service to consumers in areas previously beyond their reach. It?s good news for businesses and consumers, as they have a wider choice of networks. O2 Wifi is deploying a uniform and free service for all its consumers so it needs to be able to deploy hotspots wherever customers demand them."

Fluidata MD Piers Daniell
Tuesday 21 May 2013 14:06:37 by Andrew Ferguson
The BDUK process in Nottinghamshire is running slower than we are sure those in the slower areas of the county would like, and a double edged bit of news has emerged. Back in December 2012 the County Council in its broadband plan outlined it was expecting £867,000 to be made available via the European Regional Development fund, the good news is that the ERDF is actually going to contribute £2.7m taking the amount of public money to improve broadband across the county to £10.5m.
The bad news is that to incorporate the terms for the ERDF funding into the tender process the process is to be delayed by eight weeks. Reponses from the Invitation to Tender are not expected until the end of July, with the the contract signing happening sometime in Autumn 2013.
The irony is that there can only be one response from BT, as they are the sole remaining bidder in the BDUK process. The plan as outlined last year, was based on winning some £8.5m of funding from the private sector (BT) if the project was to meet a 90% superfast coverage goal.
How far the extra money from ERDF will allow the county to push superfast coverage is a big unknown, and probably won't truly be known until the contract has completed, which if this is in 2015 will be a very tough timeline, if the contract is only awarded in Autumn 2013.
Tuesday 21 May 2013 11:47:31 by Andrew Ferguson
The data Ofcom has used to arrive at the figure stating that 95.3% of the UK has access to broadband of faster than 2 Mbps was published as part of their 2012 Infrastructure Report, and we have taken the liberty of plotting the data, based on how the USC was measured in 2012 and how Ofcom is now measuring it. The red spots plotted are those postcodes that fail the USC test.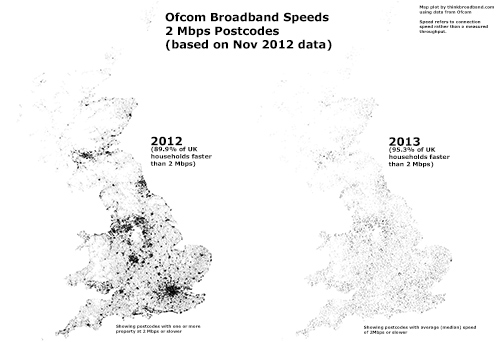 (click image for larger version)
A full size image (3952x2704 pixels) is also available.
Statistically speaking there is some sense in adopting the new method, where only postcodes that have a median or average speed of 2 Mbps or slower are counted as slow spots. The previous definition of the postcode was plotted if any property in a postcode had a slow speed could have meant that people with poor extension wiring were contributing to the picture, or those with old legacy products.
The big problem though is that the new metric makes the situation look actually pretty good and if taken as gospel could lead to many people being overlooked in the rush to publish statistics in 2015 that show that 99.9% of postcodes have an average above 2 Mbps. The advantage to the new method is that it identifies the worst postcodes, and if you have limited funds to solve the problem it tells you where to start spending the money.
Yes we know Northern Ireland is missing from our map, alas we do not have the geo data to plot those postcodes at this time.
The original Digital Britain report recommended that in addition to spending money on infrastructure improvements, that some money be spent to try and improve speeds on existing technology that is in the ground, and while the volume of people with poor telephone wiring in the home has decreased we still see constant stream of people where their broadband speeds are improved with some help, sometimes allowing people to watch catch-up TV online for the first time.
Tuesday 21 May 2013 11:07:20 by Andrew Ferguson
Another BDUK project is starting to deliver with what looks like the first street cabinet deployed by the project, the joint project between Surrey County Council and BT has started with extra coverage for Pixham Village in Dorking, serving an extra 100 homes and businesses.
Dorking exchange was already offering FTTC services from some cabinets, so enabling the cabinets on the fringes that previously failed the accountants spreadsheet calculations for the commercial roll-out is an obvious choise to start roll-out.
For those in Surrey who have not heard of Pixham Village, it is the area around Dorking station in the north east corner of the town with a clear view to Box Hill.
Tuesday 21 May 2013 10:58:23 by Andrew Ferguson
If you are in a truly rural area, in other words in one of those parts of the UK where the existing BDUK projects are not likely to reach, then the Rural Community Broadband Fund (RCBF) might help.
The RCBF has a fund of £20m and has been allocating money to various small projects, with a mixture of community and gap funded solutions resulting. The deadline for the final batch of project submissions was originally 24th May 2013, but it appears DEFRA have extended the deadline to 17th June 2013.
We have delayed running with the news of the extension in the hope that DEFRA would update their website to reflect the change, but all we have for now is John Popham's blog, which given he has been working with Grey Sky Consulting on various bids will hopefully be up to date.
The extension is probably not long enough for anyone to start a serious project from scratch now, but the extra couple of weeks may ensure help projects that were struggling to get all the attendant paperwork sorted out.
Monday 20 May 2013 12:40:10 by Andrew Ferguson
While online viewing of sport is the fashionable way to watch an event, there are still plenty of people who enjoy actually going to watch their favourite sport being played and with The Cloud rolling out free WiFi to Lord's Cricket Ground people will find it easier to stay online.
The ground before now only offered free WiFi in the hospitality areas, but extending it to all of the 28,500 seater ground will make keeping up to speed with the statistics and other sports events happening around the UK easier for spectators.
We look forward to seeing what speeds people are getting over the free WiFi, so if you want to show others the sort of speeds available remember that the postcode for the Marylebone Cricket Club (MCC) is NW8 8QN.
---