Broadband News
Thursday 30 October 2014 10:36:22 by Andrew Ferguson
The SuperConnected Cities scheme was setup with £150m of funding originally to create islands of hyperfast connectivity in various cities, something that it is possible to argue is happening via commercial solutions now, though this may be partially helped by the business broadband voucher scheme. The flagship SuperConnected scheme is also aiming to deliver more free public Wi-Fi and the DCMS has announced that some 1,000 public buildings including libraries, museums, civic centres, transport hubs and sporting complexes will be up and running by March 2015.
While free public Wi-Fi may just mean more tweets and facebook status updates to some, with the increasing importance of broadband having access in various public buildings is important as it can help those who suddenly find themselves without broadband at home. Though of course there is the caution that you should never do online banking and other secure transactions across an open Wi-Fi service. Utilising a VPN to encrypt your data is the standard solution to the open nature of the Wi-Fi services and hopefully the landing pages for the free Wi-Fi will carry appropriate guidance. The Cloud has a short guide on Wi-Fi risks and how to minimise the dangers.
The Natural History Museum has already announced on its twitter feed that it now has a free Wi-Fi network throughout its South Kensington building, with free Wi-Fi having started to appear in 2011 in various bits of the building.
Thursday 30 October 2014 09:59:55 by Andrew Ferguson
The last few weeks has seen numerous analysts offering their analysis of the state of the BT Group and we now have the second quarter results for 2014 for the group. The dirty word profit has got bigger with a 13% rise in profits to £690m (adjusted figure before tax) on group revenues of £4,383m which is 2% down on the same quarter last year.
"Our Consumer business continues to perform well thanks to the impact of BT Sport where Premier League audiences are up around 45 per cent on average. Fibre is also driving growth with one in three of our retail broadband customers enjoying super-fast speeds.

Our fibre footprint has increased to more than 21 million premises and will continue to grow. We continue to see strong demand across the market for the faster speeds that fibre offers.

Further improving customer service remains a priority and Openreach is recruiting an additional 500 engineers to help us better serve our customers. We have also launched a range of new cloud-based products and services aimed at the business market.

Gavin Patterson, Chief Executive, BT Group
BT Consumer (aka BT Retail) has been at the centre of many online and offline debates around the spending on sports rights which in the quarter was £83m, but with BT Consumer managing to grab 48% of the net broadband additions in the quarter in the face of a competitive wholesale arena with increasingly attractive offers to consumers it suggests that betting on sports might be helping. BT Consumer added 203,000 fibre based broadband customers in the quarter to give them 73.5% of the connections connected by Openreach since the fibre roll-outs started. The TV sector grew by some 38,000 connections to give 1,045,000 customers on the BT TV platform. BT Sport also attracted a peak audience of 1.25m for the opening match between Manchester United and Swansea City.
Bundling of TV services is the driver of faster broadband in the consumer arena, driven forward by the vast array of devices families own that mean and the news that BT customers will soon be able to add a Netflix subscription to their BT bill will add to the breadth of appeal and may hammer another nail into the coffin of linear TV which in ten years may only exist for live TV events.
Openreach is the arm of the BT Group charged with maintaining the local loop and the ongoing roll-out of FTTC and FTTP continues with GEA-FTTC or GEA-FTTP available to some 21 million premises of which 16% have now ordered a connection and are connected. The last quarter saw some extra 570,000 premises gain the option to order a fibre based service in the 44 BDUK project areas. The revenue within Openreach which should in theory be rising due to demand for fibre based solutions was offset by the effects of regulation. Interestingly the idea that we are all abandoning our landlines for mobile services is not borne out as Openreach added some extra 106,000 lines in the quarter. Overall the UK broadband market is also still growing with 182,000 new connections, and some 344,000 new GEA fibre based services were connected to give a total of 3.4 million.
Fingers crossed as take-up of Openreach fibre based increases we will start to see clawback clauses for the 44 BDUK projects kicking in and maybe featuring in the impact on Openreach revenues. While out best estimate is that we might start to see commercial roll-out of G.FAST in 2018 after various trials, though we expect that a G.FAST roll-out will also feature more FTTP since for some areas the cost difference between the two technologies may be negliable. An awful lot hinges on how well the FTTH roll-out in York by CityFibre goes, if all the PR milestones are met by that project while remaining within budget and then other cities follow, the race to a much larger FTTH/P footprint in the UK will be truly underway. The measured and calculated approach by the BT Group will only change when profits and dividends are at risk. The irony of the start of a full fibre commercial race would be that the work to avoid a digital divide could be undone very quickly.
Wednesday 29 October 2014 11:08:49 by Andrew Ferguson
Given the commercial roll-out by Openreach was aiming at two thirds of the UK population it was always going to be the case that millions missed out, hence all the time and money spent on the BDUK process, so it is really no surprise to find areas like Bussage and Chalford to the south east of Stroud suffering some cabinets not being enabled via the commercial or BDUK process.
The local press is reporting that residents and businesses in the area are pushing to raise funding to meet Openreach halfway to enable two more cabinets on the Brimscombe exchange, i.e. cabinets 9 and 17. A target of £30,000 is needed to match fund BT for the two cabinets.
The Brimscombe exchange has some cabinets already live via the commercial roll-out and some that are likely to be enabled via the Herefordshire and Gloucestershire BDUK process and other cabinets (10 & 12) with estimated service dates of 31st December 2014 as the commercial finishes. Looking at the specifics of cabinet 9 its foot print fits the common profile for the BDUK projects but seems to have missed out, cabinet 17 is a lot smaller and might be missed for the higher 95% 2017 target. The problem is that for counties with a goal of 90% on a fibre based solution, this 10% left out can mean whole villages or parts of towns/villages will miss it.
If the community can raise the money and improve its broadband speeds within the next six to nine months then they may feel their money has been well spent but there is one advisory since the Herefordshire and Gloucestershire project has previously said that by 2018 all those who need 24 Mbps or faster will have access to it. So it may be that the £30,000 if raised will simply knock a couple of years off the time people would have had to wait, but then the same can be said for the BDUK projects across the UK, since it was almost inevitable that Openreach and other commercial operators would have extended their networks to varying degrees. Though any commercial expansion would be unlikely to have reached 95% of the UK by 2017, maybe by 2020 depending on how the investment environment and general economy fair.
Wednesday 29 October 2014 10:03:58 by Andrew Ferguson
PlusNet has rejigged its broadband offers and is making the cost of buying a fibre based broadband service a little cheaper by offering the first six months for free (a saving of £89.94) as well £50 in the form of a cashback cheque. Voice line rental at £15.95 per month is a requirement of the offer (line rental saver options available).
Unlimited Fibre Broadband, free for the first 6 months then £14.99 per month in low cost areas. £50 cashback. Up to 38 Mbps download speeds and up to 19.5 Mbps upload speeds. 18 month contract. Inclusive evening and weekend calls.
Unlimited ADSL2+ broadband, £2.50 per month for the 12 month minimum term, then £9.99 per month. £75 cashback. Up to 17 Mbps downloads. Inclusive weekend calls.
PlusNet low cost area covers around 84% of UK households, and offers are still available in the remaining 16% of the UK, just that price changes to £9.99/month (standard £17.49) for the ADSL2+ service. Outside the low cost areas the fibre service is still free for 6 months, but thereafter the monthly price will be £22.49 per month.
Cashback in the form of a cheque should be claimed by responding to an email you will receive in the first ten days after the service has gone live, the code in the email is valid for two months.
Tuesday 28 October 2014 11:04:46 by Andrew Ferguson
The Gigaclear Fibre to the Premises (FTTP) network in Otmoor is another success story, with premises connected and enjoying the various speeds of service that Gigaclear offer from 50 Mbps to 1 Gbps.
The roll-out was announced in March 2014 and the network has gone live in the last month and this means that holiday cottages such as www.oxfordcountrycottages.co.uk can boast about what is probably the fastest Internet connection in a self-catering holiday home, making it the ideal retreat for Internet addicts who cannot live without broadband for more than 24 hours.
Tuesday 28 October 2014 10:26:07 by Andrew Ferguson
Spotting news on fibre roll-outs is not always easy and sometimes stuff gets missed and Mark at ISPreview has managed to spot news about a large FTTP roll-out by Openreach near Aberdeen from March this year. Chapelton is an 8,000 home development costing some £2 billion to build where the work started in October 2013 and there are signs of the first show homes being open to view in the next few weeks.
The development is set to benefit from fibre to the home utilising GEA-FTTP from Openreach (for avoidance of doubt this is NOT fibre on demand, but FTTP available at a choice of speeds from 40 Mbps to 330 Mbps). We have been in this situation before, with the original Ebbsfleet development in Kent but hopefully the interest in properties and construction will proceed at a much faster pace.
We have done some back ground work and the best postcode we can find for now is AB39 3PH, but hopefully by the time the first people move postcodes will have been allocated and the FTTH network actually built. Fingers crossed developments like this will spur on other developers to partner with broadband infrastructure firms and avoid the constant broadband complaints that large developments such as Swindon suffer from. Interestingly the postcode that is very close to the first new homes we think are for sale can get 10 to 19 Mbps from ADSL2+.
We recently added back the Infinity 3 and Infinity 4 products to our listings. These are the two faster Infinity versions available from BT Consumer for native FTTP areas such as Chapelton but whether you will see the products on the BT site will depend on what browser you use and whether a new version of the BT site is delivered to you. Unfortunately due to business decisions by other providers like Sky, TalkTalk, PlusNet and EE who are the brand names people know about, none of these providers can sell you a GEA-FTTP based service. Which is partly why we see so many campaigners complain about the BT monopoly, the question now needs to be how do you force retailers to sell a product? The monthly cost of GEA-FTTP 40/10 and 80/20 products are exactly the same as the FTTC products and the same routers with an Ethernet WAN port will work on the service.
Tuesday 28 October 2014 09:51:44 by Andrew Ferguson
A partnership using some €450m of funding to roll-out FTTH to some 500,000 properties by 2018 has been given the go ahead by the European Commission.
The state owned ESB power company is to work with Vodafone (Vodafone was selected as a preferred partner via a competitive bid process) to roll-out FTTH with speeds of up to 1 Gbps to 50 towns in Ireland.
The roll-out is to make use of the existing overhead electricity network and ducting to carry fibre tubing, thus bypassing existing telephone infrastructure. While Vodafone is the preferred partner the network is to be an open access system, but the opportunity exists for Vodafone to greatly expand on its 200,000 fixed line broadband customers in Ireland.
In terms of footprint with around 1.6 million homes in Ireland this roll-out will cover perhaps one third, but the joint venture appears to be open to later phases to extend coverage if this initial spending shows promise.
Gigabit to one third of the country sounds very exciting and is bound to cause grumpy moans in the UK, but we should not forget the ambitious plans of firms like Hyperoptic and Gigaclear and that some 48% of the UK already has access to a Virgin Media up to 152 Mbps service.
Friday 24 October 2014 11:48:33 by Andrew Ferguson
The last summer saw a wave of free broadband offers and Sky has revived the 12 months of free broadband offer for those who buy or upgrade to the Sky Movies TV bundle.
All the TV bundles are running a 25% off promotion and £50 credit to your first Sky bill with this offer expiring at midnight on the 13th November 2014. This means that for 12 months the Movies bundle is £28.50 and after the 12 months it rises to £38 plus £7.50 for the broadband service, the minimum contract term is 12 months. If you take broadband voice line rental at £16.40 is a requirement.
Existing Sky customers are not totally missed out, the six months free fibre based broadband is available if you upgrade from ADSL2+. Sky has a page dedicated to offers for existing customers.
Thursday 23 October 2014 10:42:37 by Andrew Ferguson
Hyperoptic has looked into the borrowing or stealing (which is what it is when you don't have permission) a neighbours Wi-Fi network with a survey and the answers have implications in terms of security and really highlight that leaving hardware on default passwords or with easy to guess passwords is not a wise idea.
"It's a shock to discover so many people admitting to 'borrowing' their neighbours' broadband. 'Stealing' other people's WiFi cannot be condoned and is highly likely to have a detrimental effect on the connection your neighbours are receiving - and paying for.

Many customers of standard broadband already battle with a slow and unreliable service that doesn't allow everyone in the home to make the most of the internet at the same time, let alone carry unwanted surfers sneaking on to the network.

Hacking your neighbours' WiFi isn't just wrong, it simply won't cut it. As life becomes increasingly digitised, the need for broadband reliability – and for speed – cannot be ignored. Hyperoptic gives all residents in a property the chance to enjoy uninterrupted gigabit speeds simultaneously, no 'borrowing' necessary, and ensures they can do so long term; future-proofing their homes to be compatible with the internet technologies yet to come."

Dana Tobak, Managing Director of Hyperoptic
The survey which questioned a representative sample of 2,000 adults in Britain found that successful 'borrowing' of Wi-Fi varied by region, with London at 53%, Wales at 40%, Scotland 20% and Northern Ireland 27%. London may be at the top simply because of the population density, thus the ability to see the maximum number of Wi-Fi networks.
What we thought most interesting was the variation based on age, 18% of 18-24 year olds successfully guessed a Wi-Fi password, 42% of 25-34 year olds, 43% of 35-44 year olds, 35% of 45-54 year olds and 10% in the 55+ bracket. Finding out more why the difference between young adults and the other age ranges may be revealing, maybe young people are better at managing their online security thus making it harder for friends to guess access credentials, or they just know less about their neighbours so guessing silly passwords like the pets name is harder.
For those who may be unsettled by this apparent ease that people can borrow your Wi-Fi, ensure you are using WPA2 based encryption and that WPS is turned off on your (WPS is the handy push button method to link devices over Wi-Fi but it has vulnerabilities) and most importantly use a strong password. Something everyone should do is also run a software firewall on their various devices, which can protect you from others on your LAN.
With Christmas rapidly approaching a good tip instead of sharing your main Wi-Fi network key, is to use a wireless router or access point that allows you to create guest networks so that when you have friends staying over Christmas you can give them Internet access but keep your local network of devices separate.
Wednesday 22 October 2014 10:30:13 by Andrew Ferguson
Oxshott may have seen the obligatory photo opportunity as the Superfast Surrey project celebrated the 500th cabinet going live via the project. More crucially the project has declared that is has made fibre based broadband available to more than 75,500 homes and businesses with the eventual goal of reaching 84,000.
The statistics behind the roll-out are:
Deploy more than 391 km of fibre cable - this is greater than the distance from Banstead to Blackpool!
Upgrade more than 30 rural telephone exchanges across the county to fibre broadband which otherwise would not be covered by commercial plans.
Install more than 600 green street-side cabinets and fibre structures, with 500 cabinets 'live' to date.
This has been achieved with some £33m of funding, from the council, BT and just £1.3m from Westminster. The crude calculation gives a figure of £55,000 per cabinet but this ignores the costs of enabling the handover points in 30 exchanges and there is the cost of the around 5,000 premises that have native GEA-FTTP available (which at standard industry figures could account for £5m of spending).
We have previously given estimates for the potential fibre based coverage in Surrey but now we are very close to completion in Surrey it is possible to say that what has been delivered so far is taking fibre based broadband to 96.9% of households in the County or if you apply the criteria that the connection should be superfast then its 91.8% currently and should improve further as more areas go live. We understand that 15 Mbps is a key delivery speed for the project and the figures improve to 94% at this slower speed, which should be sufficient to run three HD video streams over the connection at the same time.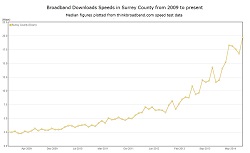 (click image for larger size)
(click image for larger size)
The two graphs above show fives years of speed test data up until the end of September 2014 and thus go back to emergence of FTTC speeds and also track the various speed upgrades by Virgin Media and even the increasing use of ADSL2+ can be seen by the improvements in upload speeds. While the Surrey project has not given 100% of homes and businesses access to superfast broadband and it never had a contracted aim to do so it is enlightening to look at the percentiles and the bottom 10% in terms of download speed are now faster than the median speed back in November 2008. As take-up increases in particular for the FTTC services we expect the speeds to continue increasing, looking at the national picture for FTTC based connections we see a median speed of 31.7 Mbps, a note of caution for those wanting to take this figure and say FTTC is slow, since the 40/2, 40/10 and 40/20 products are often £5 to £10 per month cheaper at the retail level the median figure is likely to be held back by people watching the size of their utility bills.
---