Broadband News
Monday 02 March 2015 10:12:26 by Andrew Ferguson
Northern Ireland was one of the earliest areas to see extensive investment in fibre based broadband (FTTC) and all the previous spending has delivered fibre based broadband to 93.7% of premises, but the rural nature of large parts of Northern Ireland means that at present only around 72.8% are able to enjoy superfast speeds (cable coverage is 26.6%).
The DETI and the DCMS has announced investment of £7m each with an additional £3m from BT to increase the availability of superfast broadband to another 38,000 premises.
There are around 500 cabinets and exchange only lines that comprise the final 6.3% with no access to an affordable fibre based solution at this time so while we would expect many of these cabinets to see a FTTC based roll-out hopefully a little more FTTP and fibre to the remote node will be deployed to resolve the clusters of premises at long distances from their existing cabinet.
In terms of existing broadband speeds in Northern Ireland, the mean speed was 23.8 Mbps in February 2015, 10% recorded a download speed of 1.3 Mbps or slower and the fastest 10% saw speeds of 52.7 Mbps or faster (median 16.7 Mbps - 7.3 Mbps in Feb 2013 and 15.2 Mbps in Feb 2014). At the time of the last General Election the mean download speed was 3.3 Mbps (median 2.6 Mbps).
Saturday 28 February 2015 13:35:54 by Andrew Ferguson
Origin Broadband has re-jigged the pricing of its broadband packages and is one of the few to offer a choice of broadband and phone bundles, or the ability to take their broadband but have your voice line rental with a different phone operator.
Unlimited ADSL2+ Broadband & Phone, free broadband while you continue to take voice line rental from Origin. Line rental price £16.40 per month. 12 month contract
Unlimited ADSL2+ Broadband Only, £9.99 per month. Freedom to choose which ever line rental (WLR) phone provider that you desire.
Unlimited up to 38 Mbps fibre (FTTC) broadband, 18 month contract, £14.99 per month (first six months free) and voice line rental at £16.40 per month.
Unlimited up to 38 Mbps Fibre Broadband Only, £17.99 per month. Freedom to choose which ever line rental (WLR) phone provider that you desire.
Unlimited up to 76 Mbps fibre (FTTC) broadband, 18 month contract, £18.49 per month (first three months free) and voice line rental at £16.40 per month.
Saturday 28 February 2015 12:57:23 by Andrew Ferguson
Some people disagree with the amount of 'free broadband' promotions and so they may be pleased to hear that Sky has ended its 12 months free broadband promotion for those signing up to the broadband and phone service only. The offer has been replaced a by 12 months half price unlimited ADSL2+ broadband deal, £3.75 per month for 12 months then £7.50 per month, with voice line rental required at £16.40 per month (offer available until March 26th.
The half price deal is available to existing Sky TV customers who do not already have broadband via Sky, and for people who are totally new to Sky there is a £100 M&S voucher as a reward for signing up.
Free unlimited broadband is still possible, but you will need to sign up to a full TV/broadband and phone bundle, which start at £16.13 for the TV element (25% off for 12 months) and £16.40 for the voice line with the Original TV Bundle (standard price £21.50 per month). A £75 bill credit further reduces the cost of the bundle, don't dally though as not long length left on this offer which expires on the 5th March 2015.
For those who need more speed, the unlimited fibre based service is on a 12 months half price promotion, so £10/month rather than the standard £20/month. An 18 month contract and the £16.40 line rental costs applies, activation is free for existing Sky TV and broadband customers, saving £30.
Friday 27 February 2015 11:48:24 by Andrew Ferguson
If you want Gigabit broadband in your home in Leeds, then moving to The Basilica development in the centre of Leeds means you can order a symmetric 1000 Mbps Hyperoptic service.
The fibre to the building operator has just gone live with its network in The Basilica and is rolling out to over parts of Leeds including including Twenty Twenty and a number of Eddisons properties, including Skyline, Waterside and Bridgewater Place which should once live add a good few thousand apartments able to get a Gigabit service.
"I have been overwhelmed by the experience and affordability of fibre broadband from Hyperoptic. In the past I was frustrated by the 'up to' claims of other broadband providers; as a musician and avid gamer, the slowdowns were incessant and exasperating, and my flat-mates didn't get a look-in. With Hyperoptic, I can get a clean connection for the same price, which is at least five times faster, despite the speeds being advertised as the same - or for a little extra, I can get a Gig. It's transformed my life; plus my flat-mates and my gaming scores have never been higher!"

Ross Denton, Resident, The Basilica
The average (mean) download speed across Leeds is not bad at 24.6 Mbps (median 14.5 Mbps - Q4 2014) and some 90% of Leeds District can order a superfast service, but access to a symmetric 1000 Mbps service via someone like Hyperoptic is still vastly faster than the 200 or 300 Mbps service everyone is waiting for Virgin Media to announce. If anything the relatively high availability of superfast services across a city actually makes it more important for developments to offer something better than the norm to attract residents.
Friday 27 February 2015 10:38:40 by Andrew Ferguson
While the main focus of the Openreach fibre based broadband roll-outs are FTTC based, there is FTTP appearing and nowhere has more of it than Cornwall. Another rural corner of the county has just gained access to Fibre to the Premises. Premises connected to cabinet 4 on the St Columb exchange now have access to native GEA-FTTP, this covers the area around Tremayne (e.g. TR9 6EL) and was an area where speeds generally ranged from zero to 1 Mbps.
The GEA-FTTP product is provided at the same wholesale price as FTTC if you order a 40 Mbps or 80 Mbps based service, but unfortunately of the large providers only BT Consumer list and sell faster products in the guise of Infinity 3 & 4. We believe PlusNet customers can order FTTP too, but it is not a standard product listing, in the SME sector the choice widens but so does the monthly price.
Installing the GEA-FTTP usually requires two visits, the first is to install the main fibre to a box on the outside of the property, and a second visit will see someone bring the fibre ONT (modem) and run a shorter length of plastic fibre into the property.
Friday 27 February 2015 10:15:42 by Andrew Ferguson
We are all used to the inbox full of 'invoice' spam that seems to be the current favourite doing the rounds, but TalkTalk customers may have been targeted in more personal ways by email or phone it seems following illegal access to some customer data including account numbers, but TalkTalk does highlight that no financial data was accessed due to this being encrypted.
TalkTalk is being a little coy about the exact nature of scope of the illegal data access, but it would be no great surprise to eventually learn that this may have been an inside job or even the result of carefully crafted phishing attacks that have let outsiders have access to the information.
The old adage of trust no-one is never more true and certainly if someone phones you out of the blue and asks you to visit a website to install some software even if they seem to know a lot about you or your account with the firm they say they work for do not trust them. Tricksters and fraudsters are an age old profession and unfortunately the Internet of Humans means the number of people they can easily reach has increased massively in the last decade.
Thursday 26 February 2015 18:41:23 by Andrew Ferguson
Another set of vouchers to announce, TalkTalk now has running until 5th March 2015 £75 Love2Shop vouchers new customers who order online and are switching from BT, Sky or PlusNet. The vouchers are redeemable at various High Street stores.
The voucher is in addition to the existing half price or free offers a few of which are:
SimplyBroadband, £1.75 per month for six months then £3.50 per month with unlimited ADSL2+ service. No inclusive calls.
Unlimited Fibre Broadband, free for six months then £13.50 per month thereafter. Up to 38 Mbps downloads, up to 1.9 Mbps uploads.
Essentials TV with Unlimited Fibre Broadband, £4.25 per month for six months, then £18.50 per month. Inclusive evening and weekend calls. Basic YouView TV set-top box with limited pause and rewind functionality and streaming catch-up TV support.
All the TalkTalk broadband services are 18 month contracts and you need to add the cost of voice line rental at £16.70 per month or you can pay for 12 months line rental in advance thus saving £1.67 per month.
Thursday 26 February 2015 10:50:26 by Andrew Ferguson
While there has been no price changes on the BT Consumer ADSL2+ and Infinity broadband products this week, they have brought back their £75 and £125 Sainsbury Gift Cards for new customers ordering online.
The Gift Cards are not the value highest ever, there was one offer period where the Infinity with TV packages commanded a £150 card, but the £125 offer on the fibre based YouView packages is still pretty close.
The gift cards at the £75 and £125 value are only available until the 2nd March 2015 and you need to claim the voucher online once your service has gone live. Voice line rental at the standard price of £16.99 applies to the products, though a line rental saver option is available.
The price after the minimum terms of 12 months will rise to the standard pricing, but many people find that if they are happy to sign another 12 month contract they can avoid paying the full standard price for some years. 12 months is a long time in the broadband world, so who knows what better offers from competitors may appear in a years time.
Thursday 26 February 2015 00:11:28 by Andrew Ferguson
Scotland has always had a lower target in terms of fibre based broadband coverage than the rest of the UK, with a contracted goal of 85% fibre based broadband by March 2016. A new report by Audit Scotland highlights the uncertainty of what the massive Digital Scotland project will deliver and also tries to call for better information to be made available so people and businesses can identify when they may or may not see improvements in their broadband options.
The report is keen to emphasis that the 85% target in Scotland carries no speed qualification and possibly for the first time reveals that the actual contract carries modelled broadband speeds of 23% getting under 24 Mbps, 22% between 24 and 30 Mbps and 55% achieving 30 Mbps or faster in the areas helped by the project.
Looking beyond the current infrastructure project some work has been done to estimate the expected coverage of superfast broadband by December 2017. While the audit report does distinguish between fibre based and superfast coverage, we are not totally sure whether the expected coverage in Exhibit 5 is actually premises at faster than 24 Mbps (or 30 Mbps if EU money used) or is simply fibre based broadband again.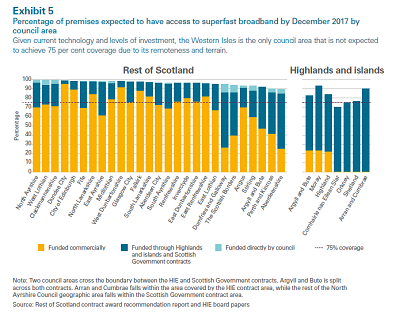 Click image for full size version
A major problem for the Digital Scotland project is the sheer number of premises involved combined with the vast geographic area covered. The distinct differences across Scotland led to the creation of two projects, Highlands and Islands and Rest of Scotland. In the Highlands FTTC is so far proving to cost almost double the original framework agreement, with FTTP coming in at almost three times framework agreement, meaning that the use of FTTP is being minimised. The situation is different in the Rest of Scotland as FTTC is coming in at a lower price than the framework agreement and FTTP at double the framework agreement. The risk and cost of ensuring the contractual targets are met does rest with BT and clawback clauses do exist, the stated aim being that if take-up triggers money coming back to the Government it will be re-invested to further improve coverage and speeds.
"78. The Scottish Government was to pay £15.6 million for the work completed in the nine months January to September 2014, provided BT met its contractual target and could claim sufficient eligible expenditure for work completed up to that point. While BT met its contractual target for the period, it claimed only £14.3 million for the work done. The difference (£1.2 million) is work in progress and will be claimed later.

HIE has paid BT £26.1 million less than planned
79.HIE paid BT a total of £26.2 million for work completed between September 2013 and September 2014, comprising £19.8 million for backhaul infrastructure and £6.4 million for work connecting premises. It originally planned to pay £52.3 million over this period, of which £38.9 million was to be for backhaul infrastructure and £13.4 million for work connecting premises."

Payments to BT in Digital Scotland project
Part of the reason for less money being paid to BT has been that delivery has not always kept pace with the original plans, the Highlands and Islands were 1,250 premises behind their target as of December 2014, and after a shortfall in the Rest of Scotland in the first part of the last year in the quarter BT running up to December 2014 had managed to make up some of that shortfall.
The Scottish Government is not the only body watching the roll-outs closely and our calculations on what has been delivered so far both commercially and via the Digital Scotland and Virgin Media coverage is shown below.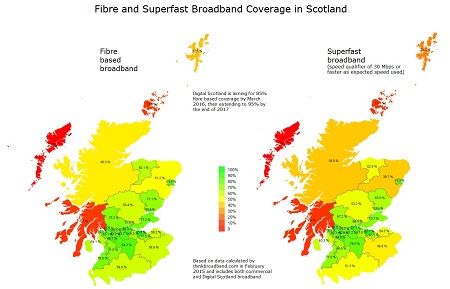 Click image for full size version
The Highlands for example may seem well covered, but the overall figure is skewed by the good fibre based coverage in the Inverness area. The superfast coverage figures are based on premises where we believe that speeds of 30 Mbps or faster will be achieved. The overall figure for Scotland is 74.5% fibre based broadband coverage and 70.8% at superfast speeds. We will be continuing to track the coverage and the subsequent uplifts in actual broadband speeds as people buy the faster options once they become available.
Wednesday 25 February 2015 14:12:55 by Andrew Ferguson
At over 1km from its existing VDSL2 Openreach cabinet the businesses in Tanshire Park, Elstead will be very pleased with the roll-out of fibre services via a dedicated on-site PoP by WarwickNet.
"Elstead is a very rural area where the development of sustainable employment locations is very important to the community and the local authority. Access to cost effective broadband continues to be the biggest problem for these areas and prior to linking up with WarwickNet our internet was extremely slow. Some of the larger organisations operating from Tanshire Park opted to lease dedicated fibre into their premises but this is not cost effective or suitable for all the firms.

We chose WarwickNet as the team were happy to work with tenants directly, understanding that they all have very different needs. A number of options ranging from 40 Mbit per second broadband to a high capacity uncontended service are now available on site and firms which have taken up the services have already experienced a vast improvement in speed and effectiveness."

Gordon Farquharson, Director and Company Secretary of the landlords at Tanshire Park
The previous FTTC based speeds would have been in the 6 to 11 Mbps download range, so offering 40 Mbps and faster will be very welcome, particularly the availability of uncontended services which can be important for some businesses. The point of presence is located in the main comms room on site, with fibre running to a number of the buildings across the site making it easy to connect firms as they sign up.
---