Broadband News
Saturday 25 February 2017 13:03:08 by Andrew Ferguson
A new offer has arrived on the Unlimited ADSL2+ service from Sky if you join without taking a satellite TV package, the monthly price of £18.99 for 12 months (including line rental) is the same as usual but there is now a £75 PrePaid MasterCard to be claimed once your service has gone live.
This offer is running until the end of 16th March 2017, and carries a 12 month contract, with the price rising to £28.99 per month if you stay after then. There is a £9.95 set-up fee which covers the cost of delivery for the Sky Hub.
Friday 24 February 2017 10:49:40 by Andrew Ferguson
Broadband offers ebb and flow and for those looking to switch and make the most of rewards the next week looks a good time to switch.
BT Consumer has brought back the iTunes or Amazon gift card choices on is SIM only deals with values of £20, £40, £70 and £90 depending on the SIM deal you take, for existing BT broadband customers they start at £5/m for the 500 MB data, 400 minutes of calls and unlimited text SIM through to the 20GB data with unlimited calls and texts for £20/m (those not with BT already pay an extra £5/m). The 20GB package is apparently set to revert to its standard 15GB size after 1st March and all the SIM Only deals carry a 12 month contract.
For those after fixed line broadband, the unlimited packages are actually cheaper than the ones with usage limits and the reward cards are at a peak value of £100 for ADSL2+ services and £150 for the FTTC and FTTP products. So unlimited ADSL2+ is £23.99/m for the 12 month contract period (£9.99 setup fee) and Unlimited Infinity 1 (up to 52 Mbps download, up to 9.5 Mbps upload) is £28.99/m for 12 months and a £59.99 setup fee.
This round of mobile and broadband deals all end on 1st March 2017.
The BT packages are more expensive after the 12 month contract ends (ADSL2+ is £40.99/m and Unlimited Infinity 1 is £47.49/m), but in a market where switching is encouraged the trick is to either switch at the end of the minimum term or agree another fixed contract period in return for a better than standard pricing deal.
Wednesday 22 February 2017 19:35:20 by Andrew Ferguson
The Digital Economy Bill has many facets to it, but a debate a couple of weeks ago was held in the House of Lords and now the Lords have followed up with amendment to the USO plans which has gone to the vote today and at 250 votes for and 206 votes against there seems an outside chance the USO may change its nature.
"Lord Mendelsohn

1: Clause 1, page 2, leave out lines 4 and 5 and insert—


(2B) The universal service order must specify that the target for broadband connections and services to be provided before 2020 must have—


(a) speeds of 2 gigabits or more;
(b) fibre to the premises (FTTP) as a minimum standard;
(c) appropriate measures to ensure that internet speed levels are not affected by high contention ratios;
(d) appropriate measures to ensure service providers run low latency networks.

(2BA) The universal service order must specify as soon as reasonably practicable that, by 2020, the following will be available in every household in the United Kingdom—


(a) download speeds of 30 megabits per second;
(b) upload speeds of 6 megabits per second;
(c) fast response times;
(d) committed information rates of 10 megabits per second;
(e) an unlimited usage cap.

(2BB) In meeting the obligations set out in subsection (1), internet service providers have a duty to ensure that their networks offer at least the minimum standards specified in subsection (2BA) to every household in areas of low population density, before deploying their networks in urban areas.(2BC) The Secretary of State must ensure that—


(a) the premises of small and medium-sized enterprises are prioritised in the roll-out of the universal service broadband obligation;
(b) rollout of universal service broadband obligations is delivered on a fair and competitive basis.

(2BD) The universal service order shall, in particular, say that mobile network coverage must be provided to the whole of the United Kingdom.

Uncorrected Hansard transcript from House of Lords 22nd February 2017
The amendment seems to be calling for rather than a USO that by being available, rather than on demand as previous Universal Service Obligations have been they want the UK to hit 100% superfast coverage by 2020. Additionally rather than the previous 10 Mbps minimum speed goal, a more ambitious 30 Mbps target for downloads with 6 Mbps upload speeds is favoured. The committed information rate may actually be the hardest part, since if enforced in law would require UK broadband providers to build their core networks such that every customer can download at 10 Mbps at the same time, unless this means just across the access segment as with Openreach GEA products now, where once you reach the ISP you fight for bandwidth as normal.
Ofcom did explore various options for the USO back in 2016, and the House of Lords do discuss this saying 'The economic case for an additional £800 million is extraordinarily well justified' with the £800 million being in addition to a 10 Mbps USO where a slightly better than the bare minimum solution was roughly costed at £1.2 billion.
Those looking at the USO and to date only BT has put its head above the parapet in any official manner were probably hoping to deliver the USO via a mixed technology approach, i.e. some more VDSL2/G.fast maybe using more remote nodes, some fibre to the premises, some 4G, some fixed wireless and for the most expensive maybe satellite. In practice all those technologies can also provide 30 Mbps but you end up having to change the technology mix.
Could the UK deploy 1,160,000 million fibre to the premises connections by 2020, given the money to pay for the labour and a willingness to accept more disruption on rural roads then without a doubt. The big question for the Government if this amendment makes to into law is how to do this without BT (or anyone else who grabs a share of the money) from exploiting the tight timescales, we know BT is planning 2 million premises of pure fibre by 2020 already, but a lot of that looks to be urban where distances are shorter and new build apartment blocks, to deliver to pure fibre to every remote property is a very different task and may see some homes having £30,000 spent to get them superfast broadband when the resident does not even want broadband.
We applaud the ambition of the House of Lords but worry that if the bar is set very high we may end up getting very little, or looking at it another way its signing a blank cheque for BT Group.
The outside in, or inside out approach to the roll-out is potentially a distraction, when what would make more people happy would be if there was a way to prioritise who did get much better broadband, since the USO is not addressing a solely rural problem.
Wednesday 22 February 2017 15:59:14 by Andrew Ferguson
Some surprising news today as Chris Townsend who has been the CEO of BDUK for three years is to leave in April 2017 and is set to become commercial director of Chelsea FC.
"I have enjoyed my three years as CEO of BDUK and it has been an honour and privilege to lead a high-performing team which has achieved outstanding results. I am proud to have been a DCMS Board Director and part of the executive leadership team which has secured an outstanding rise in staff engagement over the last 3 years.

I would like to extend my thanks to the Secretary of State and her Ministerial team for the support given in order to achieve the success of BDUK to date. We are on track to achieve the 95% target by December 2017.

Chris Townsend statement
When Chris Townsend joined the Broadband Delivery UK team as CEO three years ago things were very different and superfast broadband coverage in the UK was at 77.5% (77.1% 30 Mbps and faster) and just under three years later it is hitting the 92.3% to 92.4% mark and with the roll-outs continuing a goal of 95% in ten months is in sight. One of the often unsung changes has been that the BDUK contracts in the second phase have diversified and not all gone to a single supplier as the original contracts did when they all went to the BT Group.
"Chris brought a wealth of experience with him to the DCMS when he joined three years ago, and has overseen a remarkable transformation of the UK's digital landscape. More than nine out of ten homes and businesses now have access to superfast broadband and we are on track to reach 95 per cent by the end of this year.

I wish Chris all the best for this exciting career move, and thank him for the tremendous contribution he has made to the work of the department.

Secretary of State for Culture, Media and Sport Karen Bradley MP
We await news of the successor and look forward to engaging with them and even when all the existing broadband goals are met there is lots of work to be done to expand the various ultrafast broadband visions and ambitions into actual plans that are delivered. The technology sphere is one where you need to start work on the next version of whatever it is, before you've even fully delivered the first due to the pace of change involved.
Wednesday 22 February 2017 09:38:36 by Andrew Ferguson
The superfast broadband roll-outs both commercial and gap funded have made great strides in coverage but as superfast broadband becomes ever more important those still waiting for the roll-out to reach them are increasingly frustrated and double that frustration for businesses missing out.
To the rescue is a partnership of four councils who are making grants of up to £25,000 available for businesses to get installed bespoke next generation access (NGA). The four councils are Herefordshire, Shropshire, Telford & Wrekin Councils and Gloucestershire County Council.
This funding will enable us to provide funding support to those qualifying SMEs that cannot access superfast broadband.

The partnership between the four local authorities demonstrates a new approach to addressing the particular broadband requirements of businesses in these areas and is one of the largest grants of this type, both in terms of its geographical footprint and the amount available.

The ultimate aim of the grant is to enable economic growth in these locations by providing businesses with access to financial support to provide access to superfast speeds in excess of 30Mbps.

Cllr Roger Phillips chairman of Marches European Structural and Investment Fund (ESIF) Committee
The grant is funded from a mixture of sources including some money from the European Regional Development Fund (ERDF). The grant scheme is not open to applications, but this launch means it is very close to taking applications, a suppliers day will be held on Wednesday 29th March so broadband providers can learn about the scheme and decide whether to participate.
Clearly 100% coverage at superfast speeds would be ideal and areas like Herefordshire and Gloucestershire do have a higher than average ratio of FTTP to FTTC in rural areas, but as networks take time to build voucher schemes have an important part to play in ensuring SMEs can jump ahead of the curve. Hopefully the scheme will also be accessible for developments that for example convert farm buildings into offices for a number of small companies allowing them to offer superfast broadband to tenants from day 1.
Monday 20 February 2017 16:45:34 by Andrew Ferguson
The BDUK team running within DCMS has released its data for the period to the end of December 2016.
The pace of the BDUK roll-outs may have slackened somewhat as projects undertake reviews and a shift towards more fibre to the premises increases the amount of work needed to add more premises. This shift in technology potentially explains the drop in the number of premises passed per £1 million of money from Westminster, since a high in September 2014 plus the additional work involved with Exchange Only lines being upgraded and infill cabinets that are an increased feature of the projects now.
| Cumulative to end of: | Premises with superfast broadband service made available | BDUK funding (£) | Number of premises covered per £million of broadband delivery programme expenditure |
| --- | --- | --- | --- |
| December 2012 | 254 | £434,735 | 584 |
| March 2013 | 16,638 | £6,767,185 | 2,459 |
| June 2013 | 38,343 | £6,767,185 | 5,666 |
| September 2013 | 111,968 | £10,347,568 | 10,821 |
| December 2013 | 273,731 | £14,182,547 | 19,301 |
| March 2014 | 508,801 | £58,586,408 | 8,685 |
| June 2014 | 888,113 | £72,437,233 | 12,260 |
| September 2014 | 1,383,777 | £99,766,011 | 13,870 |
| December 2014 | 1,908,725 | £252,084,918 | 7,572 |
| March 2015 | 2,411,395 | 301,444,870 | 7,999 |
| June 2015 | 2,905,764 | £331,828,330 | 8,757 |
| September 2015 | 3,311,843 | £372,153,178 | 8,899 |
| December 2015 | 3,625,369 | £406,918,848 | 8,909 |
| March 2016 | 3,840,643 | £476,742,422 | 8,056 |
| June 2016 | 4,021,047 | £492,573,929 | 8,163 |
| September 2016 | 4,168,739 | £497,656,699 | 8,377 |
| December 2016 | 4,309.668 | £513,598.393 | 8,391 |
The premises figure does take into account the drop of in performance from VDSL2 as the length of the increases and thus includes only premises where speeds over 24 Mbps are to be expected.
Our own independent tracking reveals that at the end of January 2017 we recorded 4.1 million premises had gained access to a superfast broadband option via the project, which while lower than the official figure is explained by factors including fibre to the premises coverage where we are not differentiating between commercial and BDUK funded coverage currently and some 100 to 200 cabinets that are infill or EO upgrades and we are still determining their actual location. There are an additional 533,000 premises passed by VDSL2 but not getting superfast speeds in our data, and this may also explain some of the gap i.e. our adoption of a pessimistic crosstalk model (i.e. take-up running at 50% or more).
Monday 20 February 2017 16:01:43 by Andrew Ferguson
The joy of technology is that it rarely stands still for long and Boundless Communications is proudly announcing itself as one of the first companies to test fixed wireless broadband than can deliver Internet access at speeds in excess of 160 Mbps.
The new ultrafast service has been tested in North Yorkshire, more specifically Bradley which is just to the south of Skipton.
"Being able to go way beyond the Government's target of 30Mbps is a huge benefit to rural communities. Not only can we deliver the superfast target, we can futureproof the service so that children in rural areas, like Bradley, don't need to play catch up with their classmates. Wireless ultrafast broadband is able to deliver this and Boundless is leading the way in delivering it."

Boundless Networks Chairman David Hood
We do see Boundless customers on their usual superfast services in the area, but no sign of the ultrafast customers, we have asked if they can get some customers to test and then we can see how the service behaves. The existing superfast services have three main residential packages, ranging from £20.99/month for a 10 Mbps service through to £44.99/m for the 30 Mbps service.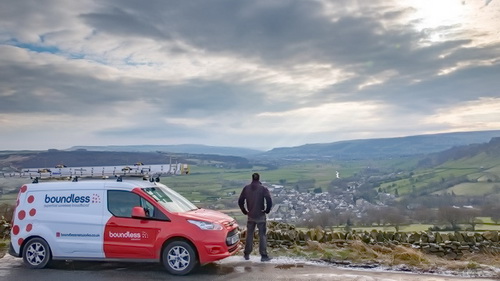 The village in the press release is described as 'the village suffers from traditionally poor broadband services with the majority of homes and businesses not able to access speeds in excess of 10Mbps through the traditional phone line method' which is an odd description given that the core part of the village which is obvious in the photograph is serviced by VDSL2 from cabinet 5 on the Crosshills exchange and was a commercial cabinet that went live in 2013. Of course VDSL2 has its range limits so those living on High Bradley Lane and Jackson's Lane as you head North East and South East out of the village are likely to be sub superfast.
As a location for a test bed to see how popular unlimited ultrafast wireless broadband is compared to standard superfast services the choice of location is ideal and a lot will hinge on the price of the ultrafast packages.
We have a couple of details for the geeks out there, service is using the 5GHz frequency band with a 40 MHz channel and the customer mast is based around the Mimosa C5 devices.
Friday 17 February 2017 09:11:05 by Andrew Ferguson
Live in a building that can get Hyperoptic broadband and don't have it yet, then today makes it a little easier, as in an apparent act of kindness Hyperoptic is giving away the first month of service free on its broadband and phone packages.
This offer is only on 17th February 2017, and the pricing across the three speeds is:
Symmetric Gigabit Broadband and Phone, 1st month free then £48/m for 11 months, thereafter £63/m. 12 month contract.
Symmetric 100 Mbps Broadband and Phone, 1st month free then £28/m for 11 months, thereafter £38/m. 12 month contract.
20 Mbps download, 1 Mbps upload Broadband and Phone service, 1st month free then £18/m for 11 months, thereafter £25/m. 12 month contract.
Tuesday 14 February 2017 10:30:36 by Andrew Ferguson
Update 15th February 2017 PlusNet has released its next set of prices with a £10 activation fee on ADSL2+ and £25 on the fibre based services. Contract lengths have reduced to 12 months. ADSL2+ from £20/m, VDSL2 up to 38 Mbps down (up to 1.9 Mbps up) from £25/m and VDSL2 up to 76 Mbps down (up to 19 Mbps up) from £30/m. This round of pricing is set to end on 28th February 2017.
Thinking of ordering Plusnet ADSL2+ or fibre, then today may be the day to order, as current offers end today and £10 and £25 activation fees (including router delivery) are coming on the ADSL2+ and fibre based services respectively on 15th February.
The Unlimited Fibre and Phone package is currently from £27.50 per month for the 18 month contract term and there is £50 cashback to be claimed if you order today (14th February 2017) and no set-up fee. Price is higher outside the low cost areas, Plusnet checker will confirm pricing. Fibre service is up to 38 Mbps download and up 1.9 Mbps upload speeds, with actual speeds dependant on distance to fibre cabinet, remember to make note of the estimated service speeds given during sign-up.
For those only able to get ADSL/ADSL2+ or are simply happy with that service, it is available from £20/m for 18 months and no activation fee.
Friday 10 February 2017 10:47:40 by Andrew Ferguson
The connection voucher schemes may not have connected millions, but as a way of helping those most in need in as quick as possible fashion they are proving vital and Exmoor Technology has announced that it has now connected over 200 properties using 4G tech in Devon and Somerset.
The voucher scheme in Devon and Somerset has driven a lot of the demand, but there are no new applications until coverage plans via the phase 2 superfast contracts in the area have been finalised (likely to re-open April 2017). Importantly, those who have used a voucher are not excluded from any subsequent roll-outs.
"The success of the scheme highlights developments within the industry that present innovative and exciting opportunities in the delivery of broadband services. The success of the scheme was recognised in September by the Prime Minister and I'm happy Exmoor Technology are able to share in this success. The delivery of 200 4G connections makes up a high proportion of the 700 total connections made to date, and I am extremely pleased that a local business is making such a significant contribution, ensuring residents and businesses have access to best possible broadband speeds."

Councillor David Hall from Connecting Devon & Somerset
While many people complain about 4G coverage, it looks as if Devon and Somerset are doing well and Exmoor Technology say that so far only 4 locations have failed to obtain a 4G signal giving speeds in excess of 10 Mbps (one of the criteria for voucher use is the connection should be faster than 10 Mbps). EE whose network is used claim 94% geographic coverage of Devon and Somerset is only slightly behind.
One reason why Exmoor Technology can get good 4G coverage is the use of external antenna mounted on the outside of the property, this generally means you can gain some elevation and better signal strength - the vouchers where are worth up to £500 neatly cover the costs of this work and hardware. One problem of 4G so far in terms of adoption for massed Internet access is usage allowances, but Exmoor Technology does have some better plans than your usual high street fayre with 64GB of data for £30 per month, and can go all the way to 200GB. As with most 4G services the service is CGNAT based, but business has the option of a a public IP but the business product is more expensive at a cost of £2 per GB.
---