Broadband News
Tuesday 28 June 2016 10:30:20 by John Hunt
Plusnet yesterday announced that they are following in the footsteps of parent company BT in upgrading some customers on Unlimited Fibre broadband services to the new 55/10 GEA-FTTC product offering users download speeds of approximately 52meg and upload of 9meg. This affects those on the 38meg download/19meg upload fibre broadband product. This is good and bad as customers will have to trade a decrease in upload speed for an increase in the download speed. This may please some, but not others. This change will happen on the 1st August and if you are affected you should receive an e-mail from Plusnet.
Price increases have also been announced from 1st September. This includes rises in line rental by £1, but line rental saver (paying 12 months up front) is frozen at the current price. Broadband prices will also increase by £1 per month if you do not take a calls package. The Anytime and Evening & Weekend call plans are also set to increase in price whilst being removed from new sale in favour of new more expensive plans that include calls to mobiles.
We've set out below some of the key changes (more details on the Plusnet homepage). Note some of these changes will affect obsolete products that may no longer be available for new sale.
| | Old Price | New Price |
| --- | --- | --- |
| Line Rental | £16.99 | £17.99 |
| Line Rental Saver | £15.49 | £15.49 |
| Plusnet Unlimited Broadband | £12.49 | £13.49 |
| Value Broadband | £7.99 | £8.99 |
| Essentials broadband and phone | £5.99 | £6.99 |
| Value broadband and phone | £6.49 | £7.49 |
| Evening and Weekend calls plan | £3.00 | £3.50 |
| Anytime calls plan | £6.00 | £6.50 |
| Evening and Weekend UK & Mobile calls plan | - | £4.00 |
| Unlimited UK & Mobils calls plan | - | £8.00 |
| Call setup fee | 16p | 19p |
| Engineer charge | £50 | £65 |
With the above, some may see their overall costs increase by £2 per month which could amount to nearly a 10% increase. If you are not tied into a minimum contract, it may be worth looking at switching provider to take advantage of new broadband offers to help reduce your outgoing costs.
In the early hours of this morning, we woke up to the news that Britain* has voted to leave the European Union.
We made a conscious decision not to comment on this issue prior to the results as we felt that broadband would not be a key decision issue, and here's why.
Whilst the EU has a significant input into how markets work and how state aid in case of broadband is made possible, the importance of broadband for the UK economy does not change whether or not we chose to remain or leave the EU. It's far more likely that the success of the general economy (including investment in broadband suppliers/infrastructure) will affect the UK broadband market than the direct involvement in broadband rollout. We may see transitional difficulties on rollouts of state-funded projects but at this stage it's too early to say if they will have a positive, neutral or negative impact in addressing broadband slow-spots and hotspots. EU targets may become irrelevant but the economy as a whole will drive the demand for faster services.
Travellers may see more costs as the EU mobile roaming charges are due to be abolished, although we suspect the momentum for this is already under way and unlikely to have a significant impact.
No immediate change being planned to any schemes and we have a complex and lengthy negotiation ahead on the terms of the Brexit and any participation we have in the European Economic Area (EEA) and how that relates to broadband infrastructure, negotiations that may not even start until a new Prime Minister takes over in a few months and a formal notice of Article 50 to leave the EU being invoked.
* England and Wales to be precise; Scotland and Northern Ireland individually voted to remain which may in itself cause some complexity given the political climate.
Friday 24 June 2016 17:00:54 by John Hunt
A light hearted story (but with a serious message) to end the week.. Relish Broadband have taken to a Soho coffee shop to point out the pitfalls of broadband contracts that feature hidden price hikes or costs and advertise the fact that they do not have any hidden fees in the small print for those who use its services.
Exit or early termination fees, such as the £30 fee to cancel the 'coffee contract' feature in this video have become the latest weapon of many utility providers, including broadband, to try and dissuade people from switching their contract within the minimum term. For broadband, a cease charge is due if you terminate your service. This is a charge levied by Openreach at approximately £30 to cover the costs of disconnecting a line and updating records. If you use a migration path then a cease charge shouldn't usually be due but if you terminate as you are moving home then the cease charge would be due.
Broadband providers also usually charge a monthly fee for ending a contract inside the minimum term, and this may also include a proportion of line rental charges, sometimes at a reduced rate. BT's Broadband early termination fees (valid from 3rd July) can be seen here, and for example for Unlimited BT Infinity 1 broadband + Weekend Calls is £18.75 per month plus £8.50 per month for line rental termination. The £31 cease charge is also due if you terminate the line. These charges can easily add up as they are valid for the remaining months on your contract.
What Relish don't point out in the video is that if you sign to one of their 12-month contracts and cancel after a few months, you would have to pay the remainder of the contract off as you would with BT. Their 1-month options (where available) wouldn't include these extra charges.
The Country Land and Business Association (CLA) which represents landowners, farmers and rural businesses are arguing that the Universal Service Obligation for broadband should be enshrined into law, to prevent those living in rural areas from being excluded from access to affordable superfast broadband, with compensation for those not able to get the minimum speeds.
"A USO that can guarantee sufficient bandwidth will transform rural areas and must be enshrined in law. Only half of rural homes and businesses can receive a broadband connection with speeds of 10Mbps. That should be a benchmark minimum speed which evolves as technological advances are made. It may work in 2020 but could be insufficient just five years later so the USO must be easily amended to meet the future needs of the market place and the consumer.

If the current mode of broadband fails to deliver, the consumer should be able to explore alternative means of connection from fibre to satellite and wireless."

Ross Murray, CLA President
In particular, the CLA argues that more than one USO provider should be appointed to take advantage of the various technologies available.
The CLA's full response to the Ofcom consultation is available here.
We polled over 1,000 users to ask if they had to cut back on one household bill, what would they pick? The results are quite interesting, showing most people (at least of those visiting thinkbroadband) would prefer to put entertainment first with most preferring to cut back on gym membership.
If you had to cut back on one of the following, which would it be?
| | |
| --- | --- |
| Gym membership | 46% |
| Eating out | 21% |
| Television | 17% |
| Turn the heating down | 7% |
| Broadband | 5% |
| Mobile phone | 5% |
Only mobile phones (by a margin of a few votes) were more important than broadband. Of course there are plenty of free forms of exercise, as there are wi-fi hotspots.
Friday 17 June 2016 15:43:31 by Andrew Ferguson
BT Consumer has rejigged its pricing and with the introduction of three months free broadband it has made listing the package titles a bit more complex.
The usual BT Reward Cards (which translate into a prepaid MasterCard) are available but with values of £100 on the ADSL2+ services and £125 on the Infinity (FTTC/FTTP) range, the offers are in place until the end of 23rd June 2016.
For those chasing the BT 4G SIM deals iTunes and Amazon Gift Cards are back with face values of £20, £40 and £80 so long as you remember to claim the cards.
Unlimited BT Broadband (ADSL2+) with weekend calls, includes a £100 BT Reward Card, free broadband for three months then £10/m for the next 9 months plus the usual £18.99/m line rental. Home Hub delivery charge of £7.95 applies. Up to 17 Mbps line speeds. 12 month contract with broadband at £20/m after the minimum term. Access to BT Sports Lite pack.
Unlimited BT Infinity 1 with weekend calls, includes a £125 BT Reward Card, free broadband for 3 months then £15/month for the next 9 months plus the usual £18.99/m line rental. £49 activation fee applies and a Home Hub delivery charge of £7.95. Up to 52 Mbps download speeds and up to 9.5 Mbps upload speeds. 12 month contract with broadband at £26/month after the minimum term. Access to BT Sports Lite pack.
BT TV Entertainment Plus Unlimited BT Infinity 1 with weekend calls, a £125 BT Reward card, broadband £10/m for 3 months then £20/m for 9 months plus line rental at £18.99/m. £49 activation fee applies and a Home Hub delivery charge of £7.95. Up to 52 Mbps download speeds with up to 9.5 Mbps upload speeds. 12 month contract with broadband at £36/month after the minimum term. Includes all BT Sport channels apart from Ultra HD.
A saving of 10% is possible on the line rental if you pay 12 months in advance, once the service has gone live.
Friday 17 June 2016 11:12:05 by Andrew Ferguson
Deciphering fact from well meaning myths and plain old untruths is a big part of any Government contract and the media coverage surrounding it, and this applies even more so to the gain share money coming back out of the current BDUK projects and also the latest announcement of £150m of underspend being available from the processes central funding.
The £150m underspend was announced by Chris Townsend CEO of BDUK while talking at the Connected Britain conference and is in addition to the £258m that has been released via the gain share (claw back) mechanism so far. None of this is new money but rather the £150m is the result of BT producing smaller invoices and so was never in the BT bank account.
Some of the gain share has already been accounted for by the wave of announcements on extension work since summer 2015. How the £150m will be spent is a big unknown and it may result in the paths between Westminster and Local Authorities diverging with some keen to extend existing contracts where possible and others wanting totally new procurement and a focus on non BT based solutions. Another complication is that some councils may be keen to see if the money can be unlocked and removed from any broadband investment to assist in balancing council budgets elsewhere, the 7 year nature of the BDUK contracts may interfere with this desire though.
Hopefully the BDUK programme is not the first Government intervention project where money is being underspent but it does seem a very rare thing and for all the faults it should be applauded for delivering what it has and is it fair to say it is under budget?
The question of whether the BDUK project was a waste of time and resources is a common one and at the simplest level what the project has done is force the hand of BT to deploy faster broadband to a much larger area of the UK than would otherwise have happened by now. Crucially for those who feel BT is too dominant by concentrating their engineering teams on the BDUK roll-out for a couple of years this gave competitors an opportunity to build their own networks in the most commercial areas, alas apart from the rapid growth of Hyperoptic who are the second largest FTTH/FTTB UK operator, CityFibre while generating lots of positive Gigabit press and share pricing has yet to make an impact outside the metro network and business sector. With the new Openreach CEO (and changes started by previous incumbents) there is more of an ultrafast focus and thus this easy period looks to be ending, particularly given that Virgin Media Project Lightning is starting to deliver in volume too.
Back to the £150m its too early to say how it will be spent with and what it will deliver technology wise, but it makes the likelihood of the UK hitting 97% superfast broadband coverage more certain.
Thursday 16 June 2016 11:55:35 by Andrew Ferguson
Openreach is gearing up for its push to get G.fast ultrafast broadband to some ten million premises by 2020 and a further 2 million with access to native FTTP all funded by their own money. There may be more FTTP and maybe some more G.fast delivered by the BDUK projects but that will very much depend on the goals set by projects and who gets the contracts for extension work beyond the existing Phase II contracts.
We have crunched the numbers and it looks possible that Openreach can deliver ten million premises that will count as premises passed with access to a minimum speed of 100 Mbps via G.fast by providing a pod on just 27,913 cabinets. This is based on analysis of postcodes within rough line length 400m of cabinets that are already providing VDSL2 and while the number of cabinets looks amazingly low the spread of lines across cabinets is not uniform in the Openreach network, in fact the 27,913 cabinets have an average of 449 lines connected with the distance rule dropping the number of premises from 12.5 million to 10 million. The 100 Mbps is based on our usual conservative approach and could be refined once the G.fast trials scale up.
It is possible that Openreach may prefer to pick cabinets another way, and that is to minimise the number who cannot get ultrafast speeds, and thus by cherry picking the cabinets with the highest proportion of premises within the 400m range you get a much higher number of cabinets at 38,197 but the number of not getting ultrafast drops from 20.1% to 10.5%.
Of course one does not know the precise way in which Openreach will determine the cabinets to roll-out G.fast to, but the insight of showing its possible with between 27,913 and 38,197 cabinets gives an important insight into the scale of the work involved.
One of the sticking points will be that with 96 port capacity per pod adding the pods to large cabinets will mean while many will count as passed if demand for ultrafast connectivity is somehow massively larger than demand for superfast speeds (i.e. highly unlikely looking at years of data on product choice from consumers) not every passed will be able to order. We did ask Openreach about the possibility of adding a second pod to a cabinet and the answer was potentially yes that could be done.
Once the next wave of processing is over we will publish a map showing the postcodes that fitted within the 27,913 model, of course appearing on the map does not in anyway guarantee G.fast arriving but everyone loves a map of the UK.
It may be that the changes to the G.fast standard that allowed for the longer reach have been instrumental in the change from the ambition of just 10 million ultrafast premises passed by Openreach to it being 10 million G.fast PLUS 2 million native FTTP. In other words since the ten million can be reached with less work and in a faster timescale combined with changes to working practices in the FTTP roll-out a more FTTP rich future is in prospect.
At the end of the day, the roll-out should take Openreach from just 1% ultrafast availability today to higher than 41% - how much higher depends on what is delivered for some BDUK Phase II and extension projects. This means that Virgin Media will be the dominant ultrafast broadband provider in the UK in 2020 with a footprint covering around 59% of UK premises.
Thursday 16 June 2016 10:19:46 by Andrew Ferguson
A week ago when the central BDUK team in Westminster published the take-up figures for the various BDUK projects we published our own data alongside the BDUK figures on what we have seen in terms of take-up. As part of that analysis we are now able to share our analysis of what each project has delivered, i.e. how close is it to its phase 1 goal and with VDSL2 as the dominant technology it may help provide some data for those that said VDSL2 while quick to deploy was the wrong technology to use.
Our usual coverage reports include the effect of the commercial roll-outs too, and also in the next few weeks will integrate operators such as Gigaclear into the superfast columns now that the 90% at 30 Mbps or faster goal has been reached (Gigaclear et all feature in the Ultrafast figures coverage currently).
BDUK Project Area - Phase 1 Projects
'fibre' Based Broadband Coverage
(A figure of 100% would mean project has delivered to all cabs it has announced in its plans)
% superfast
24 Mbps or faster
% superfast
30 Mbps or faster
% Under 2 Mbps USC
Berkshire
98.4%
87.5%
84.8%
3.7%
Bucks and Herts
99.1%
89.6%
87.9%
2.5%
Cambridgehire & Peteborough
99.2%
91.5%
90.2%
3%
Central Beds, Bedford and Milton Keynes
97.5%
91.3%
90.3%
1.9%
Cheshire
98.8%
87.1%
84.6%
2.5%
Connecting Devon and Somerset
96.2%
81.6%
79.6%
6%
Coventry, Solihull & Warwickshire
98.8%
87%
84.7%
3.9%
Cumbria
97.7%
87.9%
86.3%
4.1%
Derbyshire
99.5%
90.1%
88.7%
2.9%
Dorset
98.8%
89.2%
86.6%
3.3%
County Durham
98.9%
91.7%
90.1%
2.3%
East Riding of Yorkshire
99.7%
88.7%
87.2%
5.5%
East Sussex
100%
83.4%
80.3%
4.3%
Essex
97.7%
89.1%
87.4%
2.2%
Greater Manchester
99.2%
97.9%
97.6%
0.2%
Hampshire
98.7%
87.4%
85.2%
3.8%
Herefordshire & Gloucestershire
96.1%
83.3%
81.1%
5.3%
Highlands & Islands
91.7%
73.1%
70.6%
8.6%
Isle of Wight
99.7%
89.5%
88%
3.4%
Kent
99.9%
86.7%
85%
3.8%
Lancashire
99.9%
95.9%
95%
1.1%
Leicestershire
98.3%
90.9%
88.9%
2.2%
Lincolnshire
99.8%
84.3%
82.2%
6.7%
Merseyside
99.5%
98.4%
98.1%
0.2%
Newcastle Upon Tyne
100%
98.6%
98%
0.1%
Norfolk
100%
87.9%
86.2%
4.5%
North Lincs & North East Lincs
100%
92.1%
90.5%
2.4%
North Yorkshire
99.9%
84.3%
82.6%
8%
Northamptonshire
100%
96.4%
95.9%
1.3%
Northern Ireland
98.1%
47.6%
41.4%
18.8%
Northumberland
99.8%
82.8%
80.6%
8.7%
Nottinghamshire
99.5%
93.7%
92.4%
1.8%
Oxfordshire
95.2%
88%
86.2%
2.2%
Rest of Scotland
90.5%
82.5%
81.2%
3.9%
Rutland
100%
92.6%
91.3%
1.9%
Shropshire
92.6%
73.9%
72.2%
8.6%
Staffordshire
98.2%
87.3%
85.9%
3.4%
Suffolk
99.8%
82.9%
80.3%
6.3%
Surrey
99.9%
91%
88.5%
1.3%
Wales
97.2%
89.3%
87.5%
2.7%
West Sussex
99.5%
83.7%
81.6%
5.8%
West Yorkshire
99.9%
92.4%
90.8%
1.2%
Wiltshire, South Gloucestershire
99.9%
84.6%
82%
4.8%
Worcestershire
96.3%
82.9%
80.5%
4.2%
There is a caveat to the table, we have not fully resolved the issue of commercial versus BDUK funded FTTP deployments, but those premises are not included in the 'fibre' figures in this analysis. Further work will allow us to more accurately split them out of the 'commercial' bin that we have generally placed the FTTP. For areas where long lines in a VDSL2 cabinet area have had infill to bring premises into the superfast (and ultrafast region as its FTTP) they do appear in this analysis with Northumberland, Surrey leading the pack at 0.28% and 0.24%.
In terms of the number of premises the Scottish and Wales projects are obviously the largest, but in England those leading the pack in terms of size of the phase 1 intervention area were Devon and Somerset, Lancashire and Norfolk.
The difference between the level of 'fibre based' and superfast coverage is important to the projects themselves since their contracts mean they should often only be paying for premises likely to receive a superfast service. Our projections on speeds at various distances are relatively pessimistic but this reflects the way that Ofcom, ASA and BCAP want to move.
Many of the phase II projects are well under way too and once we have resolved some of the FTTP issues and also integrated operators such as Gigaclear we will report on their progress in a couple of months as well as an update on the phase 1 projects.
Wednesday 15 June 2016 17:21:14 by Andrew Ferguson
Virgin Media has announced some detail of its expected expansion in Swindon, with work set to start in the next couple of months and finish in early 2017 to deliver an extra 7,000 premises on top of the existing Virgin Media footprint. The 7,000 new premises passed will be connected via FTTP.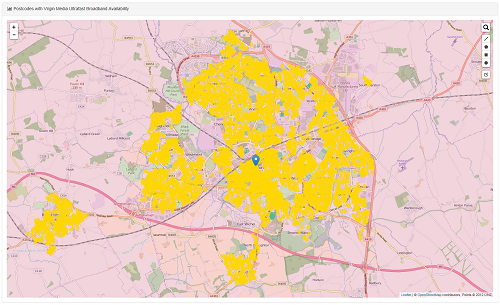 Map showing postcodes we have mapped as having existing Virgin Media cable services available in Swindon.
The roll-out is set to target Haydon, Priory Vale and Blunsdon St Andrew in North West Swindon with infill work in areas like Greenmeadow, Old Town, Toothill and Eastleaze.
"The calls from residents in Swindon for better, faster broadband have been heard and Virgin Media will soon be bringing our ultrafast connectivity and top-notch entertainment to more parts of the town "This investment demonstrates that under Project Lightning Virgin Media will build to areas which no other fixed broadband provider has previously been able to connect. Given that public funding has been used in some areas of Swindon to fund a mobile broadband solution, it's vital that local authorities properly assess the prospect of private investment before using taxpayer's money to fund broadband rollout.

We urge more communities to come together and register their interest. Your area could be connected next."

Paul Buttery, Chief Operating Officer at Virgin Media
The council roll-out under the SuperfastSwindon banner is not actually a mobile service, but rather a fixed wireless 4G LTE solution i.e. requires a small antenna to be placed on the outside of the property facing the mast. The older Relish service (via UK Broadband) relied on the internal antenna in the 4G router.
Commercial overbuild in areas where public money has been spent or is in the process of construction is always a minefield and Virgin Media to give credit is stating that it spent at least 18 months trying to get the areas it would be delivering to removed from the BDUK Phase II roll-out. The 7,000 premises builds on the current 76% cable coverage in the Swindon District council area and thus we should see coverage climb to around 83 to 84%, the impact on the overall superfast figure will depend on the overlap with VDSL2 from Openreach, though based on the information released so far this may be minimal.
While all the policitcs and arguing can be tiresome, this does present a perfect test bed to finally see if 4G in a fixed configuration can deliver everything promised of it and what the take-up will be, one presumes that the Swindon contract includes a gainshare arrangement similar to the existing BT contracts. With the FTTP expansion by Openreach which does appear to be more limited in nature so far in Swindon, the Virgin Media announcement and the 4G LTE there may be some with the choice of two ultrafast networks and one superfast.
Relish customers in Swindon are seeing good speeds, and one of the best in terms of not just speed but overall quality was this test and while we are seeing some faster and some slower we need more customers testing to get a good idea of overall performance, in terms of speeds, latency and stability. The initial impressions are faster than we expected, but some people are still testing under 24 Mbps and even some fast connections show the classic variable speeds and quality issues that mobile 4G can result in (it is possible the under 24 Mbps users are on the old routers with indoor antenna or suffering poor Wi-Fi speeds in the home of course). It is this variability that may not impact on services like Netflix which was coded to cope by utilising buffering, but people like online gamers can be hyper sensitive to QoS variability.
---