Broadband News
Monday 01 September 2014 13:55:17 by Andrew Ferguson
Ofcom has been working towards the shift of Digital TV and wireless microphones out of the 694 MHz to 790 MHz (700 MHz band) area for some time and the latest report from Pascal Lamy to the EU outlines what could happen across the EU.
Repurpose 700 MHz band for wireless broadband, with a time window of 2020 plus or minus two years. This is believed to be long enough to allow for minimal cost to broadcasters and people who will upgrade from old DTT kit that does not support lower bands over time.
Ensure stability of regulation for the remaining 470 MHz to 694 MHz for broadcasters and reject any plans to use frequency in this block for mobile broadband.
Re-visit the way that the spectrum is being used in 2025, and thus be ready to take account of changes e.g. broadcast TV has naturally moved to IPTV delivery over fibre based services.
For UK broadcasters none of this should be a surprise, Ofcom has consulted on this exact topic for some years now, and as Ultra HD starts to become more interesting (oddly during the World Cup stores tried to sell TV sets on support of UHD, even though no football was broadcast in UHD) the reality that DTT may not be up to the task will become more of an issue. Ofcom has suggested that a single multiplex that can transmit 20 to 30 SD channels might only manage 1 UHD channel using MPEG4 or two or three channels using the more efficient HEVC system.
The much complained about move of BBC Three to an IPTV only channel in 2015 will be a key test for the UK market. The move was said to be a money saving exercise by the BBC, but by experimenting with the generation who are hooked to being connected 24/7 it will prove a real world test of whether IPTV is mainstream or not in the UK.
The appeal of the 700 MHz band to mobile broadband services is that has much better reach and penetration into buildings, combine that with improved efficiencies that 5G is promising and while we will not see 10 Gbps to our mobile phones we may see some interesting innovation e.g. a FreeView set-top box with built in 5G modem that picks up the big five terrestrial channels over the old fashioned aerial and the other channels delivered over IP multi-cast or full on demand IPTV.
Broadcast TV is far from dead, but the masses of channels down an aerial era may be ending, with just the key channels broadcast over free-to-air radio spectrum and the second tier channels living a free-over-IP life.
Monday 01 September 2014 13:15:30 by Andrew Ferguson
Cornwall was the first part of the UK to get underway with an intervention programme to boost the coverage of fibre based broadband and holds the crown as the County with the highest proportion of FTTP coverage. The Superfast Cornwall project has hit its own goal of 90% with access to FTTC or FTTP broadband and is working towards a goal of 95% (NOTE: the coverage level at superfast speeds will be lower than these figures).
Ten new communities were announced at the end of August that will benefit from further roll-outs of fibre based broadband.
Badgall, Laneast, St Clether and Tregeare are all on the Piperspool that is offering FTTC from three cabinets, these communities appear to be served by Exchange Only lines currently, so will welcome the boost in speeds that will be gained from a FTTC roll-out, or maybe FTTP if the costs are within budget.
Nancledra, is on the Cockwells exchange and it is very likely this work will be to bring FTTC to properties served by cabinet 81 on that exchange.
Philleigh, Polhendra, Trethewell, Trewithian and Rosevine are all on the Portscatho exchange and it looks like once more this is work to bring a fibre based service to communities currently served by Exchange Only lines.
One of the reasons Cornwall has a high proportion of FTTP in its roll-outs is that if the project had stuck with a fully FTTC based roll-out it would probably have only managed a figure of 70% with access to superfast type speeds. The story in Cornwall is far from complete, there is a new project in the planning stages to address the final 5% and it will be interesting to see how that is accomplished technologically compared to the Westminster plans for the final 5%.
Monday 01 September 2014 10:24:27 by Andrew Ferguson
A milestone has been declared as passed in York as the number of premises with a fibre based service available from Openreach has passed the 75,000 premise mark.
York may have around 77,000 homes, but the key point is that this figure includes businesses too of which York has around 8,200, so roughly this means that 88% of York has access to an Openreach fibre based service. The number with access to fibre will be higher as there is around 39% of York homes that can get Virgin Media cable services, and fibre based coverage goes higher still since CityFibre and its FTTP network is available to businesses across York (80% of York businesses within 200m of the FTTP network).
The latest cabinet to go live was behind the York Railway Museum and is cabinet 89 (on the York exchange) at the junction of Leeman Road and Garfield Terrace, and was deployed as part of the commercial roll-out. Of the 75,000 Openreach premises passed, 65,000 are via the commercial programme and 10,000 part of the BDUK North Yorkshire project.
2015 will be interesting as the CityFibre, Sky, TalkTalk FTTP trial is set to take place covering some 20,000 homes using micro-trenching to roll-out fibre direct to each home and there is no way that cannot overlap either the FTTC or Virgin Media networks in York now. It will be very interesting to see how Sky and TalkTalk compete, since while a small group may chew your right arm off for bragging rights to get access to ever faster broadband for the vast majority the speeds of FTTC and Virgin Media are more than enough.
The roll-out of Openreach fibre based services across York is not complete, we know of 3 or more cabinets with FTTC on the way, but this still leaves around 27 smaller cabinets with no service and some Exchange Only lines.
The fibre battle for York is not going to be won on the speed or quality of the competing networks but simply on the price and slick sales patter. CityFibre surely cannot survive another FTTP roll-out with a low number of customers like in Bournemouth, operating in the council/SME sector is a very different environment to the consumer arena. Price wise if the FTTP service from Sky and TalkTalk is not significantly cheaper than their FTTC offerings it will not sell and seeing FTTP with faster than FTTC speeds too at under £20 per month would be a real shocker. The people it will most likely see buying the service are the 5 to 10% who get slower speeds than they want from FTTC, but that sort of take-up level makes FTTP expensive to roll-out.
Friday 29 August 2014 10:10:53 by Andrew Ferguson
Sky generally changes its offers weekly, and this week brings forth a gravity defying range of offers.
Bear in mind that for any of the broadband offers voice line rental at £15.40 per month (inclusive calls to landlines at weekends) is required.
Free broadband for 12 months if you join Sky as a new broadband and phone customer. Includes a £100 M&S voucher and if you take the voucher and line rental into account the monthly price over the 12 months is £7.07/month. At the end of the 12 month minimum term the broadband price rises to £7.50 per month. Existing standalone Sky broadband customers who are out of contract may want to contact Sky to see if a deal can be negotiated.
The discount for taking Sky TV, or the penalty for not taking it depending on your viewpoint appears to have vanished for new customers, since the standard price if you take TV or don't take a TV package is £7.50 per month.
Existing Sky TV customers taking broadband from Sky for the first time, have a fairly standard £3.75 per month for 12 months (12 month contract) offer running, but there are hints that for those that call the number on the Sky website a better offer may be possible.
For those new customers taking the complete bundle of TV, broadband and phone the main offer is 25% off the price of the TV package and free broadband for 12 months and £75 of credits to your bill. This applies to the Original, Variety, Family and Movies bundles.
The Sports and Complete Bundle are still running with the two years free broadband offer, stacked alongside the 25% off the TV package for 12 months and £75 of credits into your Sky account.
Wednesday 27 August 2014 11:39:53 by Andrew Ferguson
Relish has started to provide a fast broadband service in the parts of London where it is most needed in the last few months and its use of 4G LTE combined with a home router and scooter delivery is making it popular in the parts of London where people are finding it difficult to get good speeds.
One aspect of the service has recently come to light and that is that the service uses Carrier Grade NAT (CGNAT), as a way to share a limited number of IPv4 addresses between the users of a service. CGNAT is not new, in fact for mobile broadband it has been common for some years, and BT Consumer and PlusNet have both ran trials of CGNAT to evaluate it as a stop gap solution before more widespread IPv6 adoption takes place.
"Due to the global exhaustion of legacy IP addresses (IPv4) ISPs around the world have been forced to implement CGNAT solutions to enable a single IP address to be shared by many customers – this is becoming increasingly common.

We have implemented a solution used by many network operators and ISPs for fixed and mobile services. This was tested extensively prior to launch using a range of applications including online gaming with no issues reported. We do acknowledge that it is difficult to test every scenario that may exist in every application and as a result we are going to release a block of public IPv4 addresses to our consumer customers. This will be subject to some qualifying criteria and an additional monthly fee. These will be available from the 1st September via our customer care teams.

As a longer-term solution we are implementing a project to allow customers to use IPv6 addressing."

Will Harnden – Marketing Director
The vast majority of broadband users are not going to be aware of CGNAT and while NAT on consumer routers can break some applications the carrier grade version is much better at ensuring problematic protocols are handled sensibly.
The news that Relish is working on a paid option for people to have a public IPv4 address is welcome and may make life easier for some home workers and offices where the Relish wireless router has replaced their fixed broadband. Of course long term once IPv6 is more widely adopted this problem of limited IP ranges goes away.
The 4G LTE service sold by Relish is advertised as up to 50 Mbps and certainly we are seeing people getting those sorts of speeds, below is a comparison of the median speeds for Relish users compared to all other broadband connections in the three London Boroughs where most of the Relish coverage is located.
Speed test results for Relish compared to everyone else
Authority
Relish Median Download Speed
Relish top 25% percentile Download
Relish Median Upload Speed
Others Median Download
Others top 25% percentile Download
Others Median Upload
Tower Hamlets London Borough
16.8 Mbps
27.3 Mbps
3.3 Mbps
15.4 Mbps
32.2 Mbps
1.2 Mbps
City of Westminster
21.5 Mbps
35.9 Mbps
1.2 Mbps
13 Mbps
25.3 Mbps
1 Mbps
City and County of the City of London
17.7 Mbps
23.2 Mbps
3 Mbps
14.7 Mbps
38.9 Mbps
2.7 Mbps
Combined London Region
(Others figures top 25% is high from Virgin Media and FTTC coverage in the suburbs of Greater London)
18.9 Mbps
23.6 Mbps
2.1 Mbps
21.5 Mbps
47.7 Mbps
2.7 Mbps
NOTE: Relish is available outside the three named Boroughs but not enough data was available to make a comparison, hence the combined London Region.
The figures may not look too exciting to those who regularly see 60 to 100 Mbps speeds every day, but without the tie to a fixed landline and unlimited usage which is hard to find via mobile 4G tethering they have a sizeable market and impossible for £20/month. The focus in London has been the slow speeds in the City of London and Relish do offer a real opportunity to get speeds well beyond those that people with long ADSL2+ lines as their only option can currently get.
We have been chasing this story for a week or so and hope to have pricing information soon on public IPv4 addressing and have improved the auto detection of Relish customers on our speed test so that more results can appear on our maps and in our data analysis.
Update Friday 29th August We have been informed that the price for a static public IPv4 address will be £10/month. The testing of IPv6 addresses is underway and we believe we have seen some of these tests on our speed tester too since Relish launched.
Obviously £10 per month for an IPv4 address may seem a lot but when the basic service is £20 per month with no voice line rental payment needed, the total price is still not unreasonable particularly as download and upload speeds from fixed line services are so patchy in areas like Westminster and the City of London.
Wednesday 27 August 2014 10:28:59 by Andrew Ferguson
The last of the first phase of BDUK projects has now started to deliver with orders now being accepted for properties connected via cabinet 4 in Shorwell (Brightstone exchange) on the Isle of Wight.
"This will make a massive difference for both myself and my wife. We are big internet users and this will enable us to work far faster and more efficiently. "As well as the major work benefits for both of us it will also be a great help with everyday things such as streaming television programmes and online shopping, as well as booking holidays and family history research. It will also be a real help with contacting our children on the mainland and relatives overseas."

David Lumley, lives in Shorwell and works from home one day a week
The cabinet serves some 240 residents and businesses. Of course we can expect lots of complaints that FTTC does not deliver the same speed to everyone, that said it was clear from day one that the sum of money offered by the Government and the number of premises to be covered meant that FTTH was never going to be the dominant technology. What the projects are achieving is a widespread baseline service and looking at it positively, if there is real demand for FTTH type speeds there is scope for others to roll-out the competing infrastructure.
On the Isle of Wight the intervention hopes to bring fibre based broadband to an extra 20,000 properties beyond the existing commercial roll-outs, and our own estimate is that 89% of the island should get access at speeds of 30 Mbps or faster (rising to 91% at 24 Mbps. This figure will be higher once Wight Cable coverage is accounted for, but no data is forthcoming to allow this to be added to the calculations. The project is aiming for 95% of the island to have access at superfast speeds, which seems perfectly possible and we will keep tracking and refining our figures in an attempt to make sure projects do deliver what they say on the tin.
Tuesday 26 August 2014 17:21:48 by Andrew Ferguson
We first ran a poll to look at what people wanted from a broadband Universal Service Commitment some five years ago and the results from the 2014 poll are in.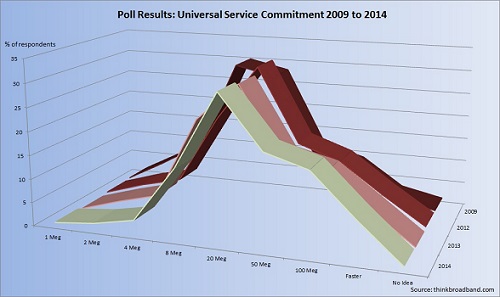 Five years of public opinion on USC broadband speeds
The 2014 results show some increase in the number picking 50 Mbps as their target speed for the USC, which suggests that for next year we should consider adding some more intermediate speed points to get a better feel whether its a gradual shift, or people are really wanting and needing 50 Mbps as a matter of course.
The poll results show what broadband campaigners have been saying for a long time, that the current 2 Mbps USC that is set to be delivered by 2015 or 2017 depending what day of the week it is, is out of date and unlikely to satisfy the public. The fact that people have voted for something in the 20 Mbps area is possibly because once you can stream two or three HD videos most households are happy with the speed of their broadband. A basic 2 Mbps service should run some limited video streaming and be sufficient to pay our tax bills and file any Government paperwork.
The responses to the two supplementary questions show little variation from year to year too. The continuing pressure from TalkTalk to see the wholesale cost of Openreach GEA-FTTC reduced has some support with very few people it seems willing to pay the highest prices to double their speeds. The number willing to change provider to chase guaranteed speeds is encouraging and suggests there is scope for a provider to win market share by providing what people want speed wise if the price is right.
We do not believe there is any chance the Government is going to change the 2 Mbps USC, the public policy steam roller is trundling along with the main focus on the superfast broadband coverage targets and some experiments to see how much it will cost to get superfast to the final 5% and thus tick the EU Digital Agenda box of 30 Mbps for all by 2020.
If demand for broadband speeds continues to grow as some predict it might be interesting in 2020, since we should all have connections perfectly capable of sending off our tax forms and paying congestion charges and the local economies will have largely benefited from the predicted boosts to the economy faster broadband brings, thus spending more may bring little benefit in terms of economic growth. Will there be the stomach for public money to be spent on improving broadband further once again, or will we be left facing the whims of the commercial market, that in Europe has many cities with vastly higher speeds than the UK is planning to provide.
Tuesday 26 August 2014 10:22:34 by Andrew Ferguson
While very few expected otherwise it looks like the South Yorkshire project to get more widely superfast broadband available that replaces the failed Digital Region project is close to being signed.
The funding of £7,425,000 from the four councils involved should closely match the amount allocated by Westminster and the amount added to the project will vary according to how good the negotiators are, in some areas BT has matched both pots of money, in others just the Westminster allocation.
The demise of Digital Region while it only ever had 3,000 customers smarts more than most broadband provider failures as for some it has meant a return from VDSL2 type speeds to slow old ADSL2+. Current speeds for July 2014 in the four district councils gathered from our speed tests which exists in two versions (one for when at home on the computer and another for phones and tablets.
Speed test results for councils involved in Superfast South Yorkshire project
Authority
Median Download Speed
Median Upload Speed
% of tests currently superfast
% of tests under 2 Mbps
Virgin Media Coverage
Barnsley District
21.7 Mbps
2.3 Mbps
39%
8.6%
34.7%
Doncaster District
20 Mbps
2.3 Mbps
40.4%
5.5%
32.7%
Rotherham District
22.1 Mbps
2.8 Mbps
38.6%
4.5%
32.1%
Sheffield District
19.5 Mbps
1.9 Mbps
38.9%
5.4%
43.6%
The situation in South Yorkshire is interesting as it seems to be one of those areas where contrary to the urban myth that BT will overbuild every competing network large chunks of the area were left to Digital Region, with some anecdotal stories of Openreach VDSL2 cabinets appearing to disappear once a Digital Region cab appeared.
The presence of the old Digital Region cabinets will probably only make a difference to the extent that ducting with power is likely to be in a suitable location and as one of the large cost variables this may help to keep price per cabinet slightly lower.
Saturday 23 August 2014 11:10:33 by Andrew Ferguson
While a lot of coverage on the BT Consumer price rises appears to be aimed at the spending on BT Sport, BT Sport is just one small part (though highly visible) of what the BT Consumer arm are doing. If there is any anger over the price rises, it should actually be at the collective lack of competition from the largest phone and broadband providers, where pricing seems to be converging and the trend each year is for BT to increase their price and others to increase to within an ever closer margin.
The price rises for BT Retail/Consumer customers take effect from 1st December 2014, and if you are in a contract and the price rises affect you then you should be able to exercise your right to exit a contract without penalty. The main changes are (they all take effect on 1st December 2014):
Voice line rental increasing by £1/month to £16.99 as of 1st December 2014
Line Rental Saver will increase from £159.84 per year to £169.90 per year (equivalent of £14.16 per month.
Call set-up fees for chargeable calls will increase from 15p to 15.97p
Calls to landlines will increase from 9p per minute to 9.58p
Early Contract Termination charges (when you leave while in contract and it is not because of price rises) are changing, details on the BT website
Broadband prices to go up by up to 6.49%, but we are yet to see full details
BT Customers can find out more and information on when they will be notified here
As you can see from our twitter feed, we have looked back over some years and the retail pricing of voice services is diverging from the wholesale pricing. This is probably down to a number of factors, such as increasing use of call bundles by consumers and the rise of line rental saver options, the number of freebies, e.g. WiFi access, BT Sport, Parental Controls, cloud storage, free YouView set-top boxes and all the other costs of running a business that have not gone down in the last few years. While it is very easy to suggest that the extra revenue will (1) pay for more fibre roll-out or (2) repay some of the BT Sports costs, this raises the question why are operators like Virgin Media who are totally independent of Openreach pricing increasing their line rental too and the trends suggest the margin between the big providers is decreasing?
The real answer is that the market is charging what the market can get away with, both by us the consumers not always shopping around and changing voice/broadband providers and a regulator in the form of Ofcom that is balancing the wholesale pricing but seems to be ignoring a retail market where it is almost impossible to get broadband without taking voice line rental from the same major provider now.
For those really struggling financially, if you are on Income Support, Income based Jobseeker's Allowance, Pensions Credit, Employment Support Allowance or Universal Credit take a look at BT Basic which provides voice line rental at £15.30 every quarter (includes £4.50 calls allowance) and an ADSL2+ service with 10GB usage allowance for £4.85 per month (includes access to WiFi when out of the home). The Basic service is provided as part of the USO obligations imposed on the BT Group.
Thursday 21 August 2014 16:20:40 by Andrew Ferguson
With all the excitement that arose due to the Prime Minister appearing at the official opening of the Gigaclear FTTP network in Northmoor last week it is perhaps only right that DEFRA should update its coverage figures of the RCBF scheme released earlier in August 2014.
The headline is that once project builds that are under way are included to provide 2014/2015 figures some 2,808 homes, 460 business premises and 1 other type of premise will have benefited. This is probably the sum total of what will be reported by DEFRA, since the 17 local authorities that got some extra money earlier in 2014 will include their figures in the larger BDUK roll-out where DCMS publish the overall figures.
2013/2014 in year
2014/2015 in year
Community Project
Domestic premises
Business premises
Other Premises
Domestic premises
Business premises
Other Premises
Rothbury (FTTC)
1,430
107
0
0
0
0
Fell End (FTTP/H)
29
29
0
0
0
0
Northmoor & Bablockhythe (FTTP/H)
0
0
0
518
4
1
Tove Valley (5GHz WiFi)
0
0
0
423
173
0
Fibre GarDen (FTTP/H)
0
0
0
408
147
0
Total all projects
1,459
136
0
1,349
324
1
The Gigaclear project in Northmoor and Bablockhythe we believe had £186,000 of funding via the RCBF and this was matched by Gigaclear to give a cost £718 per property passed, and as around 100 premises were not previously able to get broadband at all this will make a big difference to people and along with the other symmetric Gigabit coverage from Gigaclear present in the area this may make central Oxford look like the poor brother broadband wise.
---