Broadband News
Thursday 23 October 2014 10:42:37 by Andrew Ferguson
Hyperoptic has looked into the borrowing or stealing (which is what it is when you don't have permission) a neighbours Wi-Fi network with a survey and the answers have implications in terms of security and really highlight that leaving hardware on default passwords or with easy to guess passwords is not a wise idea.
"It's a shock to discover so many people admitting to 'borrowing' their neighbours' broadband. 'Stealing' other people's WiFi cannot be condoned and is highly likely to have a detrimental effect on the connection your neighbours are receiving - and paying for.

Many customers of standard broadband already battle with a slow and unreliable service that doesn't allow everyone in the home to make the most of the internet at the same time, let alone carry unwanted surfers sneaking on to the network.

Hacking your neighbours' WiFi isn't just wrong, it simply won't cut it. As life becomes increasingly digitised, the need for broadband reliability – and for speed – cannot be ignored. Hyperoptic gives all residents in a property the chance to enjoy uninterrupted gigabit speeds simultaneously, no 'borrowing' necessary, and ensures they can do so long term; future-proofing their homes to be compatible with the internet technologies yet to come."

Dana Tobak, Managing Director of Hyperoptic
The survey which questioned a representative sample of 2,000 adults in Britain found that successful 'borrowing' of Wi-Fi varied by region, with London at 53%, Wales at 40%, Scotland 20% and Northern Ireland 27%. London may be at the top simply because of the population density, thus the ability to see the maximum number of Wi-Fi networks.
What we thought most interesting was the variation based on age, 18% of 18-24 year olds successfully guessed a Wi-Fi password, 42% of 25-34 year olds, 43% of 35-44 year olds, 35% of 45-54 year olds and 10% in the 55+ bracket. Finding out more why the difference between young adults and the other age ranges may be revealing, maybe young people are better at managing their online security thus making it harder for friends to guess access credentials, or they just know less about their neighbours so guessing silly passwords like the pets name is harder.
For those who may be unsettled by this apparent ease that people can borrow your Wi-Fi, ensure you are using WPA2 based encryption and that WPS is turned off on your (WPS is the handy push button method to link devices over Wi-Fi but it has vulnerabilities) and most importantly use a strong password. Something everyone should do is also run a software firewall on their various devices, which can protect you from others on your LAN.
With Christmas rapidly approaching a good tip instead of sharing your main Wi-Fi network key, is to use a wireless router or access point that allows you to create guest networks so that when you have friends staying over Christmas you can give them Internet access but keep your local network of devices separate.
Wednesday 22 October 2014 10:30:13 by Andrew Ferguson
Oxshott may have seen the obligatory photo opportunity as the Superfast Surrey project celebrated the 500th cabinet going live via the project. More crucially the project has declared that is has made fibre based broadband available to more than 75,500 homes and businesses with the eventual goal of reaching 84,000.
The statistics behind the roll-out are:
Deploy more than 391 km of fibre cable - this is greater than the distance from Banstead to Blackpool!
Upgrade more than 30 rural telephone exchanges across the county to fibre broadband which otherwise would not be covered by commercial plans.
Install more than 600 green street-side cabinets and fibre structures, with 500 cabinets 'live' to date.
This has been achieved with some £33m of funding, from the council, BT and just £1.3m from Westminster. The crude calculation gives a figure of £55,000 per cabinet but this ignores the costs of enabling the handover points in 30 exchanges and there is the cost of the around 5,000 premises that have native GEA-FTTP available (which at standard industry figures could account for £5m of spending).
We have previously given estimates for the potential fibre based coverage in Surrey but now we are very close to completion in Surrey it is possible to say that what has been delivered so far is taking fibre based broadband to 96.9% of households in the County or if you apply the criteria that the connection should be superfast then its 91.8% currently and should improve further as more areas go live. We understand that 15 Mbps is a key delivery speed for the project and the figures improve to 94% at this slower speed, which should be sufficient to run three HD video streams over the connection at the same time.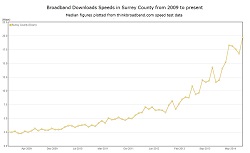 (click image for larger size)
(click image for larger size)
The two graphs above show fives years of speed test data up until the end of September 2014 and thus go back to emergence of FTTC speeds and also track the various speed upgrades by Virgin Media and even the increasing use of ADSL2+ can be seen by the improvements in upload speeds. While the Surrey project has not given 100% of homes and businesses access to superfast broadband and it never had a contracted aim to do so it is enlightening to look at the percentiles and the bottom 10% in terms of download speed are now faster than the median speed back in November 2008. As take-up increases in particular for the FTTC services we expect the speeds to continue increasing, looking at the national picture for FTTC based connections we see a median speed of 31.7 Mbps, a note of caution for those wanting to take this figure and say FTTC is slow, since the 40/2, 40/10 and 40/20 products are often £5 to £10 per month cheaper at the retail level the median figure is likely to be held back by people watching the size of their utility bills.
Tuesday 21 October 2014 16:55:28 by Andrew Ferguson
The County Council and BT project in Surrey was spotted by ISPreview delivering some FTTP infrastructure in Hascombe recently, we can report that it is not just Hascombe but other small areas of the county are also getting FTTP and some areas look to be live and offering a service to those who order.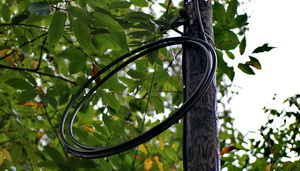 (click image for larger size)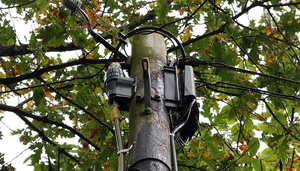 (click image for larger size)
The two pictures above were taken in Felcourt (RH19 2LE) and show the beginnings of a FTTP roll-out, with the fibre tubing waiting on being connected to fibre tubing running in the ducts locally.
Nearby Godstone has a few postcodes with FTTP available to order, with the rest of the village utilising FTTC, though we know of a few postcodes outside the core village where distance will cut back FTTC speeds significantly. Capel is another rural part of Surrey with some FTTP (e.g. RH5 5HL), though this may be through the commercial roll-out.
It will be interesting to watch out for more FTTP arriving from the various projects. Whether the extension projects will be able to fund even more FTTP will depend on a lot on the relative take-up levels and perceived success of using it within the council teams. Unfortunately one complaint we have heard from people is that where Openreach GEA-FTTP is rolled out, the retail provider choice is very limited for the average consumer, since of the big four providers only BT Consumer sell it. This is not a unique complaint to Openreach, we have seen similar complaints for some alt-net deployments and this is the result of the success of LLU and people becoming used to picking and choosing their retailers rather than being limited by the connectivity medium.
Tuesday 21 October 2014 16:03:59 by Andrew Ferguson
A lot more fibre in the diet for those who live, work and go to school in the Underriver area of Kent. Gigaclear has been working to delivering the service to the area for some months now and to celebrate the first live connections two open days at Sevenoaks Preparatory School will be held on the 25th October and 15th November 2014.
"We are on the verge of a revolution in the way we all learn, enabled by the Internet. At school, at work and at home, fast, symmetric broadband such as provided by Gigaclear will give us the opportunity to take advantage of new remote learning opportunities throughout our lives. Gigaclear is proud to be a part of this revolution.

Matthew Hare, Chief Executive, Gigaclear
While many of the residents are already convinced of the advantages of FTTH compared to the slow 2 to 3 Mbps they had to survive on previously the open days will provide a chance for others to see the connection working and also for those seeking answers to questions such as how to connect their Smart TV to their new fast services.
The first speed tests in the area over the Gigaclear network were seen on 25th September in the Godden Green area, but with the rise of IP block transfers were mis-identified as a Mailbox IP block, we have updated our detection system on the speed test for any future speed tests.
Tuesday 21 October 2014 09:09:29 by Andrew Ferguson
The BBC show Rip Off Britain is running a series of live programmes this week, and today they will include broadband speeds as one of their items and will have a Government Minister to tell us all about broadband.
Watch it live, or catch up later using the BBC iPlayer or rush over to a TV if your broadband is too slow. The broadband segment featuring Ed Vaizey MP was featured in the first 15 minutes of the show for those wanting to re-watch on iPlayer.
In summary after watching the show, no single TV programme was going to solve the worlds broadband problems and while Ed Vaizey may have given a politicians answer with the fact that the BDUK programme is taking time to deliver. Ironically some of the problems with the transparency, costs and clarity over the roll-out is because the rushed programme started to operate before the market led roll-outs had completed and in a traditional market sector market failure would have only been announced a few years after the roll-out ceased. The concurrent roll-out alongside the commercial programmes in 2013 though has largely given way to almost all new fibre cabinets being part of a BDUK programme. The combined total of live fibre cabinets is thought to be around 57,000 at this time.
Monday 20 October 2014 17:16:06 by Andrew Ferguson
Virgin Media is on the expansion path again, this time some 5,000 properties in Hartlepool, Darlington, Sunderland and Stockton-On-Tees are set to benefit.
"Extending our network across the region means thousands more homes will benefit from the UK's fastest widely available broadband for the first time. We are proud to be supercharging Teesside, helping people make the most of the UK's exciting digital future.

Tom Mockridge, Virgin Media's Chief Executive Officer
The roll-out is expected to be complete by the end of October 2014 and while no announcement has been made of the streets to be covered, those in the area may want to try Virgin's coming soon site to see if they are one of those in the build area.
From looking at the reams of speed test data for Virgin Media customers that we have, it looks like all the four areas have already benefited from the Virgin Media download speed upgrades, but the improvements in upload speed so far look to have only benefited Sunderland (or Sunderland has an unusual mixture of customers in terms of what speeds they buy) with a median upload of 5.5 Mbps compared to 3 Mbps in the other three areas. In terms of median download speed they are all pretty similar with figures between 39.1 Mbps and 42.9 Mbps.
Saturday 18 October 2014 09:51:07 by Andrew Ferguson
The £2.49 per month for the duration of the 12 month minimum term offer from PlusNet on its unlimited broadband service and home phone has been running for a number of weeks and is due to end on the 28th October. The offer has now increased as a cheque for £75 will be sent out to those who sign-up online and follow the instructions they will get in an e-mail once the service is live.
Voice line rental is a requirement of the offer, which is £15.95 per month or if you make use of line rental saver (this does remove the inclusive weekend calls) and pay line rental annually it works out at £12.99 per month).
Anytime calls for UK landlines can be added for an extra £5 per month. After the 12 month contract the broadband service reverts to its standard £9.99 per month. For those outside the PlusNet lo-cost network area the standard broadband price is £17.49 per month, but you still get a £7.50 per month discount as part of the offer.
Saturday 18 October 2014 09:22:29 by Andrew Ferguson
Some lucky businesses on the Ransomes Industrial Estate near the Suffolk Showground in Ipswich now have the option of a FTTP service via the Openreach network and thus is available from a variety of providers who resell the WBC-FTTP service (e.g. AAISP and Claranet to name just two). This means available speeds will jump from the current ADSL2+ speed of 3 to 7 Mbps to whatever speed it purchased from 40 Mbps through to 330 Mbps in the download direction and 30 Mbps for uploads.
Suffolk County in September 2014 recorded a median download of 12.2 Mbps, which may not sound that amazing but when compared to a median of 2.6 Mbps just three years ago you can see how things have progressed, in 2009 the median was actually below 2 Mbps.
Friday 17 October 2014 16:49:36 by Andrew Ferguson
Research can often seem unlinked to the real world, but €12m of financing for research that has the goal to 'deliver more than 1 Gigabit bandwidth for each member of the crowd at the Tokyo Olympic Stadium, right in time for the 2020 Olympics' has just been announced by the European Commission and Japan.
Why the European Commission, when the Olympics are on the other side of the world? Well because the EU wants to ensure a world-wide standard for fifth generation (5G) mobile services.
"It's not enough to have a beautiful smart phone – it needs to work everywhere you want it to work. Investments in fast broadband research will repay taxpayers many times over. Europe is leading efforts to make 5G a reality."

Vice-President of the European Commission @NeelieKroesEU, responsible for the Digital Agenda
We are not sure about the actual amount of bandwidth that will actually be available to everyone, the stadium is expected to have a capacity of 80,000 which if the wording is correct means capacity of 80,000 Gbps or 80 Tbps (Terra bits per second). To put this into content the total LINX traffic is peaking at 2.2 Tbps each day currently and that is a LOT more than 80,000 people.
The other major issue is that while the fibre infrastructure to deliver this is beyond your usual run of the mill enterprise fibre switch the most difficult part will be using Wi-Fi services such as 802.11ad and 5G to deliver these speeds to people and filling the stadium with enough access points. Though this is the point of research to try and find solutions to what seem impossible to solve problems, and a key point is that the devices people are using would need to be compatible, so the consumer hardware needs to be finalised and on the market for a good year or more before the event.
Friday 17 October 2014 12:24:04 by Andrew Ferguson
Superfast Dorset has announced its phase 3 area, comprising the exchanges Blandford, Bourton, Child Okeford, Fontmell Magna, Gillingham, Hazelbury Bryan, Marnhull, Milton Abbas, Shaftesbury and Sturminster Newton and should benefit some 9,000 homes and businesses. Alas while the press release indicates a map of phase 3, the map on the Dorset website was last updated on 22nd September and no new page for phase 3 has appeared (there are dedicated pages for phase 1 and 2), we presume this will appear in the next couple of days.
Broadband speeds in Dorset as measured by thinkbroadband
Area
Median Download
Top Quartile
Dorset - Q1/2013
6.4 Mbps
11 Mbps
Dorset - Q3/2014
8.2 Mbps
19 Mbps
Bournemouth - Q1/2013
11.9 Mbps
34 Mbps
Bournemouth - Q3/2014
17.3 Mbps
40 Mbps
Poole - Q1/2013
13.6 Mbps
31 Mbps
Poole - Q3/2014
23.2 Mbps
47 Mbps
Dorchester & Weymouth Q3/2014
10.5 Mbps
23.6 Mbps
West Bexington, Abbotsbury, Portesham, Langton Herring, Martinstown and Winterbourne Abbas - Q3/2014
5.5 Mbps
5.9 Mbps
Dorset figure excludes the Unitary Authorities of Bournemouth and Poole
The speed tests show an improvement across the County, but this will mainly be due to the increased take-up on the commercial footprint, which is much larger than the current delivered footprint. The press release suggests 270,000 homes and businesses have access to fibre based broadband commercial or via the project and to date the BDUK project has enabled cabinets serving some 18,000 properties and a further 12,000 are expected by Christmas 2014.
When cross checking the figures, an interesting oddity has cropped up, in the 2011 Office of National Statistics lists 180,000 households in the county. Of course there are business premises to add this, which generally adds 20% of premises to each county. The disparity is because Poole (63,530 households) and Bournemouth (82,374 households) are most likely included in the 270,000 figure reported by the project. The 95.6% with superfast (>24 Mbps) goal is across the combined Dorset, Poole and Bournemouth footprint.
Our speed test results show the difference between the most populated areas of the county and the smaller villages, the real goal for all the projects now and not just Dorset is encouraging take-up so that in the areas where improved services are available people make use of it, and statistics like ours can then reflect this. It is easy to complain about the rural/urban divide but if that is all anyone does, then it creates pessimism that may result in people who think they cannot get a better service when one is actually available, and even if this is not at superfast speeds, people jumping from 2 Mbps to 10 Mbps or faster will notice a real difference in browsing and video streaming.
---