Broadband News
Thursday 16 May 2013 12:33:10 by Andrew Ferguson
The UK scorecard for broadband coverage has just got a lot better if the latest data from Ofcom is correct. In 2011, the coverage of 2 Mbps standard broadband was listed by Ofcom as 86%, this rose in November 2012 to a figure of 89.9%, but now in just six months has seen a significant jump to 95.3% according to the latest figures from the regulator.
The truth is buried deeper into the report, page 87 to be precise, which tells us we need to stop comparing the figures to the previous data as the methodology has totally changed.
"Data on the availability of standard and superfast broadband differ from what was reported in the "Infrastructure Report, 2012 update." The estimates in this report were calculated by considering a postcode not to have standard broadband if the median or mean average speed of connected premises in that postcode was less than 2 Mbit/s. If a postcode had an average/median speed of less than 2 Mbp/s, all premises in it were assumed to be at risk of experiencing low speed. This calculation differs from the "Infrastructure Report, 2012 update," where a postcode was considered not to have standard broadband if any connected line in it experienced a speed below 2 Mbit/s. The underlying data file on broadband speeds provided information on the number of residential and small-business lines with a broadband connection in each postcode. This information was not provided for those postcodes with only large businesses or where there were fewer than three residential or small-business lines for reasons of confidentiality. The restriction to postcodes with a minimum of three connected lines also explains the slight discrepancies in the number of premises with superfast-broadband availability."

Ofcom note on changes to how 2 Mbps coverage is measured (our emphasis)
The previous system of labelling a postcode as slow if data suggested one property was slow could be seen as giving a pessimistic figure, or from the view of people living in those areas it could be seen as a more realistic figure. Certainly the new system is politically more pleasing when you want to report a figure of 99.99% can get 2 Mbps broadband. In fact Ofcom has started to say 'Headline download speeds of at least 2 Mbit/s are available in almost all premises in the UK.'.
Even with the new system almost halving the number of properties not meeting the Universal Service Commitment figure, the situation is still not just a rural problem, there are 24,131 urban properties in Greater London listed as not meeting the 2 Mbps target. Interestingly while the talk around the BDUK and USC debate is often about rural areas, of the 1.2 million properties across the UK that cannot get 2 Mbps, some 423,751 are in semi-urban locations, 661,361 in rural locations and 156,725 in urban areas. To give an insight into the split that Ofcom is using for rural/urban, 35% of the UK population live in urban areas, 51% in semi-urban and 14% in rural areas.
Thursday 16 May 2013 10:17:56 by Andrew Ferguson
With the dominance of Sky TV and half the UK able to access cable TV the traditional thinking was that IPTV delivery platforms were not needed in the UK, but the rise of OTT subscription services like Netflix and Lovefilm appear to have awoken a latent desire for more choice and the launch of YouView in 2012 is starting to pay dividends for providers like TalkTalk.
TalkTalk in its latest financial results has revealed that in the last quarter it has added 150,000 subscriptions to its YouView based TV service, taking the total to 230,000. Almost three quarters of those buying the TV service are previous Freeview or Freesat customers, so the upgrades will be a mixture of wanting to add the extra channel options, and the free YouView box with its recording capabilities. The majority of TV viewing is via the free to air channels at 19.5 hours per week, but 2.5 hours of paid content are watched on average per week.
The broadband subscribers picture is a mixed bag, and while the overall number of subscribers has increased to 4,0630,000 (increase of 13,000) this hides the fact that there strong growth in the full LLU (MPF) customer base. The loses from legacy SMPF (we presume old Tiscali customers) and off-net areas make the figures reducing the overall level of growth.
One area that is starting to mount up is that TalkTalk now has 73,000 fibre customers, which while still small suggests that sales are starting to ramp up. The need for stable speeds above 3 Mbps for the on-demand YouView content may be helping to drive take-up, plus the increasing number of Internet devices people have in the average home.
The TalkTalk LLU network is the largest ADSL2+ network in the UK, with the 2,724 exchange covering approximately 95% of the UK population, and expansion has not finished the provider is looking to add another 300 exchanges in the next year (previous year saw 216 exchanges added). Interestingly the holy grail of dark fibre appears to be a fairly small problem for TalkTalk:
"In conjunction with our unbundling programme, we continue to expand the capacity of our network, which we expect to grow by 50-100x over the next 3-5 years. The favourable economics of our network, which allows us to lease dark fibre at very competitive rates, means that we will be able to achieve this capacity expansion within our long run capex guideline of 6% of revenues."

TalkTalk on dark fibre
The extent of the TalkTalk LLU network also means that businesses can benefit, and the firm has some 10,000 Ethernet or EFM circuits installed (1,500 in the last quarter).
Wednesday 15 May 2013 19:42:52 by Andrew Ferguson
The headline is always meant to draw you in to read more of an article, but in a world where many people just skim read articles, people who are not fully up to speed on the progress of the BDUK projects across the UK could very easily be left with the impression that the Government project had already rolled out millions of connections.
Progress on Broadband Transformation: Roll-out passes halfway mark

...

These changes will reinforce the UK's position as a leading digital economy and will be a major driver of local jobs and national growth. The Government's own programmes will support delivery in the parts of the country that will not otherwise be reached by the private sector and will support our cities to become digital hubs for businesses and consumers.

Results already achieved:

Average speeds have more than doubled since May 2010, from 5.2Mbps to 12.0Mbps in November 2012
Superfast broadband connections are getting faster, with speeds increasing from 35.8Mbps in May 2012 to 44.6Mbps in November 2012
100,000 more homes and businesses are getting superfast broadband availability each week
In June 2012 superfast coverage had reached 65% of UK premises, up from 45% in 2010.
The proportion of broadband connections with superfast speeds of 30Mbps or higher more than doubled last year, up from 5% in November 2011 to 13% in November 2012.
50,000 superfast connections are currently being taken up per week

Extract from DCMS press release
The real milestone is that 22 out of 44 projects have now signed their contracts, and all with BT. The more important milestone as far as consumers and businesses are concerned is when will boots be on the ground and actually installing services via the project, and we believe at this time this is mainly in North Yorkshire and Wales. We would expect lots more photo opportunities if other areas were moving at a break neck speed.
So lets rewrite the results already achieved into something approaching reality:
Ofcom speed reports (based on 1300 to 2000 test locations) has reported that average speeds have doubled in the 30 months up to November 2012 hitting 12 Mbps. First BDUK funded cabinet only appeared in December 2012.
The superfast connections getting faster, simply put Openreach launched the GEA-FTTC 80/20 product in April 2012, offering a speed boost above the older 40 Mbps service, and Virgin Media is continuing with its own speed upgrade programme. Plus providers like Digital Region are getting faster, and there are more full fibre networks like Hyperoptic to consider now.
The 100,000 premises passed per week, is pretty much lifted from the BT Group financial reports.
In June 2012, superfast coverage hit 65% of premises, which is months ahead of the first BDUK cabinet being delivered.
The proportion of connections at 30 Mbps and faster has more than doubled, well no suprise Virgin Media with free speed upgrades, and people buying FTTC in the commercial footprint.
50,000 new superfast subscriptions per week, the majority will be in the commercial footprint, it would be revealing if DCMS were to release how many were via a BDUK project.
We believe the press release reflects a view in Whitehall that the BDUK programme is about managing a procurement process rather than the eventual outcome, or to put it another way, so long as the contracts get signed and the responsibility moves to someone else they will be happy.
Very careful wording appears in parts of the release as the 90% superfast broadband availability is talked about, but never in the same paragraph as the year 2015. While I don't think anyone is going to complain too much if the superfast target is a little late (e.g. in early 2016), if by the time of the General Election in 2015 a 2 Mbps service is not universally available the Labour Party will be able to talk about the current Government moving the goalposts by three years and still being late to deliver.
Wednesday 15 May 2013 16:25:40 by Andrew Ferguson
Digital Region in South Yorkshire has a number of broadband providers operating on its platform, and as of 1st April it appears those people who had a contract with littlebigone.com were acquired by Chess Telecom.
A message on facebook and letters arriving in the post appears to be how customers have learnt about the change. It is not clear what if any changes existing littlebigone customers will see, and we suspect the pricing shown on the Chess Telecom website is referring to ADSL2+ and FTTC via Openreach rather than pricing for the Digital Region platform.
We checked via twitter (@ChessLtd) and Chess Telecom confirm customers will see now price changes and the prices on littlebigone.com remain valid for new signups.
Wednesday 15 May 2013 14:47:47 by Andrew Ferguson
West Sussex County Council is the latest authority to sign on the dotted line with BT for its BDUK project, The project which has a total contract value of £20 million should provide FTTC or FTTP broadband to over 44,000 premises at speeds of 24 Mbps or faster by Spring 2016.
The mainly FTTC roll-out will result in 98% of premises in the county having access to a FTTC service, or in some areas a native FTTP product. Fibre on Demand will of course be available for those in areas with FTTC (mainly businesses) willing to pay the significantly higher install fees and monthly price for the 330 Mbps Fibre on Demand service.
West Sussex is interesting as it is a county that still has three BT exchanges that do not offer any ADSL service at all, and we are expecting copper re-arrangement and the ability for an FTTC cabinet to have its backhaul running many miles to the handover node bringing fixed line broadband services to these areas.
"We are delighted to have entered into a partnership arrangement with BT that will significantly increase the county's opportunity to grow its economy, and help all residents to enjoy the benefits of being online. West Sussex County Council is very aware of the problems that slow speeds or in some cases, no broadband at all can cause local businesses and people working and running businesses from home. This was a key rationale behind the Council's decision to invest more than £6 million to provide more access to better, faster broadband across the county. We are now looking to BT, having won the contract, to deliver services to those areas which we know are without."

Louise Goldsmith, deputy leader for West Sussex County Council
For those that like to play guess the subsidy level, the contract is made up of £7.6m from BT, £6.26m from West Sussex County Council and £6.26m from the BDUK.
Update 3:15pm While the press release does not cover the hot topic of exchange only (EO) lines, we have spoken with the right people in BT and while they cannot confirm that all exchange lines will be covered in the 98%, a mixture of copper re-arrangement to allow installation of a fibre cabinet close to the EO cluster, or if the economics stack up a native FTTP solution. This mixture has been applied elsewhere that BT have tackled the EO situation, so it will be a case of waiting and watching for product updates over time. While the 98% also seems ambitious there is a desire to push further than this if at all possible.
For updates on the project the West Sussex County Council broadband section should update as the project starts to gear up for delivery.
Wednesday 15 May 2013 10:22:52 by Andrew Ferguson
Tesco every 12 months or so appear to do a big offer on their unlimited downloads broadband package and home phone service, and the big headline with the latest offer is that if you have a Tesco Mobile service and quote the promotion code MOBFREE4 you can get broadband free for 12 months. There is of course the small matter of the £14.90 voice line rental, and the broadband cost reverts to £6/month at the end of the 12 month period.
For those without a Tesco mobile there is another promotion using the code 4OFF, which reduces the cost of the broadband element to £2 per month, returning to the standard £6 per month after 12 months.
The full standard price list for the Tesco broadband and phone services are on tescobroadband.com. Tesco operate a two tier price system, which revolves around where C&W has its MPF LLU service, as that is who operate the core part of the product, outside the LLU network the standard price rises to £16 per month, but you still qualify for £4 off.
While the headline promotions are for a broadband and telephone bundle, you can order just broadband via Tesco (provided using SMPF LLU), with your voice line rental via any WLR provider (e.g. Post Office, Primus and many others). A different promotion is running on the broadband-only products where it is £8 per month for six months if in their low cost network area, and £10 per month for six months elsewhere, reverting to £16 and £20 per month respectively thereafter.
Wednesday 15 May 2013 09:55:00 by Andrew Ferguson
The recent opening of a complaint by Ofcom on the subject of margin squeeze in the FTTC/FTTP products sold by BT Retail and delivered over the Openreach platform in the local loop prompted us to run a poll to see what the level of feeling was amongst the public.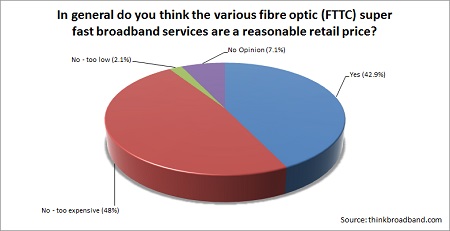 (click image for larger version)
The poll attracted over 1,300 responses, and while 42.9% agreed that the current price of FTTC services was reasonble, a higher 51.7% thought that Ofcom should regulate the retail price of the BT Infinity product so that competitors can under cut. In a market where the Openreach FTTC products are becoming more popular, the disparity in sales between TalkTalk, Sky and BT Retail was brought into focus by the BT Group financial results, where only 200,000 of the 1.5 million Openreach FTTC/FTTP connections are via someone other than BT Retail.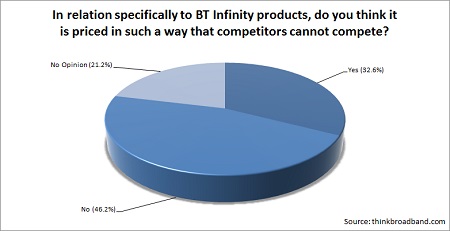 (click image for larger version)
There does appear to be a slight dichotomy in the responses, as while 32.6% felt that BT Infinity pricing was priced so that competitors cannot compete, this was around 20 percentage lower than the number who thought regulation was needed. The explanation may be that people are looking at the bundling where the voice service is often bundled with the superfast service, and this can help to subsidise the broadband elements of the service, relying on the money made from the millions who vote in the various 'talent' competitions on TV.
One area that did surprise, was how closely the poll comes to mirroring the stated coverage for superfast services by Openreach. We had 52% saying they can get a FTTC or FTTP product from Openreach, and another 9.2% are expecting it to be available soon.
With the BDUK local authority projects, if Ofcom was to regulate the pricing that Openreach makes its GEA-FTTC and GEA-FTTP products available at, this could have implications for the return on investment and gap funding calculations used. Any regulation that increases the retail price of BT Infinity as it stands runs the risk of dampening the embryonic super fast broadband market. Perhaps what is needed is for Ofcom to enforce a short term discount for a six month period and if TalkTalk and Sky can show in that timeframe that by having a lower price they can compete and thus drive significantly more sales on the superfast broadband products the discount becomes permanent.
Tuesday 14 May 2013 15:55:56 by Andrew Ferguson
Point Topic has been busy analysing the various datasets for UK broadband coverage and have mapped each postcode in the UK to its telephone exchange and modelled the downstream speeds, thus is able to give scorecards for the local authorities across the UK. Which is very useful information for local government, providers and altnet projects who are researching which areas of the UK need the most help.
For the UK Government the data is not encouraging, as the overall UK picture suggests that by the end of 2014, 71% of premises will have access to a NGA solution, this rises to 81% by the end of 2015 and does not break the 90% barrier until sometime in 2017 with the end of 2017 carrying a projection of 91% coverage for NGA broadband (i.e. a super fast service). The only UK region set to break the 90% target by the end of 2015 is London.
For the individual as the postcode level information is still behind the paywall, it will not tell you how fast a specific property will be, but the projections of the availability of Next Generation Access (super fast broadband) are informative for which parts of the UK to consider setting up home or locating your business in.
Portsmouth, Kingston upon Hull, Watford, Manchester, Norwich, Ipswich, Southampton, City of London, Leicester, Eastbourne, Oxford, Bournemouth, Worthing, Northampton, Gosport, Worcester, Derby, Tameside, Trafford, Plymouth, Oldham, Rushmoor, Poole, Brighton and Hove, Oadby and Wigston, Crawley, Belfast, Rochdale, Epsom and Ewell, Southend, Castle Point, Adur, Cambridge, Bury, Cardiff, Lincoln, Medway, Torbay, Salford, Spelthorne, Havant, Cannock Chase, Hertsmere, Redditch, Fareham, Kensington and Chelsea, Exeter, Reading, Islington, Stoke on Trent, North Down, Stockport, Swindon, Lewisham, Thanet, Hackney, Lambeth, Chesterfield, Westminster, Camden, York, Christchurch

Local authority areas that should have 95% or better NGA coverage by end of 2015
This list of the best covered areas adds up to some 4.6 million households and 417,565 business premises.
So if your idea of picking a place is to throw a dart at a map, we would recommend sticking to the areas mentioned above when throwing your dart. The ten local authorities that Point Topic estimate will have the worst NGA coverage by the end of 2015 follow: Copeland (28%), South Lakeland (28%), North Warwickshire (27%), East Lindsey (24%), Tewkesbury (22%), Cotswold (20%), Redcar and Cleveland (18%), North East Lincolnshire (14%), Darlington (7%) and Forest of Dean (4%). These areas at the bottom of the table comprise 453,400 households and 41,000 business premises.
With some local authority projects already talking of continuing beyond 2015, Point Topic do extend their projection to the end of 2017, which radically changes the worst performing areas, Eilean Star (43%), Shetland Islands (50%) and the Orkney Islands (51%) are at the bottom of the table for super fast coverage if you look at the 2017 figures.
Tuesday 14 May 2013 13:21:50 by Andrew Ferguson
It appears that the super fast broadband project in Essex is moving forward, with the local press reporting that issuing of the tender documents has been approved, this means a contract signing is probably still some months away.
The project in Essex follows the standard pattern, in terms of 2 Mbps for all by 2015, and superfast broadband to 90% of premises, but where it diverges is a higher 8 Mbps target for all properties by 2018. This higher target has been known about for a while, but originally had a 2020 target date.
The broadband connection survey apparently has two Dell XPS 10 tablets up for grabs, but there is no obvious mention of this on the survey website.
Until the contract is announced we will not know the size of the BT investment or whether some of the money will be used to fund fixed wireless projects too. There is £13m of public money involved so far, the interesting part will be how the 2018 8 Mbps speed commitment is met.
Tuesday 14 May 2013 12:53:44 by Andrew Ferguson
The annual ISPA Awards are in their 15th year, and the popular categories of Internet Hero and Internet Villain are now open for the public to nominate and create a shortlist for the ISPA Council to pick an eventual winner.
The final results will be announced on 11th July at the awards ceremony along with the results from all the other categories where the entrants have now been shortlisted ready for the judging panel to consider who deserves the award in each category.
The Hero and Villain award nominations can be for an individual, politician, government, company or organisation of all shapes and sizes. To nominate in either of the two categories tweet @ISPAUK with the #ISPAs hashtag, or email your suggestion to awards@ispa.org.uk making it clear which of the categories you are nominating for. The deadline for nominations is Friday 31st May 2013.
---